Carnival Sunrise
The Carnival Triumph is undergoing major renovations and re-emerging as the new Carnival Sunrise!
The Carnival Triumph sailed to Cadiz, Spain to undergo a 38-day, $200 million dry dock and emerge as Carnival Sunrise featuring all of the line's culinary, beverage and entertainment experiences.
The transformation of Carnival Sunrise is part of the line's comprehensive $2 billion fleetwide enhancement program, the largest in the cruise industry.
Carnival Sunrise debuts April 29, 2019, with a seven-day Caribbean cruise from Norfolk, Va., followed by a series of five-and six-day Bahamas voyages from that port.
The ship will then reposition to New York for a summer schedule of four- to 14-day departures commencing May 23, 2019, including sailings to Bermuda, New England, and Canada. Beginning Oct. 28, 2019, Carnival Sunrise will shift to Fort Lauderdale to operate a winter schedule of cruises to the Caribbean, Cuba, and Bahamas.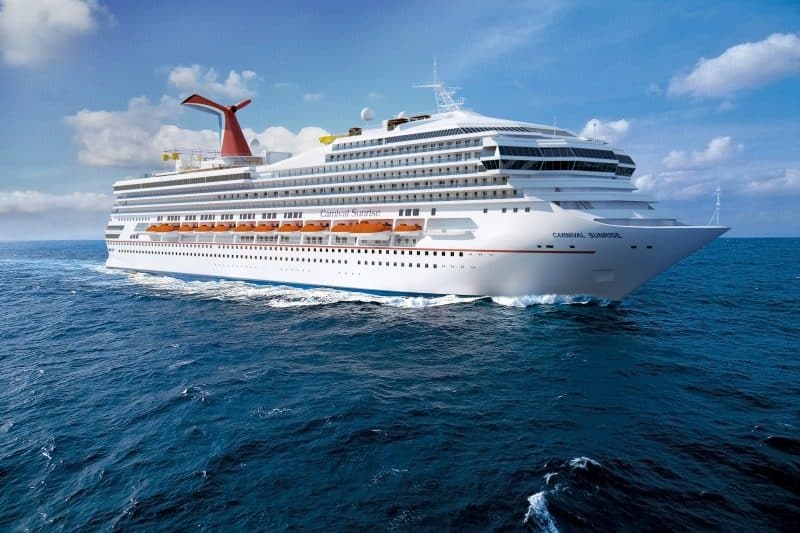 Guests sailing aboard Carnival Sunrise will enjoy a wide range of unforgettable dining and entertainment options, along with open-air attractions like a new WaterWorks aqua park and SportSquare, featuring a suspended ropes course.
New dining offerings include Guy's Pig & Anchor Bar-B-Que Smokehouse developed in tandem with Food Network star and longtime Carnival partner Guy Fieri, the Cucina del Capitano family-style Italian restaurant and the Caribbean-themed Red Frog Pub.
All of the ship's staterooms will be updated with island-inspired interiors featuring bright colors and soothing pastels inspired by the line's Caribbean itineraries, along with new choices such as luxurious Captain's Suites adjacent to the navigational bridge offering floor-to-ceiling windows and extended balcony grand suites.
Carnival Sunrise Ship Details
Total Guest Capacity: (Including Uppers): 3,873
Number of Staterooms: 1,492
The number of guest decks: 13
Carnival Sunrise Accommodations:
– Captain Suites Balcony: 2
– Ocean View Balcony Grand Suites: 10
– Ocean View Suites: 41
– Ocean View Balcony: 502
– Ocean View Window: 302
– Interior Cabins: 512
Carnival Sunrise Transformation – Completed 4/28/19
– 115 new guest suites and staterooms
– Liquid Lounge
– Java Blue Café
– Limelight Lounge
– Fahrenheit 555 Steakhouse
– RedFrog Pub
– Piano Bar 88
– Chef's Table dining room
– Bonsai Sushi Express
– Carnival WaterWorks
– Cucina del Capitano
– Guy's Pig & Anchor Bar-B-Cue Smokehouse
– SportSquare (SkyCourse, basketball and jogging track)
– Serenity
– Cloud9 Spa and Cloud 9 Staterooms
Carnival Sunrise's senior leadership team
Captain Bruno Palomba/Captain Isidoro Renda:  Captain Palomba will command the vessel during dry dock, while Captain Renda will assume command once Carnival Sunrise arrives in the U.S.  Palomba is an 18-year veteran of Carnival and was named captain in 2016.  A graduate of the N. Bixio Maritime Academy in Naples, he began his cruise industry career with MSC and prior to that worked for ferry operator Tirrenia. A native of Trapani, Italy, Renda joined Carnival as a second officer in 2000 and, after moving up through the ranks, was promoted to captain in 2014, commanding a number of vessels in the fleet.  A graduate of the Nautical Academy ITN Marino Torre in Italy, Renda began his career working aboard oil tankers in Europe.
Chief Engineer Mauro Fabbrini/Chief Engineer Nicola Tonelli:  A 25-year veteran of Carnival, Fabbrini joined the company as a second engineer and was named chief engineer in 2003.  He graduated from the San Giorgio Maritime Academy in Genoa, Italy, and prior to joining Carnival started his nautical career with an Italian-based shipping company.  Tonelli began his career as an engine cadet working aboard bulk carriers and ferries after graduating nautical college and serving in the Italian Navy.  He joined Carnival in 2001as a third engineer and was named chief engineer last year.   Fabbrini will serve as chief engineer during Carnival Sunrise's dry dock with Tonelli taking over once the ship begins service in the U.S.
Hotel Director Caroline Bourke:  The Cork, Ireland, native and 15-year company veteran joined Carnival in 2004 as a guest services associate and was promoted to guest services manager in 2009 before being named hotel director in 2016.  She began her hospitality career at the Hayfield Manor Hotel after earning her degree from the Cork Institute of Technology in Ireland.
These experienced mariners will lead a team of more than 1,000 crew members who traveling to Cadiz to prepare Carnival Sunrise for her inaugural voyage – a seven-day Caribbean cruise from Norfolk, Va., departing April 29. The ship will spend the summer in New York operating cruises to Bermuda, Canada, and the Caribbean then reposition to Fort Lauderdale for a winter season of Caribbean and Bahamian voyages beginning in October 2019.
Carnival Sunrise Entertainment Team Leaders
Carnival Cruise Line has announced that Christopher Williams will serve as cruise director and Katie Romitz as entertainment director for the ship's inaugural season when it launches in April following an extensive dry dock.
An eight-year Carnival veteran, Christopher Williams, a native of Scotland – and best known as the "Flying Scotsman" – joined the company as a singer and Playlist Productions performer before being named cruise director, serving in this capacity on the line's newest and largest ships.
Known for his gregarious personality and easy banter with guests, Williams' role as cruise director is to create a fun, engaging and welcoming environment while helping guests create lifelong vacation memories.
Katie Romitz, who hails from Ontario, Canada, joined Carnival in 2013 as an entertainment host and was named media manager two years after where she focused on shipboard marketing channels such as FunTimes and the HUB App. Combining her love for travel, passion for cruising and keen attention to detail, Romitz was named entertainment director last year. She will oversee all of the ship's entertainment options and will put her skills and enthusiasm into planning, organizing and scheduling the hundreds of activity and entertainment choices each week.
Carnival Sunrise