Epic Guide to Grenadine! One of the most popular mixers for cocktails and mocktails. How to mix with it, what it tastes like, and how to use it.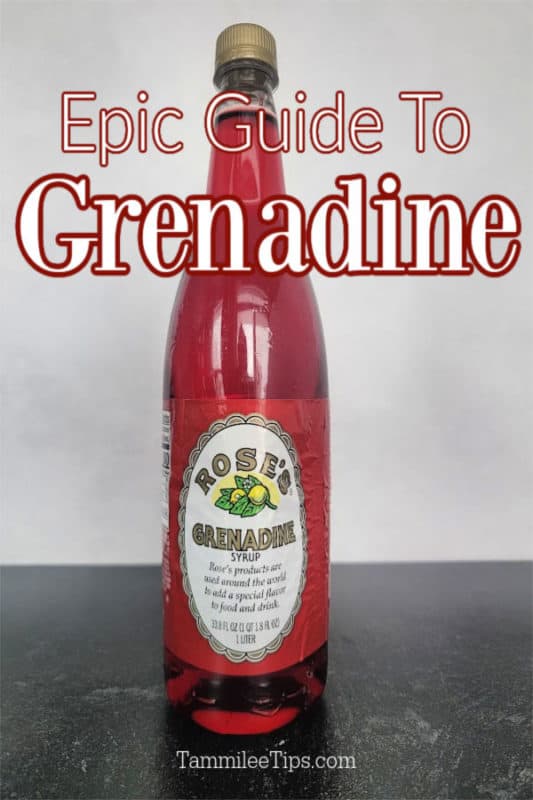 Epic Guide to Grenadine
From Shirley Temples to tequila sunrises, grenadine has been a staple in any bartender's cabinet for over a century. Here we have answered all of your burning questions about grenadine.
One fun thing to know is it is not related to the Grenadine Islands in the Caribbean.
If you are making a bright red cocktail you will most likely be reaching for this mixer.
What is Grenadine?
Grenadine is a non-alcoholic syrup that gets its bright, fruity flavor and deep red hue from pomegranate juice. It is quintessentially sweet and slightly tart.
Contrary to conventional wisdom, grenadine has no relation to the Grenadine islands that share its name. The drink mixer instead gets its name from the French word for pomegranate.
What color is it?
Bright red! This bright red syrup looks amazing in drinks.
What flavor is Grenadine?
The flavor of grenadine is sweet and tart with a fruit-forward finish. The sweetness comes from the pomegranate juice. While too sweet to consume alone, it lends well to cocktails and mocktails.
Is Grenadine Alcoholic?
Since grenadine is primarily made of pomegranate juice and sugar, it is teetotaler safe.
Do you have to be 21 to buy it?
You do not have to be 21 to buy this mixer. This sweet syrup is sold in most grocery stores and on Amazon.
What is grenadine made of?
Basic grenadine can be made by dissolving real pomegranate juice and granulated sugar over heat in a 1:2 ratio. Some grenadine recipes include orange blossom water or lemon juice for added complexity.
Grenadine made commercially may include artificial sweeteners like high-fructose corn syrup. Artificial colorings may also be used to produce grenadine's fluorescent color.
Is Grenadine Gluten-Free?
Grenadine is gluten-free. None of its core ingredients - fresh pomegranate juice and cane sugar - contain gluten.
Nutrition information, including calories, protein, calcium, carbohydrates, fiber, vitamin c, potassium, cholesterol, sodium, trans fat, monounsaturated fat, polyunsaturated fat, and more, will vary depending on the products used.
Where to buy Grenadine?
You can find it at your local grocery store or online on Amazon. We tend to buy it on Amazon since the prices are a bit cheaper.
If you are unable to find it in the store you can make homemade grenadine.
What aisle is it in?
We normally find it near the Liquor aisle with the mixers. If you can't find it you may want to ask where the Bloody Mary mix is or the margarita salt. They are normally kept near each other.
How much does it cost?
Prices vary by brand. In Spokane, Washington we can buy a 12 oz bottle for around $4.50.
Amazon also sells Grenadine which is where we get it most of the time.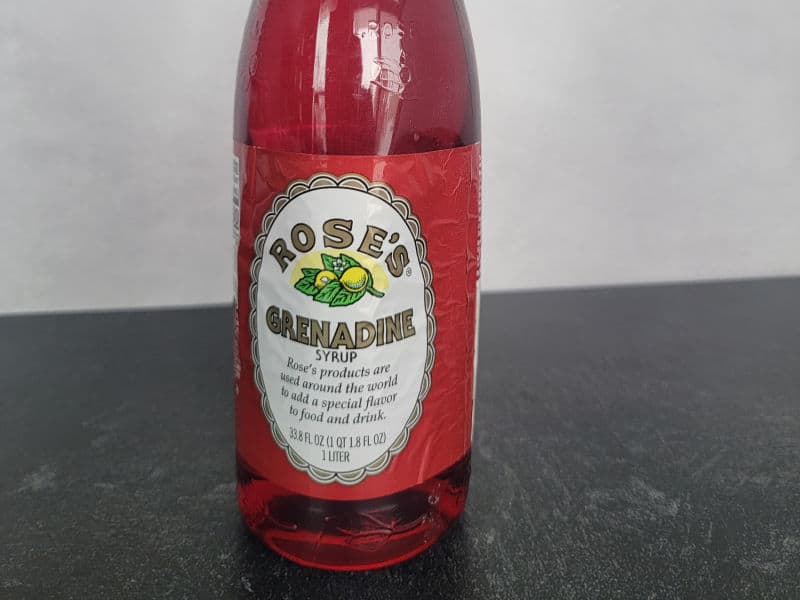 Does Grenadine Go Bad?
Grenadine's high sugar content gives it a longer shelf life. While grenadine will not spoil in a food safety sense, it will decline in quality with time. An off smell or a change in consistency usually indicates that a bottle of grenadine has passed its prime.
Does it expire?
Yes, Most commercially produced bottles will have a best before date printed on the bottle.
How to store Grenadine
Unopened bottles of grenadine can be stored in the pantry or the fridge at room temperature. Keep unopened bottles of grenadine away from heat and direct sunlight.
Once opened, grenadine should always be refrigerated in an airtight container to avoid exposure to air.
Do you have to refrigerate it?
Grenadine is best kept refrigerated once the bottle is opened.
How long does Grenadine Last?
When properly sealed and continuously refrigerated, grenadine keeps for 4 to 6 months after opening. An unopened bottle of grenadine can last up to a year past its expiration date.
Homemade grenadine has a shorter shelf life than its commercial counterpart. A bottle will keep in the fridge for up to 3 weeks.
Add some vodka or brandy to fortify your homemade grenadine. Fortified homemade grenadine can last anywhere from one to six months in the fridge.
Grenadine Substitute
Fear not if your grenadine bottle is running low - these handy grenadine syrup substitutes can fill in when you are in a pinch.
Pomegranate Molasses
This Middle Eastern pantry staple is rich, sweet, and slightly acidic, making it a worthwhile substitute for grenadine. Since it is a pomegranate juice reduction, it maintains many of the same characteristics as grenadine, such as flavor and color.
While more viscous than grenadine, pomegranate molasses still blends well with drinks. Extra sweetness and improved texture can be achieved by adding simple syrup.
Raspberry Syrup
Raspberry syrup imparts the sweetness, tanginess, and bright ruby hue of grenadine into any beverage. It can be used in a one-to-one ratio in any recipe requiring grenadine. Check your local grocer or liquor store for a bottle of ready-made raspberry syrup, or make your own by reducing water, sugar, and fresh raspberries.
Cranberry Juice Cocktail
Cranberry juice cocktail is a bit sweeter than grenadine since it contains sugar or corn syrup alongside cranberry juice concentrate. However, like grenadine, it is naturally sweet, tart, and great for adding a pop of red to any beverage.
Be sure to use half the amount of cranberry juice cocktail when substituting for grenadine, as cranberry has a much tarter flavor that can easily overpower a drink.
Pomegranate Juice
Pomegranate juice is an ideal grenadine substitute for those who seek the flavor and vibrancy of pomegranate without any added sugars.
Add simple syrup or your desired sweetener to taste, as pomegranate juice alone will not capture the sweetness of the typical cocktail. To maintain its quality and integrity, always keep pomegranate juice refrigerated.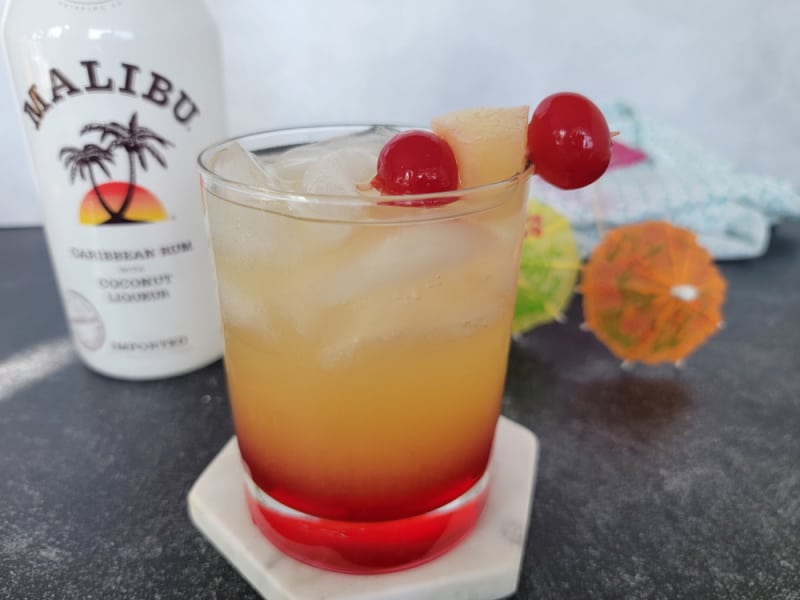 Best Grenadine Cocktails
Ingredients: Malibu Coconut Rum, Pineapple Juice, Grenadine Syrup
The Malibu Sunset is another layered cocktail perfect for a hot summer day.
Ingredients: Orange Juice, Tequila, Grenadine, Orange Slice, Maraschino Cherry
Adding grenadine to the tequila sunrise visually mimics the beauty of a sunset in the tropics.
Singapore Sling
Ingredients: Gin, Cherry Liqueur, Cointreau, Bénédictine, Pineapple Juice, Lime Juice, Grenadine Syrup, Angostura Bitters
This whopping eight-ingredient cocktail has the perfect balance of booze factor and fruity sweetness. Bénédictine, a French herbal liqueur, gives it a memorable depth.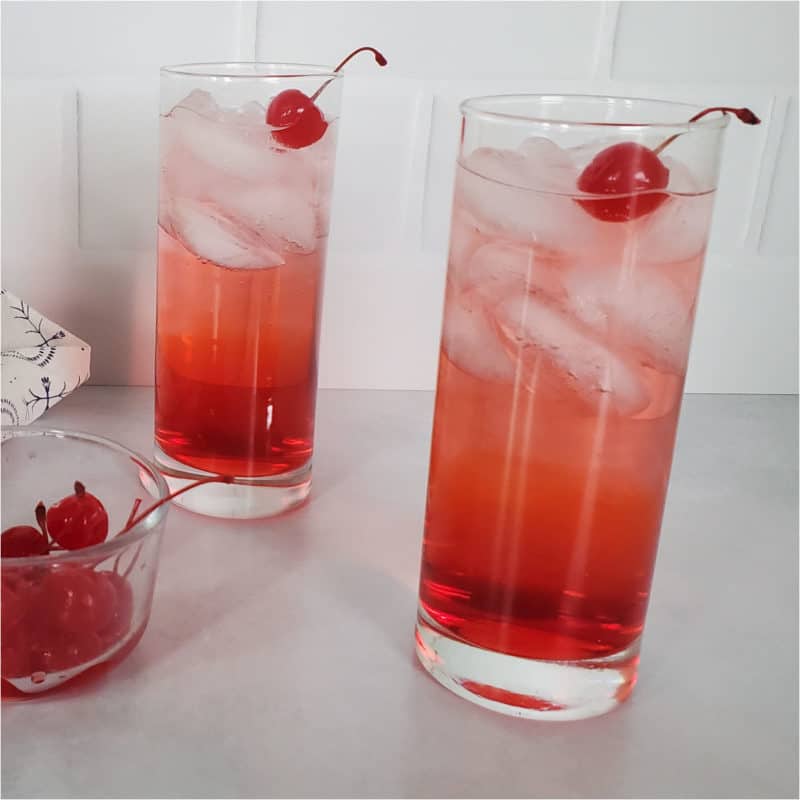 Ingredients: Vodka, Grenadine, Sprite, Ice
The addition of vodka makes the Dirty Shirley a grown-up version of the Shirley Temple.
Check out all of our easy vodka cocktails.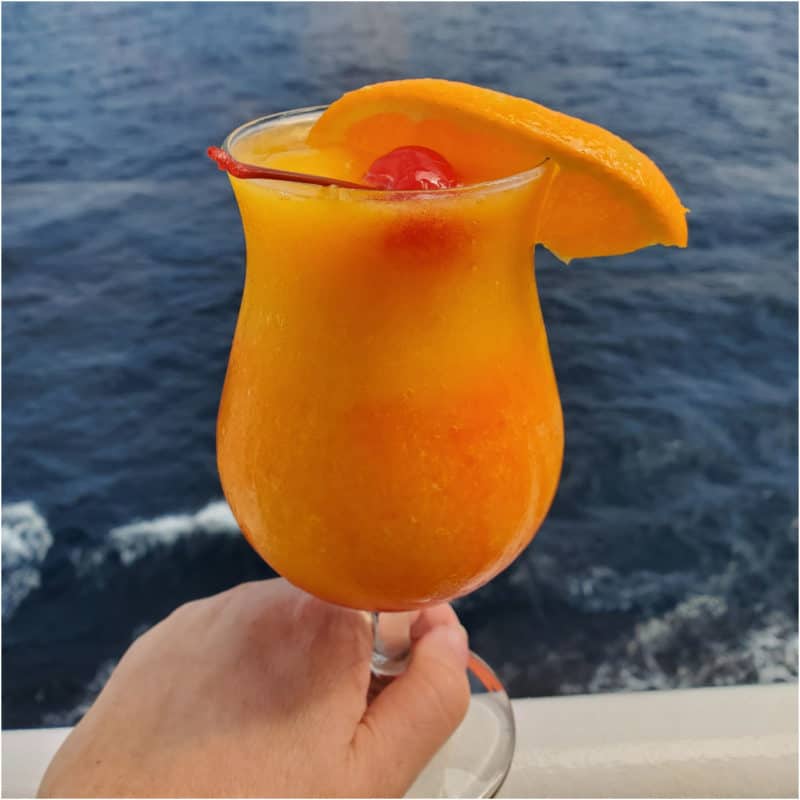 Ingredients: Peach Schnapps, Mango Margarita Mix, Grenadine; Orange and Maraschino Cherry for Garnish
This peach-forward frozen cocktail is one of our favorites from Carnival Cruises.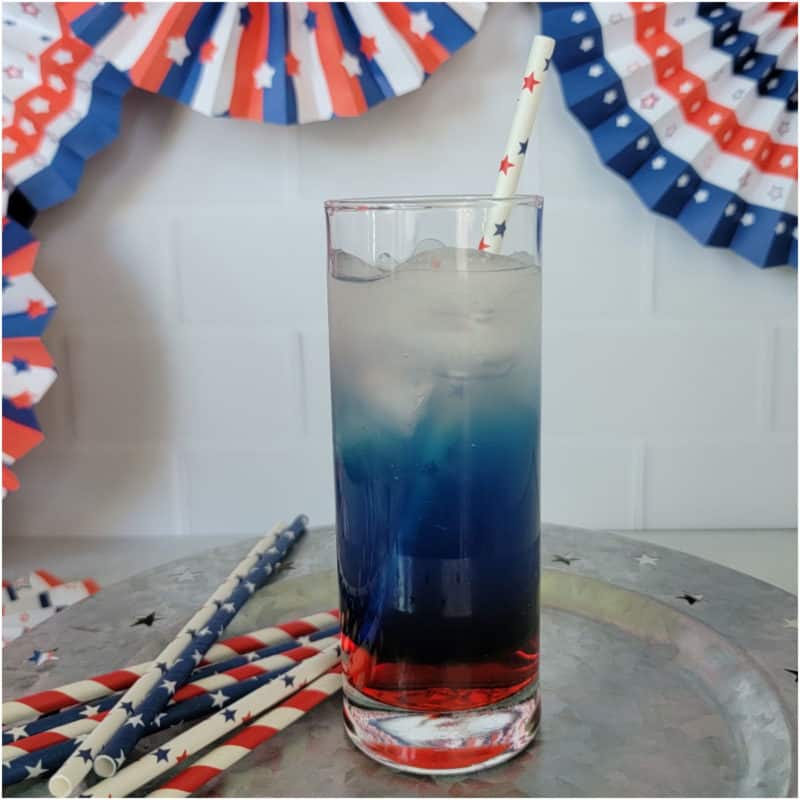 Ingredients: Grenadine, Lemonade, Vodka, Blue Curaçao
The Red, White, and Blue Drink is the party-sized version of our Patriotic Shot.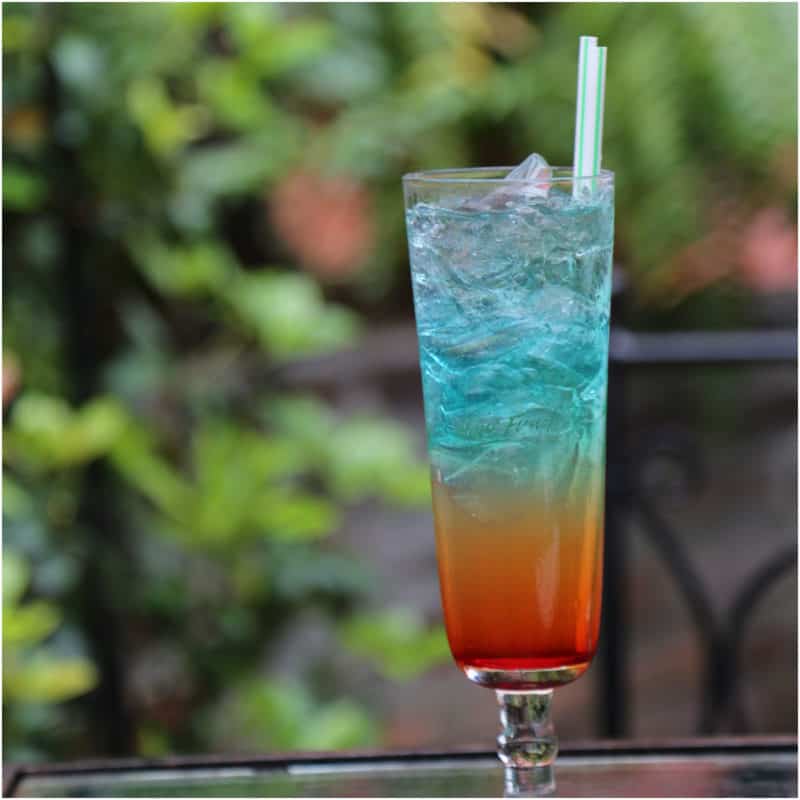 Ingredients: Grenadine, Collins Mix, Vodka, Blue Curaçao, Crushed Ice
This boozy cocktail can be your rainbow on any day you need a pick-me-up.
Ingredients: Malibu Rum, Sweet and Sour Mix, Fresh Peaches, Grenadine, Ice
Make the most of the summer peach harvest with our Frozen Peach Daiquiri.
Ingredients: Captain Morgan Rum, Peach Schnapps, Orange Juice, Rose's Lime Juice, Grenadine
This copycat Chili's cocktail is as dangerously easy to drink as it is to make.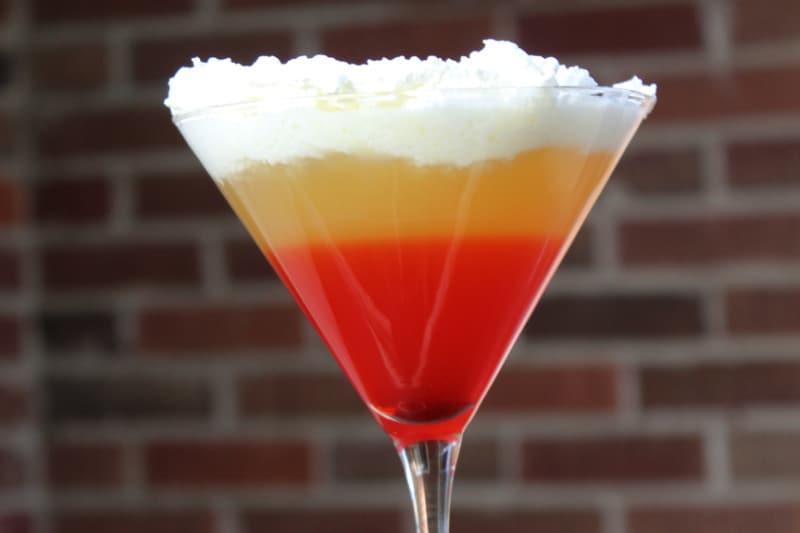 Ingredients: Smirnoff Whipped Cream Vodka, Sour Mix, Pineapple Juice, Grenadine, Whipped Cream for Topping
Watch this quintessential Halloween treat transform into a fall-ready martini with the help of just five ingredients.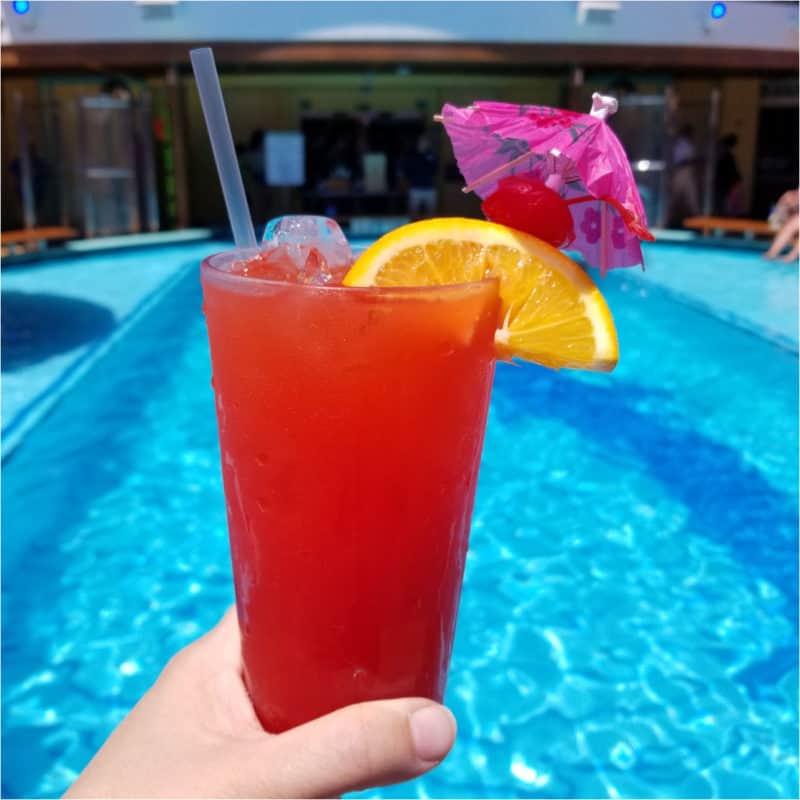 Ingredients: Amaretto, 151 Rum, Vodka, Apricot Brandy, Fruit Punch, Grenadine, Angostura Bitters, Maraschino Cherry or Orange Slice for Garnish
The boozy and fruity Carnival Fun Ship Cocktail is another one of our Carnival Cruises favorites.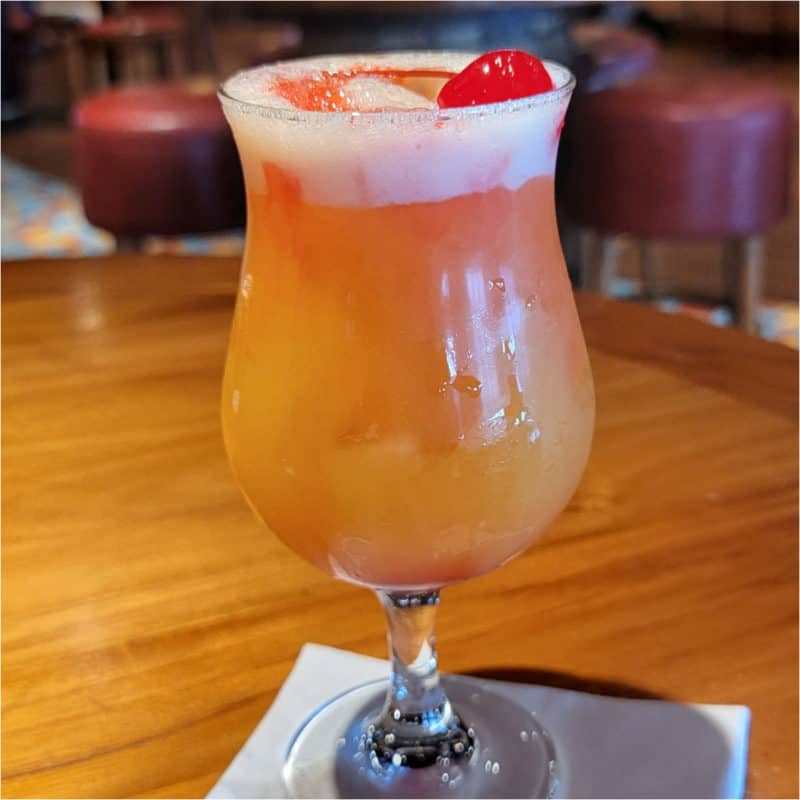 Ingredients: Bacardi Rum, Gosling Dark Rum, Pineapple Juice, Orange Juice, Bitters, Banana Liqueur, Grenadine
This Carnival Cruise favorite captures the spirit of the tropics in one welcoming hurricane glass.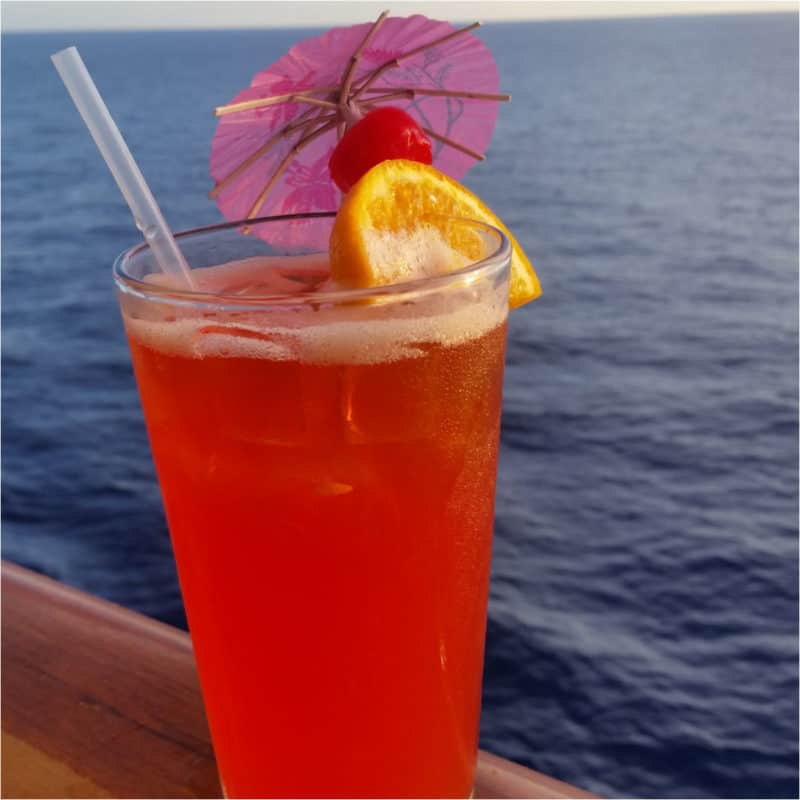 Ingredients: White Rum, Crème de Banana, Apricot Brandy, Orange Juice, Piña Colada Mix, Grenadine
The addition of apricot brandy makes this the sweeter of the two Carnival Cruise cocktails we have featured.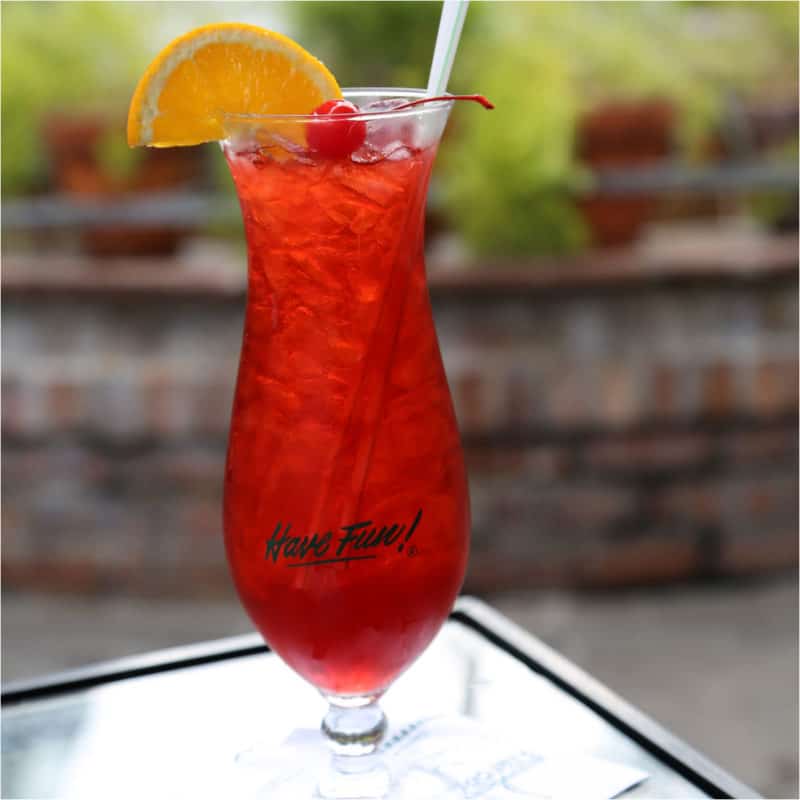 Ingredients: Light Rum, Dark Rum Passion Fruit Juice, Orange Juice, Fresh Lime Juice, Simple Syrup, Grenadine; Cherry and Orange for Garnish
This copycat cocktail is one of our favorites for Mardi Gras or any warm-weather gathering.
Ingredients:  Southern Comfort, Sour Mix, Orange Juice, Grenadine
A fun twist on a classic Hurricane Cocktail. These Hurricane Popsicles taste amazing on a hot summer day!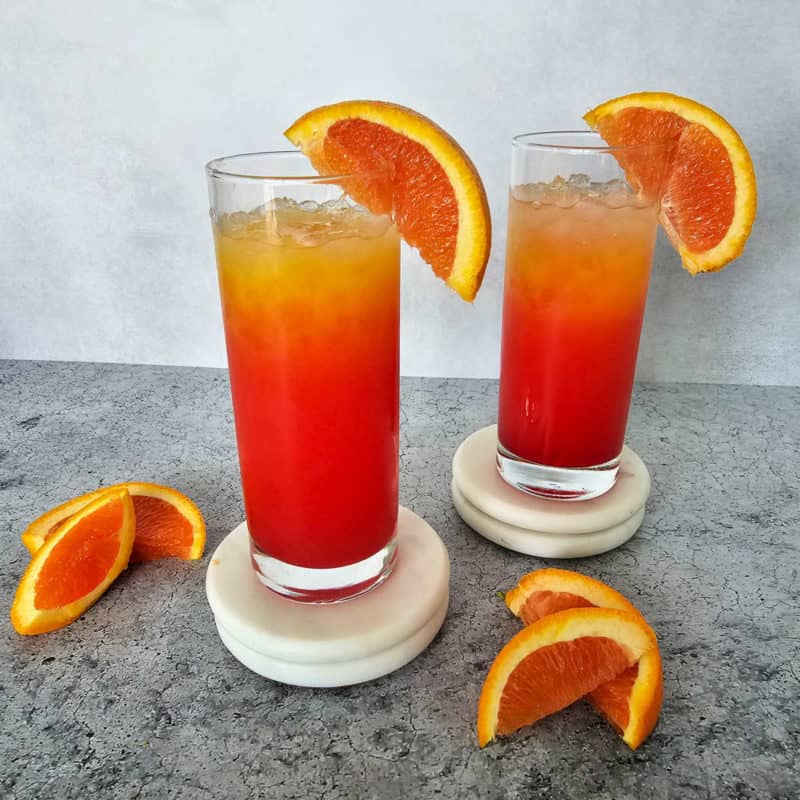 Ingredients: Vodka, Orange Juice, and Grenadine
A fun twist on a classic Tequila Sunrise this easy cocktail tastes amazing.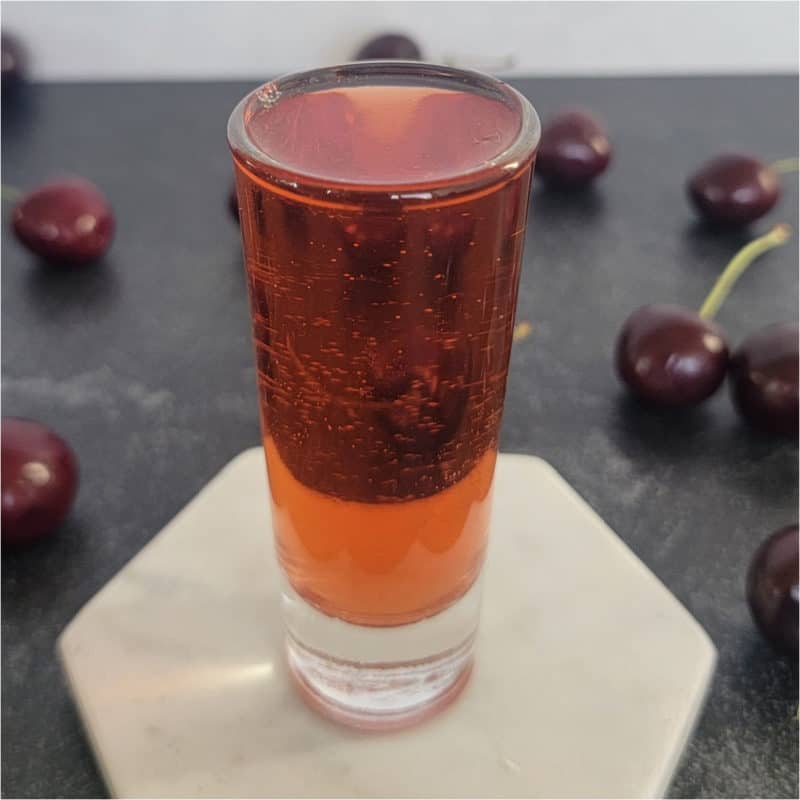 Ingredients: Grenadine, Cherry Vodka, Red Bull Energy Drink
This three-ingredient shot is the cherry-flavored sister to the Vegas Bomb Shot.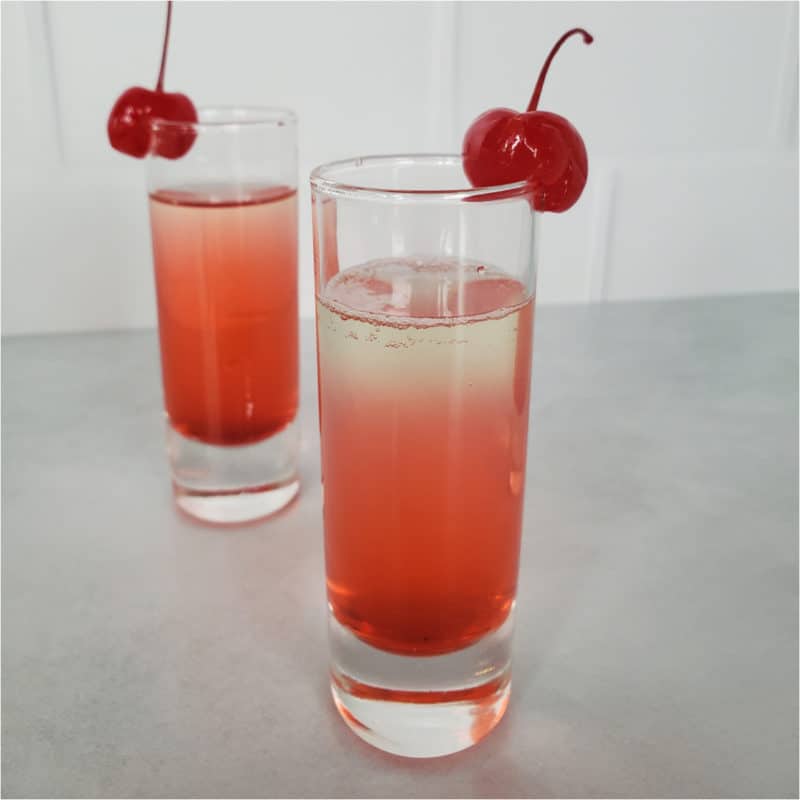 Ingredients: Vanilla Vodka, Pineapple Juice, Grenadine
Try this tropical dessert in shot form - you won't be disappointed. For a full-sized martini, increase the proportions according to the size of your glass.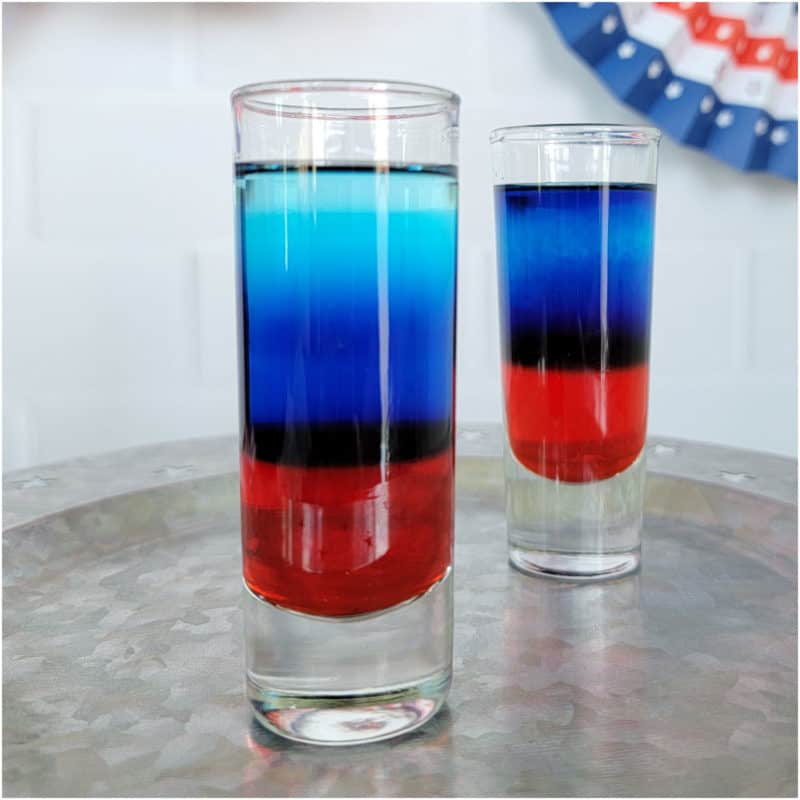 Ingredients: Grenadine, Blue Curaçao, Vodka
Grenadine, vodka, and blue Curaçao combine to make this Fourth of July-inspired shot.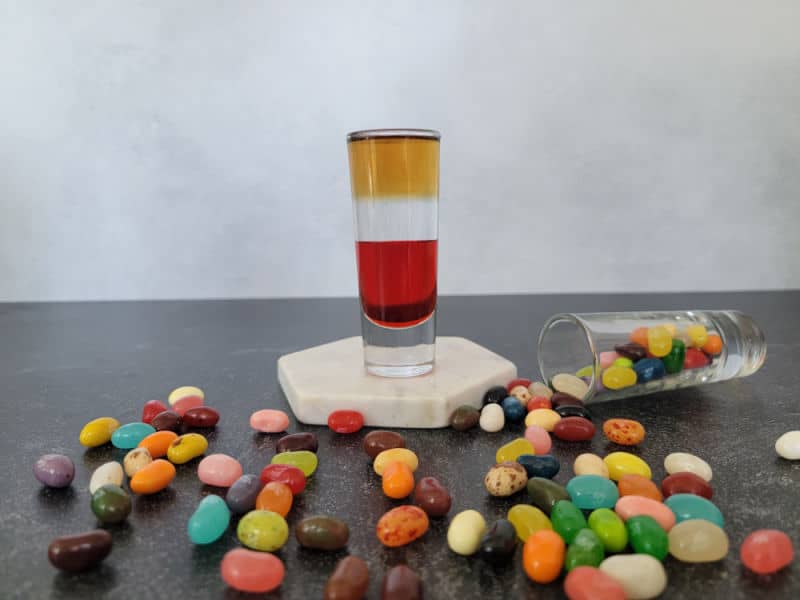 Ingredients: Grenadine, Sambuca Liqueur, Southern Comfort
Licorice lovers will love the anise-flavored sambuca that makes this shot a winner.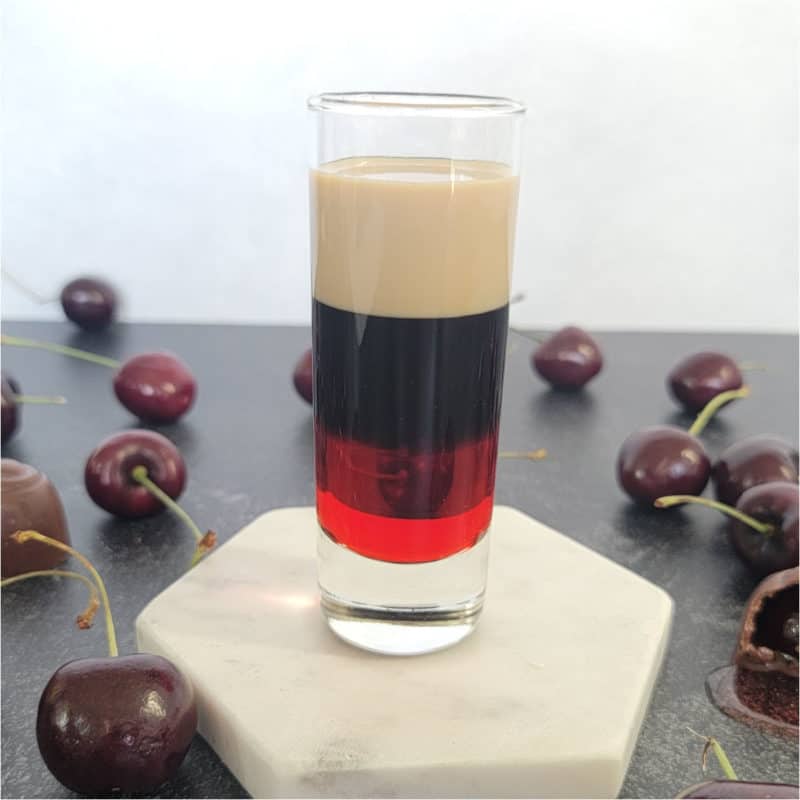 Ingredients: Grenadine, Kahlúa Coffee Liqueur, Bailey's Irish Cream
This dessert-themed shot will sweeten your Valentine's Day - or any day, for that matter.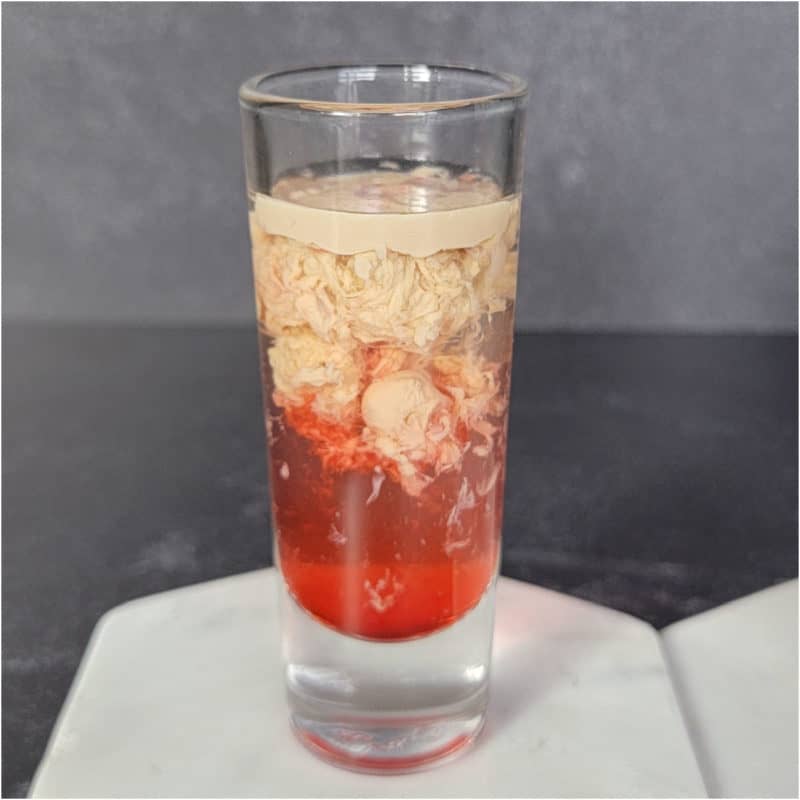 Ingredients: Peach Schnapps, Bailey's Irish Cream Liqueur, Grenadine
The Brain Hemorrhage Shot intentionally uses peach schnapps to curdle the cream in Bailey's, resulting in a creepy yet fun visual.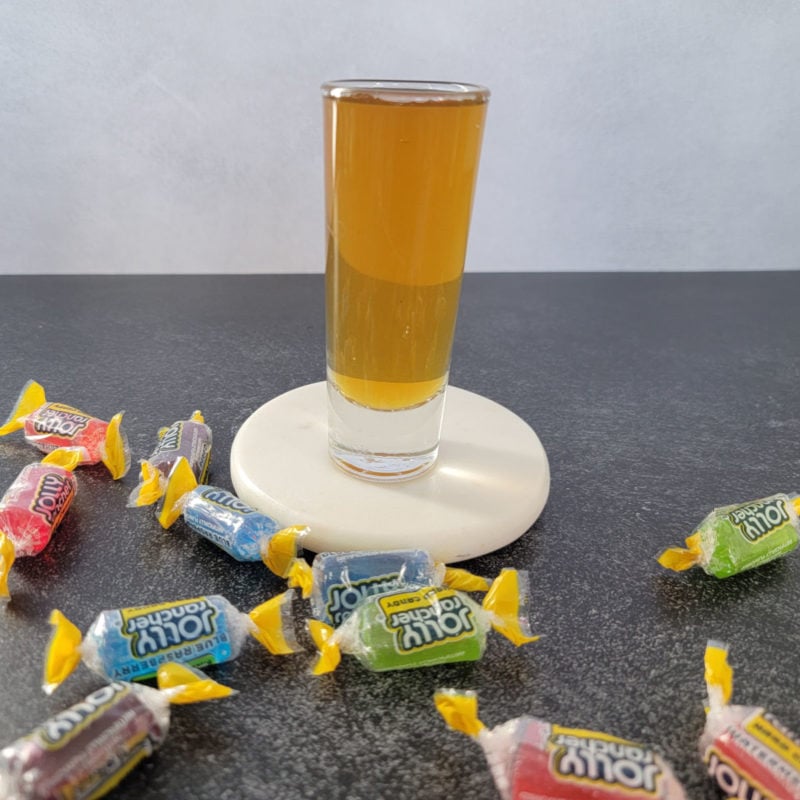 Ingredients: Midori Melon Liqueur, Peach Schnapps, Sour Mix, Grenadine
Feel free to experiment with fruit-flavored liqueurs and garnishes to up the ante of this sweet-tart shot.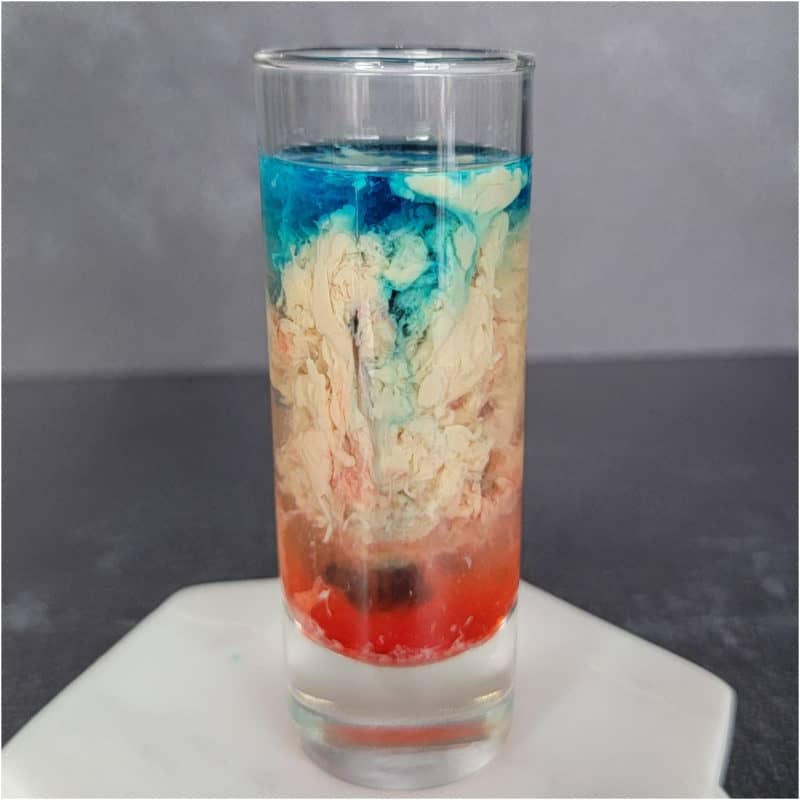 Ingredients: Peach Schnapps, Bailey's Irish Cream, Grenadine, Blue Curaçao
Blue Curaçao turns our Brain Hemorrhage Shot into a colorful and visually-pleasing shot.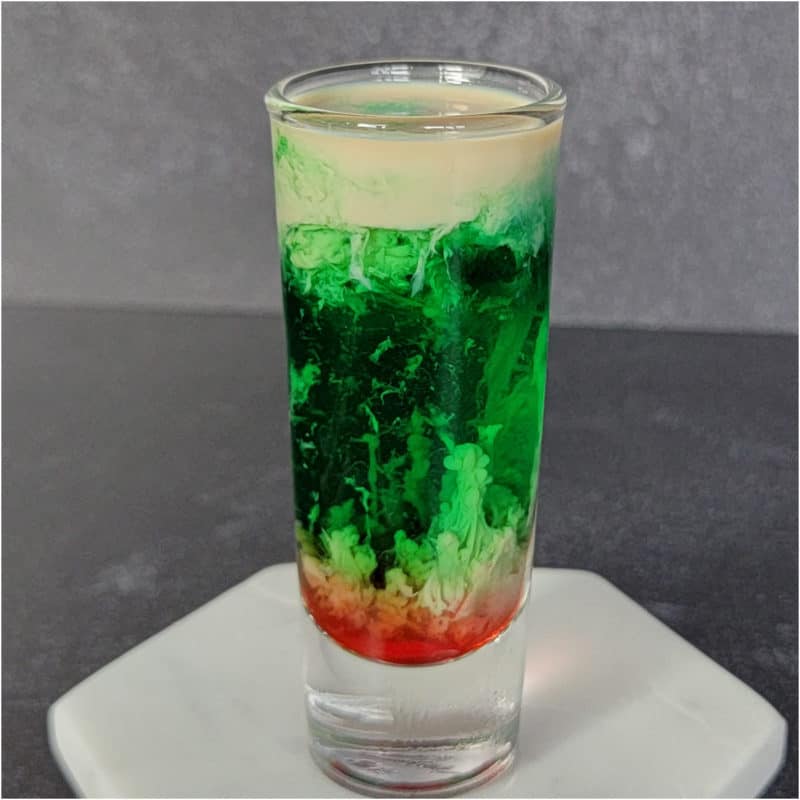 Ingredients: Peach Schnapps, Crème de Menthe, Bailey's Irish Cream, Grenadine
Peach, mint, and Irish cream combine to form a zombie-themed shot, making it a hit for any Halloween party.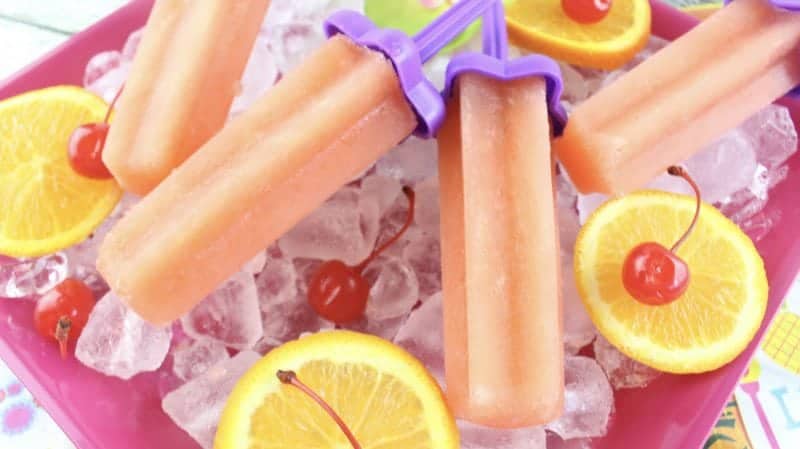 Ingredients: Orange Juice, Pineapple Juice, Rum, Malibu Coconut Rum, Grenadine, Fresh Lime Juice
The perfect summer treat these Bahama Mama Popsicles are refreshing and delicious. So easy to make and they are perfect on a hot summer day.
Non-Alcoholic Drinks with Grenadine
Since grenadine is non-alcoholic, it can be used in any mocktail that needs livening up. Here are some non-alcoholic drinks with grenadine.
Ingredients: Sprite, Lime, Grenadine
This kid-friendly Sonic favorite is surprisingly easy to make. Swap the Sprite for Sprite Zero for a healthier version.
Roy Rogers
Ingredients: Grenadine, Coca-Cola, Ice
Named after the Western film star, the exact origins of the Roy Rogers drink are unknown. This Shirley Temple-inspired mocktail uses Coca-Cola instead of Sprite or ginger ale.
Shirley Temple
Ingredients: Lime Juice, Ginger Ale, Grenadine, garnished with a maraschino cherry
The Shirley Temple is one of the most popular and famous mocktails. The classic mix of ginger ale and Grenadine with a bit of lemon or lime is amazing.
Pink Lemonade
Ingredients: Lemon Juice, Sugar, Water, Grenadine
Grenadine transforms traditional lemonade into a pitcher of rosy-hued joy.
Cocktail Tools
These are some of our favorite cocktail tools for making epic cocktails with Funny Drink Names.
Ice Cube maker - This ice cube maker produces the most amazing cubes of ice perfect for cocktails. It easily fits in the freezer and you can make up to 3 trays of round ball ice at a time.
2 ounce shot glasses - We love these 2 oz shot glasses especially for layered shots.
Bar Spoon - Bar spoons help to create layers in the cocktail shot. They fit perfectly into the cocktail shot glass.
Cocktail Shaker – This cocktail shaker comes with a fantastic set of tools. You want to pick a cocktail shaker that is easy to hold and shake.
Stemless Martini Glasses - These stemless martini glasses are fantastic.
Martini Glass - We like the look of the classic martini glass
Jell-O Shot Cups - We suggest using two-ounce Jell-O shot cups.
OXO angled jiggers - these are our go-to measuring tools for cocktails. They work perfectly for pouring in layers for cocktails.
Margarita Glasses - We like the look of classic margarita glasses but you can use any glass for this great cocktail.
Champagne Flutes - We love the look of classic champagne flutes for Valentine's Day cocktails!
Hurricane Glass - For a truly tropical look serve this drink in a hurricane glass.
Copper Mule Mugs  - Copper Mule Mugs are the classic way to serve Moscow Mule drinks. The copper mugs keep them nice and cold and look amazing.
Old Fashion Glass/Rocks Glass - Classic rocks glass for cocktails.
Cute Coffee Mugs - We really like the clear insulated coffee mugs that show off how epic your drink looks.
Printable recipe card instructions are available in each blog post. Simply click on the cocktail name and it will take you to the individual blog posts.
Nutrition information, including calories, protein, calcium, carbohydrates, fiber, vitamin c, potassium, cholesterol, sodium, trans fat, monounsaturated fat, polyunsaturated fat, and more, will vary depending on the products used.
Cocktail Guides
Want to learn more about cocktail ingredients? Check out these epic guides to some of the most popular cocktail mixers and ingredients.
Fireball Cinnamon Whiskey Guide
Check out all of our Cocktail Recipes