Today I am sharing things I didn't know I needed to experience in life until I went to Austria. One of the things about travel is some days you experience things you could never have imagined doing/seeing/eating/ or living through.
The random moments that make travel so fun and/or crazy are the things I always look forward to. Ok, some of the things I don't look forward to but I know that they are a part of travel.
Today's version of things I didn't know I needed to experience comes from our time in Austria during our Viking River Cruise. We had the opportunity to visit a few different Austrian cities including Salzburg, Melk, Vienna, and St. Gilgen during the river cruise. A portion of our Viking River Cruise included a land tour of Salzburg and a portion in Germany.
Check out my post on things I didn't know I needed to experience until I visited Germany to see some of the fun that we had during this portion of the trip.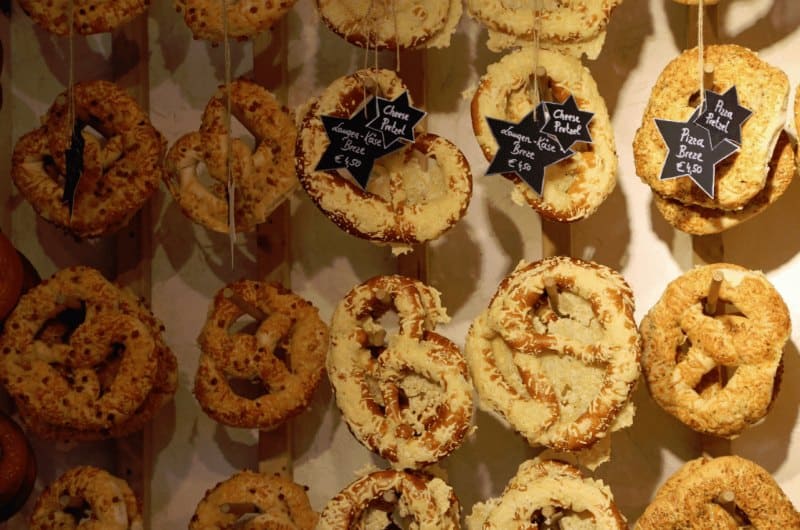 Things I didn't know I needed to experience in life until I went to Austria
Eat all types of pretzels! 
Holy Breze! The pretzels are ah-mazing in Austria!
We first experienced the mammoth number of pretzels, known as breze in Germany/Austria, at the Salzburg Christmas Market.
Everything from apple-filled to pizza pretzels is available. There were so many different varieties of pretzels I think you could try a different one every day for a month and not try them all. I am happy to say the pizza pretzels are simply delicious! Now I really want to try an apple pretzel.
I really wanted to try a cheese pretzel but sadly they were sold out when we went back to get one. I guess this is the perfect reason to have to return to Austria. 🙂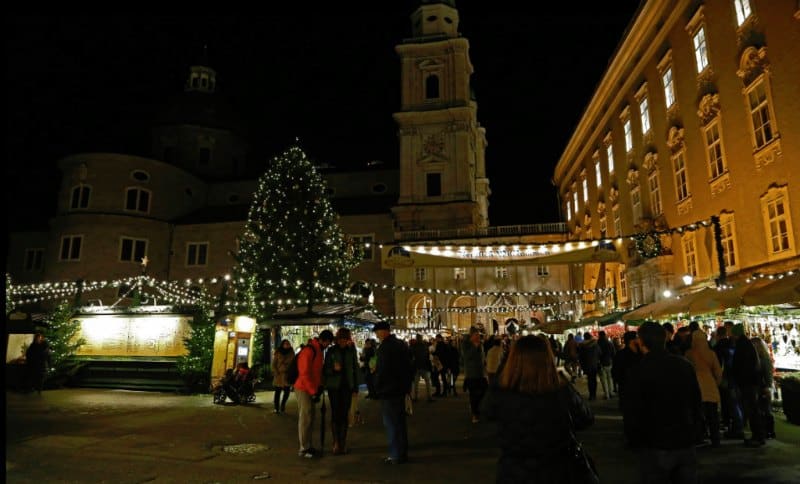 Fall in love with Christmas markets
I had heard amazing things about the Christmas markets from other writer friends. I honestly didn't think that we would have the chance to experience one during our trip. I thought that we were a couple of weeks too early.
You can imagine my joy and excitement when I realized that we were in Salzburg on the day the Salzburg Christmas market opened.  I honestly fell in love with Christmas markets and now want to book the Viking River Cruise that focuses on Christmas markets. The perfect combination of an amazing Viking Cruise and Christmas Markets combined = pure vacation magic!
We brought home a gingerbread heart that John bought me. I had to tease him because he bought one written in German and he wasn't 100% what it said. Lucky for him he got one that said I love You.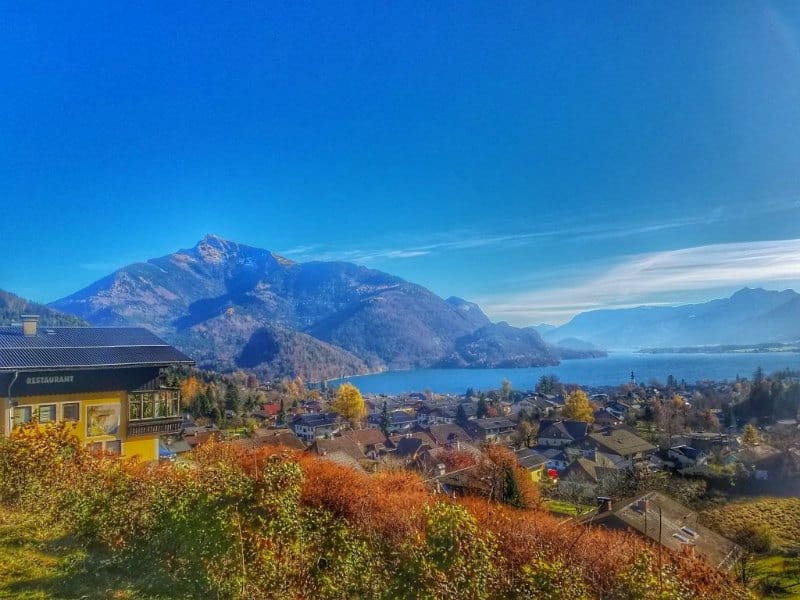 Sing Sound of Music songs daily and often
I mentioned in this weekly diary that we watched the Sound of Music for the first time the week before we headed out on our Viking River Cruise.
The movie and the music were at the front of my mind when we arrived in Austria which was a good thing. For some reason, I kept singing the songs in my head all day long!
Then when we were on the Viking Vili, they brought the singing group Sounds of Austria on board for an evening of entertainment, and we had a Sound of Music sing-a-long! It was amazing and so much fun.
Though if I am being honest I might have sung quietly because I didn't want to make anyone have to cover their ears when they heard my singing voice. It is not good, and I know it.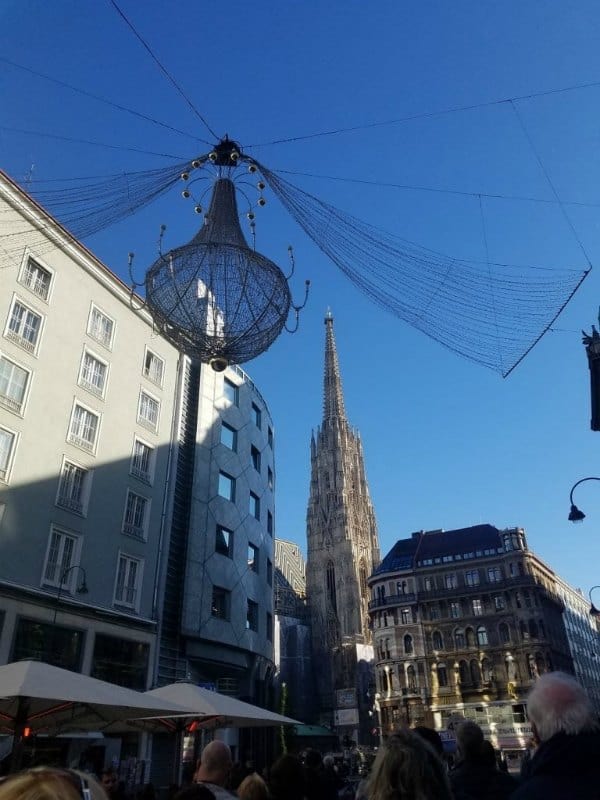 To return to Vienna for Christmas lights
We spent a day exploring Vienna on a Viking River Cruise walking tour.
I honestly had no idea how much Vienna decorates for Christmas. As we were walking around the city, I kept looking up at the lights hanging in the streets in awe.
Imagine how we felt when we found out that the lights were not turned on for another few days. They were just getting them set up for the holiday celebration. Thus I need to return to Vienna to see the Christmas lights in all their glory lit up on the streets.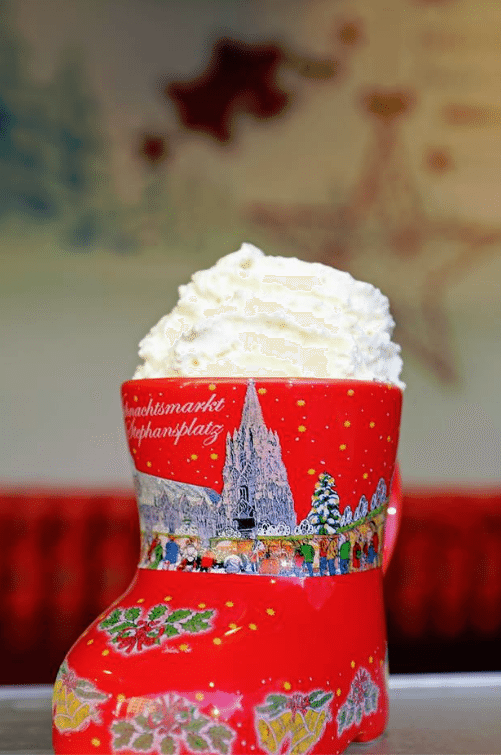 Try a Mozart punch in a boot
One of the fun things about the Christmas markets is they each have their own mugs/boots to serve gluhwein and other hot drinks in.
You pay around $3 euro deposit for the glass plus the cost of the drink. You can return the mug and get your money back or keep it and have a fun souvenir. We had to pick up this cool red mug when we saw it at a tiny Vienna Christmas market.
Oh, and if you have the chance to try Mozart Punch be prepared...it packs quite a punch. Holy cow! My cheeks were pink, and it wasn't from the cold air.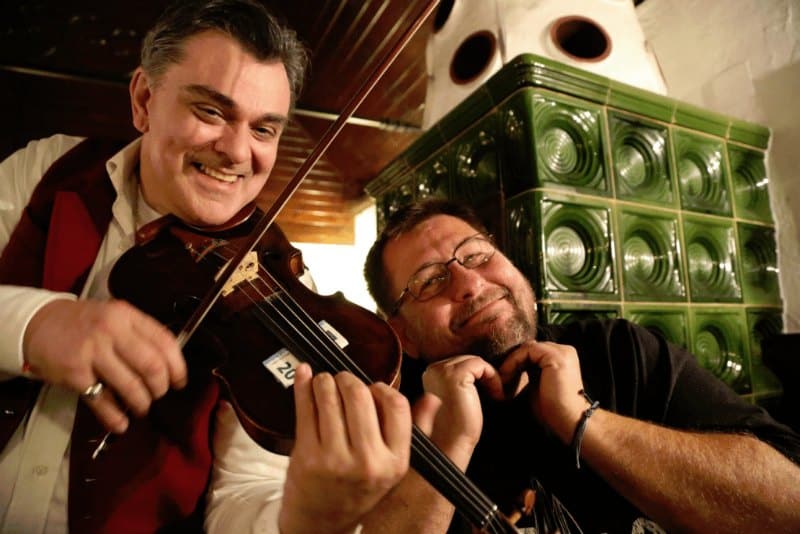 Watch my Husband flirt with a fiddle player
HA! Ok, flirt may be a bit of a strong terminology but I did get to watch my husband make goo-goo eyes at a fiddle player during our Heurigan Dinner in Vienna with Viking River Cruises.
It was hilarious! John decided to bat his eyelashes at the fiddle player which made the entire table laugh A LOT! This may have been because we had enjoyed a few bottles of Austrian wine at this point and were quite tipsy.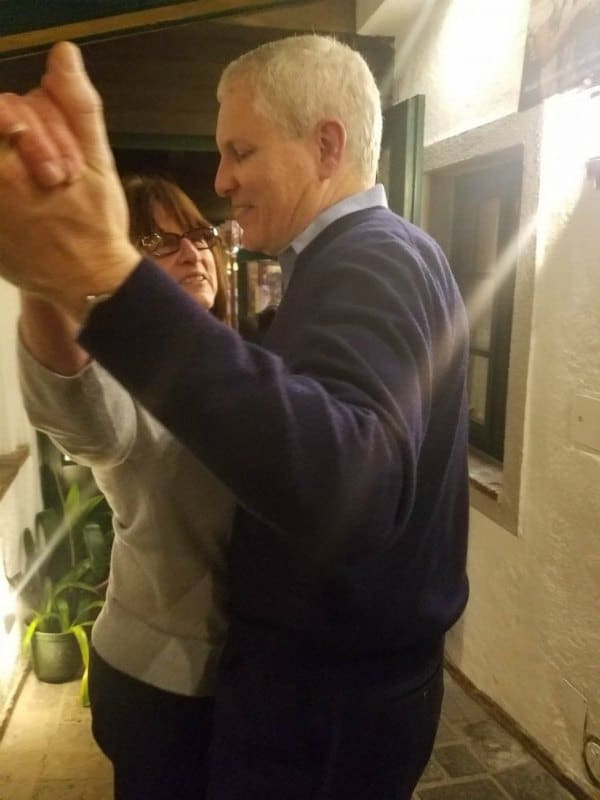 To learn the Viennese waltz in Vienna
One of our favorite couples on our cruise told us they learned how to do the Viennese waltz in Vienna. I instantly added this to my travel bucket list for things I need to experience at some point soon.
It's kind of like having black forest cake in the Black Forest. You can't help but smile and giggle at the idea of doing it.
Or maybe it is giggling at the idea of John and I doing a proper waltz. Either way, it is now on our to-do list for travel.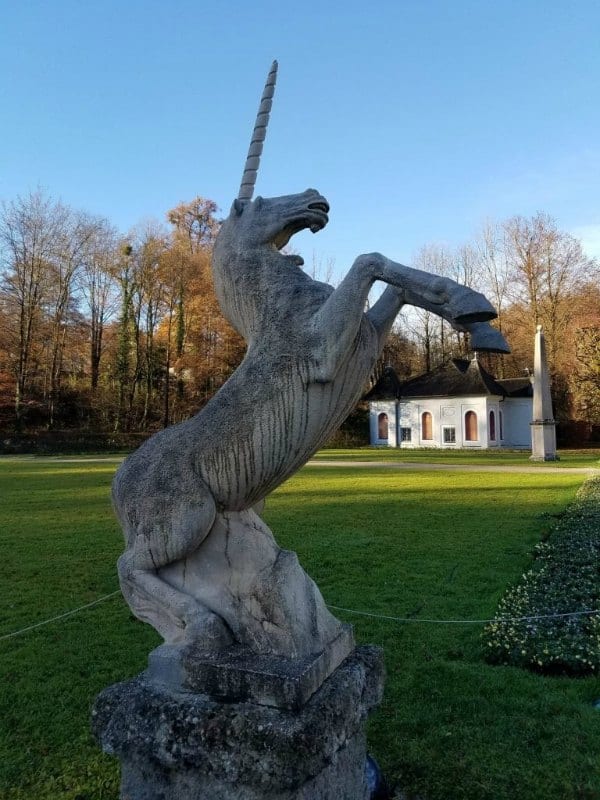 Have a unicorn statue
During our Sound of Music tour with Viking River cruises, we visited a palace that had a Unicorn Statue! I LOVE IT!
Now I need to figure out how to convince John that we need a unicorn statue. I am sure our neighbors won't think we are crazy for having one in Spokane.
We had so much fun visiting Austria on our Viking River Cruise. We are so thankful for Viking making this experience happen.