We completely and totally lucked out during our Castles & Legends Viking River Cruise. The Salzburg Christmas Market opened the day we were in Salzburg, Austria. I was started to get really bummed out that I had planned our river cruise too early for the Christmas markets. I started hearing everyone talk about how amazing they are and thought I had totally picked the wrong dates for our cruise.
Exploring the Salzburg Christmas Market
You can imagine how giddy I was to learn that the Christmas Market was opening the day we were in Salzburg. I don't think I even realized how much I was going to LOVE the Christmas market until we started walking through them.
We started the day with a walking tour of Salzburg arranged by Viking River Cruises. Part of our tour led us straight to the squares where the Christmas market is held. Our guide told us all about the market, what to look for, and what to try.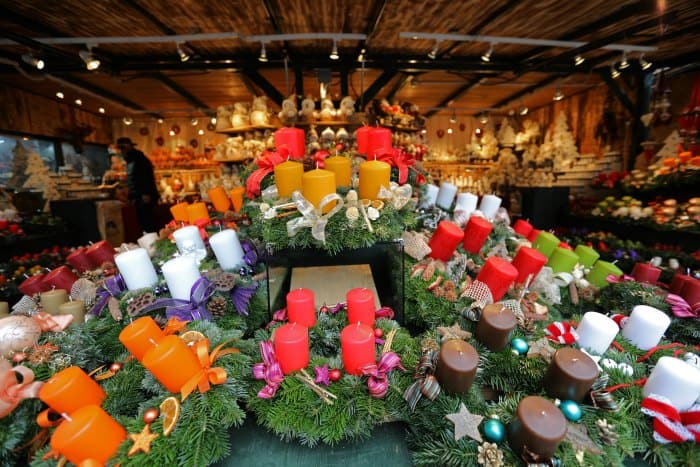 As soon as our walking tour was done we had the afternoon to wander the city on our own. John and I headed straight to the Christmas market. The vendors had just opened and were still in the process of setting up when we arrived. Even during the day the market was amazing.
We started our feast of eating our way through the market in the afternoon and continued through the evening. We did take a few hours break back at the hotel room to rest our feet and prepare for the evening festivities.
The full market kicked off at 6:30pm with speeches from the Mayor of Salzburg and more. Day or night the Christmas market in Salzburg was absolutely amazing! Now that we are home we are talking about all of the things we wished we would have bought while we were there. So many cute souvenirs to decorate the house with!
Here are some of our favorite photos from the Salzburg Christmas Market!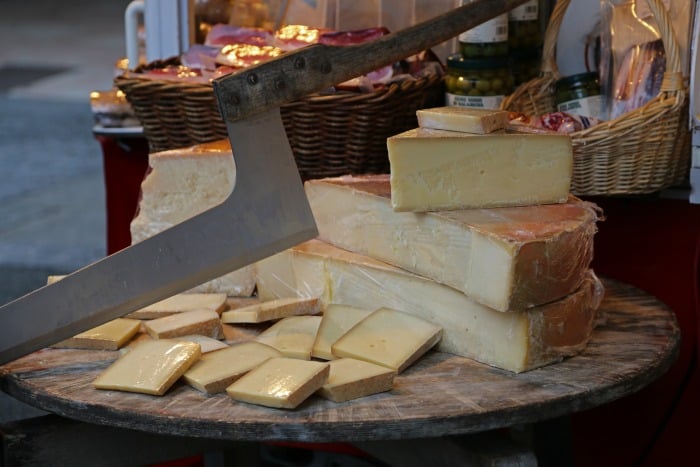 oooh my, the cheese!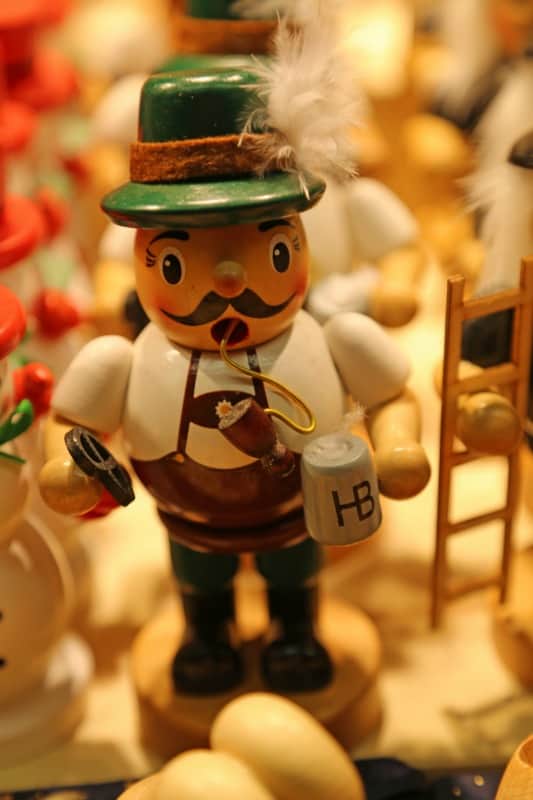 I show wish we would have bought this while we were at the Christmas Market in Salzburg. I love that he is holding a pretzel and a beer. So dang cute!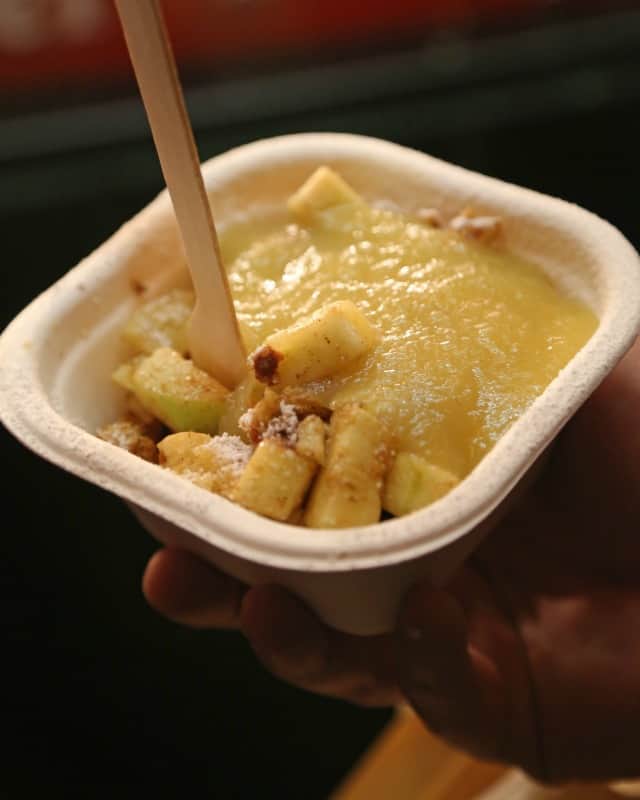 This applesauce coated dish was soo good! Our waitress at our hotel in Salzburg kept telling us to look for the apple sauce. We were a bit confused until we found a stand making this dutch mess mix with apple sauce over it. I can't wait to try and recreate this!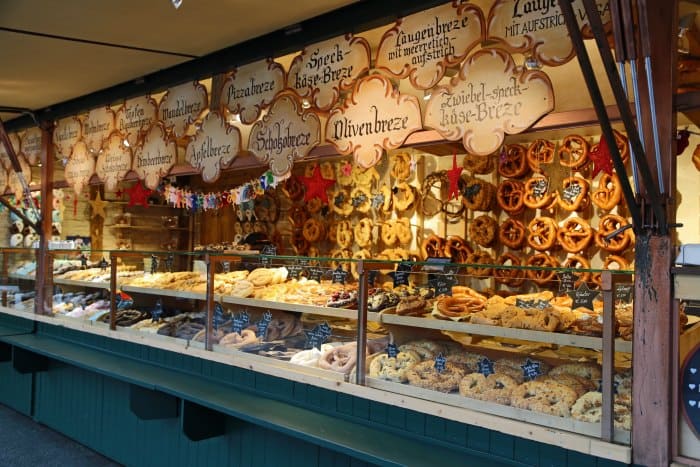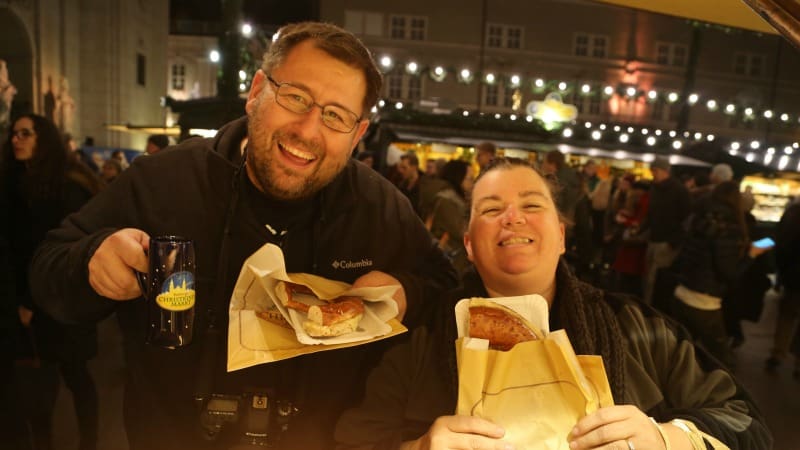 Pretzel paninis and gluhwein....HELLO YUM!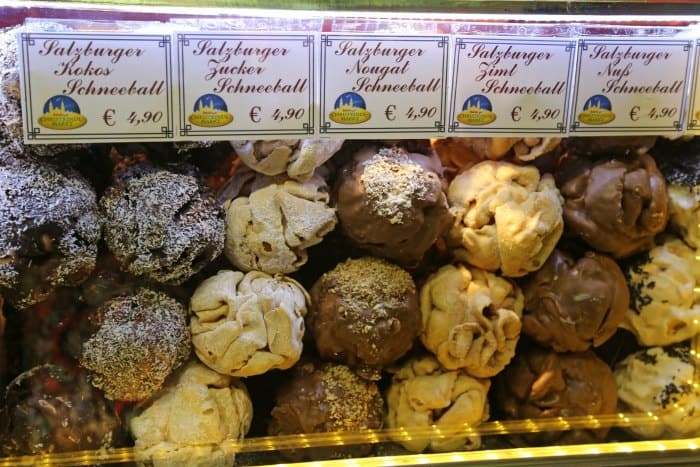 These Schneeball's were so delicious!!!
A Schneeball or Schneeballen, snowball in English, is a pastry made from shortcrust pastry.
We hope you enjoyed our Salzburg Christmas Market photos! We are so thankful for Viking River Cruises hosting us on the Viking Longship Vili. I can't wait to share more photos from our cruise later this week!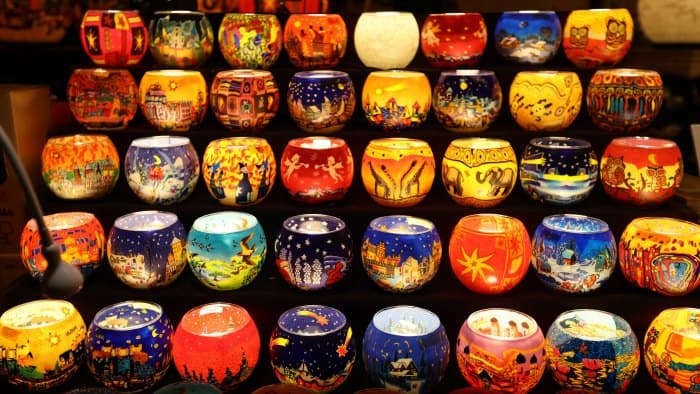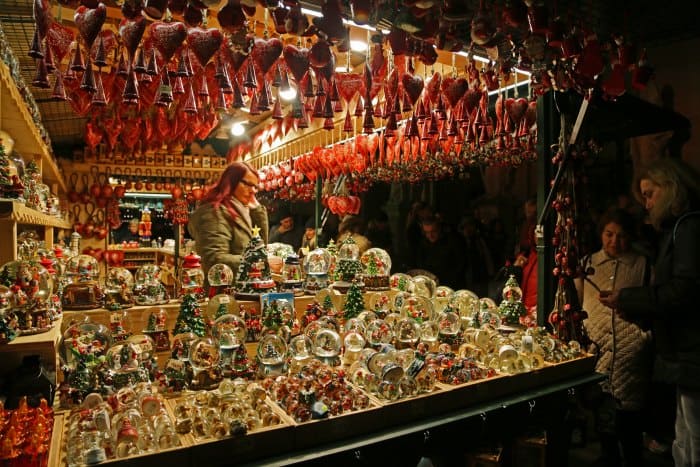 Additional Europe Travel Resources
Viking River Cruise Travel Diary
Sound of Music Tour, Salzburg, Austria
Heurigen Dinner, Vienna, Austria
Melk Abbey, Melk, Austria
Check out all of our Europe Travel Guides