I have to start off with sending a huge thank you to Disney/Marvel for inviting me to the Thor Ragnarok Red Carpet in LA! There is nothing quite like a red carpet experience. Prior to my first red carpet for Iron Man 3 a few years ago I honestly had no idea what to expect. The Thor Ragnarok Premiere was amazing and a visual spectacular. My eyes didn't know where to go there was so much to see. Walking the red carpet is one part madhouse and one part super surreal. You are looking around and realizing that you have just walked into an episode of Entertainment Tonight.
It is hard to describe the energy of the red carpet, especially for a Marvel premiere. The entire world loves Marvel and it shows during the red carpet. You honestly never know who will be standing next to you.  One thing to know about the red carpets is they try to keep them moving at a fairly swift pace. They want everyone to get into the movie theater so the event can start on time but also they want to prevent massive groupings of people blocking the walkway. I honestly feel for the security personnel and team that is in charge of the red carpet. I can't imagine how many times they have to keep asking people to keep moving.
Because let's be honest being on the red carpet is not part of our normal day to day life. We don't wake up an magically look like we are red carpet ready or wait even put on sparkly fancy clothes. LOL! Having the chance to be on the red carpet and experience it is one of those moments you want to be able to slow down time so you can see everything that is happening.
I tried to tiptoe down the carpet as slowly as I could so I could soak it all in while still being respectful of the security personnel that is doing their job. One thing I have learned in my 41 years of life is I am a rule follower. I have a hard time ignoring someone telling me to walk. I just feel like my Mothers voice is in my head telling me to be respectful and do what security tells me to do. This makes for quite the conundrum on the red carpet. One part of me wants to cement my feet to the carpet and soak in the moment and the other part of me starts walking faster because I don't want to upset anyone.
Thankfully I managed to find some middle ground and really soak in being at the Thor Ragnarok premiere.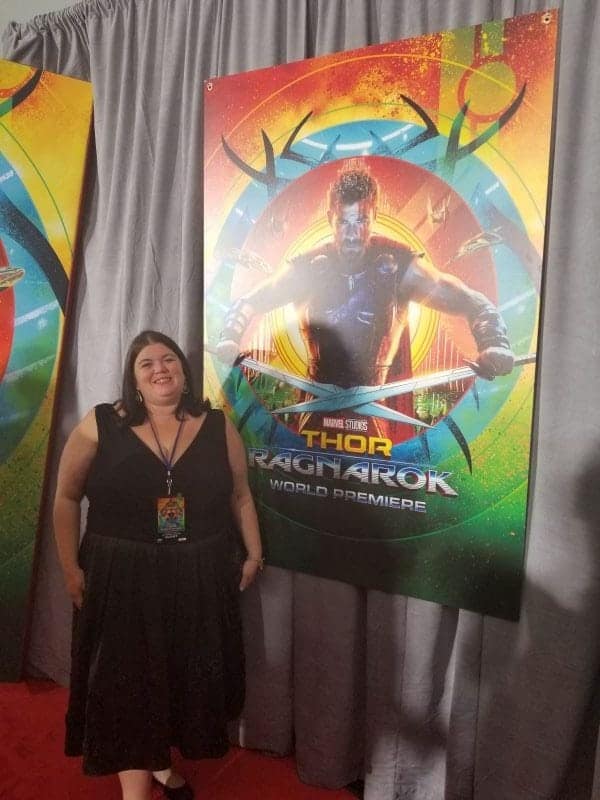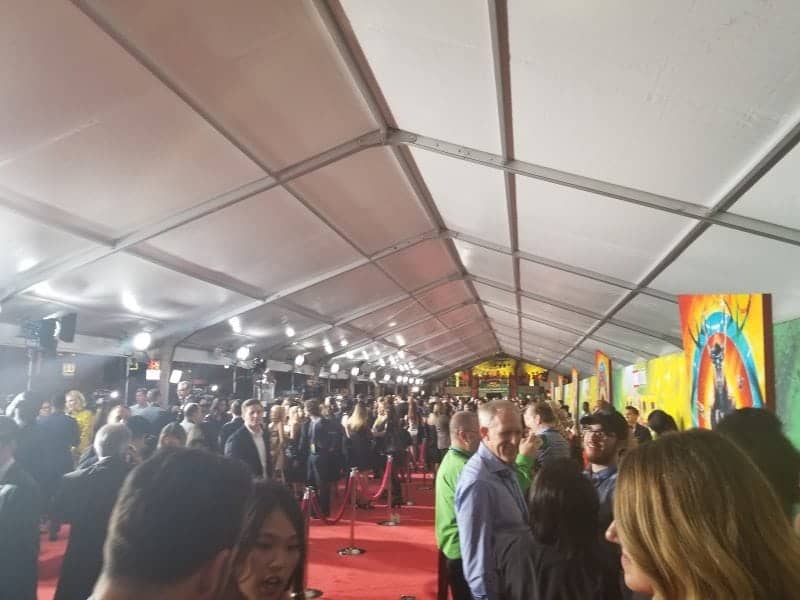 One thing to know about red carpets is they can be pretty long. The biggest thing to know...they are crazy bright!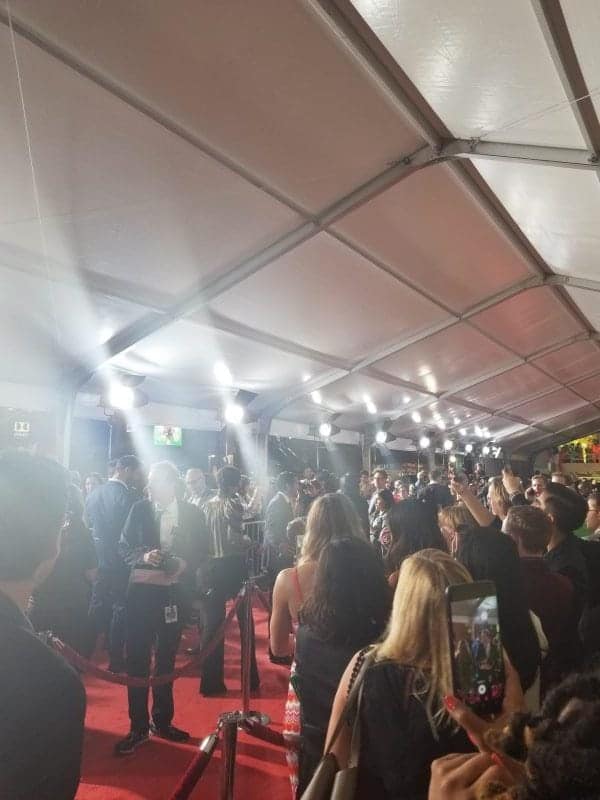 If you look closely through the light streams you can see Chris Hemsworth in a blue suit.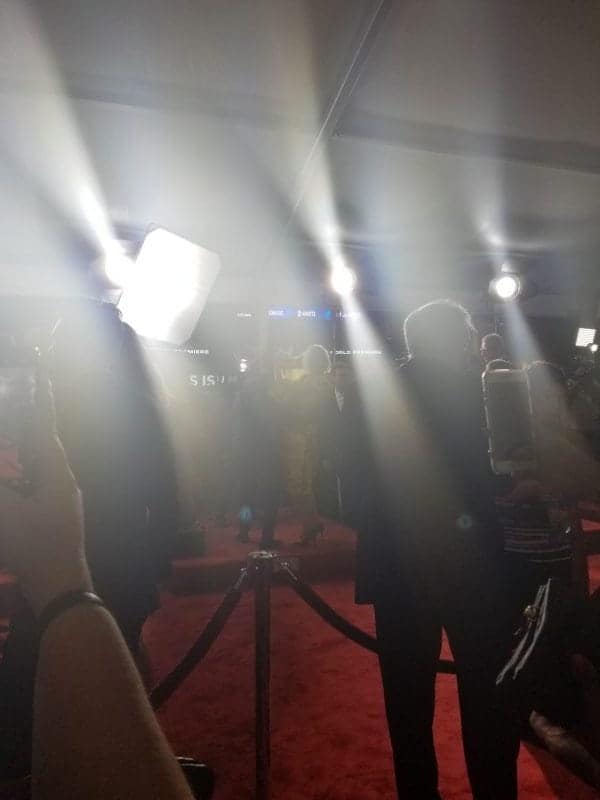 If you look closely you can see Kate Blanchett talking with reporters on the red carpet.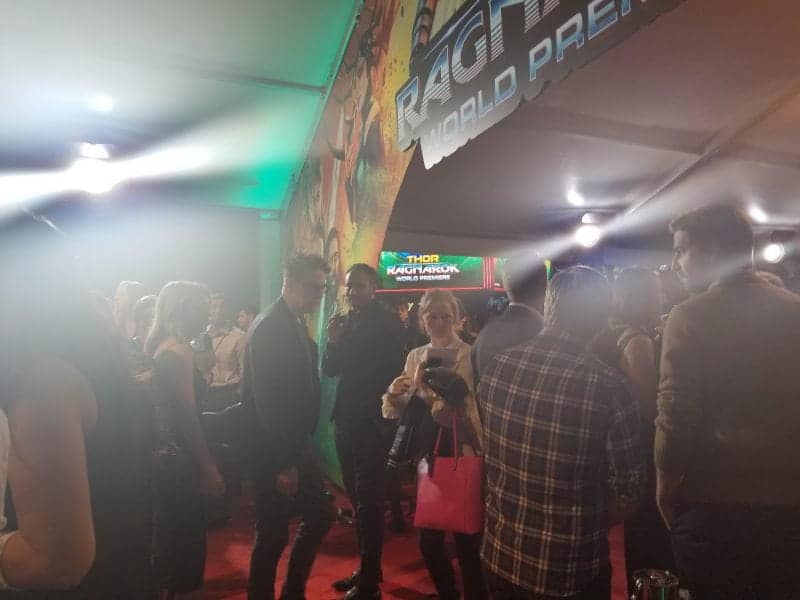 James Gunn walking the red carpet.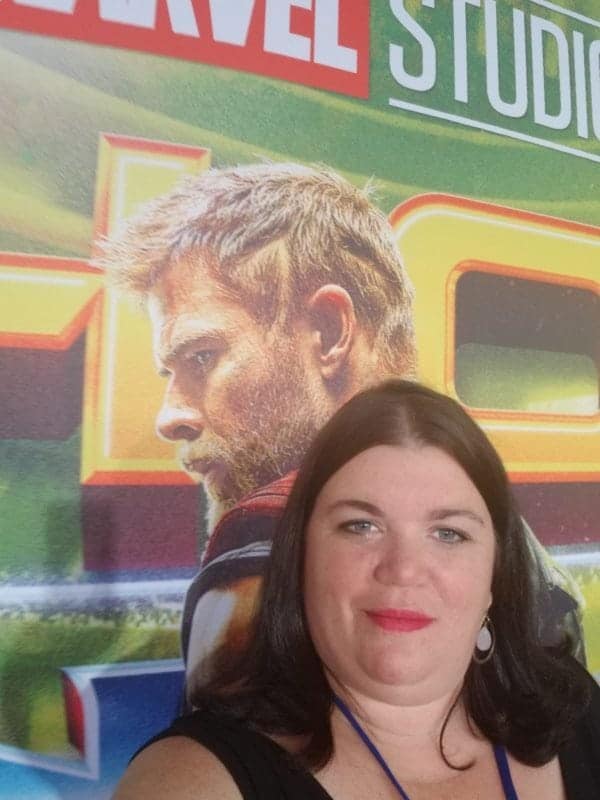 oh and hey it's me...lol!
Walking the red carpet was an awe-inspiring experience which honestly got even better when we made it into the theater. I was seated in the first row right on the aisle near the stage.
Talk about having a bird's eye view of what is happening and watching the movie.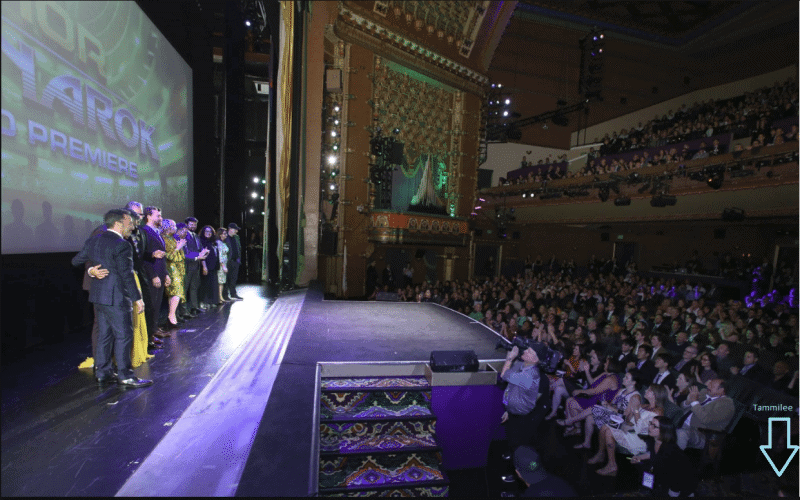 The arrow shows my head and where I was sitting. All of the stars walked right past me as they took their seats for the premiere. One thing I am always in awe of is we are watching the movie at the same time many of these stars are seeing it for the first time.
They get to experience our reactions and we get to know that they are in the room with us. Crazy!
I am so thankful to Disney and Marvel for giving me this bucket list life moment. I had to pause for a second after the movie while standing in the lobby of the El Capitan and just soak in the moment. As I looked around I could see Miley Cyrus, Liam Hemsworth, Jon Favreau, Chris Hemsworth, Tom Hiddleston and more. It was such a surreal crazy moment. Here I am a girl from the PNW who shares her life and travels standing surrounded by celebrities. It was such a great reminder that dreams do come true and truly anything is possible in this world!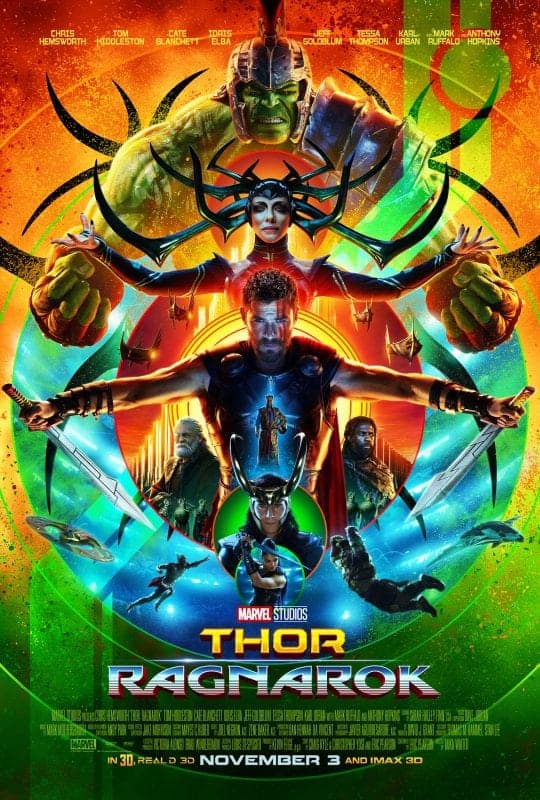 Check out the trailer...

Mark your calendars for November 3rd, 2017 to hit the theaters for Thor Ragnarok! Trust me you will want to see the movie as soon as you can!!!!
In Marvel Studios' "Thor: Ragnarok," Thor is imprisoned on the other side of the universe without his mighty hammer and finds himself in a race against time to get back to Asgard to stop Ragnarok—the destruction of his homeworld and the end of Asgardian civilization—at the hands of an all-powerful new threat, the ruthless Hela. But first, he must survive a deadly gladiatorial contest that pits him against his former ally and fellow Avenger—the Incredible Hulk!
"Thor: Ragnarok" is directed by Taika Waititi and returns Chris Hemsworth starring as Thor and Tom Hiddleston reprising his role as Loki. They are joined by Cate Blanchett, Idris Elba, Jeff Goldblum, Tessa Thompson and Karl Urban, with Mark Ruffalo and Anthony Hopkins.  Kevin Feige is producing with Louis D'Esposito, Victoria Alonso, Brad Winderbaum, Thomas M. Hammel and Stan Lee serving as executive producers. Eric Pearson and Craig Kyle & Christopher L. Yost wrote the screenplay. Marvel Studios' "Thor: Ragnarok" thunders into U.S. theaters on November 3, 2017.
Like on Facebook: Facebook.com/Thor
Follow on Twitter: @ThorOfficial
Instagram: Instagram.com/Marvel