This past week I had the opportunity to attend the Iron Man 3 Hollywood Red Carpet Premiere at the El Capitan Theatre and it was amazing! I have to fully admit that this was a total bucket list moment that I am still in awe that I was able to do.
Leading up to the Iron Man 3 Hollywood Red Carpet Premiere we did so many amazing things in LA that I can't wait to share with you! Right before we got red carpet ready we had the chance to interview Gwyneth Paltrow. She was absolutely amazing.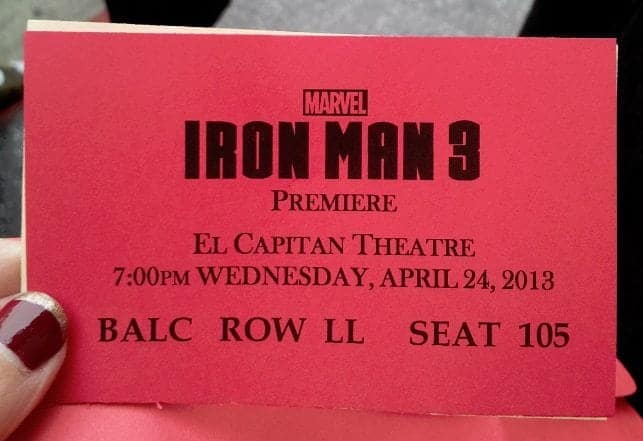 Do you ever have one of those moments you just want to pinch yourself and make sure you are awake? That is how I felt getting ready to walk the Iron Man 3 Hollywood Red Carpet. We were given envelopes that were personalized for us with our security bracelets and seat assignments. At this time I really had to take a moment and just look around me. You could feel the excitement in the air and everyone was so giddy and ready to go.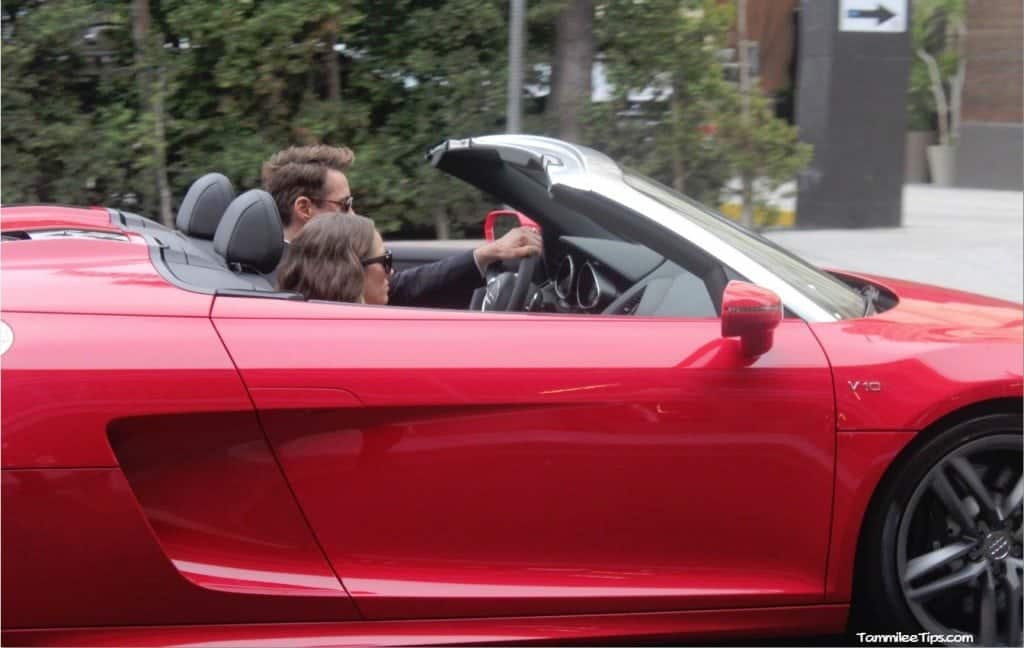 As we are standing there we hear a commotion behind us. I turn around to see Robert Downey Jr driving by in a red Audi personalized with Iron Man plates! Yep, this is going to be a crazy amazing night.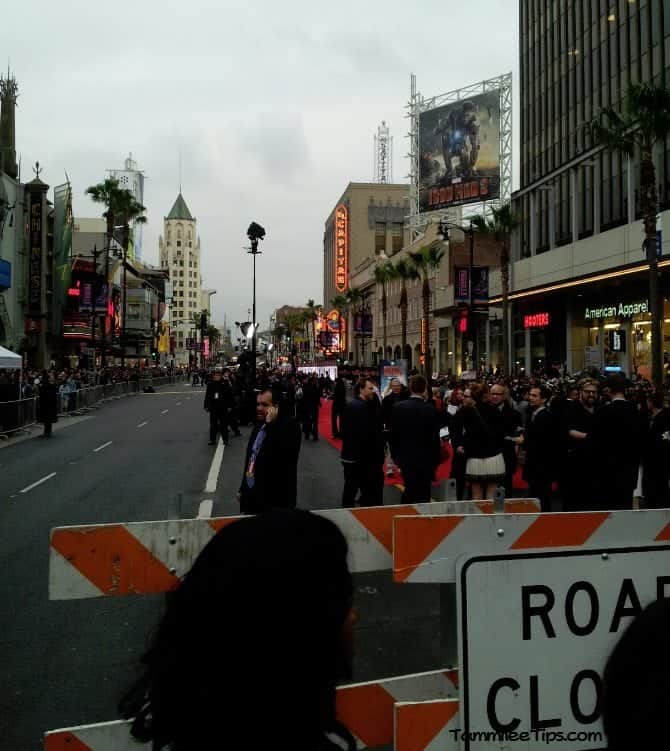 Our fearless leader told us that we were ready to hit the Iron Man 3 Hollywood Red Carpet Premiere and head towards Hollywood Boulevard. When we rounded the corner we were met with masses of screaming people. I don't think I was fully prepared for the huge mass of screaming fans. This was my first time on a red carpet (hopefully not the last) and it was awe-inspiring.
Hollywood Boulevard was closed for the red carpet and there were people lined up everywhere! Fans, photographers, security, and even a few celebrities.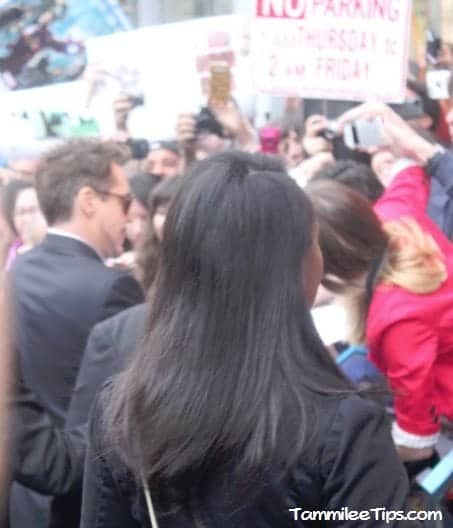 Robert Downey Jr was signing autographs for fans when we walked by. I was so impressed with how many autographs he signed. He was smiling and looked like he was having an amazing time.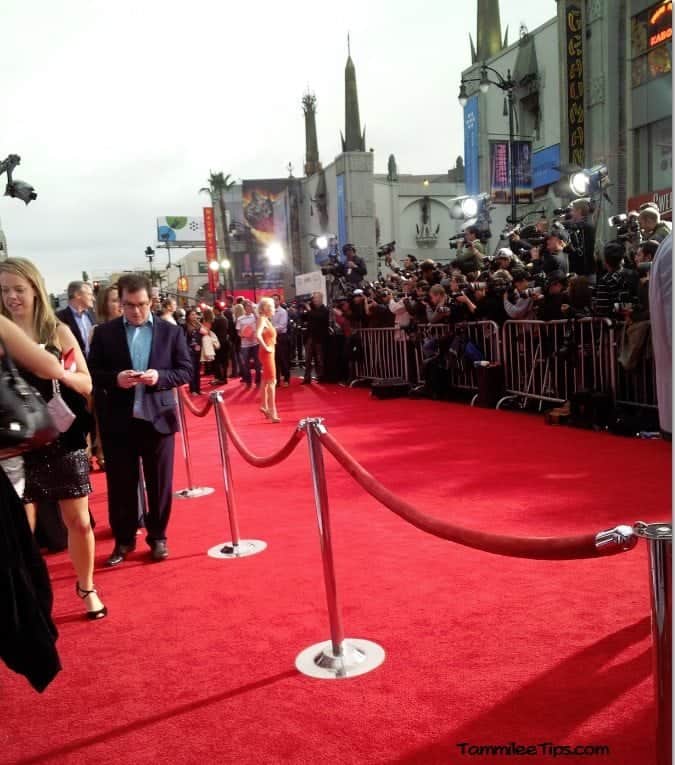 The Iron Man 3 Hollywood Red Carpet was a whirlwind from the moment we stepped onto it. I tried to get as many pictures as I could while still playing it calm and collected. Ok, maybe not that calm and collected because holy cow we were walking the red carpet and it was a dream come true.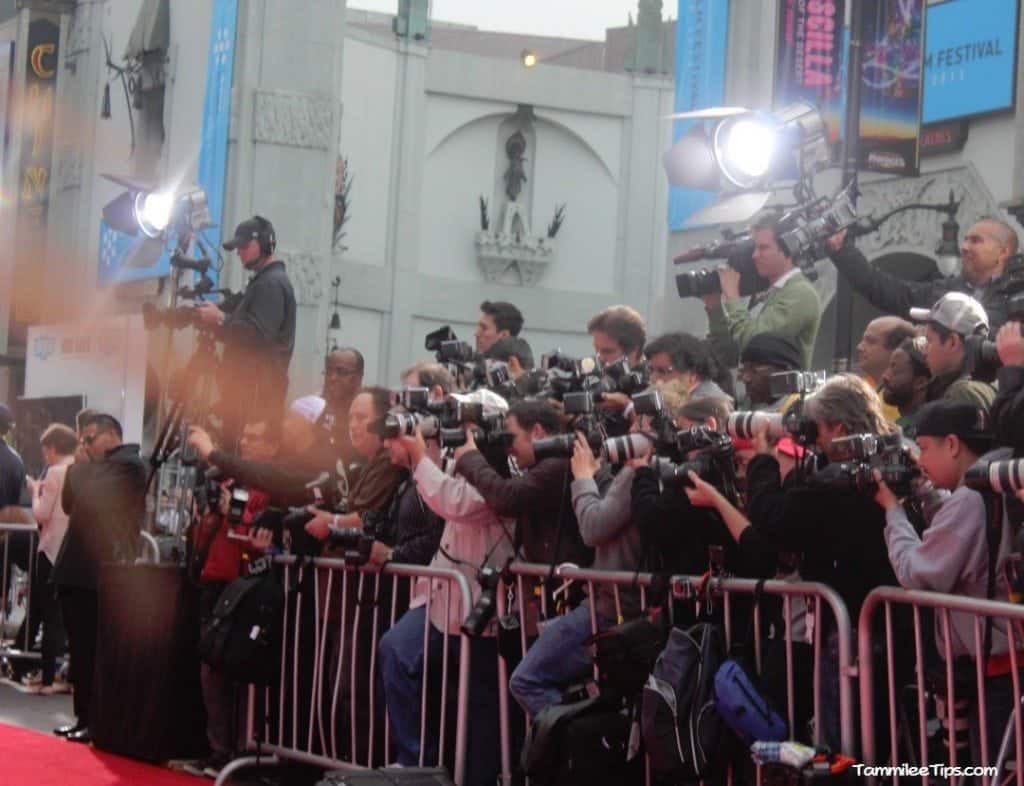 There were throngs of photographers lining the red carpet to get photos of the celebrities. I did not notice the flashing lights like I thought I would. When I have watched red carpet premieres on TV I always thought the flashes would be blinding. In reality, there is so much going on and so many bright lights that they all kind of blend together.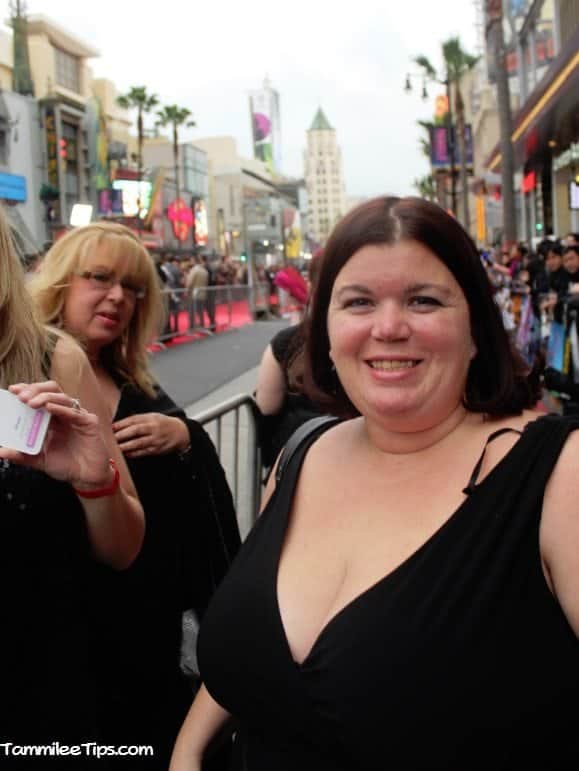 One of the best pieces of advice we were given for the Iron Man 3 Hollywood Red Carpet Premiere was to have a red carpet photo buddy. We were told that the red carpet would go by in a blur and boy was that true. Here is the one shot we were able to get on the red carpet before we were hustled down to the movie theater.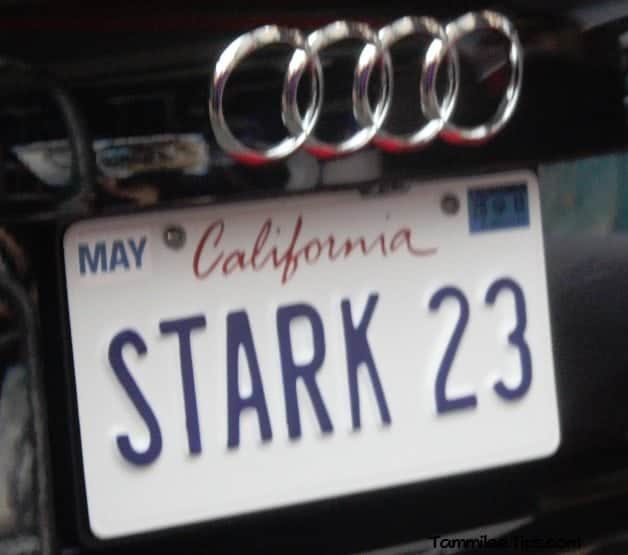 Remember the red Audi that Robert Downey Jr drove into the Iron Man 3 Hollywood Red Carpet Premiere at the El Capitan Theatre....check out the personalized plates on the black Audi that was on the red carpet. I love that they personalized them for the Iron Man 3 movie premiere!
Ok, are you ready for my celebrity sightings?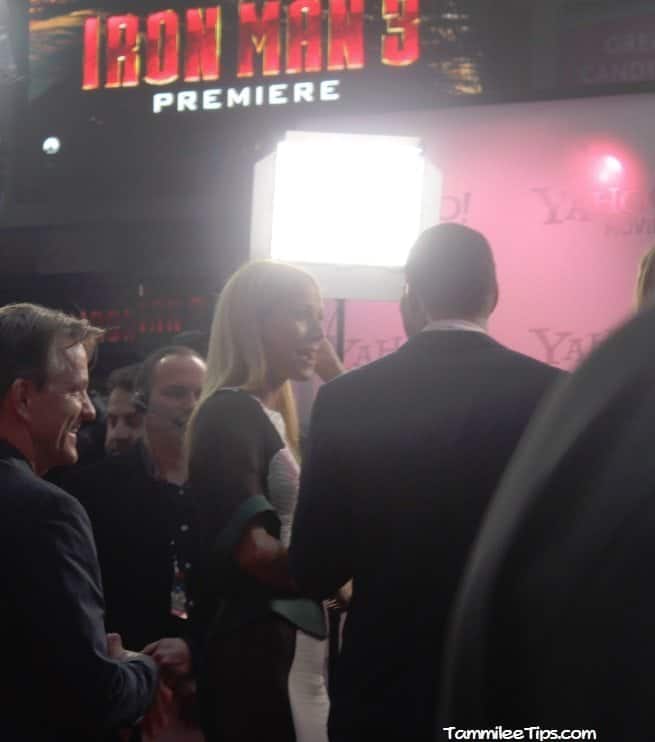 1st the amazing and wonderful Gwyneth Paltrow! She is even more stunning in person. I can see why she is People Magazines Most Beautiful Woman this year. After meeting her I was so dang impressed with how genuine and personable she was.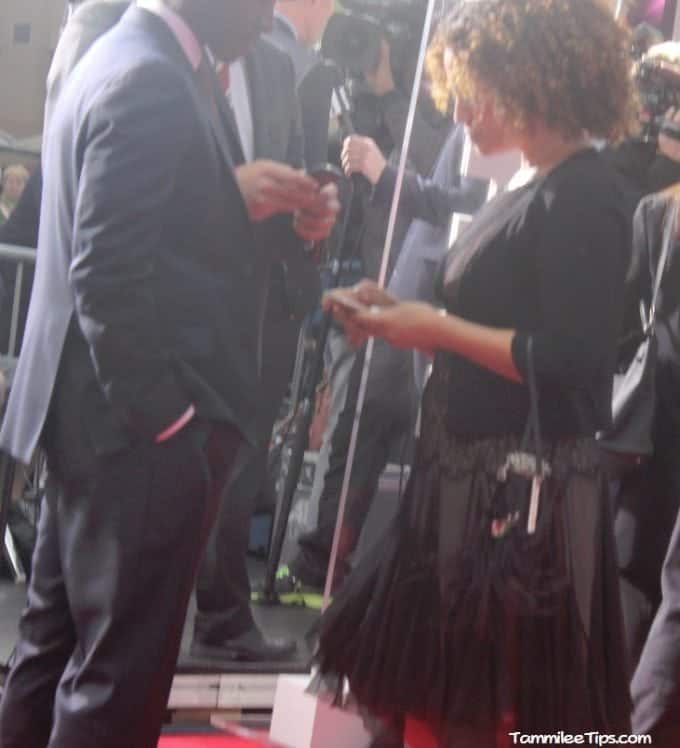 Mr Don Cheadle..Well most of him I kind of cut off his head just a tad bit but hey you can tell who it is.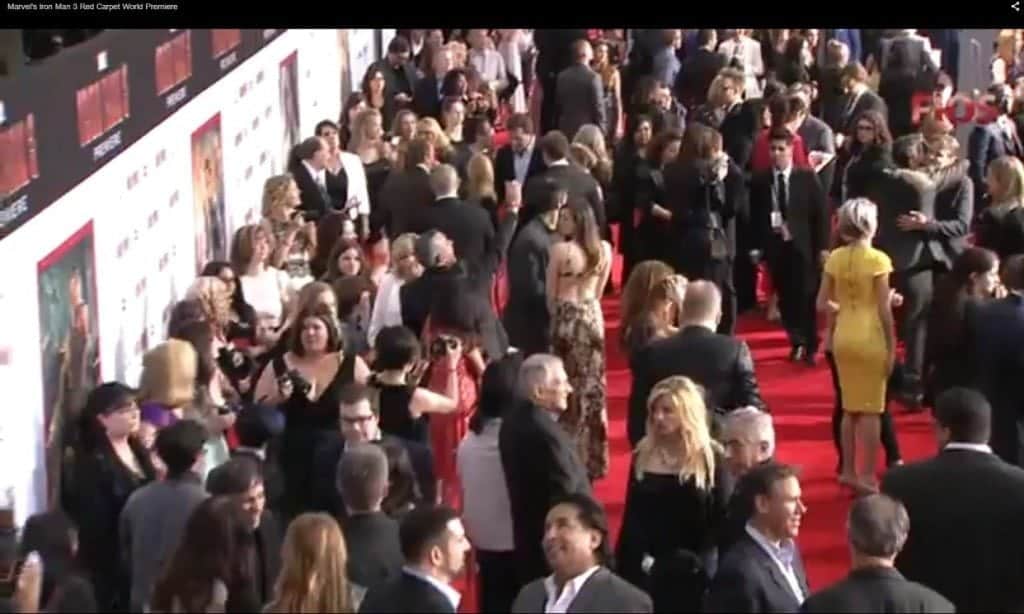 In this screenshot of the Iron Man 3 Hollywood Red Carpet Premiere at the El Capitan Theatre, you can see Stan Lee and me!
Can you find us on the red carpet?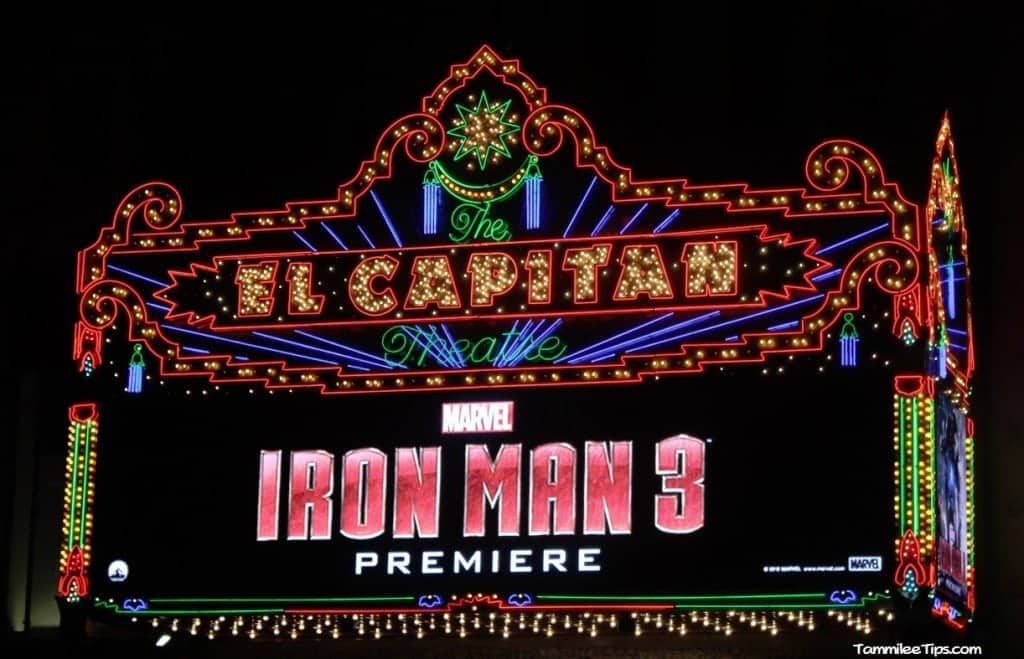 After an amazing walk down the Iron Man 3 Hollywood Red Carpet it was time to head into the El Capitan theater and pick up our popcorn, 3D glasses and check out the amazing Iron Man 3 movie.
We had to give our cell phones and cameras to security during the movie. You can imagine how hard it was to not be able to take pictures of the celebrities in the theater and share them with everyone.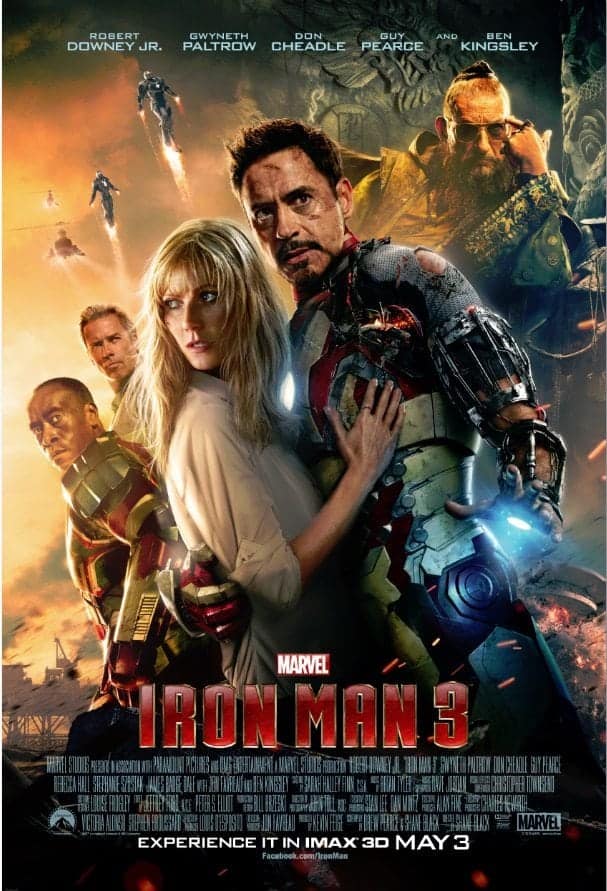 Iron Man 3 hits movie theaters on May 3rd! I can not wait to see this movie again. It is filled with action, adventure, a bit of romance and so much more. I have to say this is my favorite Iron Man movie so far and not just because I walked the red carpet.
Additional Marvel Articles
Chris Evans and Chris Hemsworth Interview
I was provided with a press trip to the Iron Man 3 premiere. All opinions expressed are my own.