Carnival Miracle Extended Balcony room Tour! Check out the additional balcony space, room video and photos, and more.

Carnival Miracle Extended Balcony Room
We booked an extended balcony stateroom for our Alaska Cruise on the Carnival Miracle. This was the first time we have booked an extended balcony.

Our hope was that we would have more space to relax and watch wildlife from the balcony. I have to say our wish came true.
It was so nice being able to stretch our legs out and relax while watching humpbacks off of the balcony.
The extra couple of feet made a big difference in comfort and how much time we spent relaxing on the balcony.
We had enough room to cuddle up next to each other to stay warm while enjoying epic views.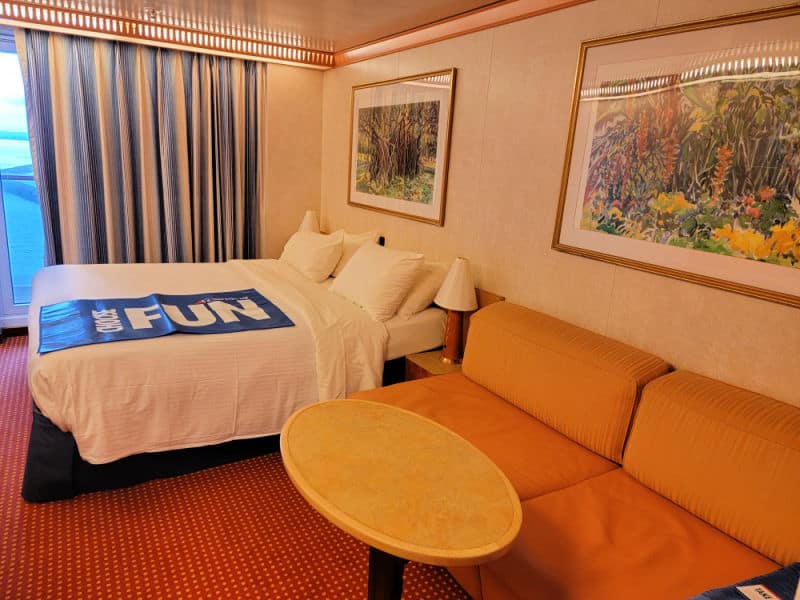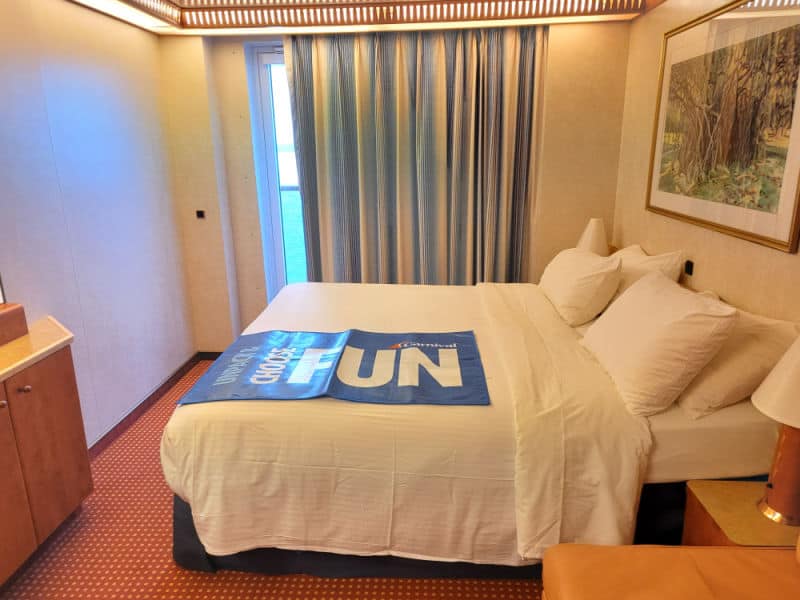 Bedroom
You can have the beds set up as 2 twins or put together to form a king-size bed. Just make sure to mark this when you are filling out your pre-cruise paperwork.
The couch is a comfortable place to lounge or store extra clothes. We tend to pile clothes up on it and then push them out of the way to relax.
There is space under the bed to store your luggage so you don't have to worry about tripping over it. Next to the bed on each side there are nightstands with lamps and space for storage.
Every room includes:
Dedicated room steward
Carnival Comfort Collection® linens
Plenty of closet and drawer space
In-room safe for valuables
Television
Stateroom climate control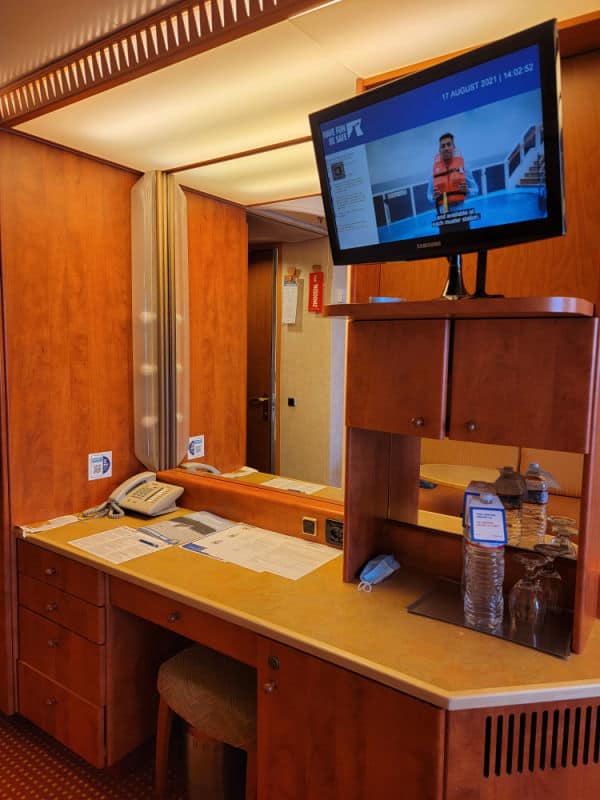 Desk
The desk has multiple drawers along with space on top of it. There is a stool seat stored under the desk that is actually really comfortable.
This is a great place to get ready for the night or get some work done. There is a small hairdryer in the drawer so you don't have to pack one if you don't mind using the stateroom hair dryer.
Make sure to bring an adapter for charging your phone and other electronics. There are NO USB plug ins in the stateroom. We bring this Belkin Charger with USB ports with us for cruises.
Don't forget to pack these items for your cruise!
Closets
There is ample closet space in the stateroom. If you need extra hangers you can ask your room steward for a few more hangers.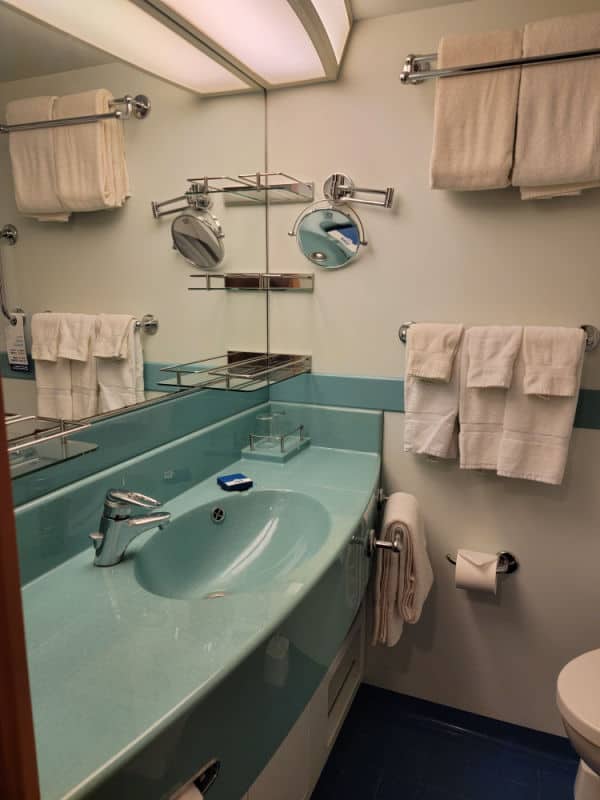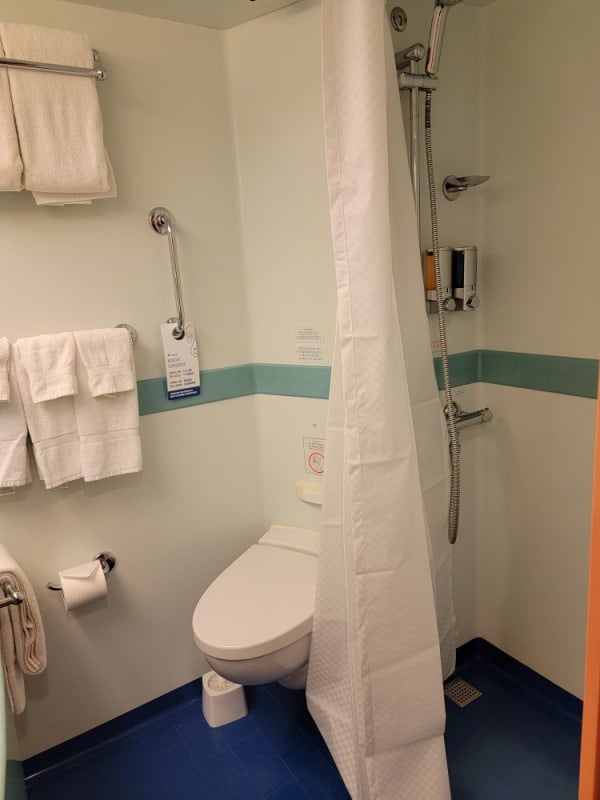 Bathroom
The bathroom was a typical Carnival Cruise bathroom. There is everything you need in a small space.
The shower has a curtain which is great if you are plus size or don't enjoy the plastic doors on some ships.
The toilet is small but does what it needs to do. If you need more space there are tons of other bathrooms spread around the ship that may have more space.
There are multiple shelves above the sink for toiletries and personal items.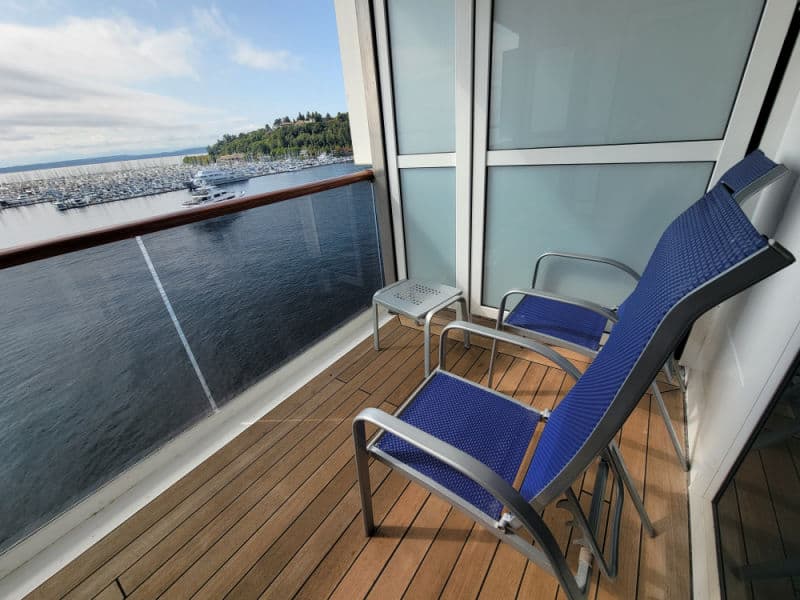 Extended Balcony
The extended balcony comes with the standard two chairs and a small metal desk. The chairs are fairly comfortable. If you are plus size they can be a bit tight on the hips.
We found the Carnival Miracle Extended Balcony Stateroom to be incredibly comfortable and perfect for our cruise vacation.
Check out epic cruise deals on Expedia
Additional Carnival Cruise Resources
Premium Vista Balcony Stateroom - Carnival Radiance
Balcony Stateroom - Carnival Breeze
Caribbean Cruise Packing List
11 Things to consider packing for a cruise
What to pack for an Alaska Cruise
Check out all of our Carnival Cruise Articles and Cruise Travel Articles