One of the best Alchemy Bar cocktails is the Curative Peach Cosmopolitan! This peach cocktail tastes amazing and is easy to make!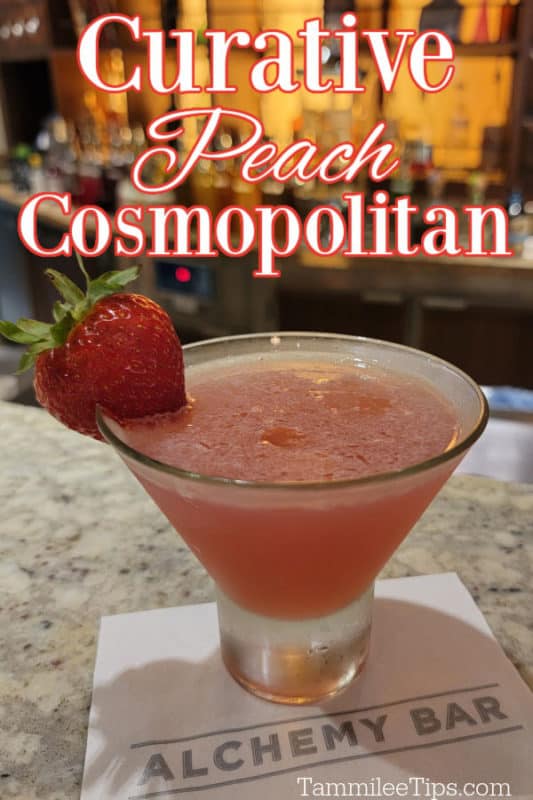 Alchemy Bar Curative Peach Cosmopolitan
The Alchemy Bar is a step above your normal cruise ship bar. This bar is not about blenders, funky glasses or loud music.
The Alchemy Bar on Carnival Cruises is all about producing an amazing cocktail in a relaxed setting.
This is one bar I highly suggest seeking out at the beginning of your cruise.
You don't want to find it the last night of your cruise and wish that you had more time to visit the bar. We ended up gravitating to the Alchemy Bar almost nightly on our cruise.
You can choose a cocktail from their menu or fill out a prescription pad letting the bartenders know what you are interested in.
We have tried every cocktail on the menu at the Alchemy Bar and each one was amazing.
Definitely check to see if your Carnival Cruise ship has an Alchemy Bar on board. You will not be disappointed in spending time at this bar!
Keep an eye out on their prescription board to see what the daily specials are. You never know what fun drinks they will be whipping up.
You will find this Peach Cosmo listed under The Medicine Cabinet on the Alchemy Bar menu. This fruity libation tastes amazing and will remind you of cruising the Caribbean!
This is such a fun twist on a classic cosmo! Carnival's unique twist on classic cocktails is one of our favorite things about the Alchemy Bar.
Cheers to a cocktail that makes us remember our favorite cruise vacation!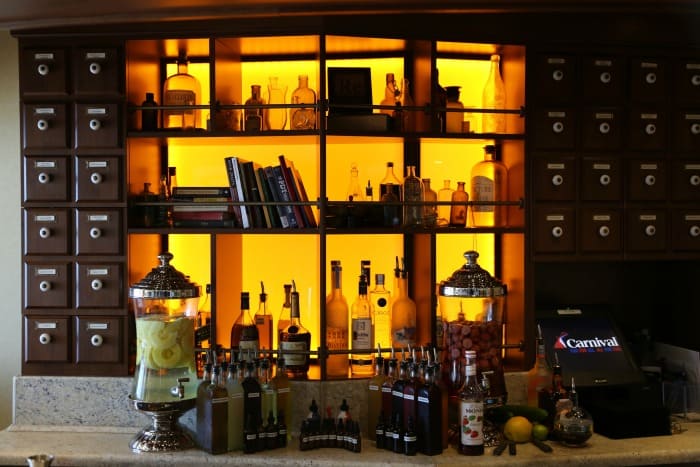 Ingredients needed
This is a quick overview of the simple ingredients that you'll need to make an epic Peach Cosmo! Specific measurements and step-by-step instructions are included in the printable recipe card at the bottom of the post.
Absolut Citron Vodka
Peach Schnapps
Lemonade
Cranberry juice
Garnish - Strawberry or an orange wedge, slice of peach, slice of blood orange
Equipment Needed
Cocktail shaker and strainer - You want to make sure you use a cocktail shaker you can comfortably hold and shake. Also known as a mixing tin
Stemless martini glass - We like to serve this epic Peach Cosmo in a stemless chilled martini glass similar to the Alchemy Bar but you can also serve it in a regular martini glass or cocktail glass.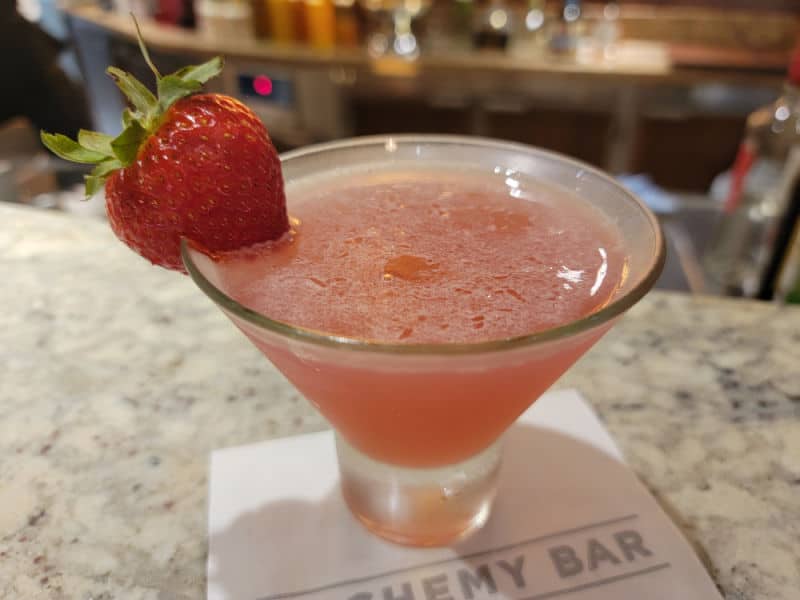 Preparation and Storage
Make Ahead – This cocktail can be made ahead of time and stored in the refrigerator. You will want to give it a good shake before serving.
Storage – Store any leftovers in an airtight container in the fridge.
Recipe Variations
Substitutions - You can change out the traditional vodka/Absolut Citron for a different type of citrus vodka or orange liqueur. Try peach vodka instead of peach schnapps to change it up.
Vegetarian Option - This recipe is vegetarian.
Vegan Option – This recipe is vegan.
Gluten Free - This recipe is gluten free
Alcohol Free Option – An alcohol free vodka can be used to make this into a mocktail. Peach syrup can be used instead of peach schnapps. Non-drinkers will enjoy the mocktail version
Smaller Serving Size – This recipe currently makes one glass. You can change the measurements in the recipe card below.
Larger Group/More servings – This recipe can easily be doubled or more for a large group gathering. It would be great served in a pitcher with fresh peach slices.
Sugar Free – Low calorie fruit juice can be used to lower the sugar.
Recipe Tips
Printable recipe card instructions are below.
Nutrition information, including calories, protein, calcium, carbohydrates, fiber, vitamin c, potassium, cholesterol, sodium, trans fat, monounsaturated fat, polyunsaturated fat, and more, will vary depending on the products used.
What to serve with
If you want to relive your Carnival Cruise Vacation we suggest serving this with a Guy's Burger Joint Burger!
Appetizers - Bruschetta, Caprese Salad, Shrimp Cocktail, charcuterie board
Dessert - Fruit Salad, Ambrosia Salad, Cherry Fluff Salad, Carnival Chocolate Melting Cake
When to serve
Cocktail Hour/Party
Pre-dinner cocktail
Valentine's Day Cocktail - a great vibrant pink martini!
Girls Night In
Summer Cocktail - This is the perfect summer martini
Barbecues
Carnival Cruise Planning Party
Epic Alchemy Bar Recipes
Check out all of the Carnival Cruise Cocktail Recipes we have shared. We love sailing on Carnival Cruise Line!
Check out all of our cocktails made with cranberry juice.
Do you love recipes? Check out our copycat recipes, dessert recipes, and our CrockPot Recipes.
Follow Tammilee Tips on MSN, Facebook, Instagram, and Pinterest, for all of our recipe posts.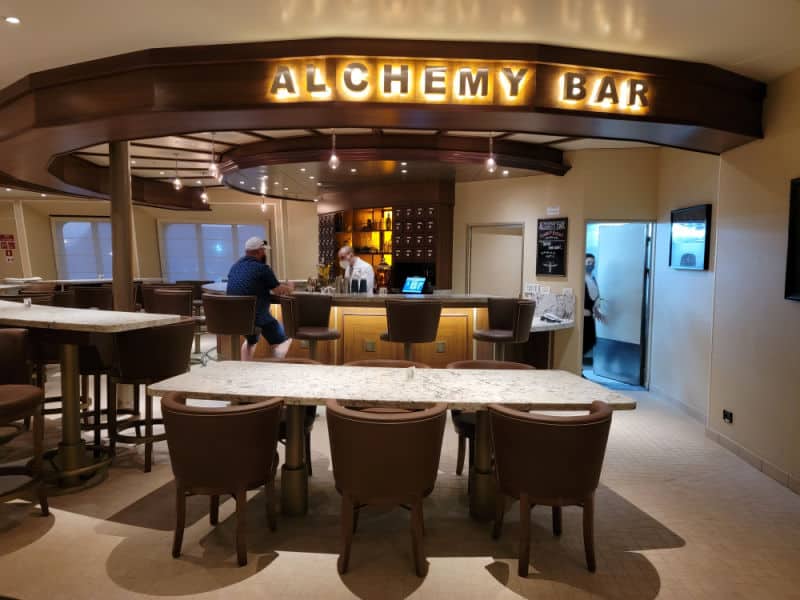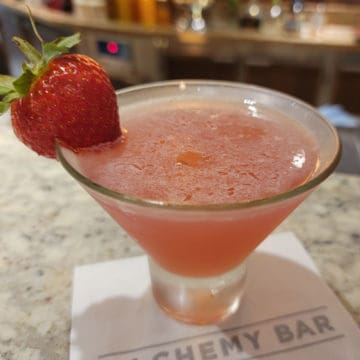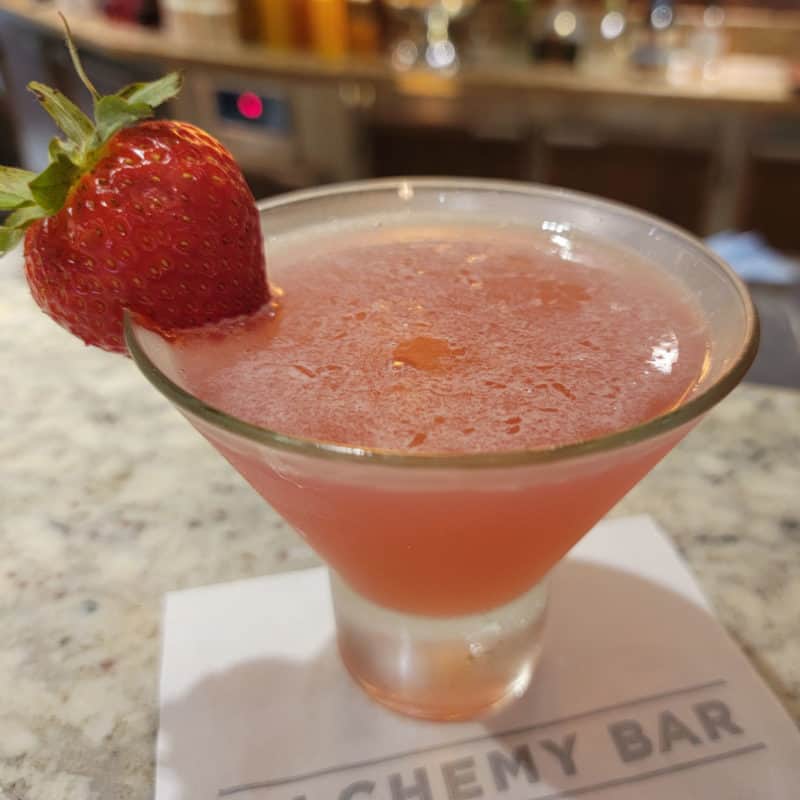 Alchemy Bar Curative Peach Cosmopolitan
How to make a Alchemy Bar Curative Peach Cosmopolitan at home
Print
Rate
Instructions
Add all ingredients into a cocktail shaker, add ice and shake vigorously. Strain into glass and garnish with lemon peel.
Nutrition
Nutrition Facts
Alchemy Bar Curative Peach Cosmopolitan
Amount Per Serving
Calories 183
Calories from Fat 1
% Daily Value*
Fat 0.1g0%
Polyunsaturated Fat 0.04g
Monounsaturated Fat 0.01g
Sodium 2mg0%
Potassium 44mg1%
Carbohydrates 13g4%
Protein 0.2g0%
Vitamin A 26IU1%
Vitamin C 5mg6%
Calcium 5mg1%
Iron 0.1mg1%
* Percent Daily Values are based on a 2000 calorie diet.