Today we are sharing Antigua Travel Tips! Antigua is a gorgeous island filled with beaches, historical sites, and great places to relax. One thing to remember is to make sure you wear ample sunscreen during your visit.
We ended up quite pink during our visit.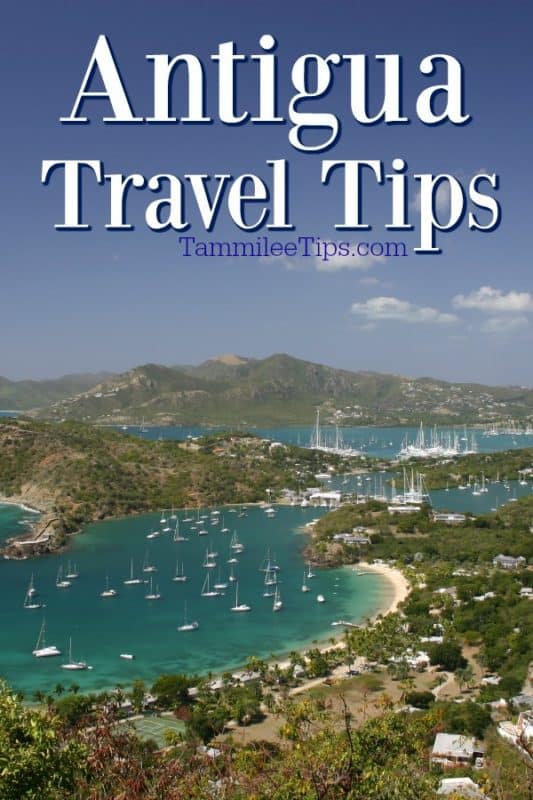 Antigua Travel Tips
Antigua is only 14 miles long and 11 miles wide but it packs some great things to do on a pretty small island. Antigua claims to have 365 beaches, one for every day of the year!
What to eat
The island's national dish is funghi a cornmeal-based dish. They also serve a thick stew known as pepperpots.
What to do
Antiqua is known for its gorgeous beaches, sailing, and rich maritime history.
Visit Nelsons Dockyard the world's only remaining Georgian naval yard. View the yachts and historic stone buildings that now house restaurants, stores, and museums. Nelson's Dockyard was once Britain's main naval station in the Lesser Antilles. The dockyard is now a well-maintained national park.  This is a great place to learn the history of the dockyard and the naval history of the area. It is a really great stop for photographers who like taking pics of sailboats and other boating paraphernalia.
Shop the day away with duty-free shopping.
Wander the shopping areas right near the St. John cruise terminal. You can truly walk right off of your cruise ship and be in town in a matter of seconds.
Visit Shirley Heights Lookout - This is an amazing look out over the island of Antigua. You can see Nelson's Dockyard and learn how signals were used to keep the island protected.
What to buy
Antiqua is known for its Rum, hot pepper sauce, and toy steel drums.
Official Language - English is the official language of the island
Currency - The East Caribbean Dollar is the official currency but the English dollar is readily accepted.
Random Facts/Tips
-Eric Clapton owns a home on the island you can see from the bluffs of Shirley Heights
-Over 150 birds can be found on Antigua throughout the year. Keep an eye out for frigate birds whose wingspans can reach up to six feet allowing them to soar for hours.
-Driving is on the left side of the road
-Local time is Atlantic Standard Time, which is one hour ahead of Eastern Standard Time and the same as Eastern Daylight Time.
Additional Caribbean Articles
Caribbean Cruise Tips and Hacks
Best Things to do in St. Maarten
Best Things to do in Grand Turk
Check out all of our Caribbean Travel Guides