Epic Guide to the Reno Hot Air Balloon Festival! What to expect at the world's largest free hot-air ballooning event.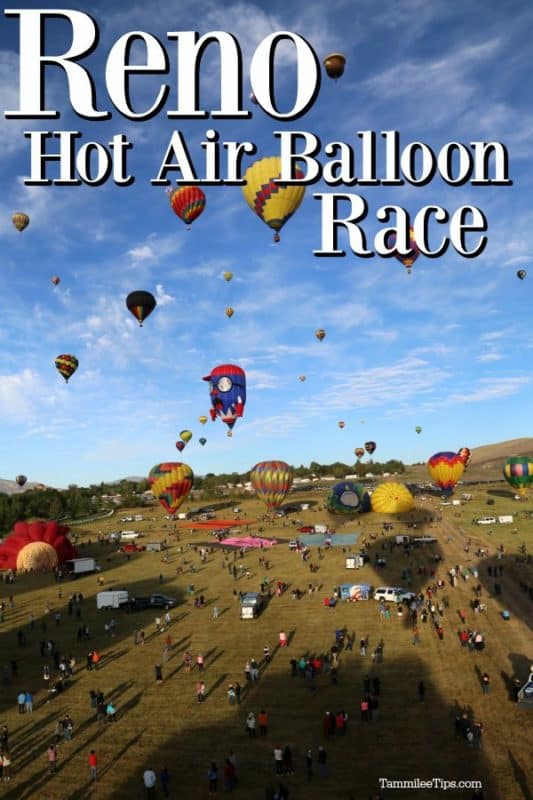 Reno Hot Air Balloon Race
During our visit to Reno, I had the opportunity to do something I honestly never thought I would do. I went up, up and away in a hot air balloon at the Reno Hot Air Balloon Festival.
I am going to be honest and just put it out there...I was just a tad bit scared. Ok, that is just not a strong enough term I was totally and completely freaked before my hot air balloon ride.
This has been on my bucket list for longer than I want to admit because that would mean I would have to admit my age and that just doesn't fit with the story now does it.
I had a huge combination of excitement, fear, and well a bit more fear as I thought about going up in the balloon. Sleep eluded me most of the night leading into the Reno Hot Air Balloon Race. When arrived at the field early in the morning I was sleep-deprived and nervous!
To help make sure I didn't have to worry about a few personal needs ( I will let you use your imagination) I had stopped drinking any beverages or eating anything early the night before. It just seemed like the practical thing to do so I had one less thing to worry about. We met up with our friends from the Reno Tahoe Visitor Bureau who had arrange my flight and thankfully had some time to just enjoy the morning hot air balloon glow.
Watching the hot air balloons inflate before the sun comes up is just plain magical. The world is so quiet and you are surrounded by gorgeous hot air balloons.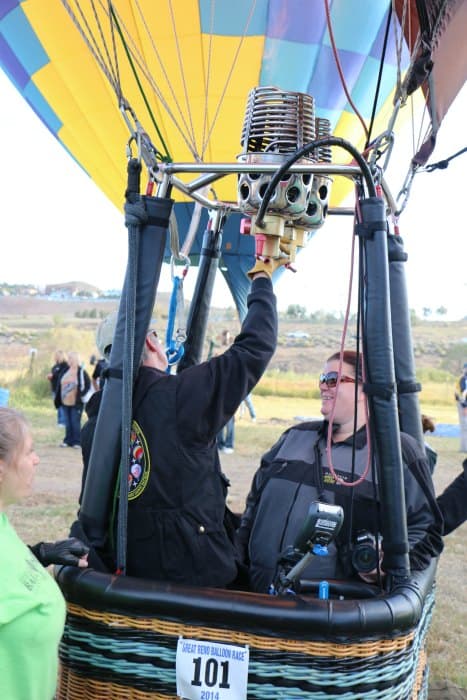 As the sun started to rise we met with my pilot Jim and checked out the balloon I would be flying in. Thankfully we had met Jim the night before and he answered all of my questions and put my stress at ease for the most part. It was totally not his fault that I was a ball of stress! I was just a bit nervous going up in the air in a balloon....ok a lot nervous.
As soon as the balloon was ready to go Jim and I hopped into the basket. There was room for just the two of us and let's just say we are very close to each other after our ride...ok there was more than enough room but I do suggest some gum in the morning because you will be closer to someone than you normally stand.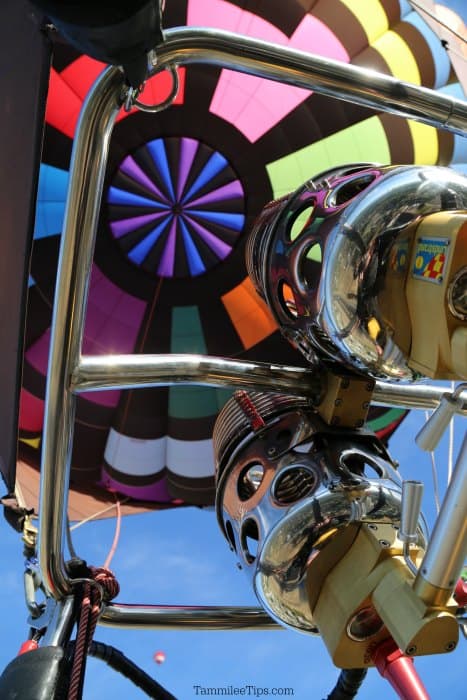 Once I was in the balloon I only had a quick moment of panic when we were about 20 feet in the air and I realized I couldn't turn the balloon around and I was on my way.
Jim was beyond amazing! He put me at ease and joked with me for the entire ride. I felt better knowing he was a 747 pilot and if he could land a huge jet than a hot air balloon should be nothing. He teased me that he could park a jet on a dime but didn't know what a balloon would do...or at least I hoped he was teasing.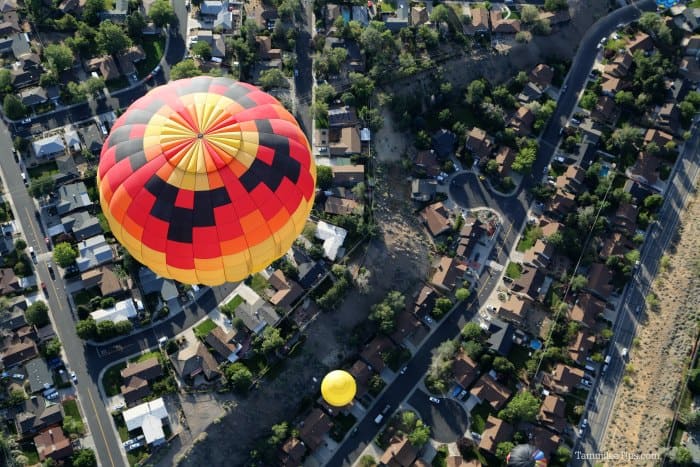 As we silently floated up in the air a magical thing happened for me. My fear went away and all of a sudden I was just in awe of the experience. I was looking out over the Reno Tahoe valley and it was gorgeous!
We were surrounded by 90+ balloons and there was so much to take in. The ride could have gone on for hours and it would not have been long enough.
I truly found myself relaxing and just soaking up the moment. There are things we do that scare us that turn out to be life moments that take your breath away and that is exactly what this experience was for me.
It was truly breathtaking and one that I can't really describe in words. I would hop in a hot air balloon again in a second. Now when I see them floating silently across the horizon I feel a sense of jealousy and hope that I get to ride in one again soon.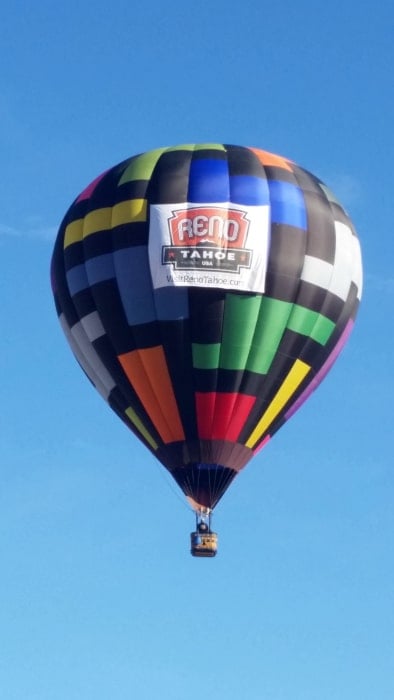 All good things must come to an end and I must admit to being a bit sad when we had to land the balloon. We landed in a housing complex right in the middle of the road. The neighborhood cheered as we flew over their houses. It is a crazy experience to be in a balloon flying over houses and having people run out to wave at you.
If you ever have a chance to ride in a hot air balloon take it! I can't say this strongly enough.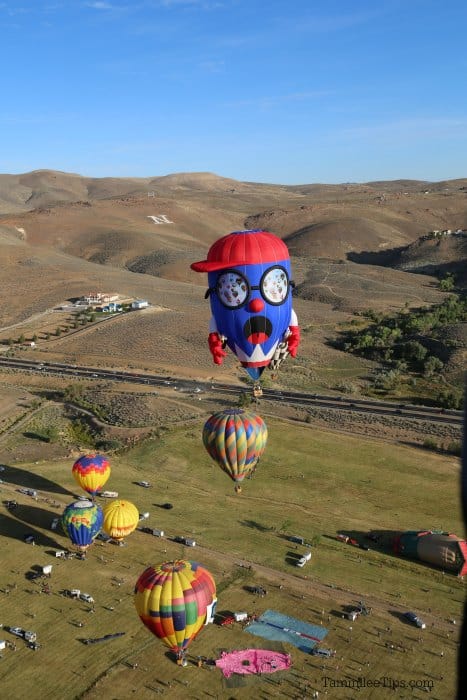 Reno Hot Air Balloon Race Mass Ascension
There is just something about hot air balloons that take our breath away. They are gorgeous as they float silently across the morning sky. The Reno Hot Air Balloon Mass Ascension is truly breathtaking.
As you stand among the balloons you have the opportunity to watch close to 100 hot air balloons gently rise into the sky. Everything from a ladybug to Darth Vader join the mass ascension.
The morning starts early and it is so worth it.
One of the great things about the Reno Hot Air Balloon Race is you can be out on the field with the balloons. You are not stuck behind a barrier trying to see what is happening. The pilots and ground crew invite you to see what they are doing and learn about hot air balloons.
One tip there are no dogs, smoking, or drones allowed on the field.
At this hot air balloon event, you have the chance to be right in the thick of the balloons. You can find yourself surrounded as they pop up next to each other all around the field.
Everywhere you look you are surrounded by colorful and amazing hot air balloons.
Slowly but surely they all take to the air in a beautiful ballet of balloons.
Keep an eye out for the amazing shaped balloons that attend the Reno Hot Air Balloon Race. You never know what is going to pop up.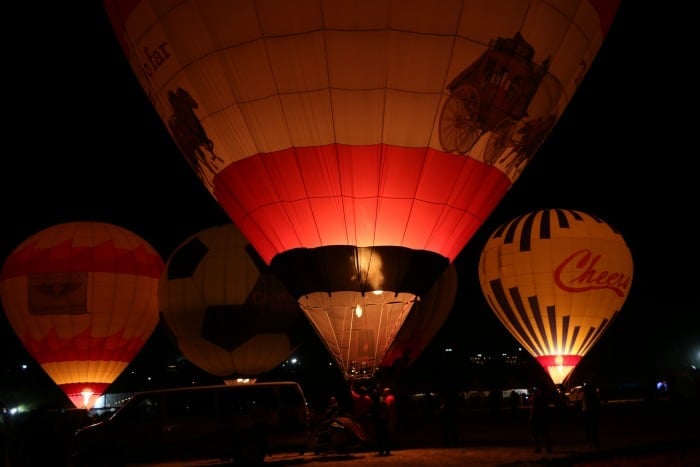 Reno Hot Air Balloon Glow Show and Dawn Patrol
The Reno Hot Air Balloon Glow Show is early in the morning but soooooo worth it!
The Glow Show is truly awe-inspiring. There is so much to see and do at the Reno Hot Air Balloon Glow Show! Don't worry if you haven't had breakfast there are amazing breakfast, coffee, and donut stands set up with everything you need.
Don't worry if you show up in sweat pants and your hair on top of your head...you will not be the only one. In fact, they have a pajama contest so you fit right in!
I do recommend dressing warmly and in layers for the glow show. It was a bit chilly early in the morning but as the sun went up having layers is a great idea.
The Glow Show started around 5:15 am with set up before that. We arrived around 4:30 am and headed to the field. You want to make sure you give yourself ample time to find parking and head for the field. The weekend glow show was a lot busier than Friday morning's event.
The Reno Hot Air Balloon Dawn Patrol showcases some of the best balloon pilots at the event. You have to be approved to participate in the Dawn Patrol event. These pilots are amazing at what they do and are able to fly the balloons in the early morning cold air.
I loved seeing my pilot Jim who I flew with on day 1 of the Reno Hot Air Balloon Race participating in the Dawn Patrol.
Reno Hot Air Balloon Festival Information
Location - a few miles north of downtown Reno at Rancho San Rafael Regional Park
Dates - Early September most years.
You can find out more about the Reno Hot Air Balloon Race and upcoming events on the RenoBalloon.com website.
Great Reno Articles
A huge thank you to the Reno Tahoe Visitors Bureau for arranging my hot air balloon ride! All opinions expressed are my own!