A couple of years ago we saw a photo of thousands of Santas under the Reno Arch and knew that we needed to experience the Santa Crawl Reno.
Thankfully during our trip with the Reno Tahoe Visitor Bureau, we were able to schedule it during this epic holiday event.
One thing we quickly learned is this event is for all ages over 21+. From the 21-year-olds excited to hit the bars with their friends to the 75-year-olds dressed up and having fun with friends this event was perfect for everyone.
Thousands of Santa revelers descend upon Downtown Reno to enjoy good spirits and a weekend charitable holiday fun!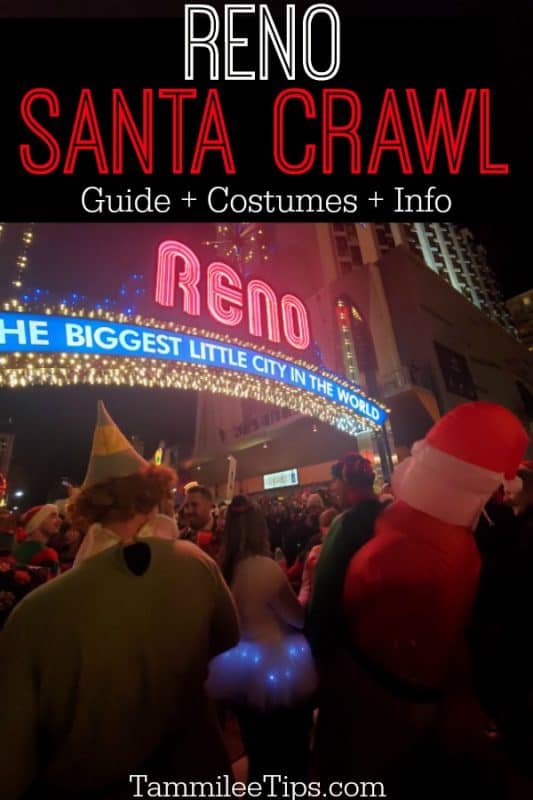 Reno Santa Pub Crawl
I honestly wasn't sure what to expect from the pub crawl. I had moments of fear that we were going to be too old, that people were going to be crazy, that it was going to be an overwhelming party crowd that would make me anxious and every other fear you can think of.
Here's the thing...none of my fears came true. Sure there were some people who had consumed a few drinks but for the most part, everyone was just having a great time.
I even checked and there were only a few arrests with all of the people downtown for the event.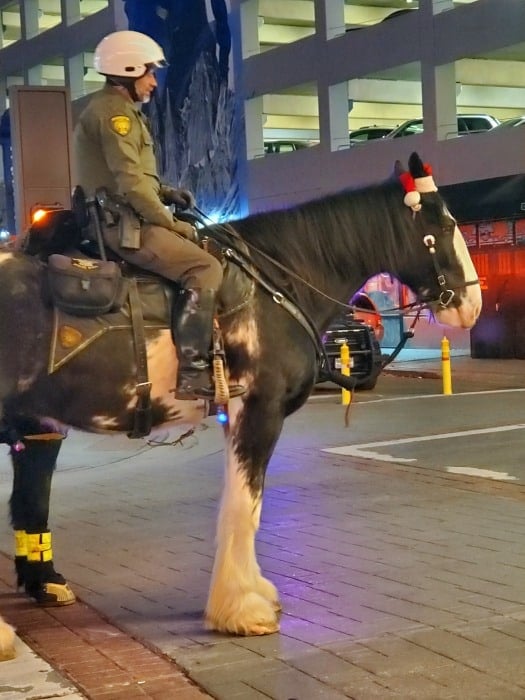 There is a large police presence that was so nice to see.  Everything from local police on horseback to standing on the street corners.
We felt super safe and just excited to enjoy all the holiday cheer!
One of the Reno Santa Crawl highlights is the group photo under the Reno Arch! Everyone lined up full of good spirits yuletide cheer and excitement.
This was the perfect chance for selfies and to check out everyone's costumes.
We loved the Santa Crawl so much we made this Boozy Grinch Drink recipe! We adapted a couple of the drink specials we saw at the Reno Bars to make a fun holiday cocktail.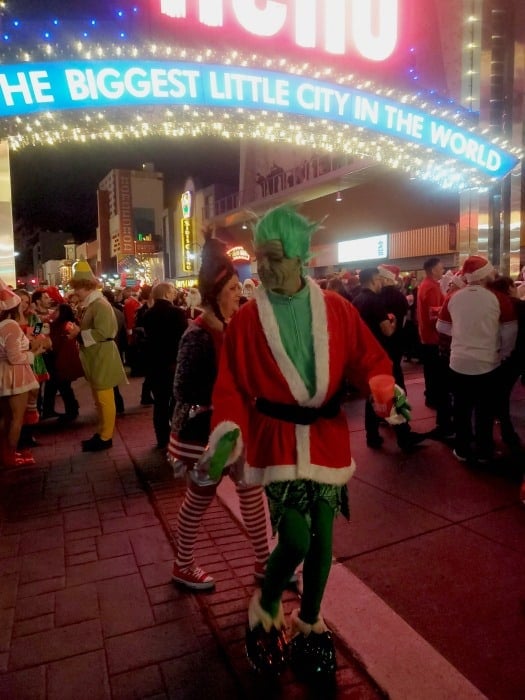 When is the Reno Santa Crawl?
The next Santa Pub Crawl Reno will be December 2023
Where is the Reno Santa Pub Crawl
The Reno Santa Pub Crawl is held in downtown Reno including the Row Casinos and Reno Arch.
Parking is available in most of the casino parking lots though you will want to get there early to make sure you have a spot.
How much does the Reno Santa Pub Crawl cost?
They sell cups each year that support local schools. These cups get you drink specials at local bars and pubs.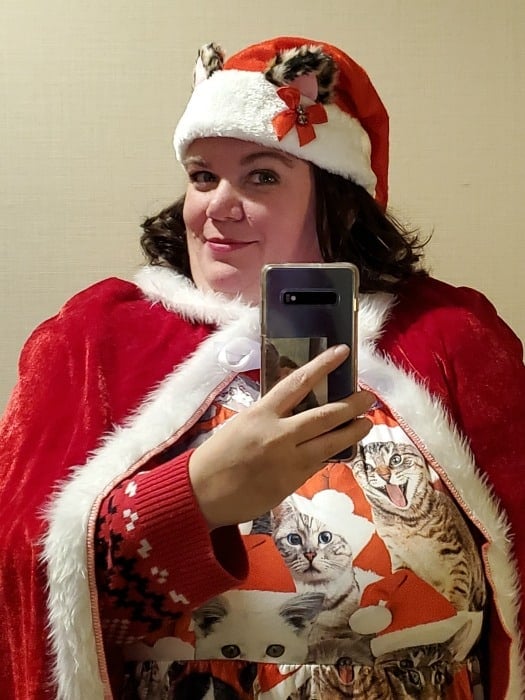 What to wear to the Reno Santa Pub Crawl
It is really up to you how far you want to go with a Reno Santa Crawl costume for the pub crawl. We saw everything from Santa hats to full-on group costumes from Home Alone and Christmas Past.
I wore this Kitten Santa Dress, Mrs. Claus Wrap, and Kitten Santa hat. I did end up putting a sweater on under my dress because I didn't want to freeze along with leggings.
The weather can be a huge variable in what you choose to wear. I would make sure your costume has layers or you have a great Santa Jacket or Cape for being outside.
It is really up to you how much time you spend outside. I will say that the casinos and bars were WARM! I was more than happy to go outside to get some fresh air and cool off.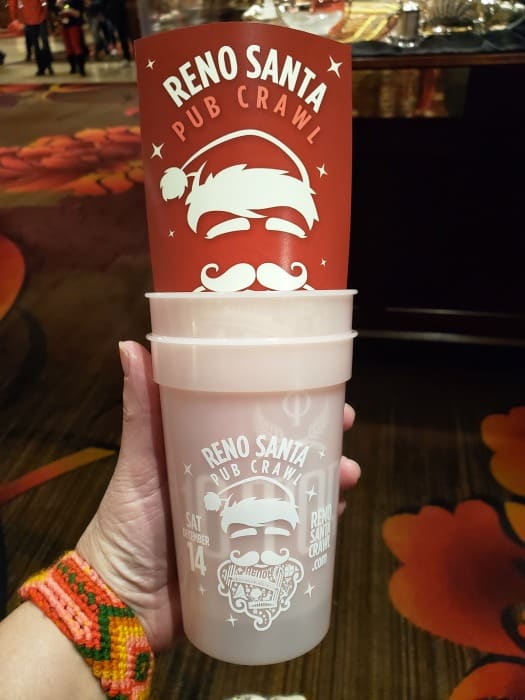 Where to buy Reno Santa Pub Crawl Cups?
Santa Crawl cups are a local charity fundraiser for local schools because educated kids are our legacy.
You can buy your cup online leading up to the crawl or at many local Reno breweries and stores.
Locations include:
Junkee Clothing Exchange, 960 S. Virginia St. in Reno
Chocolate Walrus, 465 S. Meadows Parkway #9 in Reno
Chocolate Walrus, 1278 S. Virginia St., in Reno
Adam & Eve 7520 Longley Ln, in Reno
Adam & Eve, 3220 US-50, in Carson City
The Library Tap House & Hookah Lounge, 134, W. 2nd St, in Reno
Lead Dog Brewing Co., 415 E. 4th St., in Reno
10 Torr Distilling and Brewing, 490 Mill St. in Reno
Revision Brewing Company, 380 S. Rock Blvd, in Sparks
If you are not able to grab a cup ahead of time we were able to buy our cups at the Silver Legacy on the night of the Santa crawl.
Santa Ski
During the day leading up to the pub crawl, there is a Santa Ski at Mt. Rose which is only about 30 minutes from Reno.
They offer discounted ski lift tickets for anyone in full costumes. A Santa hat on its own does not count as a costume.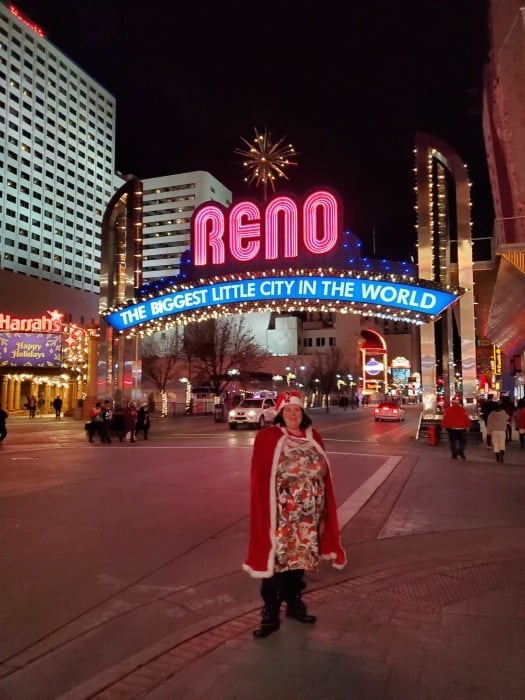 Additional Reno Resources
Reno Restaurant Guide - Find out all of the best restaurants you don't want to miss in Reno!
Reno Brewery Guide - All of the epic breweries in Reno you will love.
National Automobile Museum - If you are into cars or celebrities you will love this museum. Tons of cars from famous people and historic cars.
Hot August Nights - Mark your calendar for this epic car show in downtown Reno every summer!
Visit Reno Tahoe - The visitor bureau website is filled with tons of great info! We love their event calendar to see all of the epic things happening in town.
We were in Reno-Tahoe in partnership with the visitor bureau.
As always all opinions expressed are our own.