There is nothing quite like a delicious breakfast! You start the day with a smile because your taste buds are so happy! Today we are sharing our 7 Best Breakfast Restaurants Reno!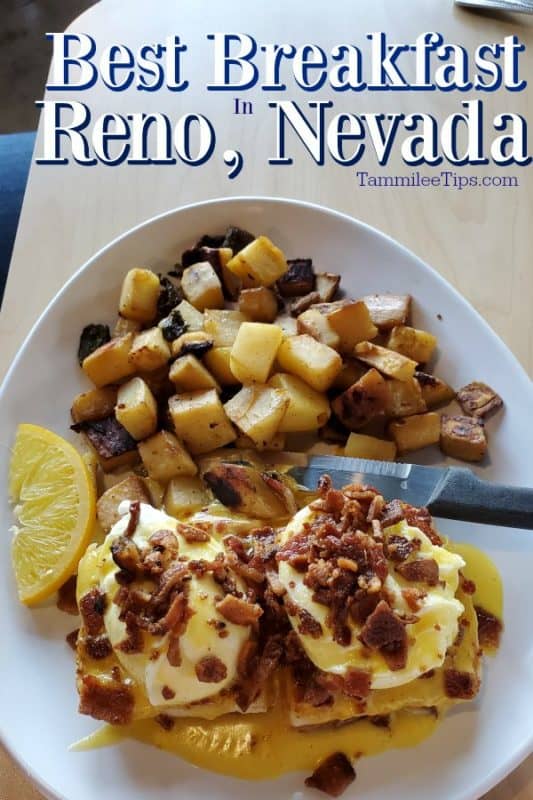 Best Breakfast Restaurants Reno
It was hard to decide on which restaurants to list because there are honestly so many great restaurants in Reno.
The city is truly becoming a foodies paradise! You can find everything from food trucks, fine dining, and old school diners in Reno. Each time we visit Reno we are blown away by the new restaurants we find and the meals we get to enjoy.
These are just some of the best breakfast restaurants Reno has to offer!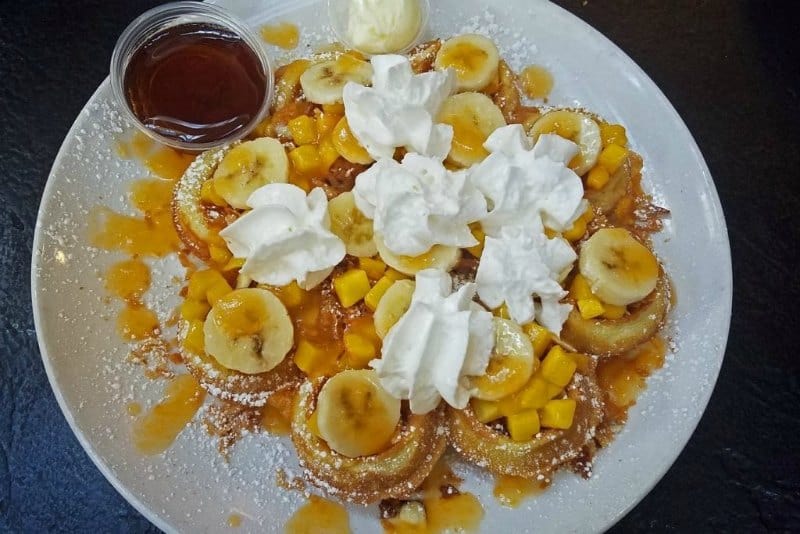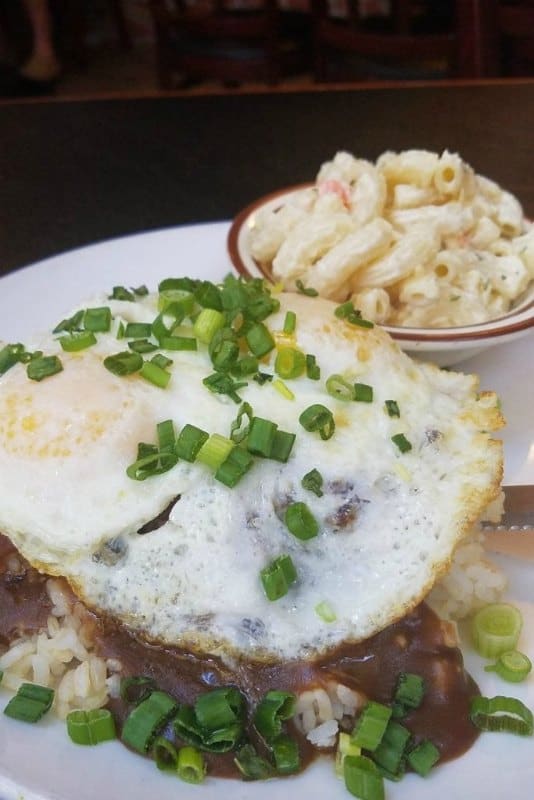 Lili's
We asked our rental car agent for his recommendation on a place to get a great breakfast and he suggested LiLi's. He told us it was a local Reno favorite.
From the moment we walked in we knew we were in for a treat. You have to know that this is not a fancy-dancy restaurant or fine dining this is a plain and simple good food to start the day.
The Loco Moco was served perfectly and reminded us of the islands. The Luau Waffles made our taste buds sing with happiness. Hello mac nuts, bananas, mangos, and a mango apricot sauce. Oh and don't forget the toasted coconut served on a waffle. You can also have this served on french toast or pancakes. Your coffee cup will not go empty while you enjoy this great breakfast!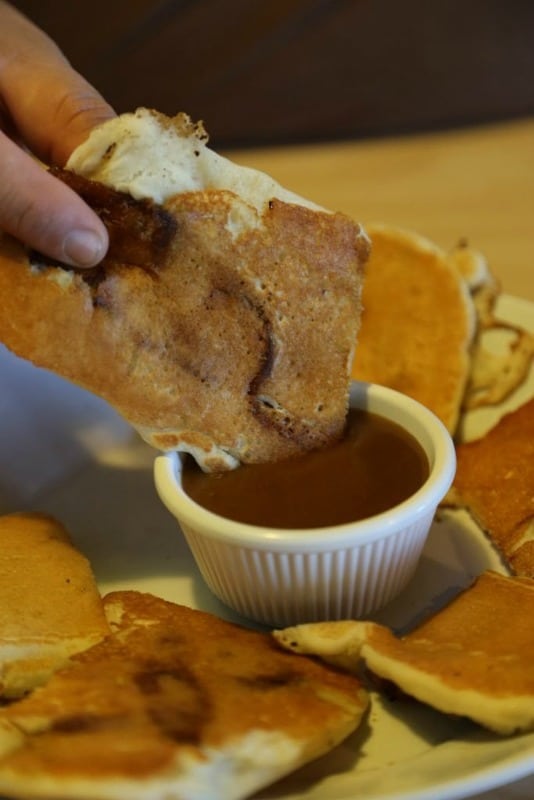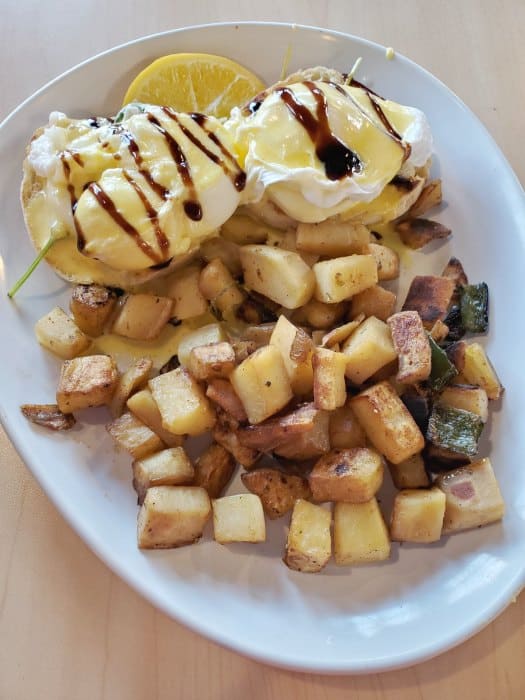 Two Chicks
This was another restaurant recommendation from a Reno Native. They told us that this restaurant started as a grilled cheese food truck and morphed into a sit-down breakfast spot. Located in Midtown Reno you will not be disappointed with breakfast at Two Chicks.
Try the pancake dippers, King Style. Pancakes with bananas and bacon served with a peanut butter dipping sauce! They also have a nice variety of bloody mary's available!
Ok, I have to add that their benedicts are epic and so delicious! The Caprese benedict is packed with goodness.
Caprese Benedict - fresh mozzarella, sliced tomato, fresh basil, poached egg, and hollandaise drizzled with a balsamic glaze.
Gourmelt Benedict - Cheddar and Jack Cheese melted between Parmesan crusted sourdough, topped with two poached eggs, hollandaise and topped with chopped bacon.
Address: 752 S Virginia St, Reno, NV 89501
Phone: (775) 323-0600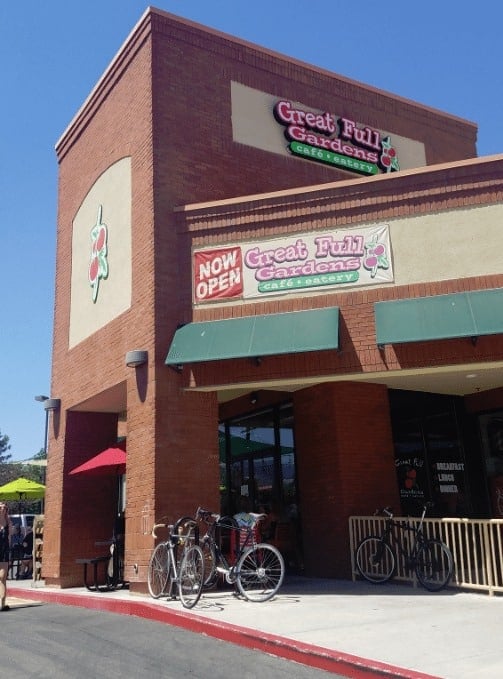 Great Full Gardens
This local restaurant focuses on serving everyone including those with specialized dietary restrictions. If you want organic, vegan, gluten-free, or vegetarian they have something for you!
Plus they have unique menu items for every taste bud!
Address: 555 S Virginia St #107, Reno, NV 89501
Phone: (775) 324-2013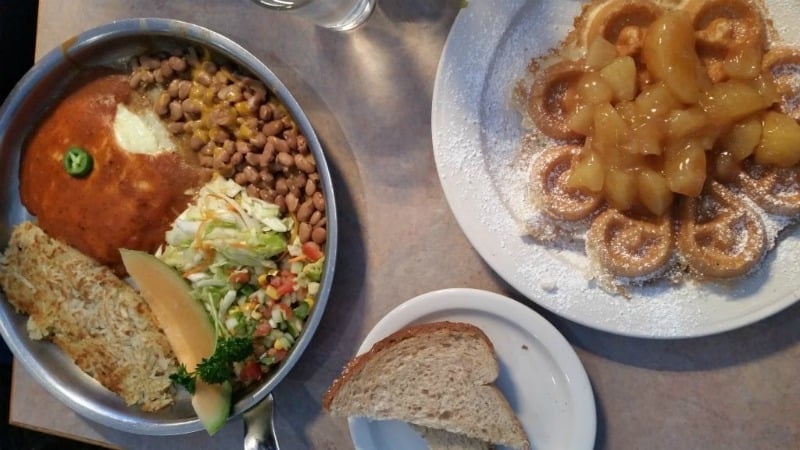 Peg's Glorified Ham & Eggs
This is a Reno institution. Almost everyone we asked mentioned this being the place to go for breakfast in town. We did not have the best of experiences here but we hope that was a fluke considering all of the recommendations we have received to go there.
There are 8 Peg's Ham and Eggs in Nevada.
Peg's Downtown Reno:
420 S. Sierra St., Reno, Nevada 89501
Tel: 775-329-2600
Peg's Northwest Reno:
6300 Mae Anne Ave., Reno, Nevada 89523
Tel: 775-624-2700
Peg's South Reno:
720 S. Meadows Parkway, Reno, Nevada 89521
Tel: 775-851-7200
Peg's North Reno:
198 Lemmon Drive, Reno, Nevada 89506
Tel: 775-677-2500
Peg's Sparks:
1495 E. Prater Way, Sparks, Nevada 89434
Tel: 775-331-3388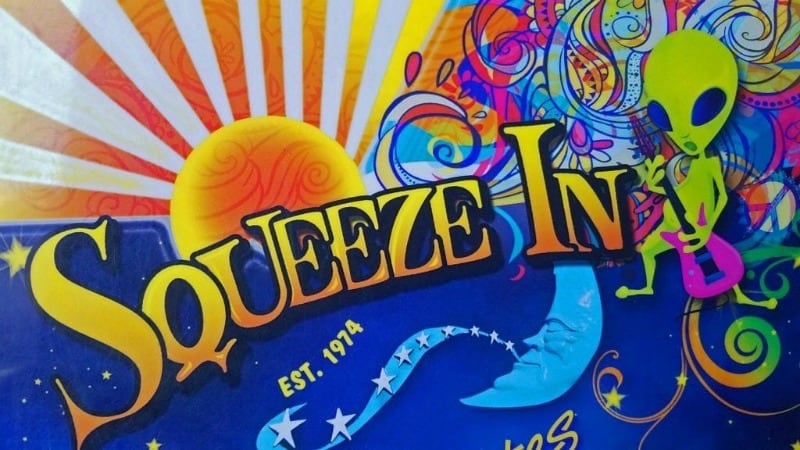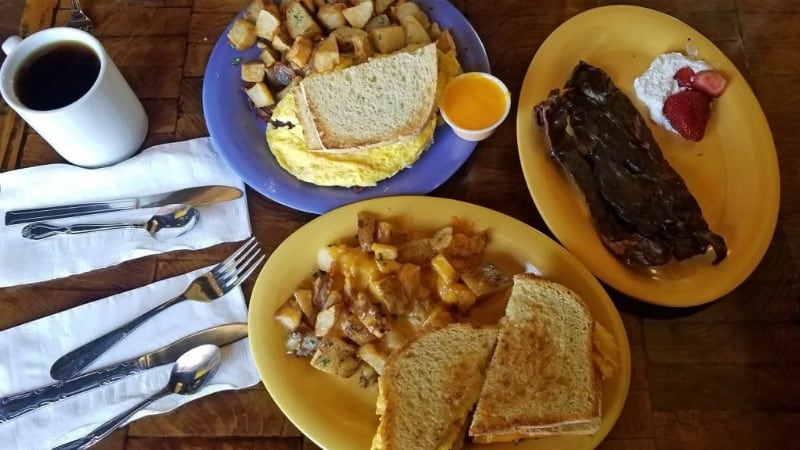 Squeeze In
YUM! This restaurant is almost guaranteed to bring a smile to your face! We visited the South Reno location and couldn't help but giggle at the aliens all over the restaurant. Plus you can write on the wall! The menu offers the breakfast classics you know and love and some amazing fun twists on breakfast food.
They have been featured on Food Network! Order the Zeiful for a fun twist on a normal omelet. Peanut butter, apples, and more all whipped into a delicious breakfast treat! John had it and said it was soo much better than he expected. He was a bit nervous when he ordered it but it turned out fantastic. Oh, and did I mention the chocolate covered bacon!
Squeeze In has two locations in Reno
Address: 345 N Virginia St, Reno, NV 89501
Phone: (775) 787-2700
Address: 25 Foothill Road Suite 3 Suite 3, Reno, NV 89511
Phone: (775) 323-0600
Hours: Open daily from 7 am to 2 pm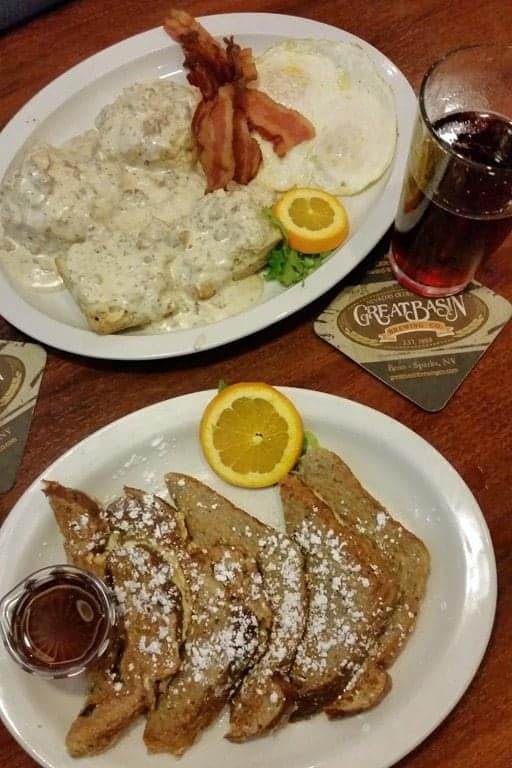 Brewer's breakfast at Great Basin Brewing Company
I know what you are thinking what does a brewery know about breakfast. You have to trust us and go and try it out! They make a ton of the breads with their beers mixed into them.
The cinnamon raisin french toast made with the Icky IPA Cinnamon Raisin Bread is HELLO YUM!  Brewmaster's Beervana Pancakes hearty batter made from scratch with brewer's barley and Wild Horse Ale poured over grilled bananas and candied pecans, served with warm maple syrup.
Oh did I mention to make sure you go HUNGRY!
Reno Address: 5525 S Virginia St, Reno, NV 89502
Phone: (775) 284-7711
Sparks Address: 846 Victorian Ave, Sparks, NV 89431
Phone: (775) 355-7711
Taps & Tank - When you see this address online it is for the company's private event location and day to day brewing of their great beer. It is not open to the public.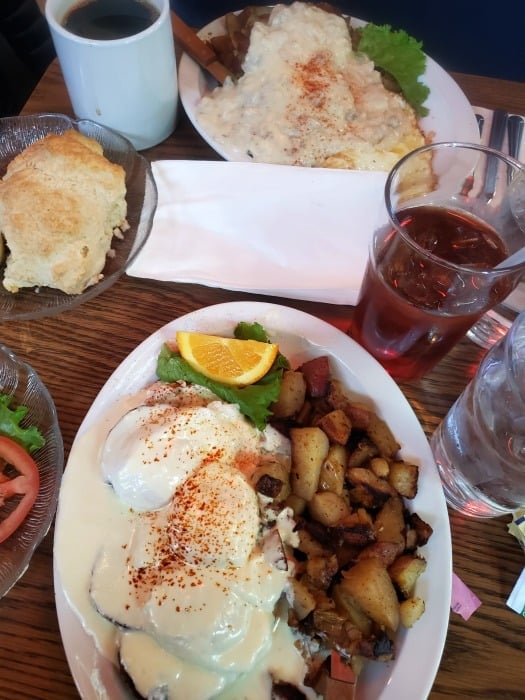 PJ&Co Restaurant
This is a local favorite for breakfast!!! Be prepared for there to be a line.
We waited 45 minutes to get into the restaurant and it was so worth it! Hello yum!
Their eggs benedict is smothered in PJ's Famous sherried cream cheese sauce and it is delicious! I was a bit worried but I have to admit I used the potatoes to soak in as much cheese sauce as I could.
PJ's Eggs Benedict - 3 poached eggs with Canadian bacon on a muffin, topped with PJ's Famous sherried cream cheese sauce.
Address: 1590 S Wells Ave, Reno, NV 89502
Phone: (775) 323-6366
What are your favorite places for a great breakfast in Reno? Did we miss your favorite place? Let us know so we can make sure and visit during our next trip.
We hope you enjoy our best breakfast restaurants Reno guide!
Additional Reno Travel Articles
The food you have to try in Reno - Epic meals that are not to be missed
A great day outdoors in Reno - Places to work off all of the amazing food you are enjoying
Reno Hot Air Balloon Festival - This is a must-see event each year in Reno
Virginia City, Nevada - Step back in time in Virginia City on a day trip from Reno
Virginia Truckee Railroad - Take a day trip from Virginia City to learn more about the history of the area.
Hot August Nights - Check out classic cars and hot rods during this yearly car event in Reno