When you think of Reno do you think of great food? Well, you should! Every time we visit Reno we are blown away by the amazing restaurants around town. We have to force ourselves to not just visit our favorite Reno restaurants and to keep branching out and trying new places. These are the best Reno Restaurants you don't want to miss!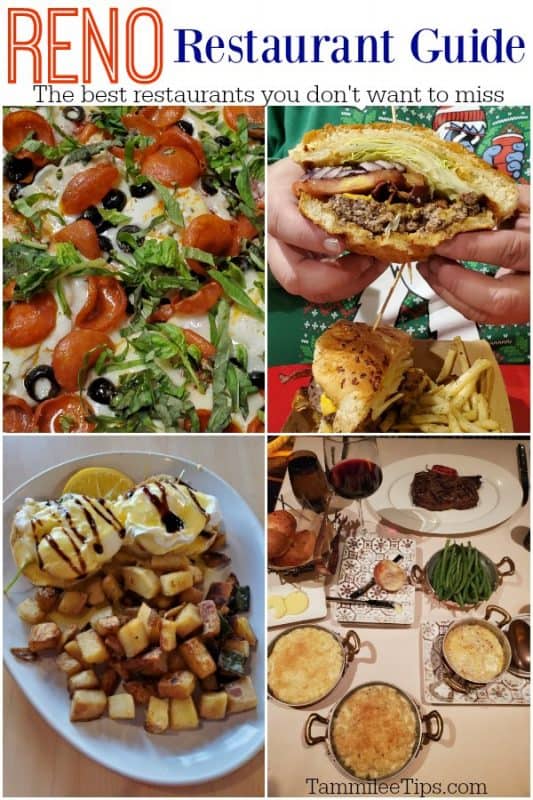 Best Restaurants in Reno, NV
Ask any local and they will tell you their favorite restaurants! This city has turned into a foodie city offering unique dishes that are sure to tempt your taste buds. From mac and cheese pizza to banana, Nutella, peanut butter fluff sandwiches you can find a little of everything in Reno.
These are some of our top restaurants to visit in Reno, Nevada!
One thing I want to mention is most of these restaurants do not know that we are going to write about them. We go in just like any other customer so we get to have the same experience you will hopefully have.
We do randomly go to restaurants for press events when they know we may write about them but there are not many of those. We really want to make sure that the restaurants we share with you are amazing.
We are partnering with the Reno Tahoe Visitor Bureau to share all of the amazing things to do in the area. As always all opinions are our own and we are happy to tell you what we love in the area.
If we have a bad experience, bad food or really anything odd we simply leave them off the list. We want to make sure that when you visit a restaurant and spend money you are getting the best experience possible!
Thankfully in Reno, we have only had a couple of funky dining experiences and we have heard that we must have hit the restaurants on off days because people love them. When we have an off experience we try to go back another time to see if the experience was truly random or if the restaurant just isn't that great.
We also have the best breakfast in Reno guide filled with all of our favorite breakfast spots.
If you are looking for great beer check out our Reno Brewery Guide!
Midtown Reno Restaurants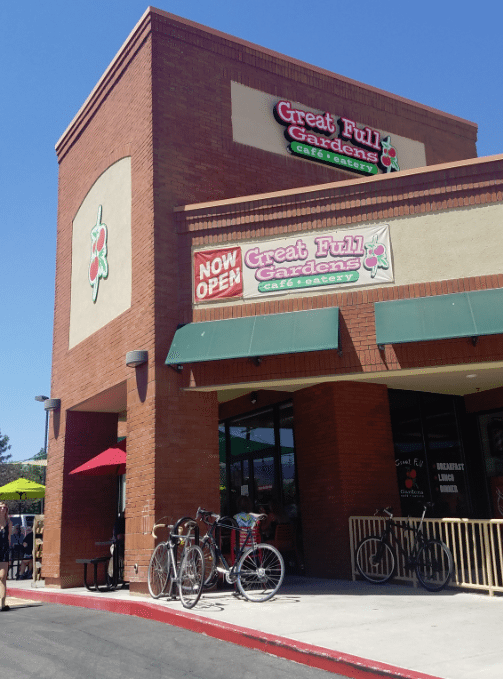 Great Full Gardens
Great Full Gardens is a vegan restaurant that offers something for everyone. The restaurant has a great vibe and the breakfast was amazing. John had the Elvis waffle and said it was delicious!
The restaurant owners said they want to offer something for every guest so they don't have to worry about being vegan or gluten-free or having dietary restrictions. They want the restaurant to be a place guests can relax, enjoy amazing food and great company.
Address: 555 S Virginia St #107, Reno, NV 89501
Phone: (775) 324-2013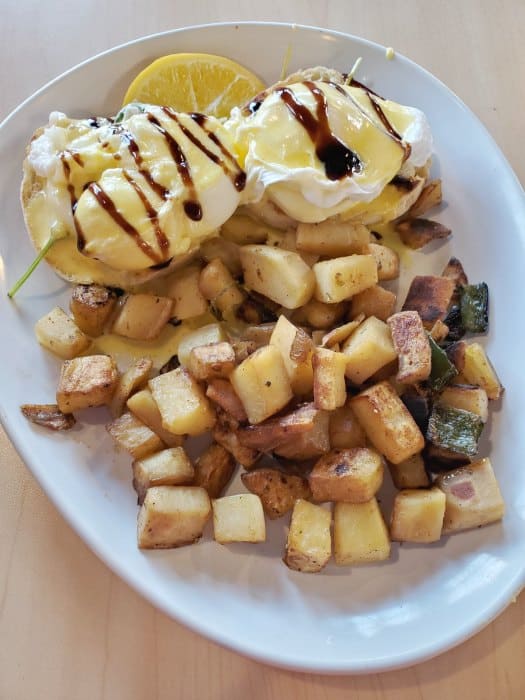 Two Chicks
Two Chicks started as a grilled cheese food truck and turned into an amazing restaurant located in Midtown! From pancake dippers king style served with bananas, bacon and a peanut butter dipping sauce to The Bumble Brie sandwich with brie cheese, green apples, local honey served on cinnamon raisin bread!
One of my favorite dishes to order is their Caprese Eggs Benedict! Hello yum!
For a sweet treat try the Simply Sinful sandwich with Nutella, Peanut butter, marshmallow fluff, bananas on white bread. FYI we heard there is a secret menu item for Simply Sinful served on sweet potato fries!
Don't miss their breakfast benedicts. One thing to know is on the weekends the line can be an hour long. Our best tip is to get your name on the list and then walk down the street to Perren Bakery for a starter coffee and croissant or sweet treat.
Address: 752 S Virginia St, Reno, NV 89501
Phone: (775) 323-0600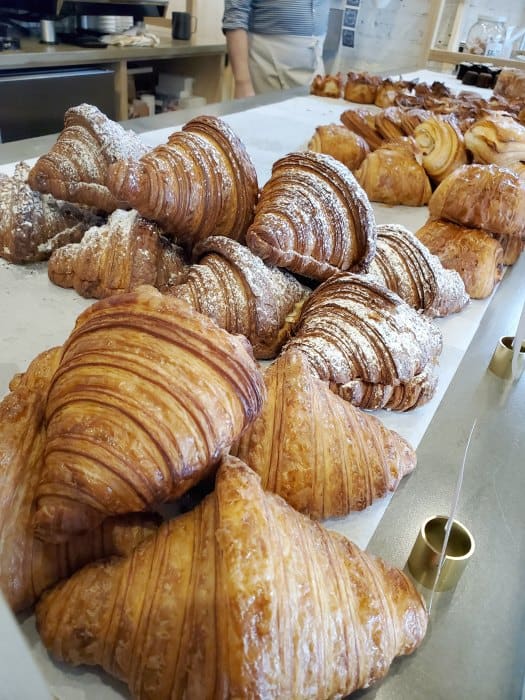 Perenn Bakery
Epic! Unbelievable! I kind of want to move into the Perenn Bakery and never leave. This is a place you walk into and feel instantly at home. The guys at the counter were warm, helpful and you can tell they love what they do.
This may have been one of the best chai teas I have had in a really long time. The bakery has an amazing atmosphere. If I lived anywhere near this bakery I would be tempted to work there on a daily basis.
I mean I would probably end up eating my entire year's calories in chai tea and baked goods but it would be honestly worth it. Don't get me started on how amazing their bread looked or their ricotta toast or really the entire menu.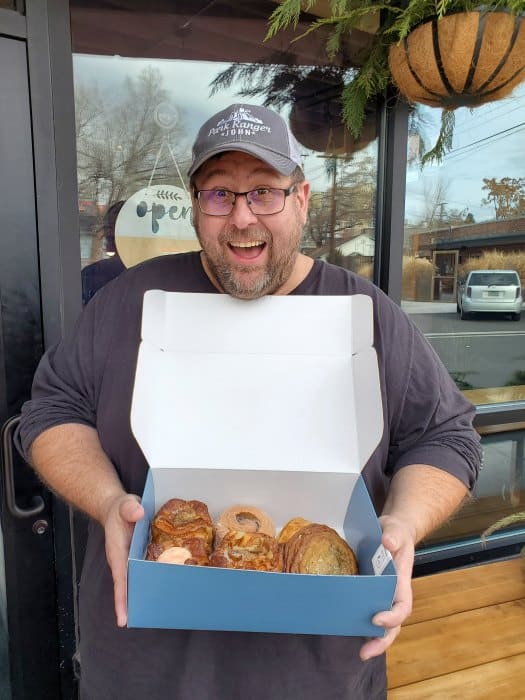 Menu items not to miss:
Proscuitto and Gruyere Croissant
Kouign-Amann - especially the seasonal flavors..oh my
¼ pound chocolate chip cookie with maldon salt sprinkle...yes it is a ¼ pound! Oh my!
Address: 20 St Lawrence Ave, Reno, NV 89509
Phone: 775-451-7722
Brauhaus 701
Menu items to check out
Bratcho Fries - Large fries topped with Bratwurst, sauerkraut, jalapeños and Brauhaus cheese sauce.
Nutella Pretzel with Nutella or Vanilla Dip
Address: 713 S Virginia St, Reno, NV 89501
Phone: (775) 384-6756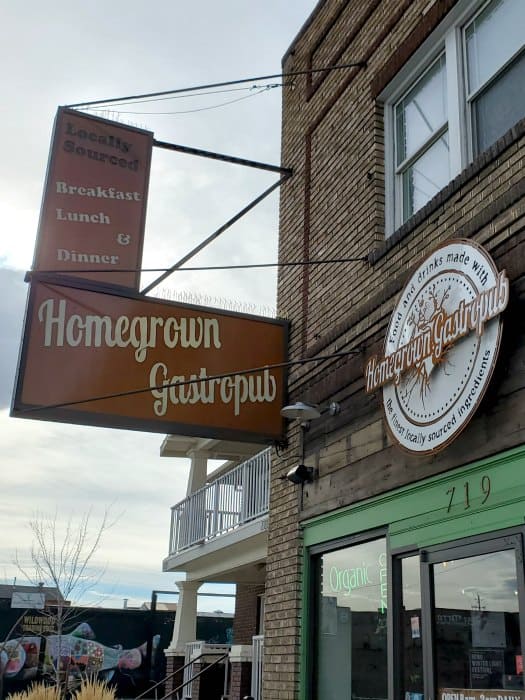 Homegrown Gastropub
Address: 719 South Virginia Street, Reno, Nevada 89501
Phone: (775) 683-9989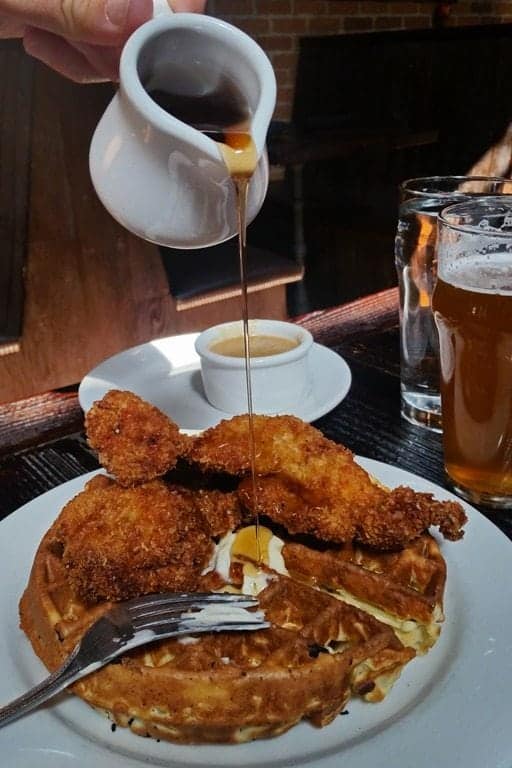 Brassiere St. James Brewery
This brewery located in Midtown Reno offers a delicious menu of food and beer! Don't miss the Chicken and Waffles! Hello yum!
Address: 901 S Center St, Reno, NV 89501
Phone: (775) 348-8888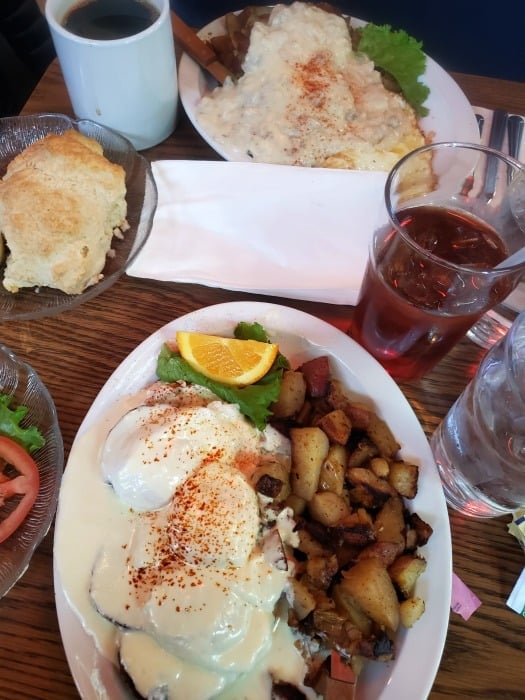 PJ & Co Restaurant & Saloon
Reno is a brunch town and PJ&Co Restaurant is a local favorite. We waited for close to 45 minutes to get in for brunch and I have to tell you it was so worth it! This is a true local favorite and not to be missed.
Menu Items not to miss!
Jenny Benny - Vegetarian eggs benedict with Morning Star Veggie Sausage piled on top of a toasted English muffin with three poached egg plus homemade sherried cream cheese Benedict sauce with a side of PJ's grilled potatoes.
Address: 1590 S Wells Ave, Reno, NV 89502
Phone: (775) 323-6366
Downtown Reno Restaurants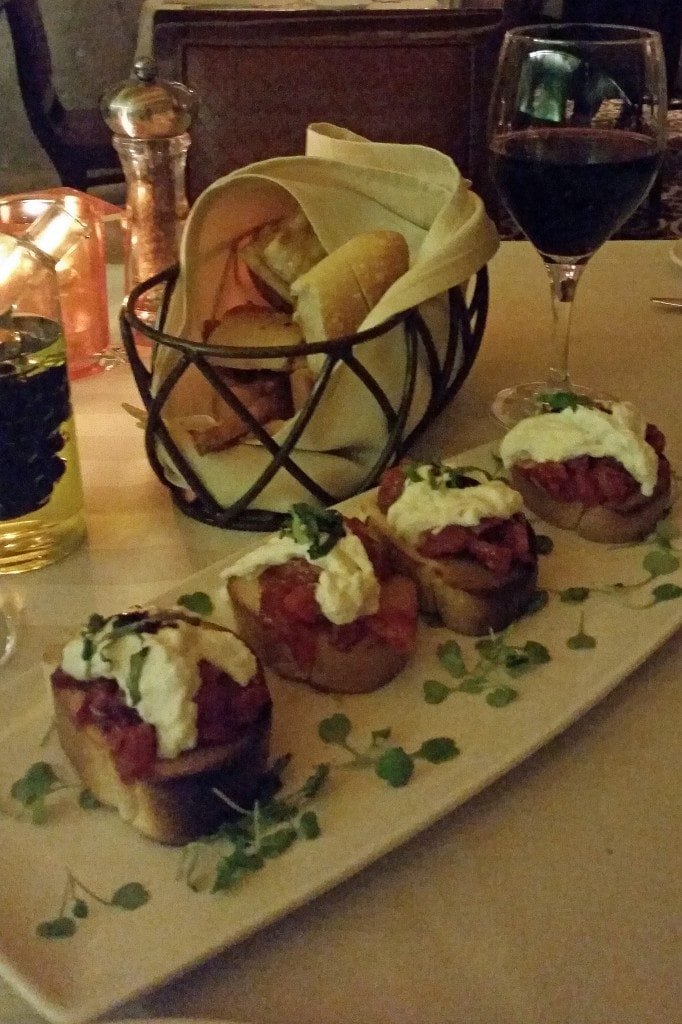 La Strada at the Eldorado
1st please don't judge this delicious Italian restaurant off of our dark photo! The restaurant has amazing romantic lighting which sadly did not make for the best photos BUT the food is ah-mazing! You have to order the Cannoli! Seriously it is a must! Plus everything else is just as good!
Menu items not to miss!
Address: 345 N Virginia St, Reno, NV 89501
Phone: (775) 323-0600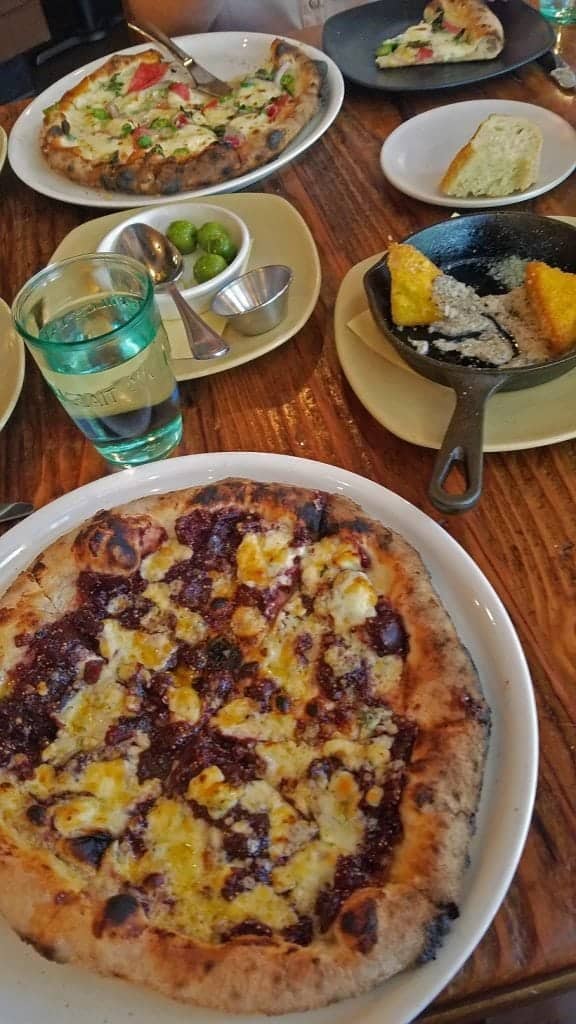 Campo
This Italian restaurant came up many times when we asked for restaurant recommendations. Upscale Italian with fun menu items is how it was described to us. When I looked at the menu online I almost started drooling!
Reno Address: 50 N Sierra St, Reno, NV 89501
Phone: (775) 323-0600
Sparks Address: 137 Los Altos Pkwy, Sparks, NV 89436
Phone: (775) 501-8970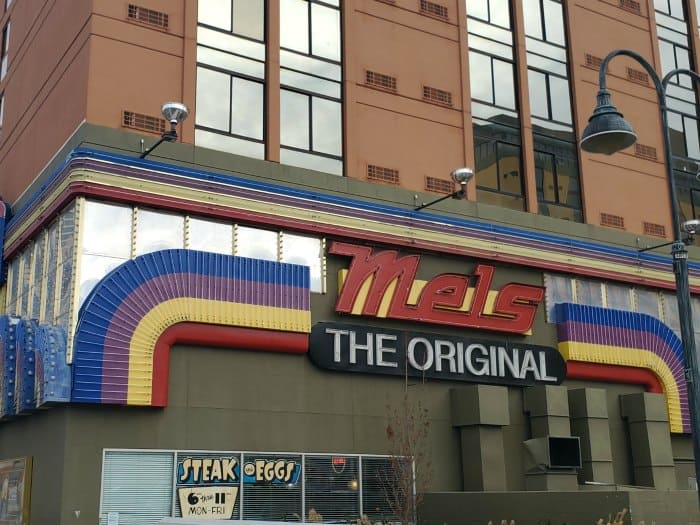 Original Mels Diner
The Original Mels Diner is located in the Sands Casino in downtown Reno. The restaurant has a 70-year history between northern California and Northern Nevada. What started as a carhop eatery expanded into 22 restaurants.
The location at the Sand Casino has been open since 2000.
Sands Casino Reno Address: 345 N. Arlington Ave. Reno, NV 89501
Phone: (775) 337-6357
South Reno Address: 189 Damonte Ranch Pkwy. Reno, NV 89521
Phone: (775) 852-4357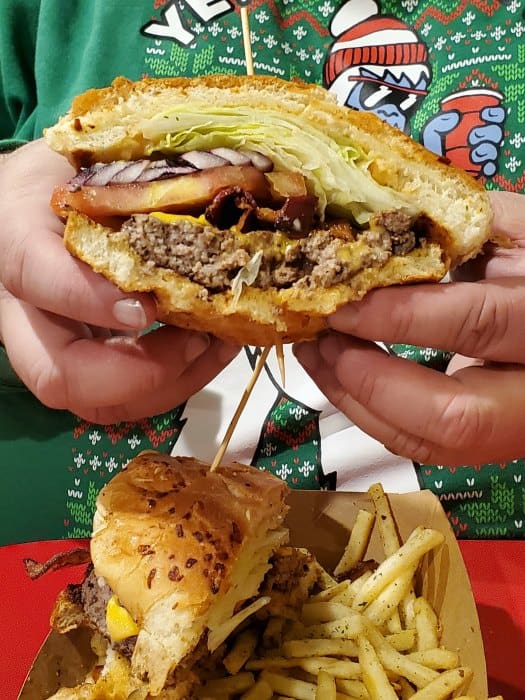 Little Nugget Diner
Home to the world-famous Awful Awful Burger the Little Nugget Diner is located at the back of the Golden Nugget casino on the Row.
The Awful Awful Burger is awful big and awful good. Made with a full half-pound of ground chuck steak hamburger grilled to order, served on an onion bun with all the trimmings including lettuce, tomato, onion. Plus it is served with a full pound of Special Nugget fries which are delicious!
The Awful Awful Burger has been featured on Food Wars on the Travel Channel and has won a ton of local awards.
The Little Nugget Diner is a greasy spoon that is not fancy! You can come as you are and enjoy a great big meal for a fair price.
They also serve the famous Nugget Hangover Omelet with four eggs stuffed with their special chili grande and smothered in melted cheese and salsa. Served with hashbrowns and toast and a complimentary Nugget Bucket Bloody Mary Cocktail...Oh my!
Address: 233 N Virginia St Reno, Nevada
Phone: 775-323-0716
South Reno Restaurants
We try to share our favorite locally-owned restaurants to help out other small business but there are two restaurants located in south Reno that I think you may want to know about.
In n Out has two locations in Reno!!! One is located in South Reno off of Virginia Street and the other is located in Sparks.
The 2nd restaurant we love to visit is Black Bear Diners. They are a west coast franchise that offers huge portions of food that has always tasted amazing. They have great customer service and you can't go wrong with a photo with a bear statue. There is also a location in Sparks.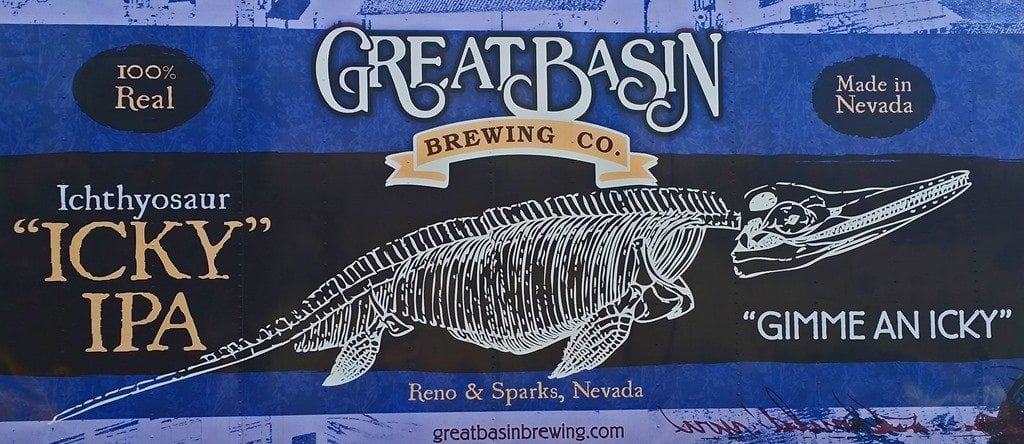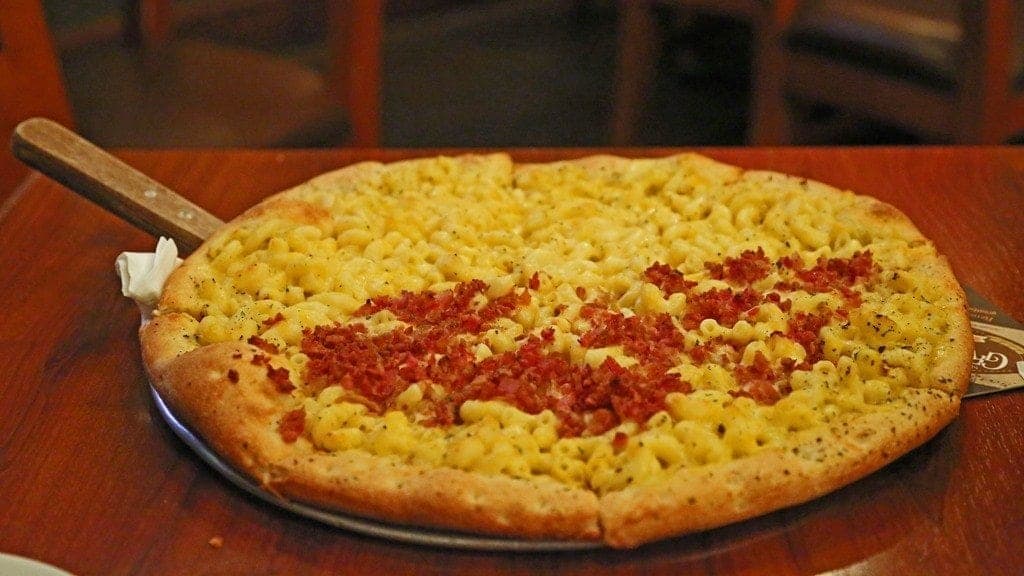 Great Basin Brewery and Restaurant
This restaurant offers something for everyone and a few things that may surprise you! Make sure and try the Mac Attack Pizza! Macaroni and cheese plus bacon covered pizza that is delish! Plus the cheese bread is so much more than what you expect when you order it! Order an Icky and enjoy a great local beer!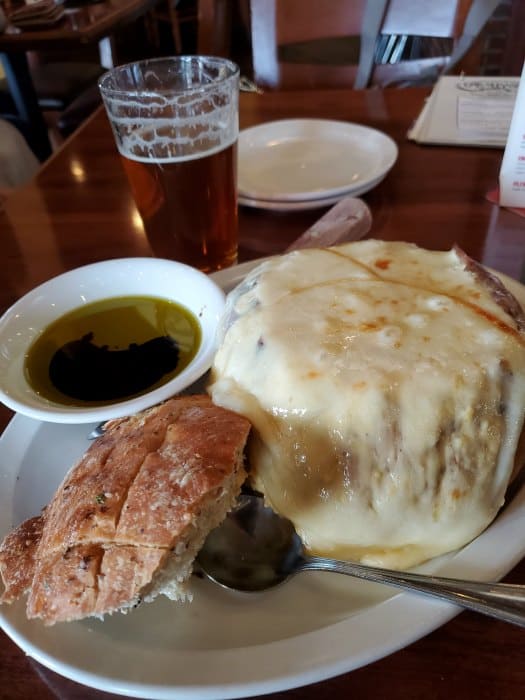 I need to mention the Molten Cheese Lava Loaf again because it is a glorious bowl of cheesy goodness you do not want to miss!  Served in a house-made icky bread bowl filled with creamy cheddar beer cheese sauce, baked to perfection with a crust of provolone and parmesan...oh hello yum! Grab your significant other, friends, or just head to Great Basin on your own just to experience the ooey-gooey epicness that is their cheesy bread bowl.
Also, the grilled cheese sandwich is not your normal boring grilled cheese. It is parmesan-crusted icky bread filled with Swiss, cheddar, smoked provolone, pepper jack, and mozzarella cheese with crispy hardwood smoked bacon and roasted tomatoes.
Reno Address: 5525 S Virginia St, Reno, NV 89502
Phone: (775) 284-7711
Sparks Address: 846 Victorian Ave, Sparks, NV 89431
Phone: (775) 355-7711
Taps & Tank - When you see this address online it is for the company's private event location and day to day brewing of their great beer. It is not open to the public.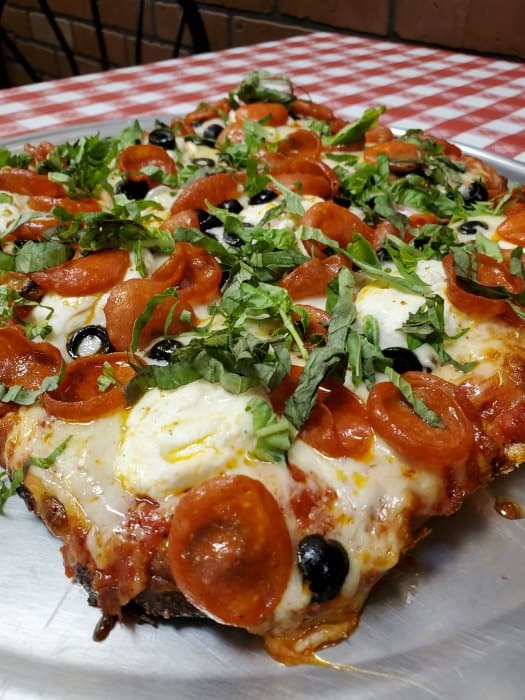 Smiling with Hope Pizza
I NEED you to go to Smiling With Hope Pizza! This is a must-visit best restaurant in Reno!! Best Pizza in Reno! Best everything in Reno!
Not only is the pizza probably in my top 3 pizzas we have had anywhere in the world this restaurant is truly amazing. The restaurant's mission is to create hope and meaning in the lives of people with disabilities.
The restaurant employs 30% of their staff with disabilities. The owner Walter hand stretches each pizza and cooks them on pizza stones baked in 1960's gas deck ovens.
These pizzas are honestly the best pizza you are going to find in Reno!
Also, make sure you order at least one cannoli! They are made with Walter's grandmother's recipe from Italy. They are so good you are not going to want to share!
One thing to know is the restaurant is only open from 4 pm to 8 pm so make plans to be there while they are open!
Here are just a few of the awards they have won:
Yelp -#1 rated pizzeria in the USA
"The best NY pizza in the world" Norma Knepp Caputo Cup Champion
"the greatest little pizzeria in America" Paulie Gee- Owner of Paulie Gee's Brooklyn and Paulie Gee's Slice Shop Madison Square Garden
USA TODAY- top 25 pizzeria's in America
Yelp's top 100 places to eat in America 2017 and 2018
Best pizza in Nevada by TIME and MONEY Magazines
MSN best pizza in Nevada
Address: 5525 S Virginia St, Reno, NV 89502
Phone: (775) 284-7711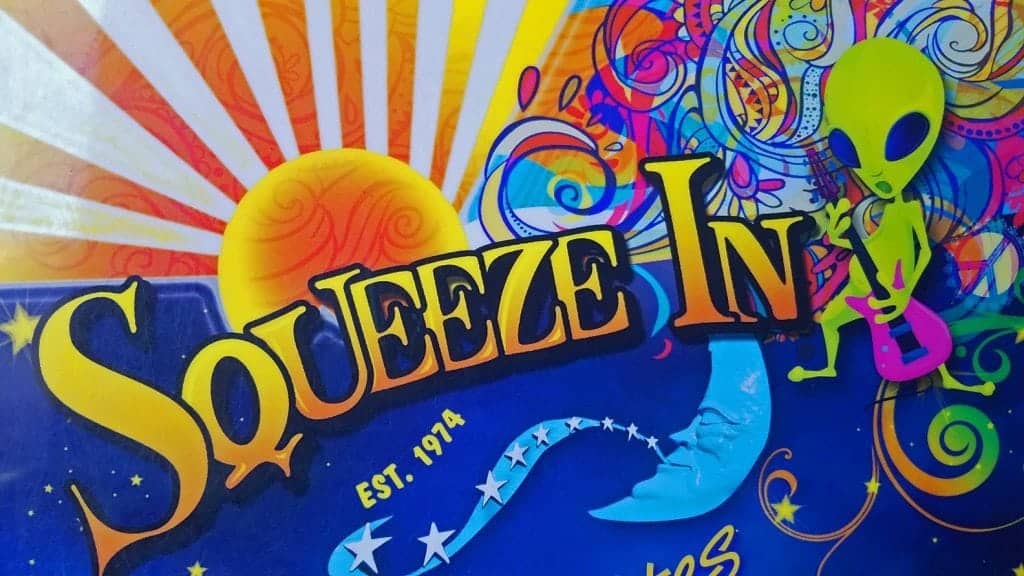 Squeeze In
This restaurant is hilarious and they have great food! Be prepared for aliens, giant plates of food and fun when you visit this restaurant. There are a few locations in Reno. We visited the South Reno location and it was beyond delicious!
Try the chocolate covered bacon! They have an omelet unlike any we had seen before! Imagine peanut butter, apples, and more all wrapped up in a tasty omelet! John tried it and said it was actually a really great combination. He wasn't sure but the waitress told him she has never had a customer not like it.
Squeeze In has two locations in Reno
Address: 345 N Virginia St, Reno, NV 89501
Phone: (775) 787-2700
Address: 25 Foothill Road Suite 3 Suite 3, Reno, NV 89511
Phone: (775) 323-0600
Hours: Open daily from 7 am to 2 pm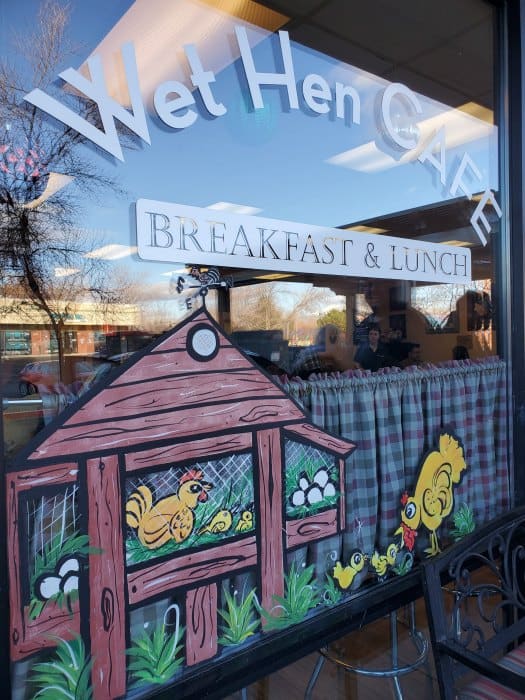 Wet Hen Cafe
The Wet Hen Cafe is a small restaurant with maybe 35 seats in it. This is a local restaurant that people return to multiple times. We heard a ton of people around us greeting each other and asking how people had been.
We stopped in for breakfast and enjoyed their eggs benedict and a croissant sandwich. One nice thing is the coffee is served in large carafes so if you need to fill up on caffeine you won't have a problem here.
The eggs benedict came smothered in a sweet basil hollandaise sauce served with two eggs over medium atop two English muffins with Black Forest Ham.
Address: 3979 S. McCarran Blvd., Reno NV 89502
Phone: 775-737-4330
Great Reno Restaurants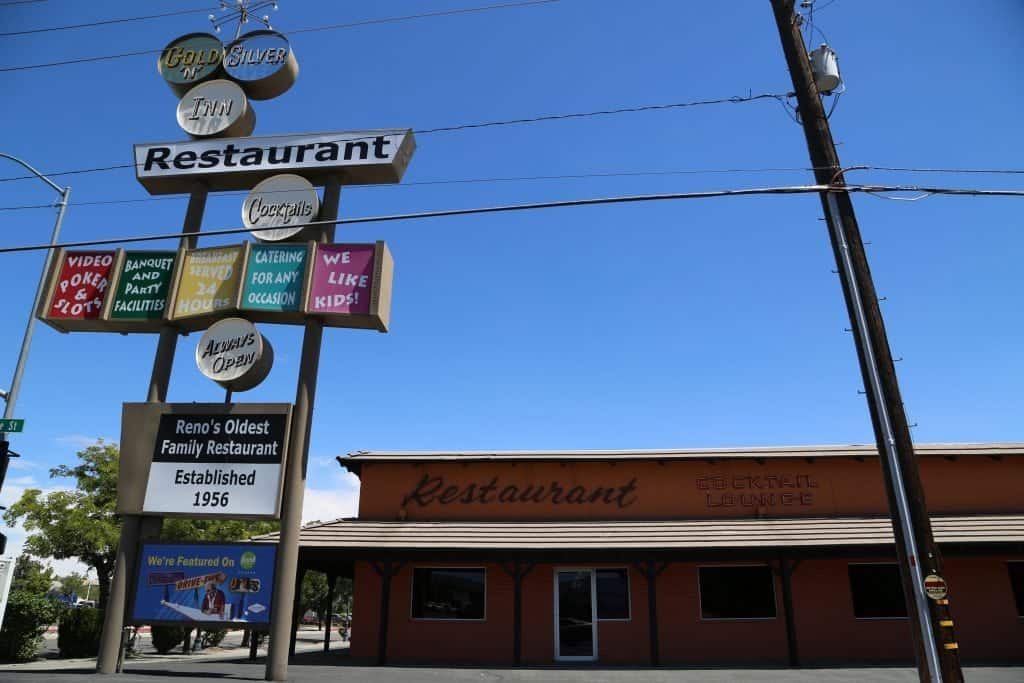 Gold and Silver Inn
This restaurant is like stepping into a time machine. You are transported back 30-40 years to a diner in the heart of Reno. The food is of great quality diner food. Large portions of everything you hoped to find on a diner menu plus so much more. You can enjoy the Lemonade Pork Chops and The Ground Beef Pounder that Guy Fieri had on Diners Drive-Ins and Drives.
Address: 790 W 4th St, Reno, NV 89503
Phone: (775) 323-2696
Restaurants in Sparks, NV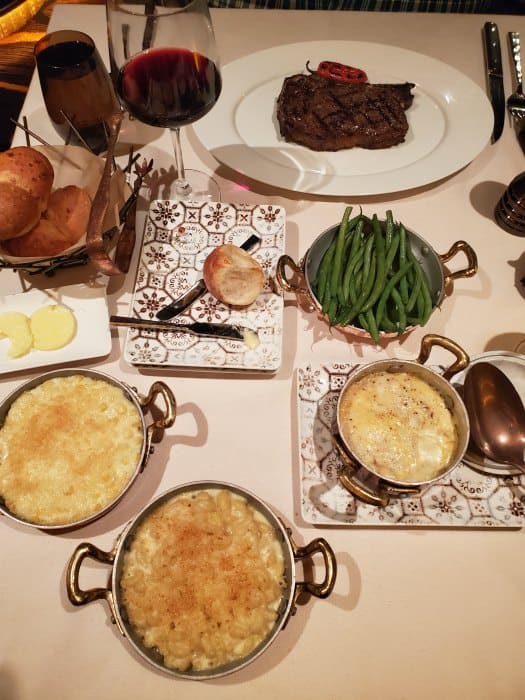 Anthony's Chophouse - Nugget in Sparks
Anthony's Chophouse is located in the Nugget Hotel in Sparks just outside of Reno. Offering upscale steakhouse dining with a menu filled with fresh seafood, prime cut filets, ribeye, and New York strip steaks.
They offer over 200 wines and a great variety of craft cocktails.
Our meal at Anthony's Chophouse was exceptional! The service was impeccable. From our waiter to the restaurant manager they each made sure that we were happy with our meal and enjoying ourselves.
The menu has a huge variety of options for every dietary need. It was great seeing a cauliflower steak on the menu perfect for vegetarian and vegan diners. The restaurant worked with our dietary requests without any problems.
The menu items you don't want to miss:
Burrata Salad - This salad was the perfect balance of burrata cheese, heirloom tomatoes, toast, and balsamic glaze. I was honestly really sad when the plate was empty.
Five Onion Soup - The presentation of this is epic. I don't want to ruin the surprise and show you how it looks. Trust me this is worth going in for on its own.
Escargot - John said that the puff pastry combined with the escargot was exceptional. One of the best he has had anywhere.
Bananas Foster - I mean hello flaming goodness! This dessert for two is amazing. The presentation alone at your table is worth ordering it. Plus is just tastes really amazing.
Address: 1100 Nugget Ave, Sparks, NV 89431
Phone: (775) 356-3300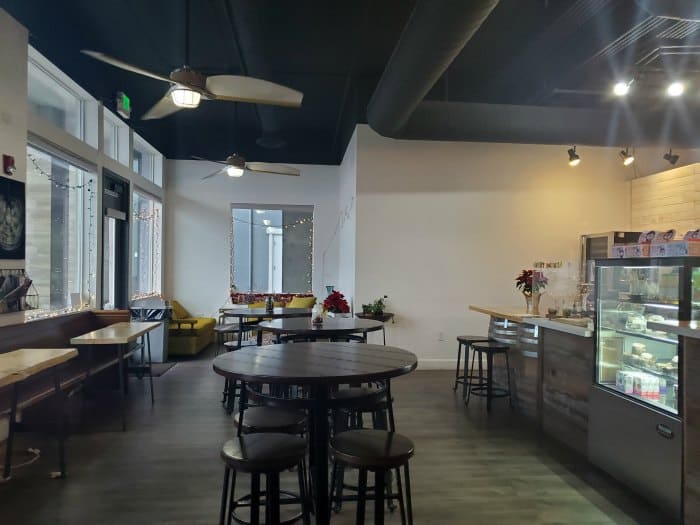 Lighthouse Coffee Shop
Lighthouse Coffee has two locations in Reno. The one located at the marina in Sparks is fantastic. You can enjoy a delicious cup of coffee and a pastry while gazing out over the water and mountains in the distance.
They have a great coffee/tea menu along with quiche, bagels, muffins, and scones. While it is not a full restaurant it does offer a great place to grab a bite to eat and an epic cup of coffee with a view.
Address: 325 Harbour Cove Drive Suite 101, Sparks, NV, 89434
Phone: (775) 470-5301
Vista Location
Address:   5255 Vista Blvd Suite C-2, Sparks, NV 89436
Phone Number:   (775) 870-1380
What are your favorite restaurants to visit in Reno? Is there a restaurant we have to visit on our next trip?
Restaurants we can't wait to try!
Pine State Biscuits
Address: 200 S Center St, Reno, NV 89501
Phone: (775) 432-2464
Old Granite Street Eatery
Address: 243 South Sierra St. Reno, NV 89501
Phone: 775-622-3222
South Creek Pizza Company
Address: 45 Foothill Rd, Reno, NV 89511
Phone: 775-622-1620
Monaciello
Address: 190 CALIFORNIA AVENUE, RENO, NV 8950
Phone: (775) 507-7540
The Depot
One great thing about the menu at The Depot is each menu item clearly states if it is vegetarian, gluten-free, vegan or if it has shellfish in it.
Address: 325 E 4th St, Reno, NV 89512,
Phone: 775-737-4330
Midtown Eats
Address:
Phone: 775.324.3287
Menu / Facebook / Instagram
Beefy's
The Moo, Cluck, Oink burger looks epic!
Address: 1300 S Virginia St.
Washoe Public House
Featured on Triple D (Diners, Drive-ins, and Drives)
Rue Bourbon
New Orleans food and drink in the heart of Reno Midtown.
The Shore Reno at the Renaissance Hotel
Located right on the river this looks like the perfect summer dining spot. You can sit outside and enjoy the amazing weather while enjoying great food.
Fat Cat Restaurant
Anyplace that has a Chuck Norris Burger has to be on the must-try list. Plus the Whiskey Glaze Burger and Brie & Fig Grilled Cheese sound epic.
Twisted Fork
Thai Lotus
Estella Tacos - At Jesse Hotel
Don't miss our post on the best breakfast in Reno! Also, the best Reno Breweries you don't want to miss!
As you can see there are a ton of epic restaurants in Reno! There is truly something for everyone.
Additional Reno Posts
The food you have to try in Reno - Epic meals that are not to be missed
A great day outdoors in Reno - Places to work off all of the amazing food you are enjoying
El Dorado Hotel - Room photos and videos sharing why the El Dorado is a great place to stay
Reno Hot Air Balloon Festival - This is a must-see event each year in Reno
Virginia City, Nevada - Step back in time in Virginia City on a day trip from Reno
Virginia Truckee Railroad - Take a day trip from Virginia City to learn more about the history of the area.
Hot August Nights - Check out classic cars and hot rods during this yearly car event in Reno