The Bayahibe Beach Break Excursion La Ramana is the perfect beach getaway when your cruise stops at La Ramana Dominican Republic. This excursion gives you the chance to enjoy the day at a gorgeous beach and pool.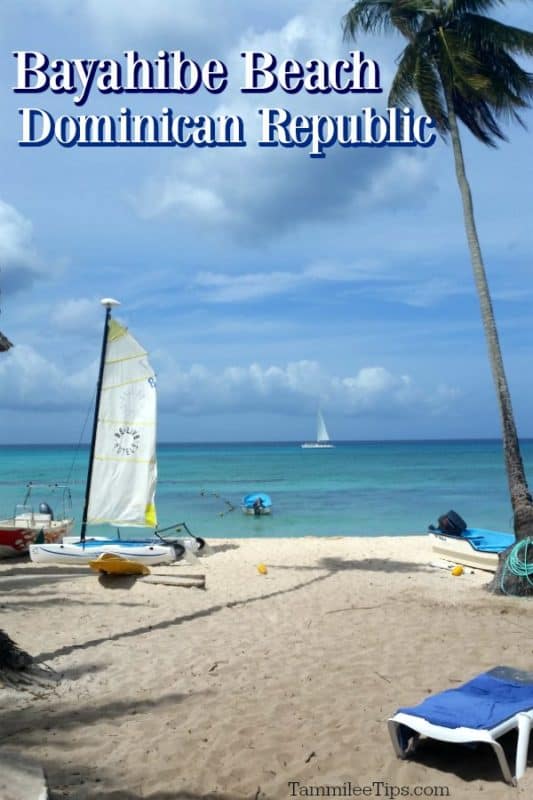 Bayahibe Beach Break Excursion - La Ramana, Dominican Republic
There is ample beach area to sit out and relax or soak up the sun floating in the ocean. There is a large pool with a swim-up bar if you would rather enjoy the pool area.
When you arrive at the Bayahibe Beach Break Excursion you are given a wrist band that designates you are with the group. The group is lead out to the beach and you can choose where you want to relax from there.
There are fresh coconuts you can enjoy with or without rum. One thing to note the coconut water is warm since they are so fresh so don't be surprised when you take your first sip.
I am not sure you can get much fresher than these coconuts. There is a gentleman who cracks one open with a machete when you walk up to get one.

The water was warm and perfect for just relaxing in. There is seagrass and rocks in the water. If you are uncomfortable having your feet in seagrass this may be a beach to wear water socks or other footwear.  We did not have a problem walking across the rocks but other passengers mentioned that they wished they would have brought water shoes.
The swim area is portioned off so you can easily just hang out and not have to worry about boats or other watercraft.
There were a few water activities available on-site if you want to rent a kayak or other water toys. There is a walk-up bar right next to the beach so you are never far from an ice-cold beverage.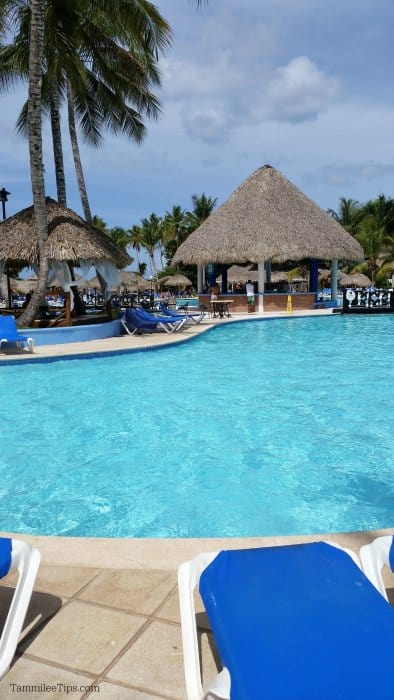 We spent a portion of our time in the ocean and the rest of the time relaxing in the pool. The pool was refreshing and huge. There is a swim-up bar right in the pool. One thing to be careful about at the swim-up bar is all of the bees. If you are allergic or not a fan of bees you may want to send a friend up for your drink. The line took a little bit to get our drinks but they were ice cold when they were served.
There are showers and changing rooms on-site if you want to change before heading back to the ship.
You can purchase food on-site and there are gift stores. We found some cute island art and gifts at the gift stores. The prices were what you would expect from a hotel gift store. They have a wide range of products available.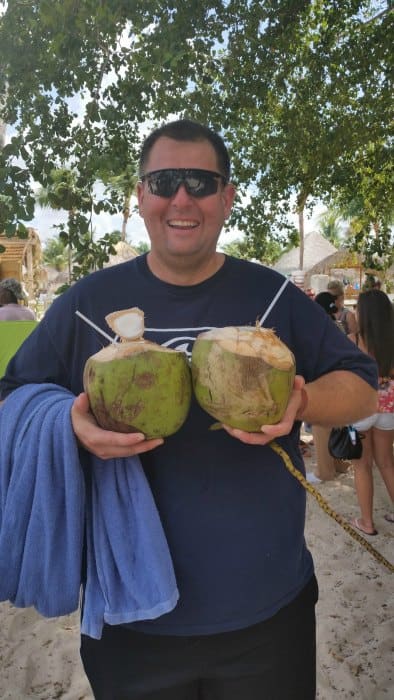 The Bayahibe Beach Break Shore Excursion is a great way to spend a day in the Dominican Republic. If this is your first time visiting La Ramana we definitely suggest booking a shore excursion.
There is not a lot to do at the cruise port. During our visit, there was one tiny store and a seating area and nothing else. The area is very open and you are not near a town or area that is easily walked to.
Be advised that European-style (clothing optional) sunbathing may be observed throughout beaches in the Dominican Republic.
Carnival Cruise Excursion Description
Relax underneath the swaying palm trees on one of the finest beaches in the Caribbean.
Departing from the pier, an air-conditioned motor coach will take you to a five-star resort in the picturesque fishing village of Bayahibe.
Enjoy a refreshing swim in the pool or a game of volleyball in a private beach area.
Take a stroll along the shore, relax on a sunbed, and enjoy a tropical cocktail from the domestic open bar.
You will have more than 3 hours of fun in the Dominican sun before returning to your ship.
NOTE:  Sunbed, beach towel and domestic open bar are included.  Food is available for purchase.  Transfer to the resort is approximately 30 minutes each way.  Be advised that European-style (clothing optional) sunbathing may be observed throughout beaches in the Dominican Republic.  Guests must be over 21 years old to consume alcoholic drinks.
Great Caribbean Cruise Resources
Things to do in Aruba on your cruise
Amber Cove, Dominican Republic
Best things to do in Curacao on a cruise
We were provided with our excursion to help facilitate our review. All opinions expressed are our own.