When you think about St. Maarten do you think about the planes coming in over Maho Beach? During our trip, this was one of the highlights of our visit to the gorgeous island of St. Maarten.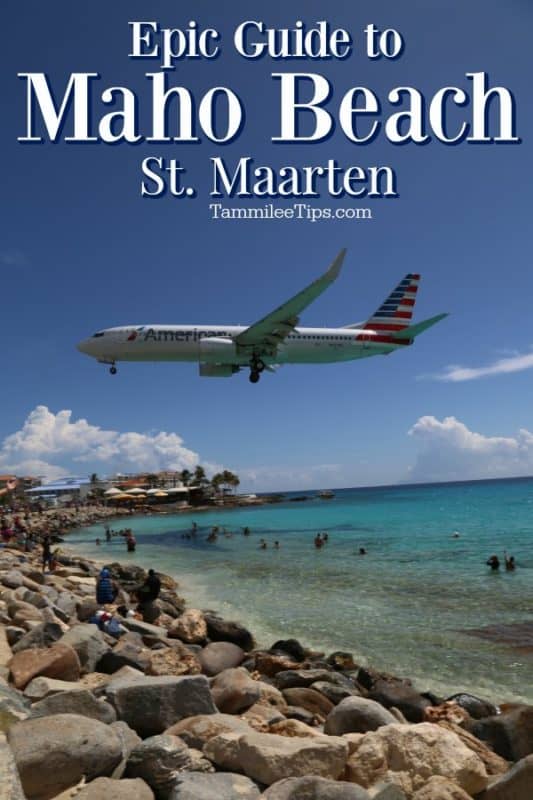 Maho Beach in Saint Maarten
Today I want to share some tips for visiting Maho Beach in Saint Maarten. You can easily spend all day waiting for the planes to come in which isn't a horrible way to spend the day considering you are on a tropical island, and it is gorgeous. BUT with these tips, we can make sure you maximize your time on the island!
Maho Beach is easy to reach via rental car or taxi. You can take a taxi directly from the cruise terminal if you are visiting the island via a
Caribbean Cruise.
We rented a Jeep during our trip and did not have any problems driving on the island.
There are tropical beach bars on both sides of the beach and the runway at Maho Beach. We really enjoyed the Driftwood Boat Bar. It was not as crowded as the Sunset Bar and Grill. Parking is a tiny lot right next to the Driftwood Boat Bar, or you can park near the Sunset Bar and Grill and walk down the street.
The pizza at the Driftwood Boat Bar was fantastic, and the drinks were even better. One thing to note is to make sure you do not get distracted by the planes coming in and leave anything valuable on the table or seating area. We left John's inexpensive travel sunglasses on the table when we went to get pics of the planes coming in, and they were gone when we walked back 2 minutes later.
Thankfully they were cheap sunglasses but use this as a reminder to always know where your stuff is!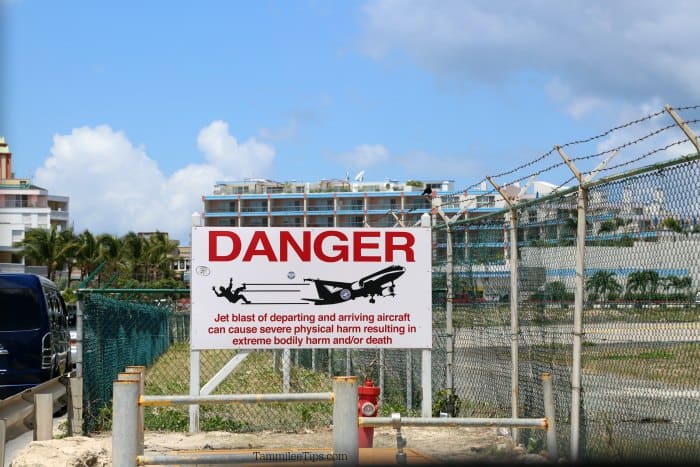 Our biggest tip for visiting Maho Beach in Saint Maarten is to google the flights that are expected on the day you are visiting. We were able to find all of the arriving flights by googling them that morning. I wrote a list of them in my notebook that I brought with us.
One thing to note is a few of the jets came in as early as 30 minutes before they were due to arrive. Keep your eyes and ears open for the planes coming in. You can normally hear them coming in but just in case keep looking out over the water. I was a bit surprised at how quiet some of the big jets were.
When the planes come in or take off hold on to your stuff!!!!
If you look closely at the pic above you will see the rocks that have been added to the beach. This is to prevent people from putting stuff all over the beach and having it blown away.
If you have sunglasses or a hat hold onto them. I highly suggest keeping your sunglasses on because of the dust and sand that is blown, in the air. At times it felt like we were getting sandblasted.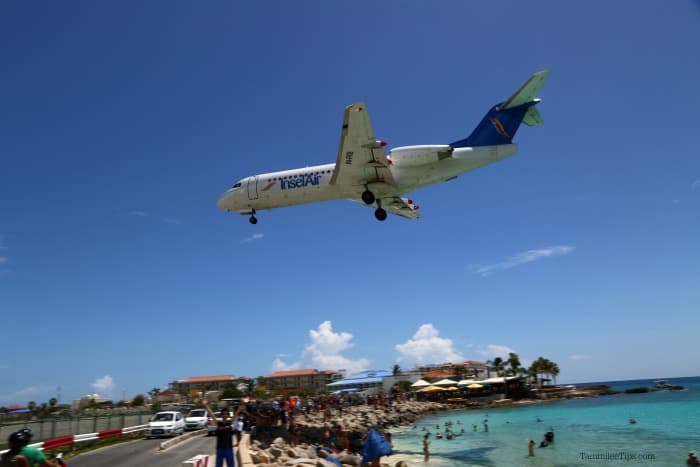 Be prepared for there to be a large crowd at Maho Beach during your visit. Especially if there are multiple cruise ships in port. There should be ample taxis in the area but just in case try to not be the last people at the beach.
The bars can also call for a taxi if you do not see one waiting at the curb. The taxi rates are set back to town so you shouldn't have to negotiate for your ride back into town.
Visiting Maho Beach is definitely a highlight of visiting St. Maarten! If you are wondering what else to do during your visit check out our post on Things to do in St. Maarten and also our St. Maarten Travel Tips!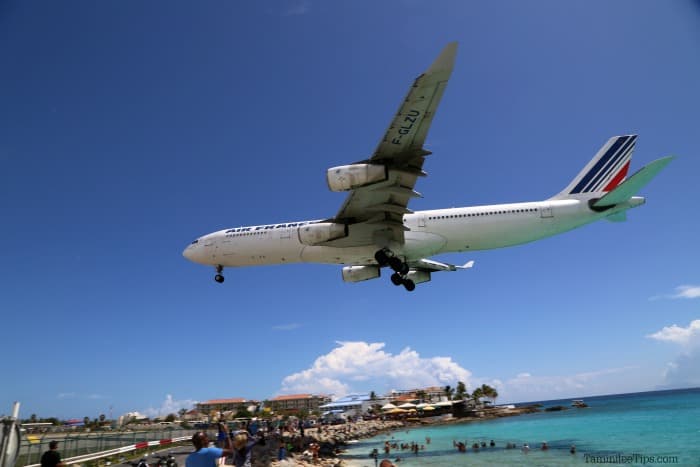 Additional Caribbean Travel Articles
Bayahibe Beach - Dominican Republic
Balmoral Island - Bahamas
Check out all of our Caribbean Travel Guides