The Chateau du Sureau is located in Oakhurst, California approximately thirty minutes from the southern entrance to Yosemite National Park. The Château du Sureau is an award-winning boutique hotel with 10 luxurious rooms.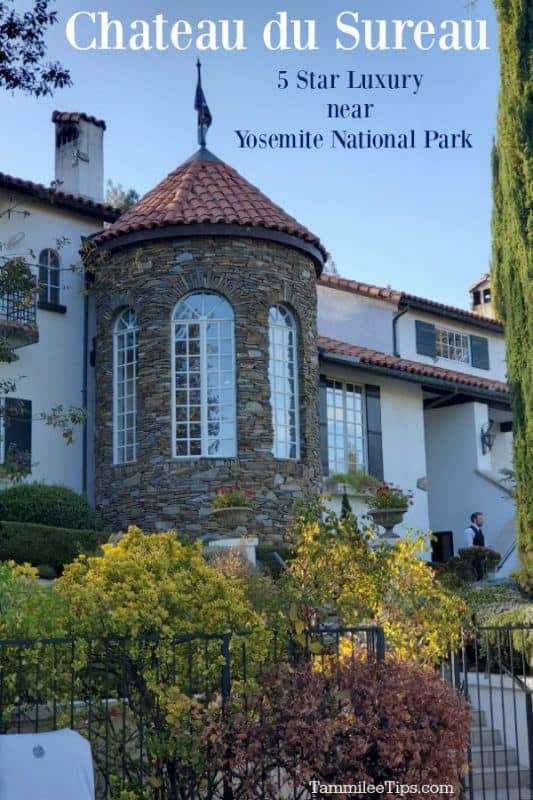 Chateau du Sureau
Each of the guest rooms is decorated in an old European style that matches the feel of the entire Estate by the Elderberries. We stayed in the Chamomile Room which was gorgeously appointed with a king-size canopy bed.
The majority of the guest rooms are located on the second floor of the Chateau but there are a few located on the main level. They do have accessible access to the main floor for guests who may need it.
One thing I love is the Chateau is a AAA Five Diamond Award-winning hotel. Most hotels we have stayed at that have earned four and five-diamond awards place them on the wall right when you walk in the door. There is no missing that some locations have won awards and they want you to know it. The Chateau du Sureau placed their award out the back door as you walk out to the patio and spa area.
I love this! They don't feel like they need to shove their awards in your face the moment you arrive. They would rather show you why they are a five-diamond property and let you experience their luxurious pampering.
The first morning we woke up to the smell of fresh croissants baking downstairs in the kitchen. We had scheduled ourselves to be up and out of the hotel by 5:30 am to get into Yosemite National Park for sunrise and to take photos of the gorgeous fall leaves. I am going to admit right now that I seriously questioned our schedule as I had to crawl out of the crazy comfortable bed.
The staff was unbelievable and put together a breakfast package for us with fresh croissants and fruit since we would be missing breakfast. We paired the fresh croissants with jam and brie from the Yosemite Valley grocery store and it may have been the best car picnic we have had.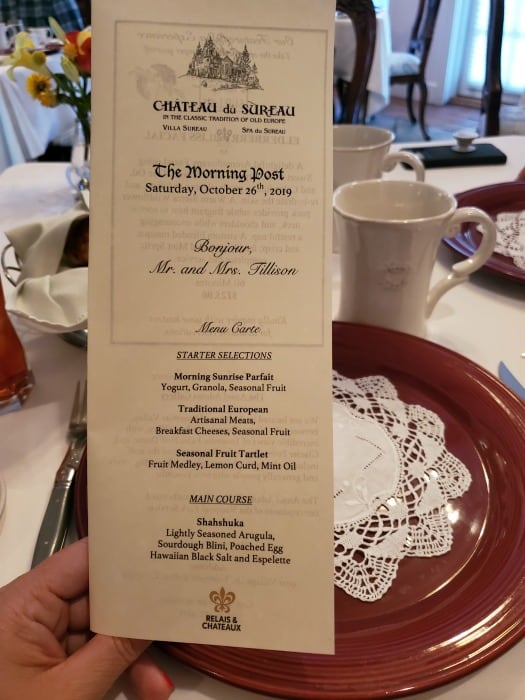 Thankfully we learned our lesson after the first morning and made sure to make it to breakfast every morning. The fresh croissants are not to be missed! Each morning we were greeted with a personalized breakfast menu detailing the morning options and information on Yosemite.
The service at the Chateau is impeccable.  The staff greets you by name and makes sure that you are happy during your entire stay. Every single staff member we talked with truly went out of their way to make sure that our stay was wonderful.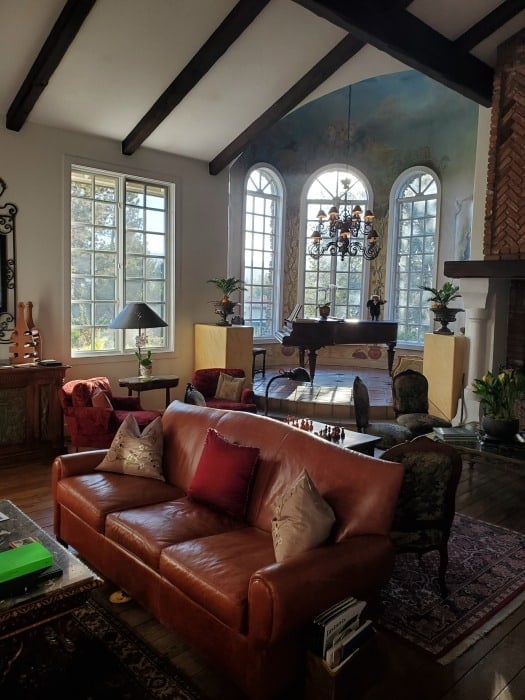 The sitting room in the Chateau is what dreams are made of. The perfect place to relax by the fire with a book and forget about all your stresses.
I could have easily spent an entire afternoon curled up in the corner of the couch with a good book and just relaxed.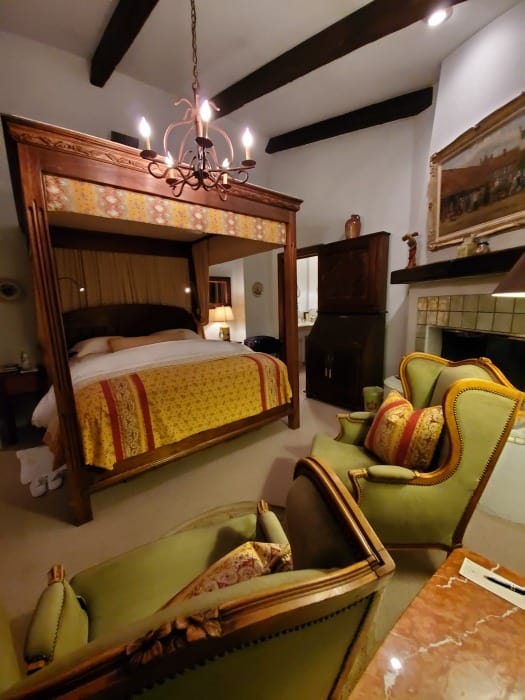 Chamomile Room
We walked into the Chamomile Room and had to take a second to just soak in how gorgeous the room was. Beautifully decorated with a king-size canopy bed, writing desk, two comfortable chairs, a fireplace, and a limestone soaking tub this room was created for luxurious relaxation.
I honestly wish we would have planned more time for just relaxing and doing nothing at the Chateau. On our final morning, we decided to change up our schedule and just spend a few hours truly enjoying the peaceful luxury of our room and the Chateau. It was pure bliss.
Sitting in the Chamomile Room with the windows open looking out over the grounds was beyond relaxing. I could have happily spent the entire day just relaxing with a good book and a hot cup of tea.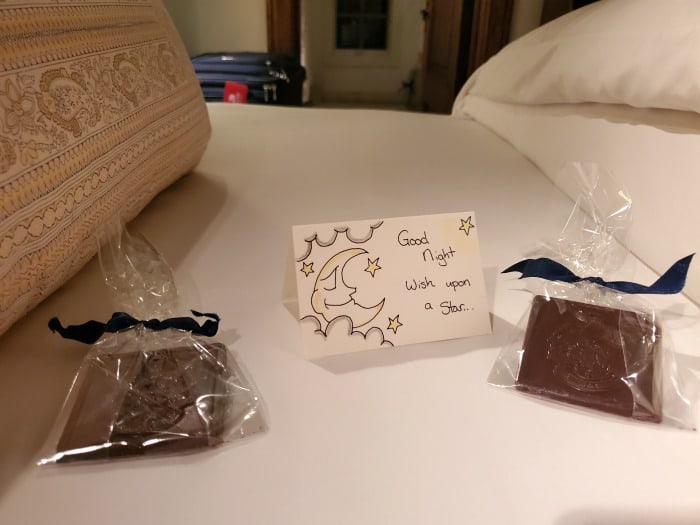 One of the little luxuries that truly made a huge impact on our stay was the sweet little notes left by the staff during the turndown service. We would come back in the room after spending 10+ hours out exploring Oakhurst and Yosemite to find a couple of house-made chocolates or sweet treats along with a small card wishing us a good night.
One of the cards said, "May all of your dreams be filled with Magic!" This small card now sits on my nightstand and makes me smile every night before I go to sleep. It is a reminder to savor the luxury in life and take time to truly dream big.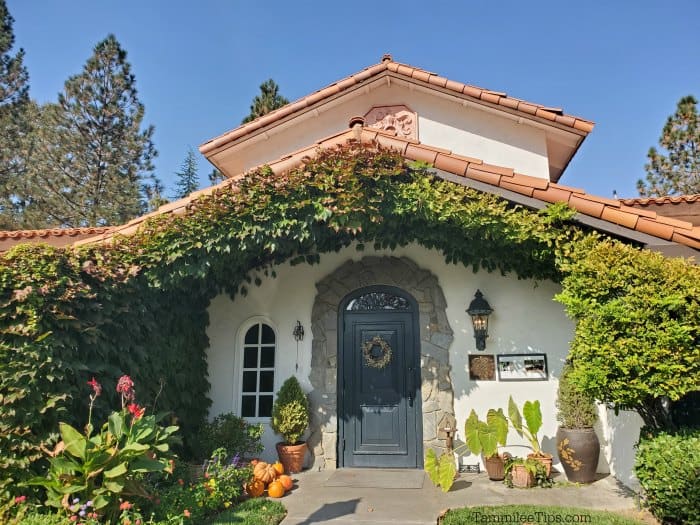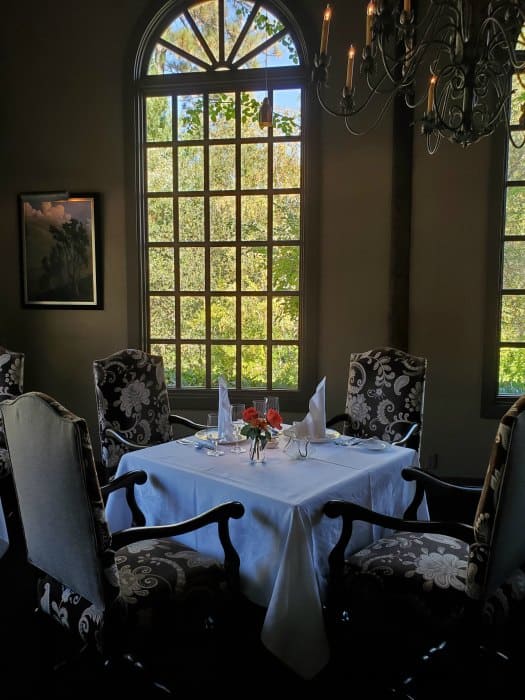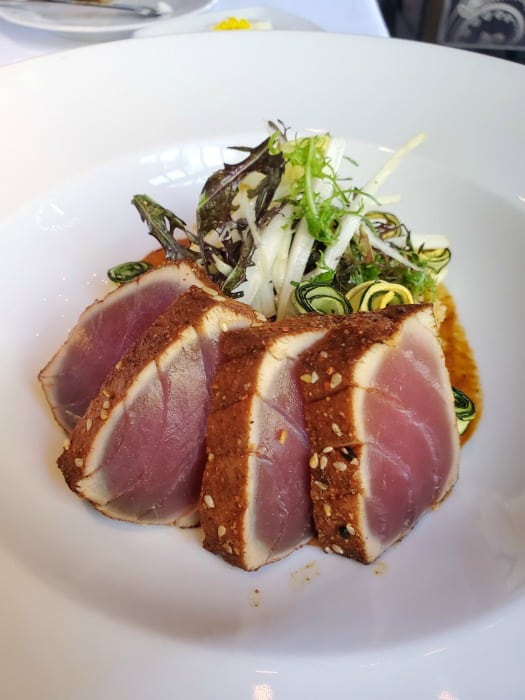 Erna's Elderberry House Restaurant
Erna's Elderberry House is the Chateau du Sureau Restaurant located on-site near the chateau. The restaurant offers a nightly 7-course tasting menu that is beyond delicious. The restaurant is comfortable luxury perfect for an amazing dinner.
Chef Robert Snyder III oversees the kitchen and makes sure that the nightly menu features fresh ingredients from the local Central Valley for a true farm to table experience. While we were there Chef Snyder was ecstatic over local produce that had been delivered that morning. His excitement was infectious as he created different menu items to highlight the produce grown in Madera County and the local area.
The dinner menu changes nightly based on what is fresh and available. Here is a look at our dinner options:
John's menu:
Ora King Salmon Tartare - beet, avocado, creme fraiche, mustard
Cast Iron Seared Diver Scallop - Burgandy truffle risotto, pea tendrils, parmesan
Estate Grown Zucchini Veloute - curry creme, cilantro, borage
Brandt Farm's Beef Ribeye - Anson mills polenta, long bean, radish, bell pepper jam, local okra
Stone Fruit Ravioli - herb chevre, pecan, arugula, red onion
Lemon Mascarpone Mousse - salted caramel, white chocolate, strawberry
Hazelnut Financier - dark chocolate, raspberry, praline crumble
Vegetarian Menu
Local Beet Tartare - avocado, creme fraiche, mustard
Burgandy Truffle Risotto - pea tendrils, parmesan, autumn flora
Estate Grown Zucchini Veloute - curry creme, cilantro, borage
Bounty of Seasonal Vegetables - Anson Mills polenta, long bean, radish, bell pepper jam, local okra
Stone Fruit Ravioli - herb chevre, pecan, arugula, red onion
Lemon Mascarpone Mousse - salted caramel, white chocolate, strawberry
Hazelnut Financier - dark chocolate, raspberry, praline crumble
There is a master sommelier on-site to help pair the perfect wine with each course of dinner.
If you have any dietary restrictions the restaurant does request advanced notice so they can make sure and craft a menu you will love. I have been vegetarian for over twenty years and this was one of the best dinners I can remember.
They truly want you to have the most amazing meal while you are there.
You will want to dress for dinner with a nice jacket and tie for men and a casual dressy or elegant outfit for women. We saw everything from church dresses to formal gowns during our dinner.
Reservations are accepted by phone Monday through Sunday from 9:00 am to 5:00 pm at 559-683-6800, and can also be made online.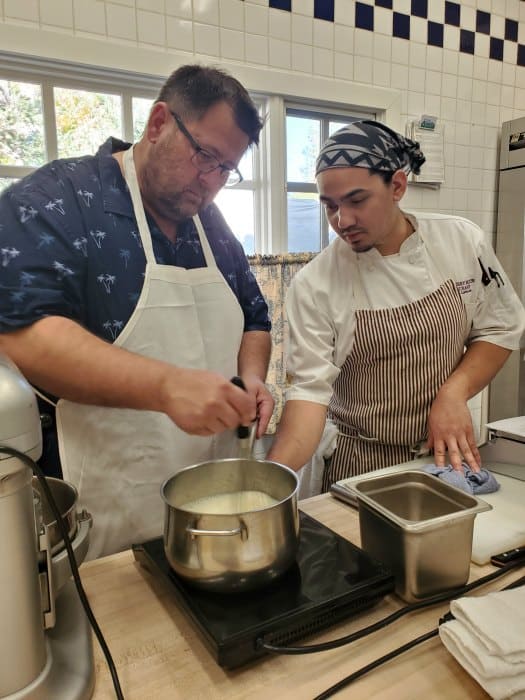 Saturday Half-day Cooking Class
Sweet Treat Hors d'Oeuvres
The Sweet Treats hors d'Oeuvres class was amazing and I already want to go back for every class they offer. Chef of Patisserie Dylan Melella led our class and taught us not only how to make multiple new recipes but also a ton of great baking tips and tricks.
We laughed, we learned, we ate a ton of sweet treats and we honestly had the best time. I would take another one of these classes in a second. I now dream of taking the three-day immersive cooking school they offer that covers everything from bread to wine to main dishes.
A few of the recipes we learned to make include these Lemon Butter Cookies, Pate a Choux Craqueline with Vanilla Mousseline, Seasonal Pate de Fruit, Cinnamon Apple Tartlet with Chantilly Cream, and Thumbprint Cookies.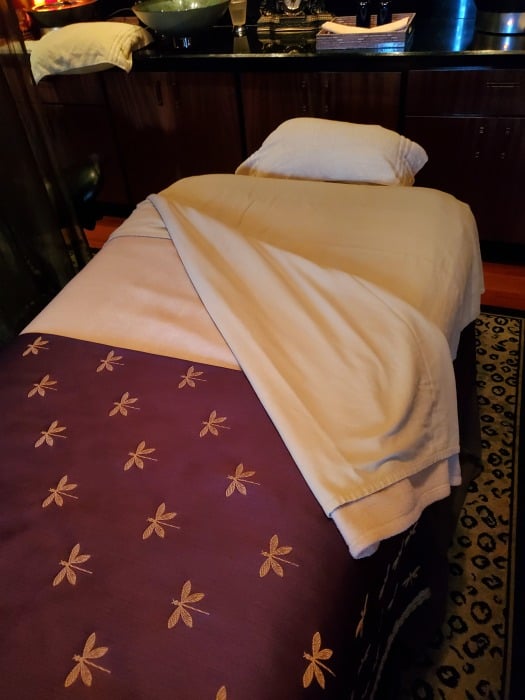 Chateau du Sureau Spa
Spa du Sureau offers luxurious treatments including facials, massages, and body care. Each treatment starts with the signature Elderberry footbath and a taste of local honey.
They offer three traditional European Kurs: Thalassotherapy (Marine Therapy), Krauter (herbal baths), and Thermal Mineral (mud & medicinal elements).
If you are plus size the robes fit up to about a size 2x and then get a bit tight. If you are heavier in the chest or above a size 2x  you may want to bring a swimsuit to wear under your robe before your treatment. The foot bath is done in the main lobby of the spa.
Villa Sureau
If you are looking for a private getaway look no further than the Villa Sureau. This 2,000 sq. ft. Parisian Manor features two bedrooms with private baths, a sitting room, and a library, along with a gorgeous balcony to look out over the grounds.
Amenities:
Fine antique furnishings
Precious art
Charming details abound
Two lavish marble bathrooms
Whirlpool tubs and steam showers
Luxury with sumptuous bathrobes, towels
Finest toiletries
Personal butler
This is the top Yosemite 5 Star Hotel that provides luxury services and privacy.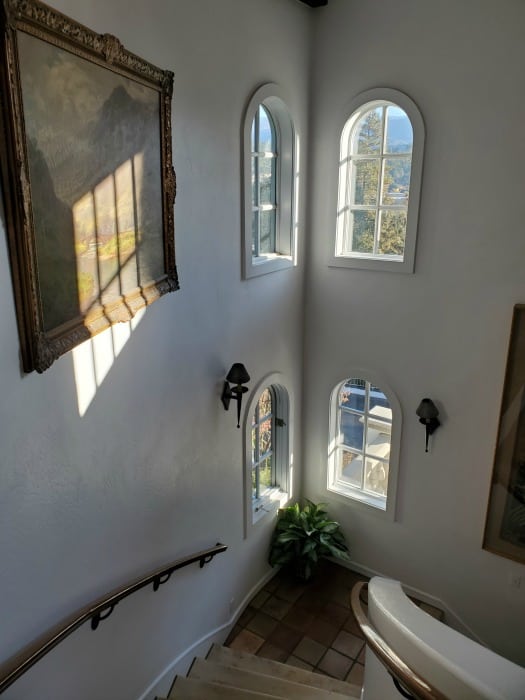 Details
Address: 48688 Victoria Lane, Oakhurst, Ca
Reservations: 559-683=6860
Website: www.chateausureau.com 
Check-in: 3:00 PM If arriving prior to our check-in time, please call to make arrangements.
Check-out: 12:00 PM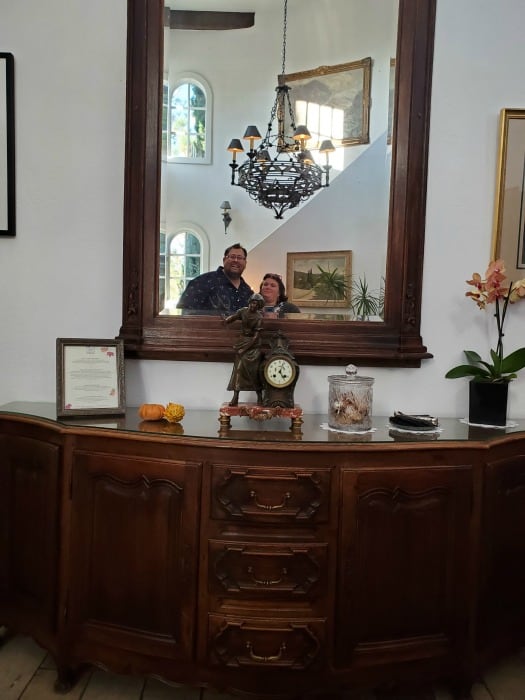 Additional Oakhurst, California, and Yosemite Resources
Yosemite Mountain Sugar Pine Railroad
Mariposa Grove of Sequoias Guide
Bass Lake travel Guide
We stayed at the Chateau as part of our ambassadorship with Visit Yosemite Madera. All opinions expressed are our own.