Are you visiting Oakhurst, California while enjoying an epic trip to Yosemite National Park and Bass Lake but don't know which Oakhurst Restaurants you should enjoy...don't worry!
This Ultimate Oakhurst Restaurants guide is set up to help you find exactly where you want to enjoy a delicious meal!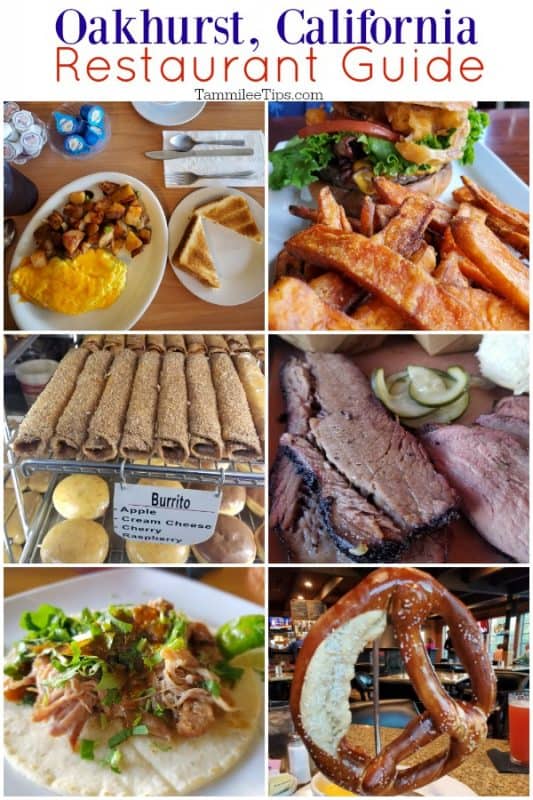 Oakhurst Restaurants
We are visiting Oakhurst and Madera County quarterly to make sure that we share with you the best restaurants near Oakhurst CA and the places that we have fallen in love with. We partnered with Visit Yosemite Madera County to spend time in the area and truly dive into the restaurant scene and the best things to do in Oakhurst.
Oakhurst truly is the southern gateway to Yosemite National Park and the perfect place to stay during your visit. Located less than 20 miles from the southern entrance to Yosemite you can enjoy all of the benefits of being in town while soaking up everything amazing in Yosemite NP.
We are sharing our favorite local restaurants and skipping over most of the fast food and chain restaurants you already know about.
In case you are wondering Oakhurst does have the following chain/fast food restaurants: Carl's Jr, Burger King, McDonald's, Papa Murphy's, Jack in the Box, Round Table, Starbucks, and more.
The majority of Oakhurst Restaurants are located right off of Highway 41 and are easy to find.
For the past couple of years, we have been working on our Oakhurst Restaurant Guide sharing our favorite restaurants not to miss. I thought it would be fun to share specific menu items that we LOVE!!
Oakhurst Restaurant Favorites
Axis Coffee - Grilled Cheese Sandwich
Chateau Du Sureau- The entire menu
Judy's Donuts - Burrito Doughnut
Me and Ed's Pizza - Garlic Cheese Bread
El Cid's Mexican - Strawberry Margarita
Oakhurst Grill - Pretzel and Beer Cheese,
South Gate Brewing Company - All the beer, pretzels, P.B.L.T. Sandwich
Miller's Resort - Ice Cream Bucket
Reimer's - Fresh Ice Cream
Ducey's on the Lake - Eggs Benedict, chicken fried chicken
Cowboy Tavern - Pale Ale Cheddar Dip
These are just a few of the epic things you can expect to find on menus in Oakhurst. One thing we have found is the chefs are always innovating and updating their menus with new things.
Oakhurst is filled with amazing chefs who produce quality food every single time. We are always amazed at how great the food is when we visit.
There are so many epic restaurants in Oakhurst, CA to choose from. We always have a hard time deciding where we want to go.
South Gate Brewing Company (Brewery and Pub)
The South Gate Brewery and Restaurant is perfect for dinner and an epic beer. They have a large selection of beers that are brewed onsite at the restaurant.
South Gate Brewing Company brings out new beers at least once a month with rotating taps. They have seasonal beers and a collection of tried and true brews that are always on the menu.
The food is fantastic! Make sure and try the wood-fired Bavarian Pretzels with Beer Cheese! YUM!
They offer a wide selection of burgers including an amazing house-made black bean quinoa burger that is beyond good.
The P.B.L.T Sandwich is unbelievable! A twist on a classic BLT made with Pork Belly.
The beer cheese mac and cheese is delicious. Make sure to try the honey-chipotle dipping sauce.
South Gate Brewing Company is one of the most popular spots for dinner in Oakhurst! Be prepared for a wait if you visit on a Saturday night or really any night during the summer.
Don't worry the wait is worth it!
Address: 40233 Enterprise Dr, Oakhurst, CA 93644
Phone: (559) 692-2739
Cowboy Tavern
Located 10 miles from the southern entrance of Yosemite National Park and 4 miles from Bass Lake. The restaurant is located at the Sierra Sky Ranch Historic Hotel established in 1875.
The Cowboy Tavern is one of our favorite restaurants in Oakhurst! The food is truly epic! The restaurant was recently renovated and updated and it looks amazing.
From the crystal chandeliers to the bison head on the wall, you can expect an eclectic mix of modern country. The food is some of the best we have had in a long time.
I need you to try the Pale Ale Cheddar Dip. We talked about having our entrees packaged to go so we could order a 2nd cheese dip it was that good.
We ended up trying to share the cheese dip and not keep it to one side of the table though I will admit to stealing the last piece of toasted bread.
My husband said the Shepherd's Pie was amazing. He ordered a double serving after spending the day exploring Yosemite NP and couldn't finish the cast iron skillet full of meat, potatoes, and veggies.
I tried the Ziti Arabica and it was delicious. The pasta bowl had so much food in it barely looked like I had touched it when I was done.
For dessert, you need to try the pear crumble. I am not sure why I haven't been making brown sugar whipped cream at home but that will be changing! The house-made vanilla bean ice cream was perfection.
The ranch was the area's first working cattle ranch and supplier of fruits, veggies, and meat for the Soquel and Sugar Pine logging camps.
Famous guests include John Wayne and Marilyn Monroe.
The restaurant is open seasonally so make sure to call before heading over there.
Address: 50552 Road 632, Oakhurst, Ca
Phone: 559-683-8040
El Cid Mexican Restaurant
El Cid is a local favorite for a reason! This epic Mexican Restaurant in Oakhurst offers a great menu, some of the best margaritas we have ever tasted, and a fun atmosphere.
A visit to El Cid is always on our agenda when in Oakhurst. Every single thing we have tried at El Cid has been delicious.
I am honestly not sure how they blend their margaritas but they are beyond delicious. I need them to start teaching margarita classes they are that good.
If you are a bird watcher make sure to ask for a seat near the back windows. The restaurant has bird feeders near the windows and there are 100s of birds.
Address: 41939 CA-41, Oakhurst, CA 93644
Phone: 559-683-6668
Idle Hour Winery and Kitchen
Idle Hour Kitchen serves lunch and dinner service along with weekend brunch.
They have a seasonal lunch menu that rotates along with an epic dinner menu.
I need you to get the charcuterie board with spicy honey that is made in-house! I need to pick up a bottle or 4 the next time we visit to bring home with us.
The great thing about dining at the Idle Hour Kitchen is you can pair your meal with their amazing wines.
Address: 41139 Highway 41, Oakhurst
Phone: 559-760-9090
Smokehouse 41 BBQ
Smokehouse 41 BBQ is a local favorite and frequently sells so make sure to get there early! Once they sell out they are done for the day.
The restaurant uses all-natural premium meats and prepares its side dishes daily.
They serve a gigantic sweet potato the 41 Baker that is crusted in a house-made smoked sea salt blend and topped with butter, cheddar cheese, your choice of meat, and green onions.
The Pit Master Sandwich includes Brisket, Pulled Pork, and Sausage topped with slaw plus a side dish! This is a must try during a visit to Oakhurst!
Oh my goodness it is huge and so good!
They also have a Mammoth platter that serves 4 to 6 people with a full rack of pork ribs, a half pound of tri-tip, brisket, chicken, pork, and sausage! Plus 2 large sides, 6 rolls, pickles, onion, and barbecue sauce!
Side dish options include Smoked BBQ Beans with meat, Jalapeno Mac and Cheese w. Bacon, Cole Slaw, Twice Baked Potato Casserole, Mixed green salad, and creamy broccoli salad.
Address: 40713 CA-41, Oakhurst, CA 93644
Phone: (559) 642-2271
Plazuelas Mexican Restaurant
If you are looking for fresh unique Mexican food then Plazeulas is the restaurant for you! They have four rotating micro-brews on tap along with your favorite Mexican beers available. One thing to know is they do not have margaritas!
Menu items not to miss:
Bistek Ranchero - Grilled steak with tomatoes, jalapeno, and onions, served with rice and beans, and fresh flour tortillas.
Carne Asada Steak Taco - All I can say is this is a must-try!! So flavorful! Make sure you have a napkin ready because this steak taco is filled with juicy steak and my husband managed to have it drip down his shirt. He said it was so good that it was worth the stain on his shirt.
Address: 40015 CA-49 St 203, Oakhurst, CA 93644
Phone: (559) 658-7771

Elderberry House Restaurant
If you are looking for a fancy dinner then Erna's Elderberry House Restaurant is the place to go in Oakhurst.
The Elderberry House does fine dining and upscale date nights right! Every course is better than the one before and you can expect amazing food.
If you have any dietary restrictions make sure and let the restaurant know when you make a reservation.
Please be aware that tank tops and flip-flops are not acceptable. Plan to dress in elegant casual dresses for women and shirts and slacks for men.
Address: 48688 Victoria Lane, Oakhurst, California 93644
If you are looking for a place to stay check out the Chateau du Sureau which is part of the Estate by the Elderberries.
Phone: For reservations (559) 683-6800
Reservations are accepted by phone Monday through Sunday from 9:00 am to 5:00 pm
Reservations may be made up to 4 months in advance
Cellar Bar
Cellar Bar has a bar menu with burgers and bar bites along with great cocktails every Thursday through Sunday from 5 pm to close.
The bar menu includes bruschetta with duck prosciutto and buffalo mozzarella, chef's selection charcuterie, chefs selection of artisanal cheeses, Calvisius Caviar and Blini, Catch of the day, and Brandt Beef Ribeye.
Plus apple pie with salted caramel for a sweet finish.
They have an amazing cocktail menu including Seedlip non-alcoholic spirits for mocktails.
Pizza Factory
We normally only talk about local restaurants in our restaurant guides so you may be a bit surprised to see a Pizza Factory listed. We are including them because this location was the very first Pizza Factory Restaurant.
Since it is the original and a local favorite we felt like we should include it.
They offer pizzas, calzones, deli sandwiches, soup and sandwiches, and pasta dishes.
You can dine in, take out or order pizza for local delivery. They have been in Oakhurst for more than thirty years!
The garlic cheese bread twists are delicious! We really enjoyed our pizza and how comfortable the restaurant is. Definitely a local favorite with great food and a chill atmosphere.
Address: 40120 Highway 41, Suite B, Oakhurst, CA
Phone: 559-683-2700 (delivery)
Oakhurst Grill
The Oakhurst Grill and Whiskey 41 Lounge are located next to the Best Western on Highway 41. Right in the center of Oakhurst the restaurant offers breakfast, lunch, and dinner.
You need to try the pretzel and beer cheese! It is huge and tastes amazing!!!!
Address: 40530 HWY 41, Oakhurst, California 93644
Phone: (559) 641-2477
Me-N-Eds Pizza
Me-N-Eds is located next to Plazuelas Mexican Restaurant in Raley's Grocery Store parking lot. This pizza restaurant is perfect for families that want a comfortable place to relax and enjoy dinner.
There are a few arcade games in the back for fun. They also have a small salad bar, soda, and tea machines with free refills, and space to relax.
This pizza restaurant reminds me of a place where sports teams would go to celebrate a game or the end of the season. Super casual and easy.
The garlic cheese bread is amazing and I would go back just for the cheese bread. It has alfredo sauce, garlic, and a ton of cheese. You might be able to fight off vampires after eating it but it is so worth it!
Address: 40015 CA-49, Oakhurst, CA 93644
Phone: (559) 642 -2929
I know you were not expecting a railroad to show up on our Oakhurst Restaurant guide but I would be remiss if I did include this epic dining experience.
Your epic Moonlight Special train experience starts with a NY Steak or Chicken BBQ Dinner outside at the train station with live music.
After dinner, you board the Yosemite Mountain Sugar Pine Railroad and head out into the woods on a steam train.
Once the train reaches Lewis Creek Canyon you get to enjoy live music and entertainment before boarding the train back to the station.
This dinner is fun for all ages! The entertainment is a grandparent's dream so make sure to bring your kids and get ready for family fun!
Yosemite Mountain Sugar Pine Railroad also hosts 1-hour rides during the day, the Yosemite Jazz Train on special evenings, and Halloween special rides.
Address - 56001 Highway 41, Fish Camp
Phone - 559=683-7273
Judy's Donuts
While not specifically a restaurant you can't go wrong with a few doughnuts from Judy's Doughnuts. Don't miss out on their delicious apple fritters, cherry or apple burritos, and well all of them.
We have enjoyed every donut that we have picked up at Judy's Donuts.  If you are heading out on Bass Lake or up to Yosemite early in the morning Judy's opens at 5 am! There is nothing better than a box of warm donuts!
Judy's Donuts does have a great ham and cheese croissant available that is perfect for breakfast. Make sure and try the apple fritters! holy yum!
Address: 40444 CA-41, Oakhurst, CA 93644
Phone: (559) 683-2095
Dulce Sabor - Closed
We just heard that Dulce Sabor is closed.
Dulce Sabor offers sweet treats, waffles, savory dishes, salads, and epic drinks!
You do not want to miss the churros, fruit salads, agua frescas, Mexican coke in a glass bottle, and well everything else on the menu!
Make sure to get a mangoneada (mango sorbet, mango chunks, chewy tamarind candies, tamarind straw, topped with lime, tajin, and chamoy!)
Address: 40879 CA-41 #1d, Oakhurst, CA 93644
Phone: 559-658-2356
Glow Café
Glow Café offers breakfast, lunch, and dinner along with smoothie bowls, fresh juice, and wellness bowls.
They have a huge list of smoothies available including the tropical sunset with pineapple, mango, banana, blueberries, and coconut water which was delicious.
Other popular smoothies include the peanut butter cup (almond milk with banana, cacao, and peanut butter), High Tide (Coconut water, blue majik, strawberry, mango, and pineapple), and the Elderberry Blast (orange, elderberry syrup, strawberry, mango, pineapple, blueberry, and banana).
The breakfast menu includes a tri-tip breakfast burrito with smoked tri-tip, bell peppers, onions, scrambled eggs, red potatoes, and pepper jack cheese. They also have a tri-tip breakfast plate and a bacon or sausage breakfast burrito.
For lunch and dinner, there are a ton of sandwich and burger options including smash burgers. They also have a great salad menu and wraps.
Address - 39993 Highway 41, Oakhurst
Phone - 559-825-3717
China Delight Restaurant
China Delight Restaurant is open for dine-in, takeout, and delivery in Oakhurst. The restaurant is known for its modern interpretation of classic dishes and for using high-quality fresh ingredients.
Address: 40484 CA-41, Oakhurst, CA 93644
Phone: 559-641-5888
North Fork BBQ
North Fork BBQ is a brand-new restaurant right off of Highway 41. They specialize in California Style BBQ including Tri-Tip, Santa Maria Salsa, spicy Portuguese Linguica Sausage, Ranch Beans, and more!
They have weekly specials that are shared on their Facebook page. We have not had a chance to try the restaurant yet but have heard that it is amazing.
Deli Delicious
Deli Delicious has fantastic sub sandwiches perfect for taking into Yosemite NP! We love to stop in and pick up sandwiches, chips, and cookies before we head to the park.
Address: 40208 CA-41 A, Oakhurst, CA 93644
Phone: 559-683-3033
Matsumoto Samurai's Kitchen - Food Truck
This food truck moves around Oakhurst posting updates on its facebook page.  They offer sushi, poke, and teriyaki.
They also have a vegan plate with tofu steak, rice, edamame, and avocado with pico de gallo dressing.
Poke bowls include the Samurai Deluxe with tuna, salmon, scallops, shrimp, avocado, edamame, ginger, and wasabi.
The shogun poke bowl includes spicy tuna, spicy salmon, krab mix, green onion, cilantro, wasabi, and ginger.
Chef Yuji Matsumoto has been a sushi chef for more than 20 years in Los Angeles. Chef Matsumoto was the first Master Sake sommelier in North America. He moved to Oakhurst in 2017 and started his food truck. He serves contemporary Japanese food showing his love of flavors and passion for food.
Thursday. Friday. Saturday 11:30~3 pm
Fresno Flats Historical Village. 49777 Road 427, Oakhurst
Mariscos Colima
Mariscos Colima offers breakfast burritos, tortas, chiles Rellenos, Asada fries, quesadillas, tacos, and mariscos (seafood and shellfish).
You can get tacos with steak, seasoned pork, chicken, ham, ground beef, and pork loin, along with cheek, tripe, and tongue.
The restaurant was established in Fresno in 2001 as a seafood truck and expanded to multiple restaurants.
Address: 40208 CA-41, Oakhurst, CA 93644
Phone: 559-683-6066
Reimer's Candies and Ice Cream
Reimer's is the place to go for epic ice cream cones and chocolate! Reimers started selling chocolate over 50 years ago near Visalia, Ca.
They featured over 80 varieties of chocolate treats along with a huge assortment of sweet treats. They use locally grown ingredients in their ice cream and it tastes amazing.
Address: 41969 CA-41, Oakhurst, CA 93644
Phone: 559-642-3232
Tandori Express
Tandori Express has Tikka Masala, Curry, vegan Dal Tadka, vegan Paneer Tikka Masala, Korma, Chicken Manchurian, Tandori Chicken, Malai Kofta, Chana Masala, Okra Masala, lamb, goat, shrimp, and more.
Enjoy a Mango Lassi with your meal! Don't miss the Garlic Naan and Tandoori Roti.
Desserts include Gulab Jamun, Rasmalai, Gajar Halwa, and Kulfi.
Address: 40278 Rd 425A, Oakhurst, CA 93644
Phone: 559-683-3363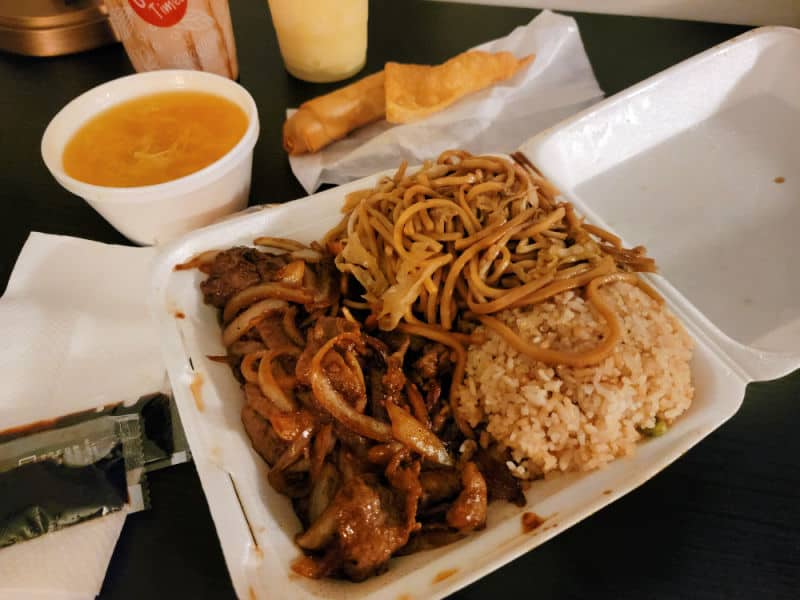 Taste of China
Taste of China offers sea salt edamame, red bean paste bun, egg rolls, steamed BBQ pork buns, creamy egg custard buns, fried wontons, and egg flower soup, along with many flavors of Boba Tea!
They even have electric butterfly iced tea with rainbow jelly and strawberry poping. Plus, lychee passion fruit iced tea.
Address: 40034 CA-49, Oakhurst, CA 93644
Phone: 559-658-7618
Restaurant/Food Delivery
We have found that DoorDash works best in Oakhurst. We did not see any restaurants listed on Uber Eats.
Many of our favorite Oakhurst Restaurants are available for delivery to your hotel.
Chain Restaurants
While we have talked about our favorite mouth-watering restaurants we would be remiss if we didn't mention the chain restaurants that are also available in town.
McDonald's, Carl's Jr, Jack in the Box, Denny's, Subway, Taco Bell, Round Table Pizza, and Papa Murphy's are located in the heart of Oakhurst.
Love Café - Closed
I am so sad to update you that the Love Café has Closed. The building is now Glow Juicery.
Katie's Country Kitchen - Closed
Katies Country Kitchen has Closed. The restaurant is now a taco restaurant.
Rev's Farmhouse Kitchen - Closed
Rev's Farmhouse Kitchen has closed. The building is going to be turned into Four Daughters Inn.
The Cool Bean Café
If you are looking to get your caffeine fix and want to try a local coffee shop the Cool Bean Café is the place to go. Make sure and try their blueberry scones and coffee cake!
I will say their chai is made with a powder so if you are a connoisseur of chai latte it may not be the taste that you are expecting.
John had their house coffee and really enjoyed it. They also have gluten-free and regular paninis and other snacks available.
The Cool Bean Café is a great place to relax and take a moment to just enjoy a snack during the day.
Address: 40120 CA-41, Oakhurst, CA 93644
Phone: (559) 683-7575
Chain Coffee Shops
Peet's Coffee and Tea is located inside Raley's Grocery Store.
Starbucks has a location near Deli Delicious as well as a location inside the Vons grocery store.
Reverent Coffee Company
You may see Reverent Coffee Company listed when searching for coffee in Oakhurst. They are a coffee roasting company that sells its coffee online.
Bass Lake Restaurants
Ducey's on the Lake
Ducey's on the Lake is located at The Pines Resort at Bass Lake and serves Breakfast, Lunch, and Dinner.
They are known for their great dinners with an amazing view over Bass Lake.
We have enjoyed breakfast at Ducey's on the Lake multiple times. We can't wait to go back this summer and enjoy the outdoor seating and delicious food.
Their eggs benedict is delicious! Truly everything we have ordered has been fantastic and we try to visit every chance we get.
Address: 54432 Rd 432, Bass Lake, CA 93604
Phone: (559) 642-3131
Ducey's Bar and Grill
Located at The Pines Resort on Bass Lake above Ducey's on the Lake this bar and grill offers lunch and dinner with a full bar.
They have an extensive menu and we loved the spinach artichoke dip. They also had a fig pizza with duck bacon which was amazing.
You can't beat the view looking out over Bass Lake.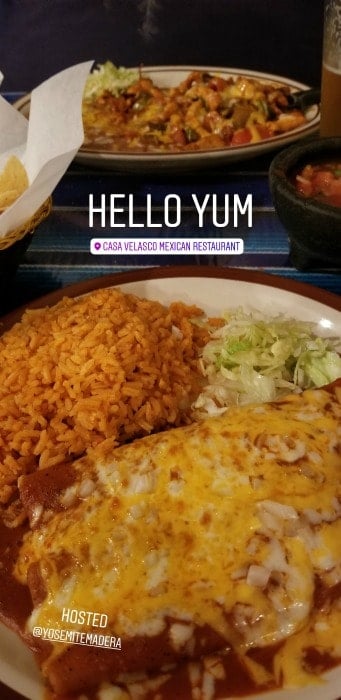 Casa Velasco Mexican Restaurant
Located just down the street from The Pines Resort on Bass Lake this Mexican Restaurant is delicious.
We can't wait to return to Casa Velasco for another great meal. The restaurant is small but mighty. It is tucked in a corner near a realty office and a few other businesses.
John had the Arroz Con Pollo and said it was wonderful. I enjoyed the Cheese Enchiladas and was so sad when my plate didn't have another one to enjoy.
Address: 54311 Rd 432, Bass Lake, CA 93604
Phone: (559) 683-2272
Miller's Landing Resort
Miller's Landing is located on the South Shore of Bass Lake. This casual restaurant is the perfect place to relax and enjoy a bit of lake life. They serve their famous Miller burger, sandwiches, Baja fish tacos, fried pickles, and an amazing variety of ice cream and snow cones.
Don't miss the fudge bucket! 9 scoops of ice cream covered in whip cream and sprinkles. Oh, and it is served in a sand pail coated in hot fudge!
One thing to know is the restaurant is open seasonally from spring through fall.
Address: 37976 Road 222, Wishon, California 93669
Phone: 559-642-3633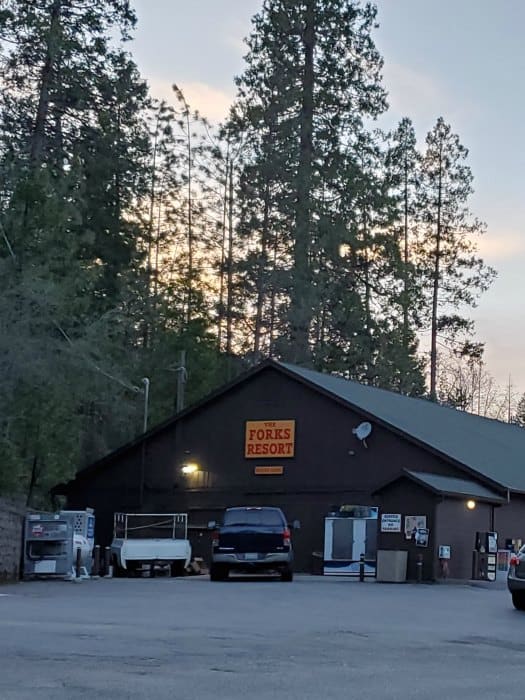 The Forks Resort Restaurant
The Forks Resort is located right on Bass Lake with stunning views. They serve breakfast, lunch, and dinner daily.
Make sure and try the famous "Forks Burger"! The menu has a great variety from burgers to soups and salads.
One thing to know is the restaurant is open seasonally.
Address: 39150 Road 222, Bass Lake, Ca
Phone: 559-642-3737
Jones Store at Besore Meadows
Jones Store is open seasonally on the Sierra Vista Scenic Byway and we keep missing it!
We have stopped in and they have been sold out or closed. We keep hearing how amazing the restaurant is and that you don't want to miss their burgers and pies.
Address - 14 miles up Beasore Road on the way out of Bass Lake.
Coarsegold Restaurants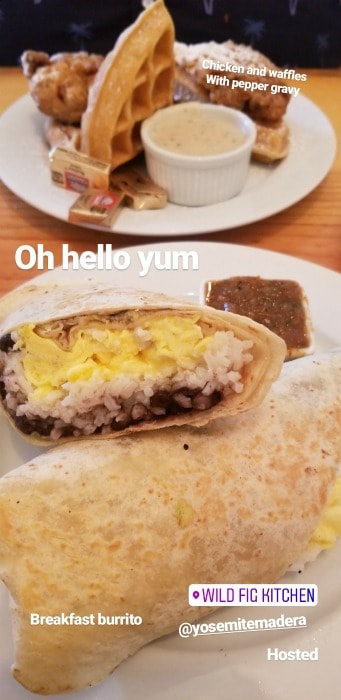 Wild Fig Kitchen
If you are anywhere near the Wild Fig Restaurant then you HAVE TO visit this delicious restaurant. We had breakfast at Wild Fig and it was so dang delish.
This is a restaurant we will be visiting every time we are anywhere close to Coarsegold, California!
Don't miss the fresh pastries, chicken and waffles, and breakfast burrito. Honestly, the whole menu looked amazing and we are excited to try as many things as we possibly can.
We had awesome service and epic food at Wild Fig Kitchen.
Address: 35300 HWY 41, Coarsegold, CA 93614
Phone: (559) 658-3447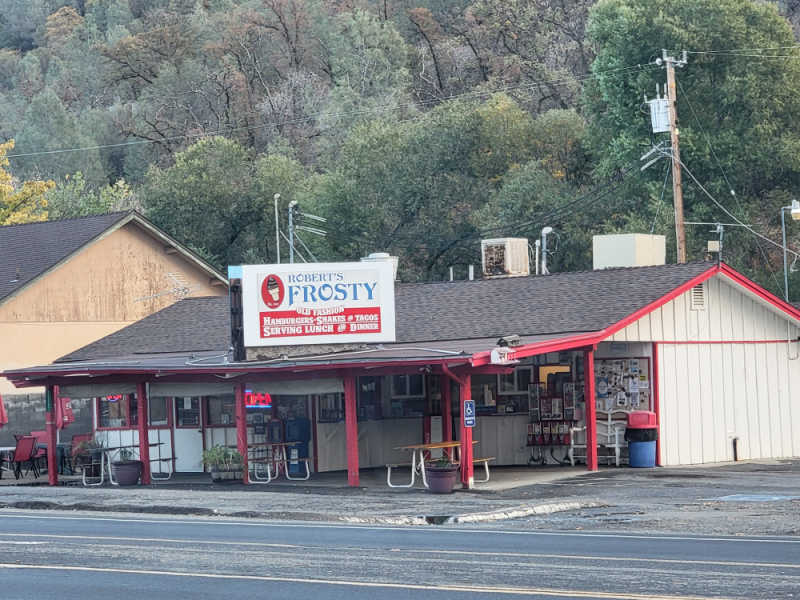 Robert's Frosty
This roadside restaurant has every ice cream flavor you can imagine and a burger to go with it!
Perfect for a hot day their specialty shakes are amazing!
Address: 35297 CA-41, Coarsegold, CA 93614
Zanders Coffee
Zanders Coffee is a drive-through coffee shop located in the Coarsegold Historic Village. They have a large menu of coffee and tea drinks.
One thing to know is you can't add a tip to credit card purchases. We try to bring cash with us to tip the baristas who are amazing.
Address: 35300 CA-41, Coarsegold, CA 93614
North Fork Restaurants
Buckhorn Saloon
The Buckhorn Saloon is one of those places you just have to experience. We heard from many people that the Buckhorn was a must try and then they would kind of smirk and say you will love it.
I was honestly not sure what to expect other than I had heard there were dead animals on the wall and it was full of character. We went in not really knowing how the food would be but knowing we would have experience either way.
What I love is this is a family restaurant and a saloon at the same time. Sure there are a lot of dead animals on the wall but they also have Easter brunch and celebrations at the saloon.
I will warn you that John had the chicken wings and they are spicy and HOT! He was sweating at times and said that they were hot wings and they were not lying.
The Buckhorn Saloon is open for breakfast, lunch, and dinner with daily specials. On Wednesday the kitchen is closed but the bar is open.
Breakfast is served from 7:45 am to 11:15 am
Lunch and dinner are served from 11:15 am - on
Address: 32992 Rd 222, North Fork, CA 93643
Phone: (559) 877-8700
Red Barn Coffee Company - Closed
We just found out that sadly the Red Barn Coffee Company has closed in North Fork.
The Red Barn Coffee Company has amazing drinks and sweet treats! You can't miss the red barn!
Drive through and grab a great coffee as you explore North Fork and the Sierra Vista Scenic Byway.
Address - 33173 Road 222, North Fork
Phone - 559 492 6069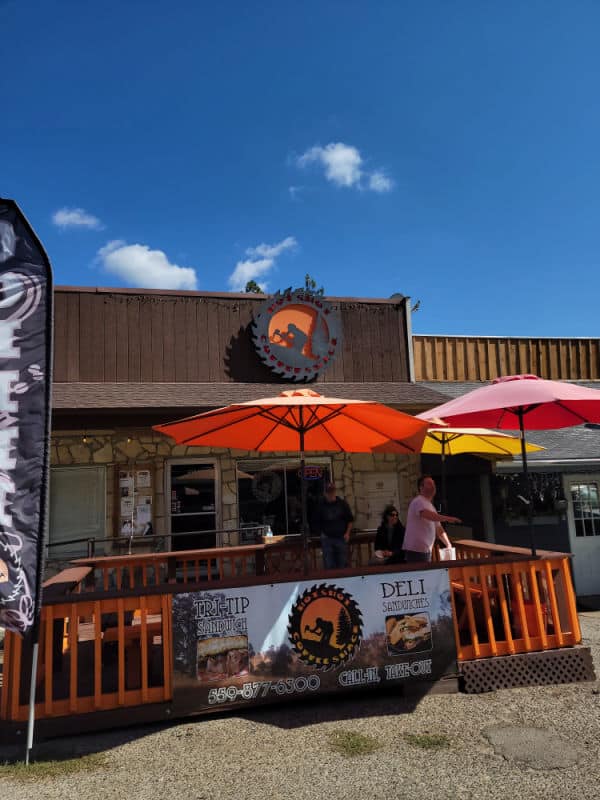 Hotshot Coffee Shack
HotShot Coffee Shack has sandwiches and coffee available in North Fork.
Address: 33013 Rd 222, North Fork
Phone: 559-877-6300
Gnarly Carrot
The Gnarly Carrot has a juice bar along with a ton of fresh produce available.
Address: 32954 Rd 222, North Fork, CA 93643
Phone: 559-877-8400
Madera Restaurants
Axis Coffee Bar + Eatery
Axis Coffee Bar + Eatery is an Instagram dream! Epic food, a super cute coffee bar, and great outdoor seating.
I need you to get the Gruyere grilled cheese with honey and Jacobsen's sea salt with a tomato bisque soup! I am drooling a bit just thinking about it! Yes, it is that good!
They offer breakfast and lunch along with a great coffee and tea menu.
If we lived close to Axis Coffee Bar I would be there more often than I probably want to admit. It is the perfect coffee shop for relaxing with a friend or getting some work done.
Address - 4150 Town Center Blvd, suite 102, Madera
Phone - 559-822-3380
The Vineyard Restaurant & Bar
The Vineyard Restaurant offers fine dining with an epic wine selection. I need you to try the Grown-up Fried Mozzarella with roasted garlic, rosemary, and a raspberry-red wine reduction! You will never look at mozzarella sticks the same after trying it.
The Central California Raisin Growers Ham and Swiss Sandwich on Raisin Bread is a grown-up grilled cheese not to be missed.
Truthfully everything we have tried at the Vineyard Restaurant has been amazing.
Address - 605 South I, Madera
Phone - 559-674-0923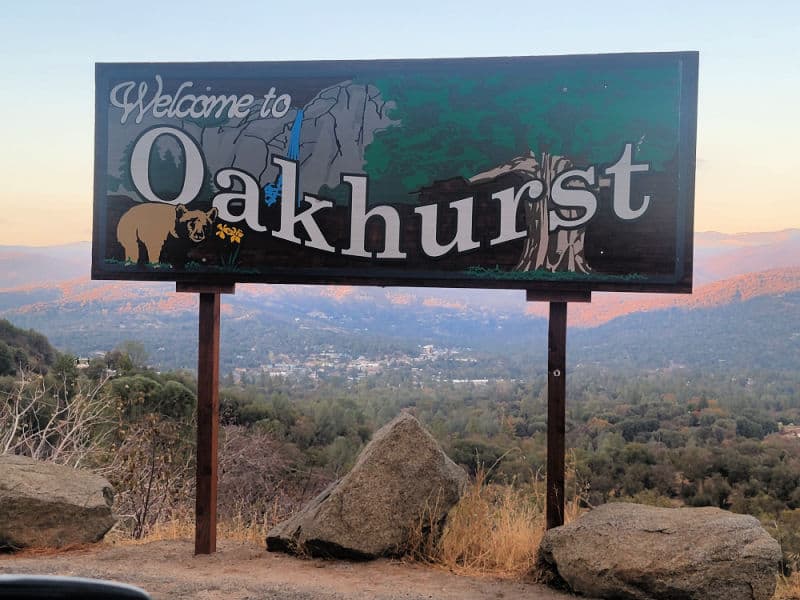 Additional Oakhurst Area Posts
Big Trees in California Road Trip
Wassama Round House State Historic Site
Big Trees in California Road Trip
Check out all of our California Travel Guides