The best things to do in Oakhurst, Ca! Located near the Southern entrance to Yosemite National Park you will love all of the amazing things to see, do and explore in Oakhurst.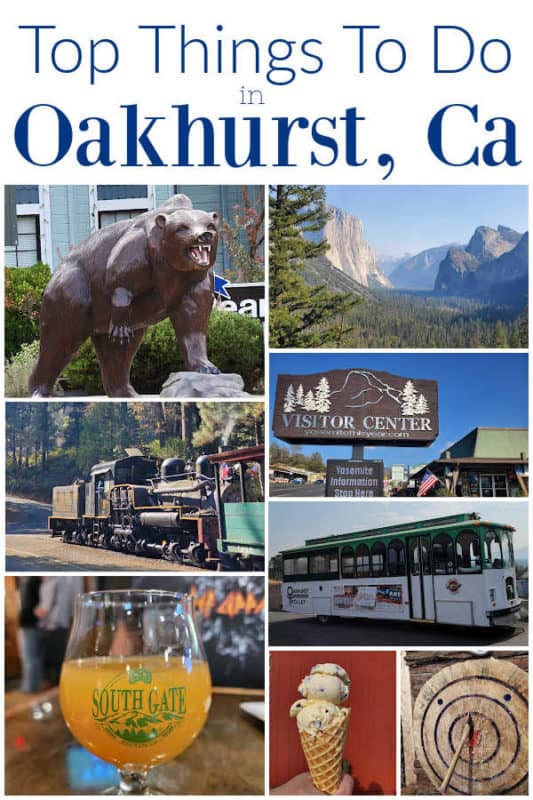 Top Things to do in Oakhurst, Ca
Oakhurst has become a second home for us. We try to visit a few times a year at minimum and some years we have been in town 6 or 7 times
We started working with Visit Yosemite Madera years ago and truly fell in LOVE with the area. My husband and I have even talked about getting a cute cabin or house near Oakhurst so we have more reasons to visit.
Though there are so many epic Oakhurst hotels we may just bounce between all of our favorites for a while before deciding to buy something.
I am so excited to share all of the amazing things to see and do in and near Oakhurst with you.
This list has been cultivated over our many visits and I know you are going to fall in love with the area just like we have.
We hope you have an epic vacation in the foothills of the Sierra Nevada Mountain Range.

Where is Oakhurst, California?
Oakhurst is located in Madera County on Highway 41 which runs through town and into Yosemite National Park near the Mariposa Grove of Giant Sequoias.
Oakhurst is the southern gateway to Yosemite National Park and so many other great central California destinations.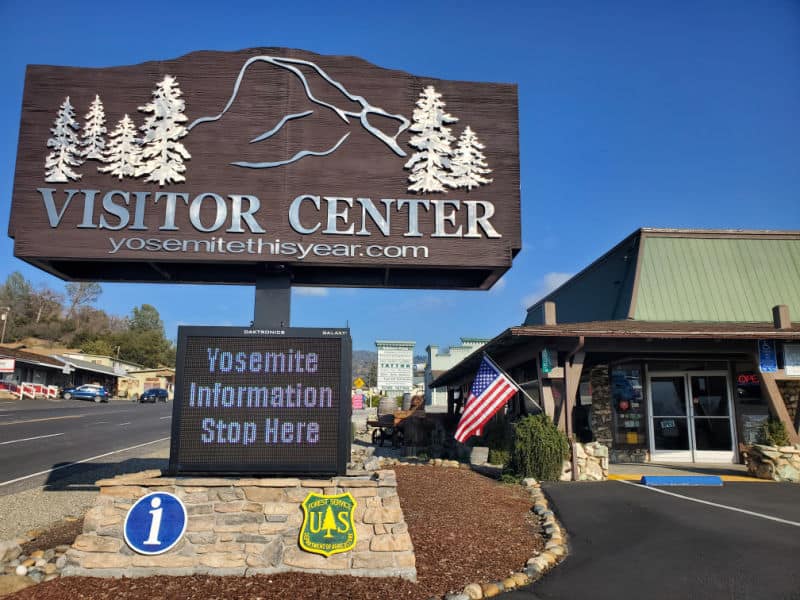 Visitor Center
There is an amazing visitor center located right on Highway 41 in Oakhurst. We highly suggest stopping in to find out what is happening in town and also in Yosemite.
The volunteers can answer any questions you have about the area and suggest great things to see while in town.
We stop in every time we are in Oakhurst to get the latest and greatest info on the area. They have a weekly SKAT newsletter that showcases what is happening in Oakhurst. This is a great way to find out about current festivals, shows, and more.
While at the visitor center make sure to pick up a Sierra the Bear Trading Card and information on the Welcome Committee! You can collect these trading cards and enter to win a return trip to Oakhurst/Yosemite!
You can download a discovery packet great for kids ahead of your trip. There are coloring pages, a storybook and activity pages.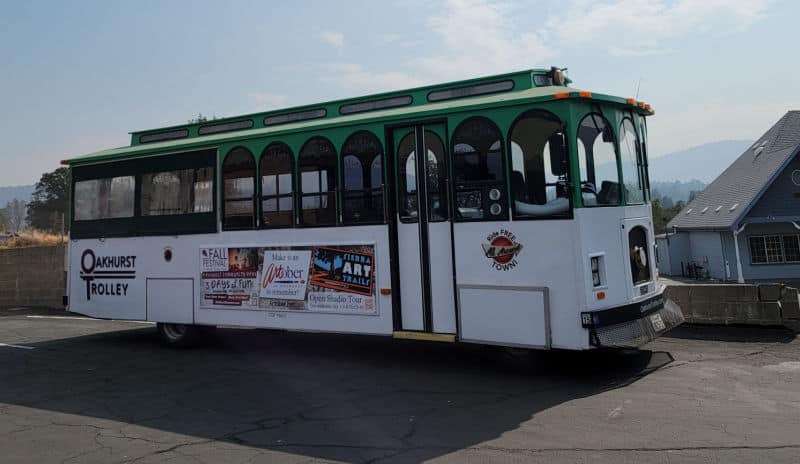 Oakhurst Trolley
The Oakhurst Trolley is free to ride! This is a great way to park your car at your hotel and not have to worry about driving. The trolley drivers can tell you more about Oakhurst and what is happening in the area.
The Oakhurst Trolley runs Fridays & Saturdays - 11 am to 10 pm and Sundays - 11 am to 9 pm.
Dates are May 7 to September 5, September 18, and October 1 to 10.
STOP 1: VISITOR CENTER * High Sierra RV Park and Campground * Valero/Chester's Fried Chicken * Oakhurst Giftworks * Yosemite Wine Tails * Oakhurst Spirits * World Famous Talking Bear * Century 21 Ditton Realty * Western Sierra Nursery * Fresno Flats Historic Park *  High Sierra RV & Mobile Park * Subway * Tandoori Express * Kyoto Kafe * The Enchanted Florist & Whatnots * Shopping & Dining
STOP 2: COMFORT INN
STOP 3: SOUTHGATE STATION - Good Ol Things * Thrift & Gift Shops
STOP 4: ARTIFACTS WORLD IMPORTS * Smokehouse 41 * Yosemite Axe Throwing * Pedal Forward Bikes & Adventures * Yosemite Rivers Fly Shop & Sierra Fly Fisher Guide Service* Granite West Funding *  Dulce Sabor Ice Cream/Eatery/Juicery
STOP 4a: New Temporarily STOP at SILVER CREEK CENTER: Dulce Sabor * Granite West Funding * Tenya Lodge Recruitment Center * Moxie Hair Salon  (stop is located at the old gas station just before the entrance to the Silver Creek Center parking lot).
STOP 5: QUEEN'S INN & IDLE HOUR WINERY & KITCHEN * Idle Hour Public Market * Queen's Inn Wine Bar & Beer Garden
STOP 6: REIMER'S ICE CREAM & CANDIES * El Cid Mexican Restaurant
STOP 7: YOSEMITE GATEWAY ART CENTER * Gallery 5 * Williams Gallery West * Stellar Gallery * Stavast Gallery
STOP 8: HOTEL STOP: Holiday Inn Express & Suites * Fairfield Inn & Suites by Marriott * Hampton Inn by Hilton
STOP 9: HOTEL STOP: Yosemite Sierra Inn * Yosemite Southgate Hotel & Suites * Denny's Restaurant * Alpenglow Gear Co.
STOP 10: BEST WESTERN PLUS * Oakhurst Grill * Whiskey 41 Lounge * China Delight Restaurant * Judy's Donuts
STOP 11: DELI DELICIOUS *  Oakhurst Lodge * Dicicco's Italian Restaurant * Starbucks * The FarmHouse by Rev's  * Mariscos Taco Colima * Shopping & Dining * Sierra Mercantile and Oakhurst Community Park across the street
STOP 12: RALEY'S SHOPPING CENTER (near Bank of America) * Yosemite Cinema * Plazuelas Mexican Restaurant, Me-n-Ed's Pizza, Shopping, Dining & Grocery (stop is located in the parking lot area just east of the old Bank of America building)
STOP 13: SOUTH GATE BREWING COMPANY - Brew Pub
STOP 14: VONS SHOPPING CENTER (near Jack In The Box) * Betty's Hallmark, Glow Juicery, Round Table Pizza, Taste of China, Post Office, Shopping, Dining & Grocery (stop is located at the electric vehicle charging stations near Jack in the Box).
STOP 15: VISTA YOSEMITE INN
Special Event Routes/Stops
Mountain Heritage Day at Fresno Flats Historic Village and Park - normal route above with the addition of Stop 16 at Fresno Flats.
Sierra Art Trails - normal route and times through town.  No additional stops.
Sierra Art Trails and Oakhurst Fall Festival - normal route above with the addition of Stop 16 at the Oakhurst Public Library.

The Sugar Pine Railroad offers multiple different train rides through the Sierra Nevada Foothills.
We LOVE riding the train and enjoying the fresh air and epic views. The steam train runs on four miles of restored narrow-gauge railroad tracks.  You can learn about the huge network of logging railroads that once transported timber from high in the mountain down to the sawmills.
Saturday Night Moonlight Special ride includes a barbecue dinner and campfire. There is an open-air train car cut into a giant tree!
Season - Mid-March through late October, weather permitting.
Address: Highway 41, Fish Camp
Phone - 559-683-7273

Yosemite Axe Throwing
Yosemite Axe Throwing is owned by Nate Hodges the #2 ranked U.S. Stihl Timbersports Athlete. There was a lot of time and focus put into creating an amazing experience for everyone.
Targets and axe throwing lanes are made out of large Ponderosa pines and cedars locally salvaged from the devastation of the bark beetle & drought.
This was my first time Axe Throwing and I am going to fully admit that I LOVED IT!
My amazing husband Park Ranger John did timber sports in college and had way to much fun showing off what he could do. I am happy to say that I was able to get multiple bulls eyes during our time at Yosemite Axe Throwing.
The staff does an amazing job helping you pick the perfect axe and working on your throw so you too can score a bulls eye.
Yosemite Axe Throwing is open for ages 8+. You can visit 7 days a week in the heart of Oakhurst.
Address: 40761 CA-41, Oakhurst, CA 93644
Phone: (559) 683-2937

Talking Bear Statue
One of our favorite fun things to do with kids is to visit the talking bear statue right off Highway 41. The talking bear is a great photo opportunity and so much fun.

Art Galleries
Yosemite Gateway Art Center includes Gallery 5,  Williams Gallery West,  Stellar Gallery, along with the Stavast Gallery.
These galleries showcase the amazing artists that can be found in this region. Everything from paintings to glass and pottery work. You will be amazed at the sheer scope of art that is produced in this region.

Idle Hour Winery/ Queen's Inn Wine Bar & Beer Garden
The Idle Hour Winery tasting room offers the opportunity to enjoy fantastic wine, live entertainment many evenings during the week, and delicious food.
Do not miss their Cabernet Franc! Really all of the wines are amazing. We tend to pick up at least a couple of bottles each time we visit.
They have Saturday night live music at the Queen's Inn Wine Bar & Beer Garden. They also have Happy Hour Yoga with a glass of wine or beer at the wine bar. Make sure to check out their new Idle Hour grocery. You definitely do not want to miss their spicy honey.
I am not really a spicy food girl but this honey is epic! The perfect balance of spicy and sweet is perfect for charcuterie boards.
Make sure to plan time to enjoy lunch or Sunday brunch at the Idle Hour Kitchen. They offer a frequently changing menu of deliciousness!
You can even stay on-site at the Queen's Inn.
Madera Wine Trail
The Madera Wine Trail travels through Oakhurst and around Madera County. There are amazing wineries spread along the trail including Westbrook Wines located in nearby O'Neal's. You can also visit Ficklin Vineyards which is America's Most Awarded Port Winery.
Located just outside of town are Westbrook Wine Farm (appointment only) and Fasi Estate Winery located along Highway 41.

Oakhurst Spirits
Oakhurst Spirits offers tastings of their wide variety of spirits.  They offer free tours of the distillery, as well as whiskey tastings comprising of 3 half-oz pours or 4 quarter-oz pours of craft products.
Oakhurst Spirit produces lemon-flavored vodka, lavender vodka, spiced rum, brandy, bourbon whiskey, rye whiskey, wheat whiskey, and whiskey.
We made Bourbon Cherry Brownies with the Oakhurst Spirit Bourbon.
They have an amazing lavender vodka we used to make this Lavender Lemonade Cocktail.
Address: 40300 Greenwood Way, Oakhurst
Phone: 559-641-5400

Fresno Flats Historic Village
Fresno Flats Historical Park is a great way to learn about the history of the area.  Fresno Flats Historic Village and Park recapture the flavor of 19th Century life in the Sierra Nevada foothills and mountains of Central California.
The museum complex is built around two restored and furnished homes dating to the 1870s.
Fresno Flats village and grounds are open from dawn to dusk for self-guided tours. The museum and guided tours of the buildings are available by appointment.
Address: 49777 High School Rd, Oakhurst, CA 93644
Phone: 559-683-6570
Children's Museum of the Sierra - Closed
As of Fall 2021, the children's museum has closed. We will update if we hear that it re-opens.
Address: 49269 Golden Oak Drive, Suite 104, Oakhurst, CA 93644
Phone: 559-658-5656

Golden Chain Theatre
The Golden Chain Theater offers live entertainment with melodramas. During our last visit, they were performing Mary Poppins.
Previous productions have included Fiddler on the Roof, Oklahoma, Peter Pan, and Oliver. The theater was established in the late 1800s to present historical melodramas to tourists and gold miners.
Address: 42130 CA-41, Oakhurst, CA 93644
Phone: 559-683-7112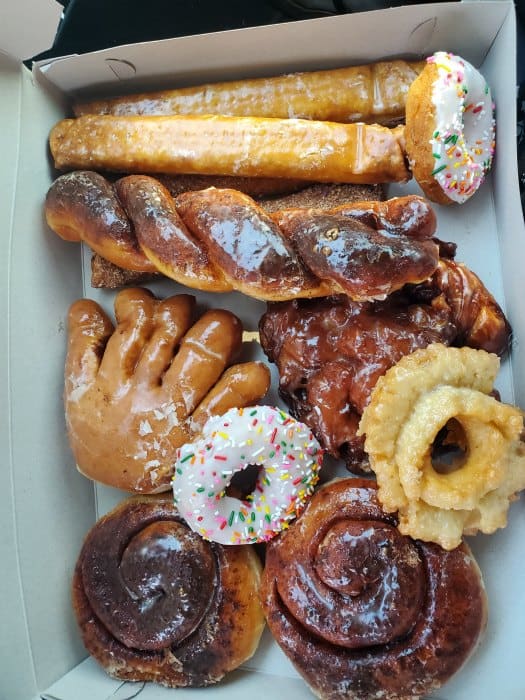 Judy's Donuts
I need you to plan a visit to Judy's Donuts during your time in Oakhurst!!! It is one of our top things to do every time we are in town. Ok, I am going to admit we may visit more than once during a trip.
Judy's Donuts is one of my favorite donut shops in the world. We have tried donuts around the world and Judy's is top of our list. Their apple or cherry burrito donuts are divine! Honestly, every single donut at Judy's Donuts has been amazing.
Address: 40444 CA-41, Oakhurst, CA 93644

Bass Lake is the place to go for water recreation. Whether you are heading out on a boat, kayak, or relaxing on the shore the lake is beautiful.
There are two public boat launches or you can rent a boat from one of the three full-service marinas.
If you are looking for a great place to camp check out this Bass Lake Camping Guide. There are quite a few campgrounds surrounding the lake.
You can stay on the shores of Bass Lake at the Pines Resort. If you have plans to stay in Oakhurst you can stop by Ducey's on the Lake for an amazing meal with a view of Bass Lake.

Pedal Forward Bikes & Adventure
Pedal Forward Bikes & Adventure is a one-stop-shop for all things biking! They have a full-service bike shop, epic gear for sale, and great knowledge of the area. If you are looking to head out exploring on a bike this is the place to stop for information.
I am going to confess that I can't ride a bike so I am not the girl to give you tips on bike trails or places to visit. LOL!
Thankfully Pedal Forward Bikes is located right off of Highway 41 and can offer all the advice that you may need. They also offer bike rentals and demo bikes so you don't need to worry if you don't have your bike with you.
Address - 40761 Highway 41 #4, Oakhurst, CA 93644

The Sierra Vista Scenic Byway is the perfect way to get out in nature and escape the crowds of Yosemite NP. This epic drive takes you past historic sites, geologic features like Globe Rock and so much more.
Enjoy epic Sequoias in the Nelder Grove!
See if you can balance Globe Rock for a fun picture, stare in wonder at the Mile High Vista, take a short hike to the top of Fresno Dome, or try a burger and pie at the Jones Store.
Parts of the byway were devasted with wildfire during the 2020 fire season. While this area will not look the same it now shows how the Sierra National Forest recovers from wildfire.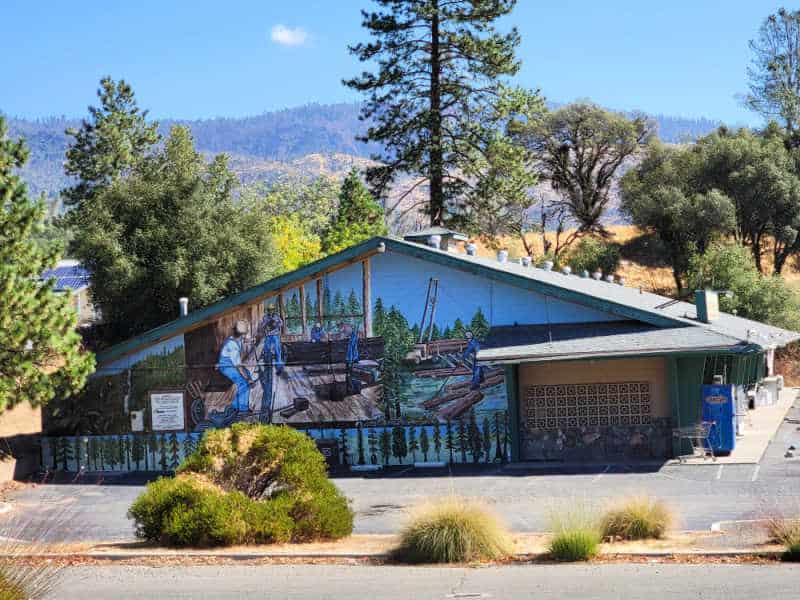 North Fork is a cute tiny town located near Bass Lake. They have a few cute stores, a really fun coffee shop, and amazing small-town fun.
Don't miss the Gnarly Carrot which sources its products within 50 miles of the store. The Gnarly Carrot has a juice and smoothie bar along with gorgeous produce.
Bandit Brand Trading Post is filled with fun cowboy-themed shirts and gifts. Jennies Gallery has craft products from over 75 artists.
The Sierra Mono Museum and Cultural Center is a must-visit! This newly renovated museum shares the history of the Mono Indians of North Fork.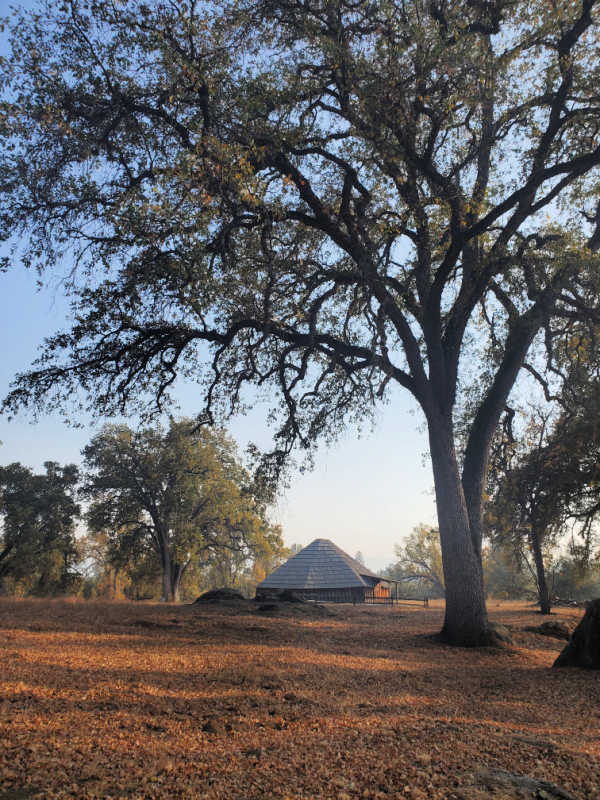 Wassama Roundhouse State Historic Park is located near Oakhurst, California, and is still used to this day by local Southern Sierra Miwok People.
This is a great place to visit to learn more about the Southern Sierra Miwok People and the use of roundhouses.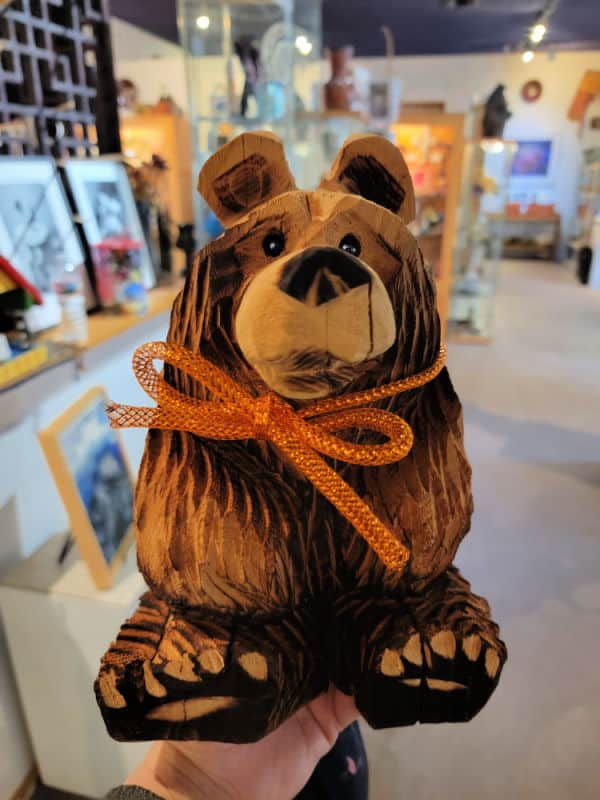 Festivals
One of our favorite things about visiting Oakhurst and Madera County is the number of festivals they have.
There is always something happening in the area. We check the YosemiteThisYear.com calendar when planning our trips to see what is happening while we are there.
Artober in Oakhurst
I have to admit that Artober is one of my favorite things about Fall! We try to make sure that we visit Oakhurst during the month of October so we can join the daily hunts for Art the Bear.
Artober celebrates the amazing art and culture that can be found around Oakhurst.
Hidden all over Oakhurst are little chainsaw-carved bears made by Nate's Kustom Carving.  Go to www.facebook.com/ArtoberInOakhurst for clues to find and keep your own bear.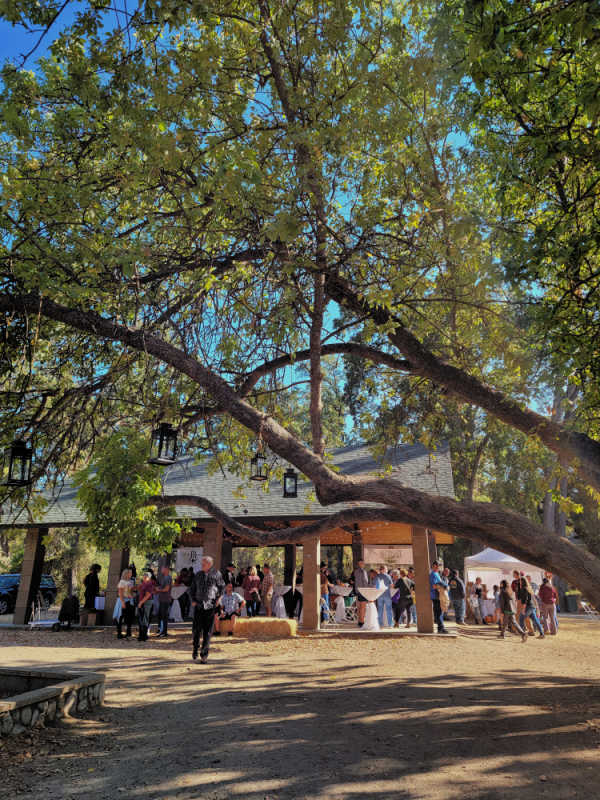 Oakhurst Fall Festival
The fall festival is an amazing family event! There are amusement park rides, live music, pumpkin decorating, wine and beer tasting, and of course fair food!
The fall festival is fantastic for all ages!
Sierra Art Trails
Sierra Art Trails celebrates all of the amazing artists that live in the area. You have the opportunity to visit not only Gallery Row to see amazing artwork but also the opportunity to visit many of the artist's personal galleries and workspaces.
Coarsegold Tarantula Awareness Festival
Yes, you read that right! There is a tarantula festival in nearby Coarsegold every year near Halloween.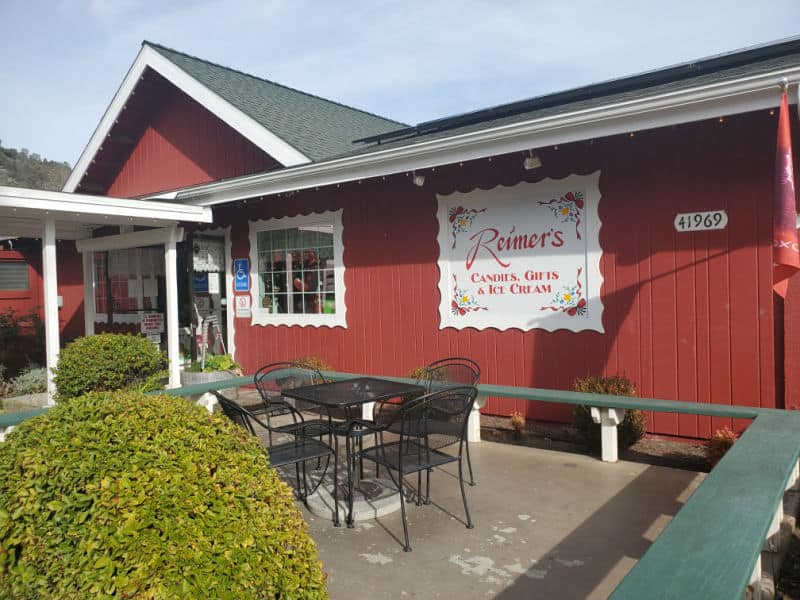 Shopping
Oakhurst has a ton of shopping options including gift stores, antique and thrift stores, and Reimer's candies and ice cream!
We love picking up gifts while we are in town. You can get great unique souvenirs during your visit.
Reimer's
Reimer's is located right off of Highway 41 heading towards Yosemite. This super cute ice cream and chocolate shop is the perfect family stop.
They make fresh ice cream with local fruit that is truly amazing! If you are looking for a sweet gift this is the place to stop.
Address: 41969 Highway 41, Oakhurst, Ca
Phone: 559-642-3232

Artifacts World Import Gallery
I am going to admit to shopping at Artifacts every single time we are in town. They have an amazing collection of crystals, candles, gifts, and more.
I pick up a new crystal or cute statue for the office every time I visit. They are located right off of Highway 41 and are so worth visiting.
Address: 40671 Highway 41, Suite E, Oakhurst, California
Phone: 559-658-6300
There are so many great stores to visit while in town. Everything from thrift and antique stores to souvenir and gift shops. You can even pick up a chainsaw-carved bear or two to bring home with you.

Yosemite National Park
Oakhurst is located 16 miles to the southern entrance to Yosemite National Park. It is an easy drive to the park!
Oakhurst to Mariposa Grove of Giant Sequoia Trees: 17 miles, 32 minutes
Oakhurst to Wawona Hotel:  33 miles, 56 Minutes
Oakhurst to Yosemite Visitor Center in Yosemite Valley: 47 Miles, 1 Hour and 24 minutes
Oakhurst to Glacier Point (Open Seasonally due to Snowfall): 40 miles, can be 1 hour and fifteen minutes
Oakhurst to Badger Pass Ski Area: 45 Miles, 1 hour and thirty minutes
You can easily stay in Oakhurst and drive up to the park for an amazing day trip! We love heading to the park early in the morning after stopping at Judy's Donuts for sweet treats.
Once in Yosemite, you can take a great hike, see amazing waterfalls, and so much more.
Check out this great One day in Yosemite itinerary for ideas on what to see and do.
Where to eat in Oakhurst
There are so many amazing Oakhurst Restaurants it is hard to decide on which ones to enjoy each visit.
Here are a few of the must-visit restaurants! Check out our Oakhurst Restaurant Guide for all of the options in town.

South Gate Brewery
South Gate Brewery offers not only epic micro-brews but also amazing food. The beer menu rotates frequently with new beer options.
Do not miss the pretzels! My husband loves the Deadwood Porter BBQ Burger with applewood smoked bacon, cheddar, and South Gate Deadwood Porter BBQ Sauce.

Erna's Elderberry
Erna's Elderberry offers fine dining and an amazing atmosphere. This is the perfect place for a romantic date night while on vacation.
Chef Rob is an amazing chef who can work with any dietary restrictions or allergies and make you a meal you will not forget. We are always in awe of the meals we enjoy at Erna's.
Where to stay in Oakhurst?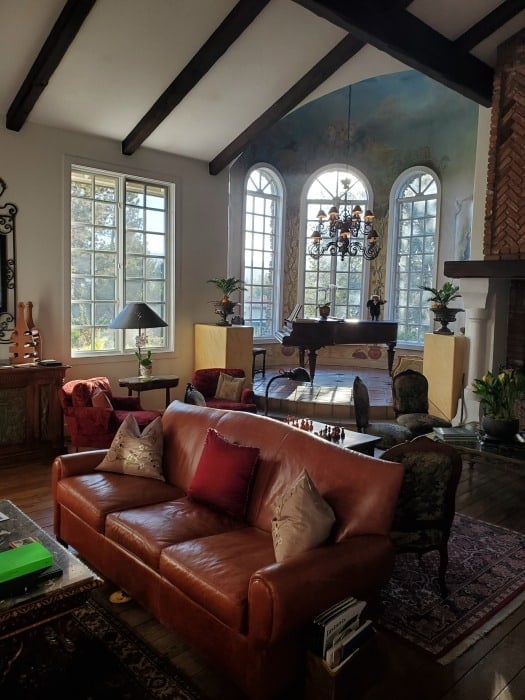 If you are looking for a 5-star vacation experience you will love the Chateau! I can't rave enough about the experience of staying at Chateau du Sureau!
We woke up every morning to the smell of fresh croissants baking in the kitchens below our room. The customer service is unbelievable. This is truly a five-star experience in the heart of Oakhurst.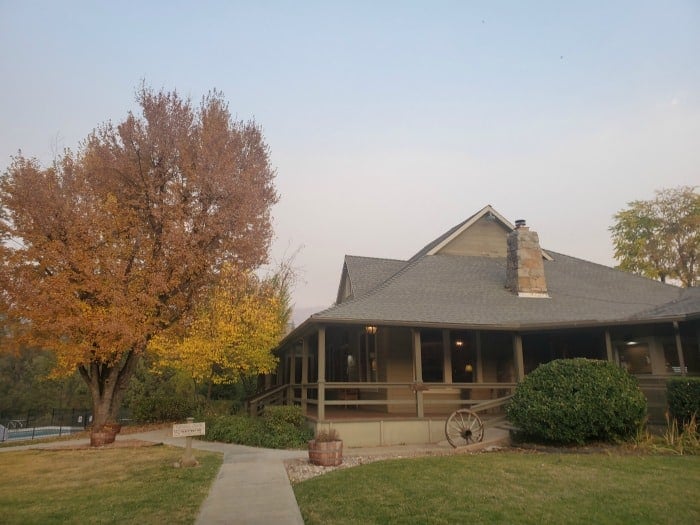 Sierra Sky Ranch is located on the outskirts of Oakhurst, California on Highway 41.
We stayed at the Sierra Sky Ranch during our California Big Trees Road Trip and absolutely loved it!
One of the really cool things about the Sierra Sky Ranch property is it was the first working cattle ranch in the area established in 1875.
Book on Expedia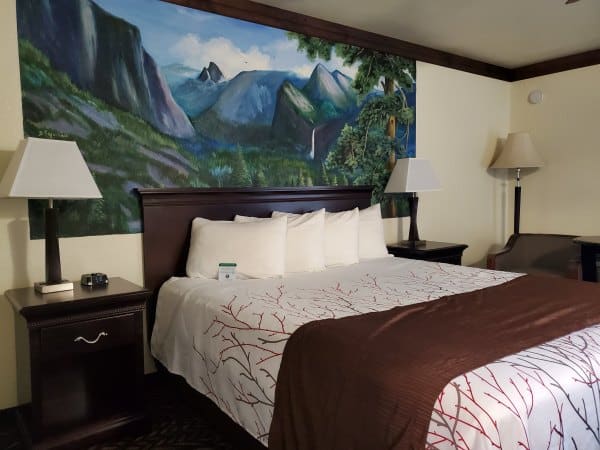 Best Western Plus Oakhurst
Rooms at the Best Western Plus in Oakhurst feature hand-painted murals of Yosemite and the surrounding natural areas.
The rooms are comfortable and have everything you need for a great vacation.
Book on Expedia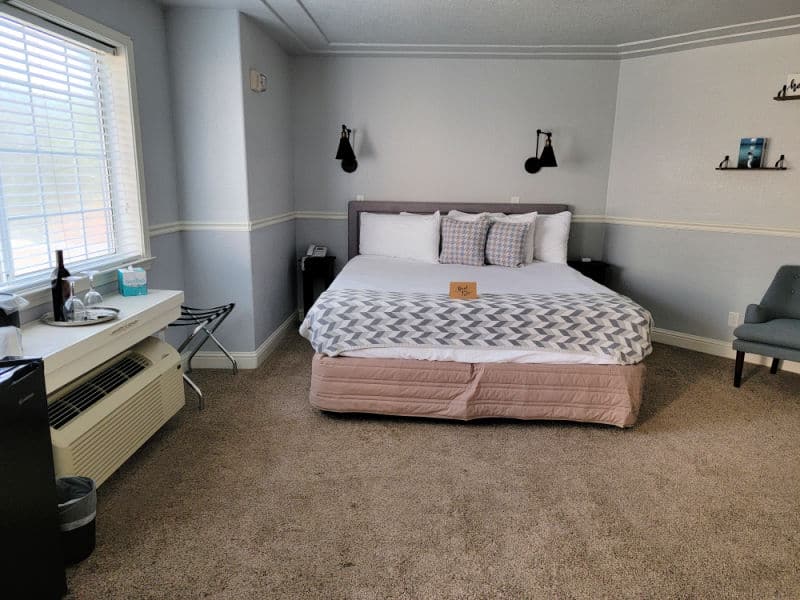 The Hounds Tooth Inn is a small boutique hotel that offers the opportunity to get away from the crowds.
Book on Expedia
Oakhurst, Area Travel Tips
Pets - Many hotels and lodges in the area are Pet-friendly.
Groceries - There are a couple of large groceries stores in the heart of Oakhurst. Make sure to bring reusable shopping bags with you. California charges for shopping bags if you do not bring your own.
Mileage and drive times to Oakhurst
Bakersfield - 155 miles/2.5 hours
Fresno - 48  miles/50 minutes
Las Vegas - 438 miles/7 hours
Los Angeles - 275 miles/4.5 hours
Merced - 67 miles/1.25 hours
Sacramento - 170 miles/3.5 hours
San Diego - 380 miles/6 hours
San Francisco - 213 miles/4 hours
Additional Oakhurst Area Resources
Oakhurst Visitor Center - YosemiteThisYear.com