Do you have a love of trains? Do you love hearing about history and years gone by? Do you love going on a family adventure? If you answered yes to any of these then you will love the Yosemite Mountain Sugar Pine Railroad experience.
You have the chance to travel over four miles of restored narrow-gauge railroad tracks and learn about the huge network of logging railroads that once transported timber from high in the mountain down to the sawmills.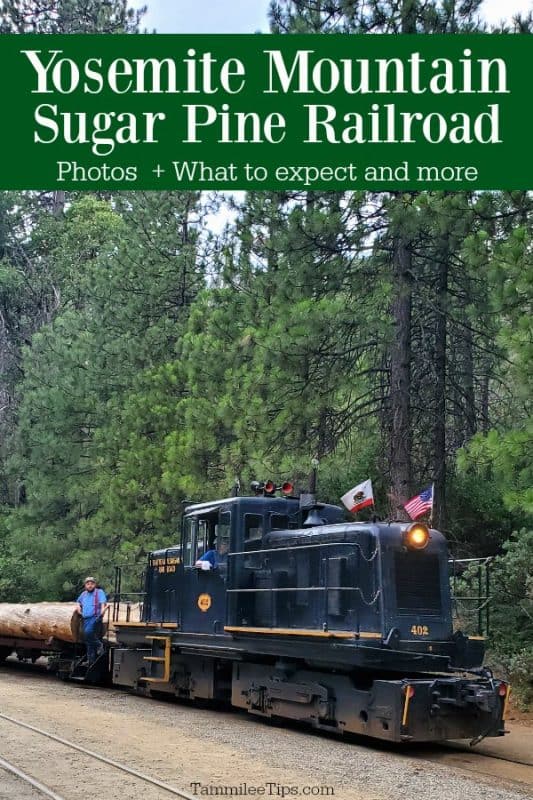 Yosemite Mountain Sugar Pine Railroad
As you travel along the tracks the conductor tells you about the region and sights you see along the way. You can even choose to ride in a hulled out tree.
This year we have been working with Visit Yosemite Madera County to find out all the amazing things to do near Yosemite National Park! From our first visit in January to this month I have been counting down to riding on the Sugar Pine Railroad.
We even stopped by the Yosemite Mountain Sugar Pine Railroad in April just to check out the train cars. I just wanted to see them and take pictures and find out everything we could for our moonlight special adventure.
In a weird twist of the world, we ended up visiting on a really odd night. They told us it was a once in a lifetime event and not normal but somehow both of the steam engines were out of service on the night we had reservations. We did not get to experience being pulled by the Shay Locomotive steam-powered engine but did get to still enjoy our ride being pulled by Diesel Locomotive #402.
I just checked the Yosemite Mountain Sugar Pine Railroad Facebook Page and both steam engines are back on the track and working now!  You can now hear the whistle blow and get the full logger steam train experience.
2020 Safety Update
The following safety protocols will be in effect at Yosemite Mountain Sugar Pine Railroad:
Tickets can be booked online.
Reservations are now REQUIRED to limit the number of guests and assure safe social distancing.
There will be health screening questions for all visitors.
Capacity is limited to 50%.
Recommending all guests wear masks.
Inside of buildings, people will be limited for safe social distancing space.
Box lunches are available to purchase online in advance.
Outdoor picnic tables allow space for social distancing or take food to go.
Access to touchless hand sanitizing stations located throughout the property.
Boarding groups will receive wristbands, rather than paper tickets.
Safety barriers installed at transaction points.
Gold panning water will be treated and gold pans sanitized after each use.
There are extra cleaning and sanitization crews on-hand to ensure safety for everyone.
An air purifier will sanitize the museum displays, nightly.
Daily employee health and temperature checks.
All employees will wear masks.
The Logger Steam Train 
Moonlight Special
We had the opportunity to enjoy a Saturday Night Moonlight Special ride which includes a barbecue dinner and campfire.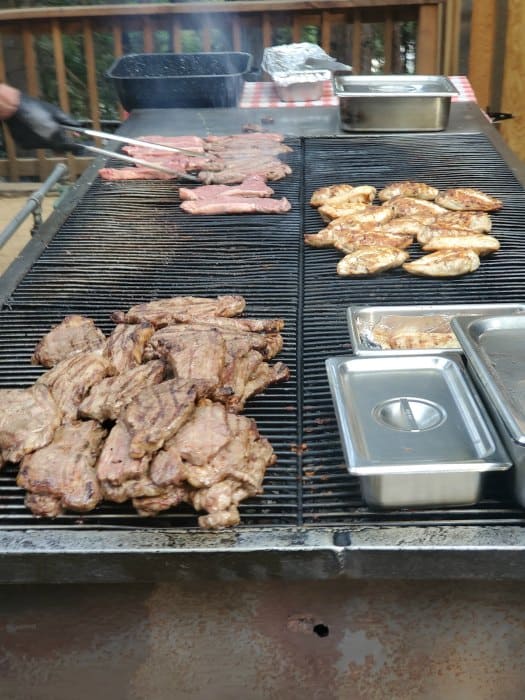 Our night started with a barbecue buffet dinner that included a roll, barbecue beans, corn salad, and choice of steak, chicken, or a veggie burger. They also had bread pudding for dessert. Water and lemonade were available included with dinner or you could purchase wine or a soft drink (menu and prices below).
John said that his steak was good but lacked a lot of flavor.  If you are used to super flavorful steaks or a ton of seasoning these steaks may taste a bit bland which makes sense since they are serving them to a huge group of people all with a wide variety of tastes.
The corn salad was great along with the barbecue beans. They dished up a full plate of food that was more than enough.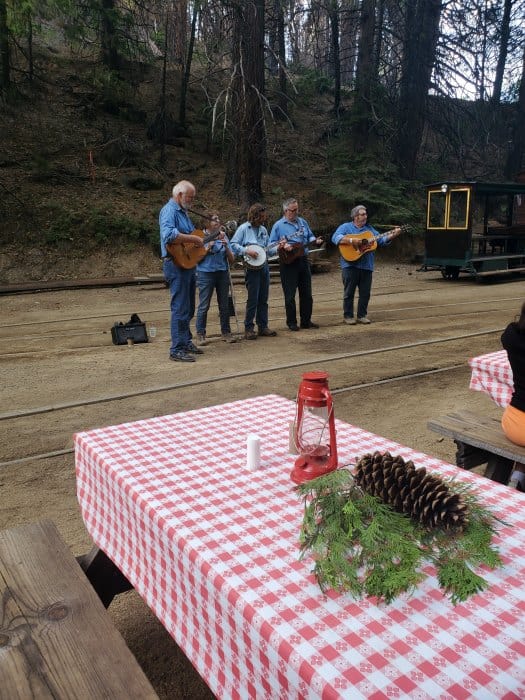 There were a ton of picnic tables to sit and enjoy dinner while the 5 piece folk band played for everyone. If you have any knee problems or do not enjoy sitting at the picnic tables there are bench seats near the depot/gift shop.
Before and during dinner you can check out the gold panning area where kids can pan for gold and the Thornberry Museum which is filled with logging artifacts.
Once everyone was done with dinner we boarded the train and headed to Lewis Creek Canyon in Sierra National Forest for a campfire and more music!
There are a couple of options for train cars to ride in...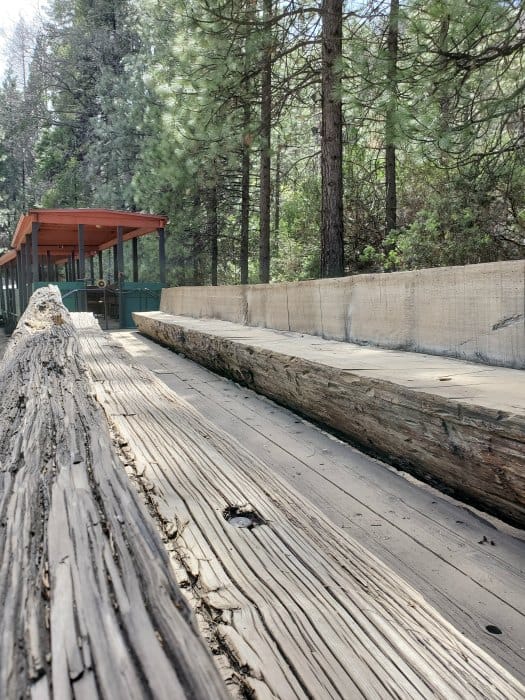 There is an open-air train car cut into a giant tree! If you have kids with you or love getting a 360-degree view this is the train car for you.
Fair warning every kid in attendance the night we were there wanted to ride in this log train car! EVERY KID! There was a mad rush to get seats on the log.
If you want to ride on this car you will want to be prepared and lined up ready to get on it when the conductor says All Aboard!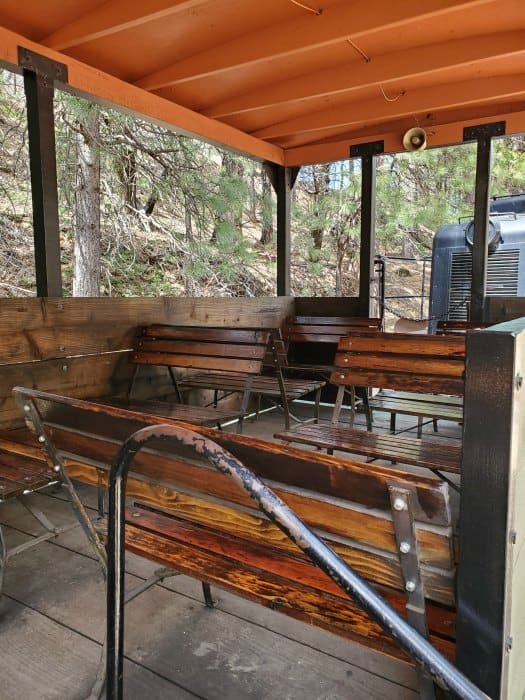 There are also covered train cars with bench seats. You still great a great view of the forest and train route.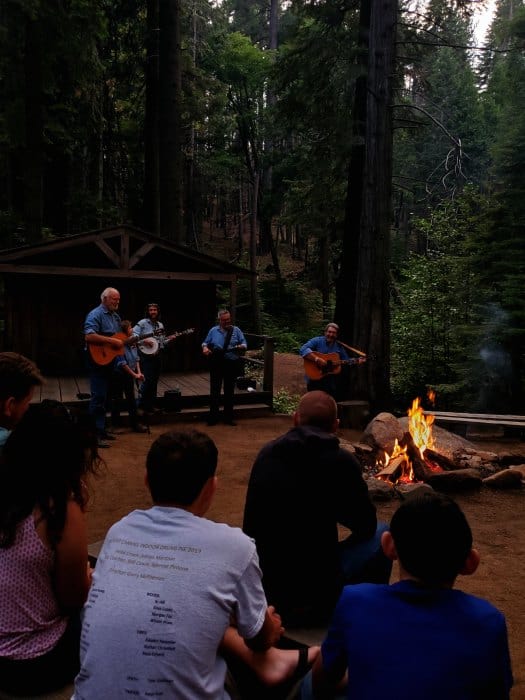 Along the way to Lewis Creek Canyon, the train conductor shared the history of Madera Sugar Pine Lumber Company Railroad and historical information on logging operations in the area.
If you really want to hear the stories and information the train conductor shares I would try to sit in the same car as the conductor or near one of the speakers.
We could hear most of the stories but the kids around us were VERY EXCITED about the train ride and their excitement was a bit louder than the overhead speaker.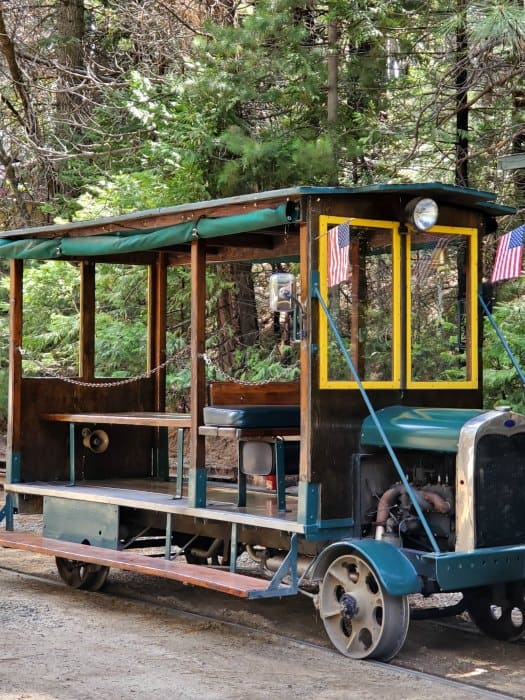 Jenny Railcars
One unique experience you can have at the Yosemite Mountain Sugar Pine Railroad is taking an excursion in a 1920s Ford Model "A" Jenny Railcar.
This 30-minute tour is narrated by a conductor and travels along the railroad. Each Jenny Railcar holds 8 t 10 people making this a great small group tour.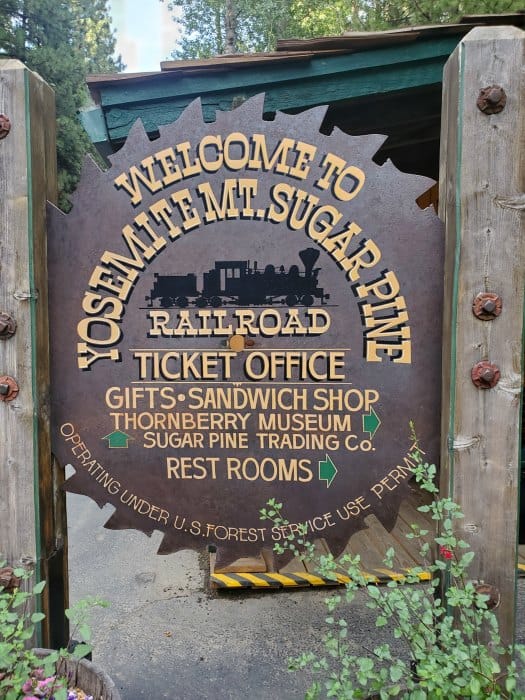 Things to know when planning a trip on the Sugar Pine Railroad
Season - mid-March through late October, weather permitting.
Times - The Logger Steam Train departs daily at 11 am with additional departures during the day.
Jenny Railcars operate daily and run before and after the steam train schedule.
Moonlight Train Ride and BBQ are held every Saturday evening from late May through early October. They also run on Wednesday nights from June through August.
Tickets - Tickets can be purchased ahead of time online or at the Depot Ticket Office. If you are visiting during the busy summer months you will want to get reservations as soon as you can.
Mobility restrictions - If you have anyone traveling in your party that has mobility restrictions you will want to either arrive early to get a parking spot near the train depot or drop people off before parking in the parking lot below the depot.
It is a steep hike up the hill with stairs to reach the depot from the large parking lot.
The bathrooms are located down a pretty steep incline. This could be hard to maneuver in a wheelchair due to the incline.
Address: Highway 41, Fish Camp
Yosemite Mountain Sugar Pine Railroad is located south of Yosemite Valley near Oakhurst, California.
Phone - 559-683-7273
Website - YosemiteSteamTrains.com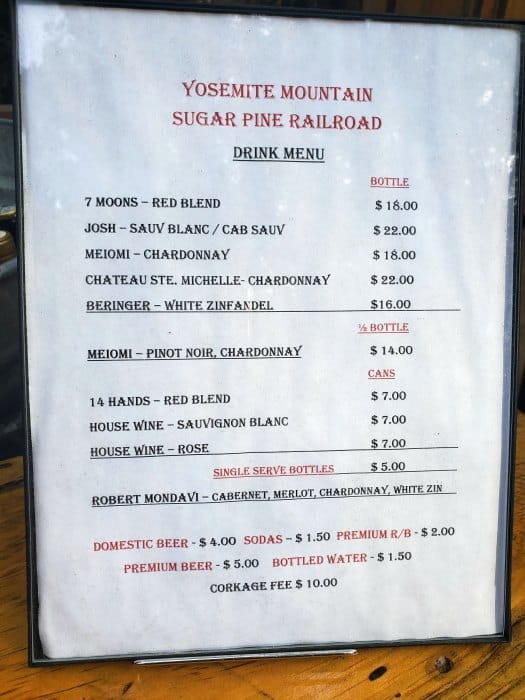 Wine and beverage prices during the Moonlight Special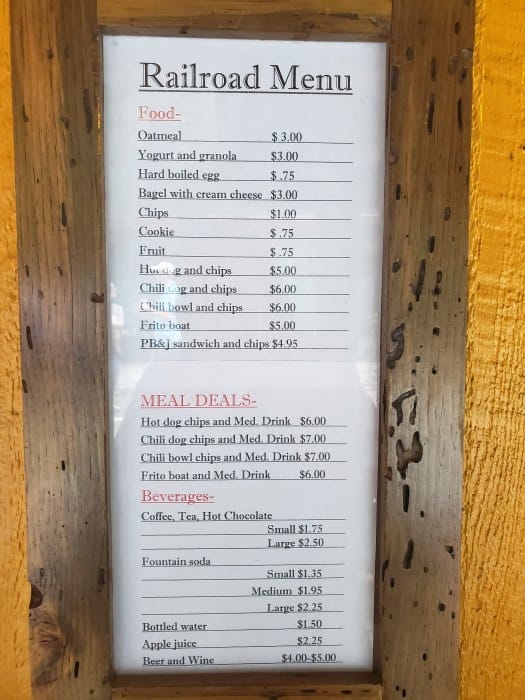 Railroad menu for meals during day trips.
Directions to Sugar Pine Railroad:
You will find the Yosemite Sugar Pine Railroad on Highway 41, South of Yosemite National Park. Watch for the large entrance sign right off the road.
From Oakhurst, you will travel 11.5 miles north and the railroad will be on the right side
Additional Yosemite Resources
Don't miss our ultimate Oakhurst Restaurant guide! These are all of our favorite restaurants in Oakhurst, California! From fast-casual to fine dining we have all the restaurants you do not want to miss!
Chateau du Sureau - Check out room videos and find out what it is like to stay in 5-star luxury near Yosemite NP.
One day in Yosemite - Check out this great itinerary for what you can see with 1 day in the park.
Bass Lake Camping - Camp just down the road from the Sugar Pine Railroad.
Bourbon Cherry Brownies - These brownies are made with Oakhurst Spirits which are distilled in the heart of Oakhurst.
Madera Wine Trail - Check out all of the epic wineries in one of the oldest wine regions in California.