How to make Easy Copycat Egg McMuffins. This is an easy breakfast/brunch recipe that only takes minutes to prepare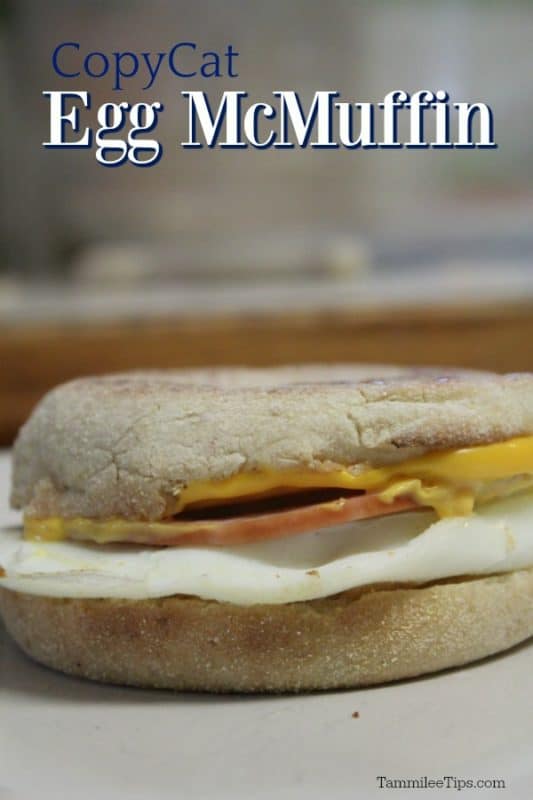 Copy Cat Egg McMuffins
First I need to say a huge thank you to Hamilton Beach for sending us the Breakfast Sandwich Maker and making our mornings so much easier! Oh my goodness I can't say thank you enough! We tend to run around sluggishly in the mornings. Trying to get enough coffee in to wake up and start the day while still making a great breakfast.
John starts work early some mornings and I stumble into the kitchen to make sure he has something to eat. There are mornings that I am not great at making something to eat and we end up running out of the house without eating. By the time we get done with our meetings and running around we are famished and end up running through the drive-thru or going someplace for lunch which is never cheap.
When I heard about the Hamilton Beach Breakfast Sandwich Maker I knew we needed to try it. I was sold as soon as I heard that you can make Copy Cat Egg McMuffins right at home in 5 minutes.
The Hamilton Beach Breakfast Sandwich Maker is so dang easy to use! It has become the perfect kitchen tool for quick and easy breakfasts and even lunches. John has been coming home and making a breakfast sandwich at lunch. It is so much fun to play with the ingredients in each breakfast sandwich.
The Hamilton Beach Sandwich Maker is so cute and easy to fit on the counter. My counters are filled with big and bulky appliances and the Hamilton Beach Sandwich Maker fits just perfect. I love that we can pull it out when we want a quick easy to make a meal.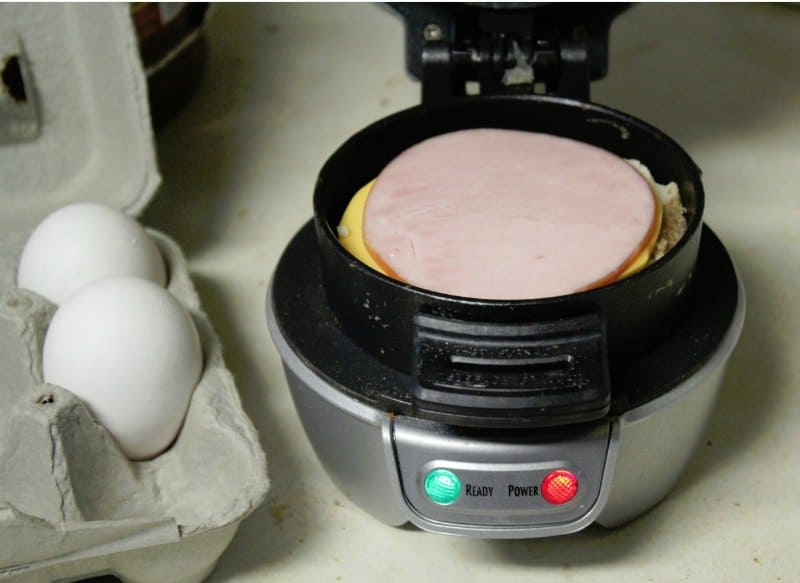 It is so easy to make a copy cat Egg McMuffin with the Sandwich Maker. Just place your English muffin with cheese and ham in the bottom section.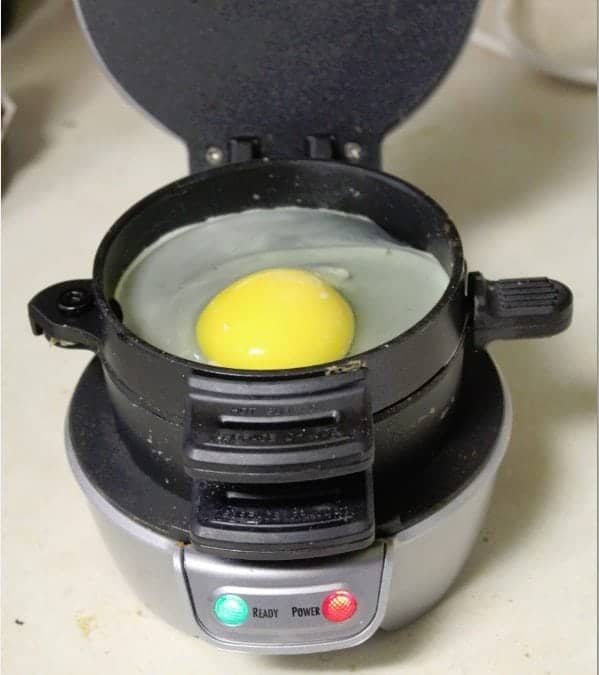 Lower the next level and crack your egg into the opening. You can add your egg just cracked, scrambled or any way that you like it.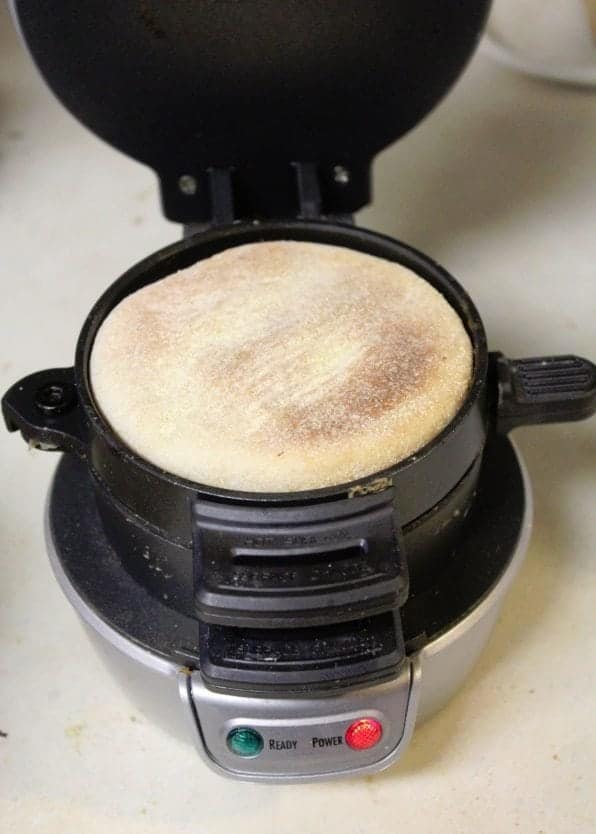 I like to let my egg cook for a few minutes before I add the top of my muffin to the sandwich. This lets me make sure the egg is fully cooked how I like it and keeps me on track to make sure I don't cook it too long.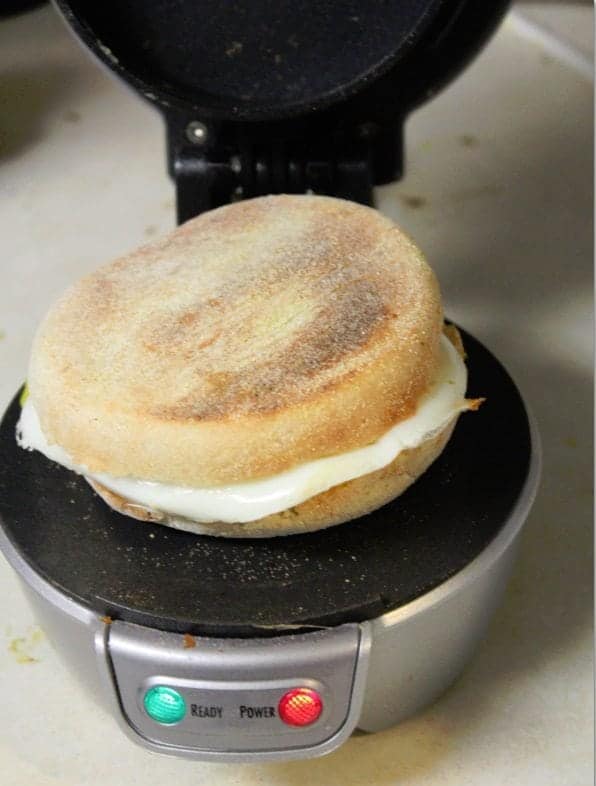 When your sandwich is ready carefully open the egg plate switch so the egg drops onto your bottom muffin, and carefully lift each section off the sandwich. There is some heat and steam build up so you want to make sure you are careful when moving your sandwich.
That's it! Breakfast is ready and you are ready to go for the day!
 Here is a bit more information on the Hamilton Beach Breakfast Sandwich Maker!
1. Make a hot and hearty breakfast sandwich at home
2.Ready to eat in 5 minutes or less
3. Use your own fresh ingredients, including eggs, cheese & precooked meat*
4.Cooks every layer of your breakfast sandwich to perfection
5. Cooking plate cooks a fresh egg perfectly, then slides out to assemble your sandwich
6. Make sandwiches with English muffins, biscuits, small bagels, and more
7. All removable parts are dishwasher safe
8. Surfaces are covered with durable, nonstick coating
9. Questions are supported by a toll-free call center located in the U.S.
10.Backed with a one-year warranty
* Meat used must be precooked
You can find the Hamilton Beach Sandwich Maker at Amazon, Target, Kroger K-Mart, and Sears nationwide.
Great Breakfast recipes
Do you love recipes? Check out our copy cat recipes, dessert recipes, and our Crock Pot Recipes.
We were provided with a sandwich maker to help facilitate our review. All opinions expressed are our own.