Are you looking for an easy doughnut recipe you can make at home? This easy semi-homemade Biscuit Donuts recipe only takes 1 main ingredient!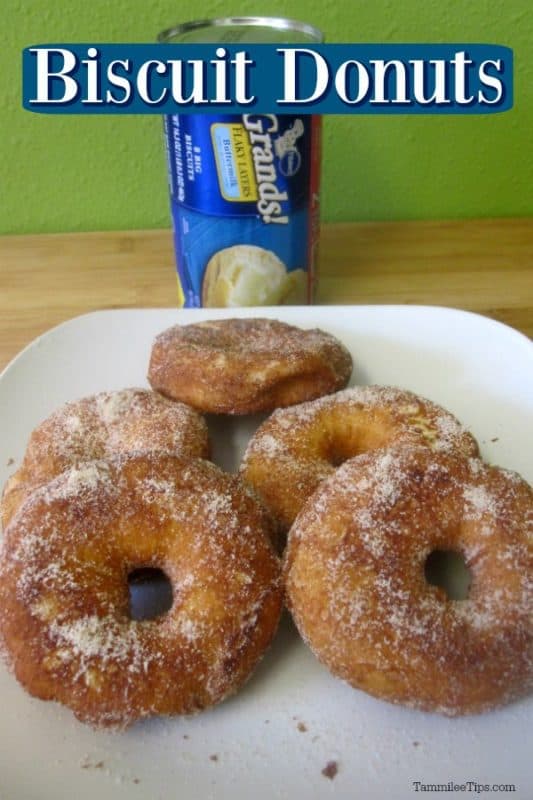 Biscuit Donuts
Last week while my parents were in town I told my Mom I had found the craziest recipe that I was really excited to try out.
I told her all about the recipe and how cool it looked and she got this funny smile on her face. She started laughing and asked if I remembered having doughnuts as a kid.
I nodded and said sure the ones you went to the store for on Saturday mornings. She laughed even harder and said no the ones that I made with the recipe you are telling me about.
It seems that both my Mom and Grandmother both used this recipe for years.
I am so amazed at how easy these doughnuts are to make. I never would have thought that you could take Grands Biscuits and turn them into doughnuts. It is probably a good thing I did not know this because this is a dangerous recipe for my eating healthy plan.
We also made doughnut holes with the biscuit dough. They cooked up really quickly and were fun to make. I will definitely be making this recipe again when we have overnight guests. It is so crazy easy to make and now I love knowing that my Mom and Grandmother both made the same recipe.
Ingredients
Refrigerator Biscuits
Oil for frying
Toppings
Cinnamon
Sugar
Brown Sugar
You can also make an easy powdered sugar glaze or icing to top these. Kids will have a great time decorating them with sprinkles.
How to make donuts with biscuits! 

1. We used a shot glass to take out the center of each biscuit for the doughnut hole. I thought this made the doughnuts a little too small around.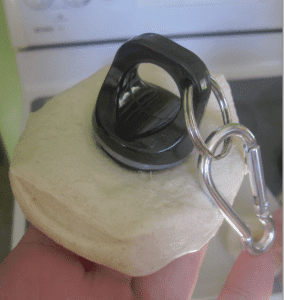 I used the lid from my water bottle that I washed and it worked perfectly. You could also use a small round cookie cutter.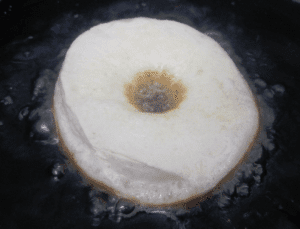 2. place the doughnuts into hot vegetable oil deep frying until they turn golden brown.  I had to watch how hot the oil was after my first couple of doughnuts. They started to turn brown really quickly and still be soft on the inside.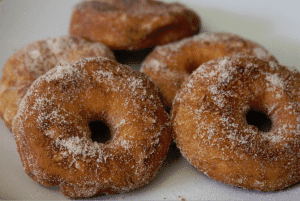 3. I sprinkled the cinnamon-sugar mixture on the doughnuts and served them hot. They also tasted great with powdered sugar on them.
I didn't have any issues with the cinnamon sugar sticking but you can always brush a bit of melted butter on the doughnuts if the cinnamon sugar mixture isn't sticking to them.
Place them on a paper towel-lined plate to help soak up any extra oil that may come off of them.
You can make donuts holes with the small holes in the center of the biscuits. Just watch to make sure they don't overcook.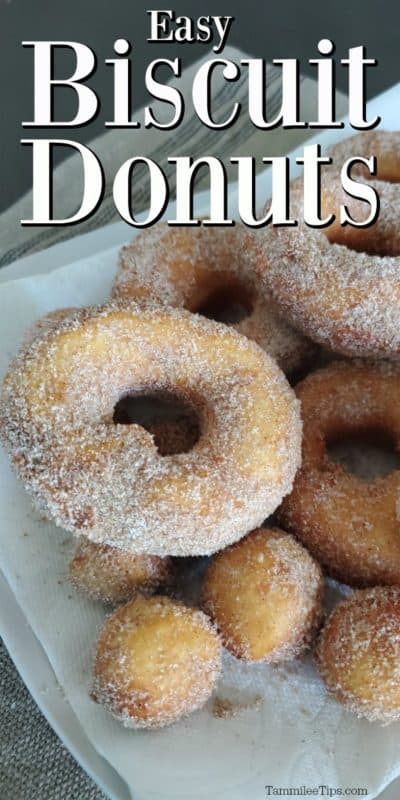 Recipe Tips
Wooden Skewers or a Spider Strainer work great to remove the hot doughnuts from the oil.
The doughnuts will be incredibly hot when you remove them from the oil. If you are having your kids help you make these biscuit doughnuts we suggest putting them in a paper bag that they can shake to add the cinnamon-sugar coating. This will help protect their hands from the hot donuts.
Make sure to watch the temperature of the oil. The longer it is going the hotter it gets so you will want to turn it down after the first couple of doughnuts.
The doughnut middles make great doughnut holes. They are my favorite part.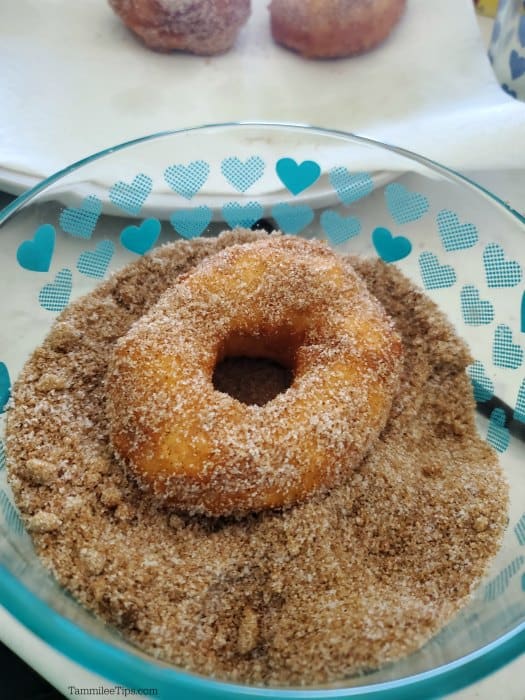 When it comes to what refrigerator biscuits to use it really depends on what you like. We have used layered biscuits, butter biscuits, and regular biscuits. They all work to make delicious homemade donuts with biscuits but the flavors will change a bit.
We bought butter biscuits by mistake the last time we made these canned biscuit donuts and I was worried they wouldn't taste great but we really liked them. The butter flavor actually added a great flavor to the doughnuts.
Easy Brunch Recipes
We hope you love these biscuit donuts and they make your breakfast/brunch/late night or any time of the day just a little sweeter. So cheesy but so true! LOL!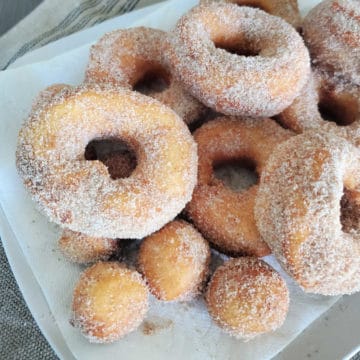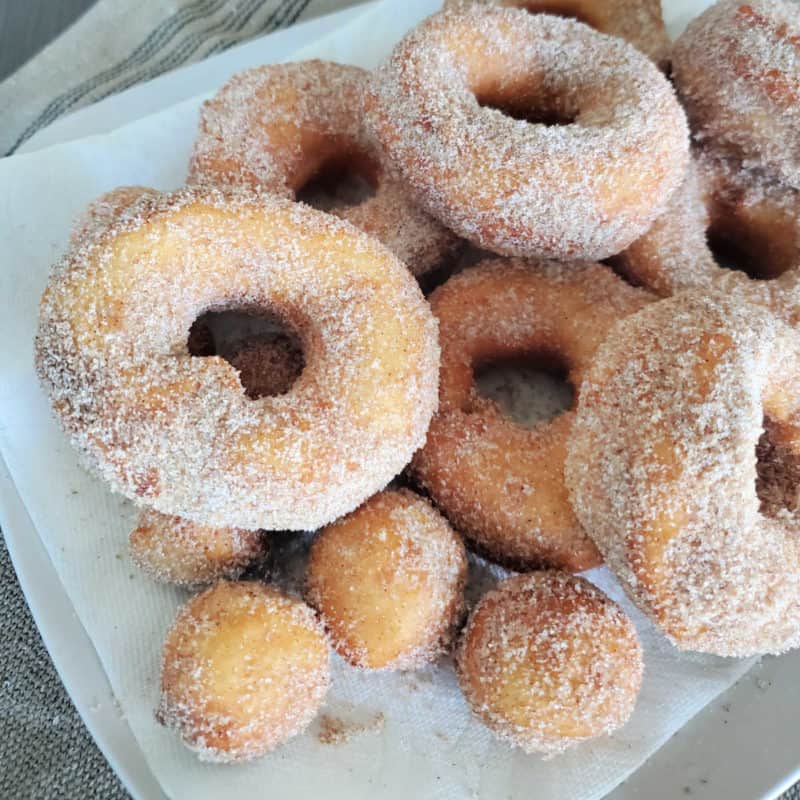 How to make Biscuit Donuts
How to make delicious Biscuit doughnuts from biscuits in a can
Print
Rate
Ingredients
1

package

Refrigerator Biscuits

Oil for frying
Instructions
Cut a circle into the middle of the doughnut. Shot glasses or water bottle lids work great.

Place the doughnuts into hot oil until they turn golden brown. 

I had to watch how hot the oil was after my first couple of doughnuts. They started to turn brown really quickly and still be soft on the inside

I sprinkled cinnamon and sugar on the doughnuts and served them hot. They also tasted great with powdered sugar on them.
10 inch Cast Iron Skillet
Nutrition
Nutrition Facts
How to make Biscuit Donuts
Amount Per Serving
Calories 211
Calories from Fat 90
% Daily Value*
Fat 10g15%
Cholesterol 1mg0%
Sodium 544mg24%
Potassium 129mg4%
Carbohydrates 28g9%
Protein 4g8%
Calcium 28mg3%
Iron 2mg11%
* Percent Daily Values are based on a 2000 calorie diet.
Originally posted on September 12, 2012. Updated September 2020