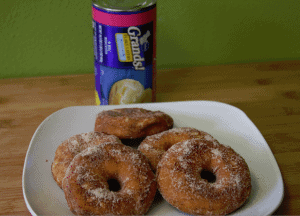 Super Easy Homemade Doughnuts
Last week while my parents were in town I told my Mom I had found the craziest recipe that I was really excited to try out.I told her all about the recipe and how cool it looked and she got this funny smile on her face. She started laughing and asked if I remembered having doughnuts as a kid. I nodded and said sure the ones you went to the store for on Saturday mornings. She laughed even harder and said no the ones that I made with the recipe you are telling me about.
It seems that both my Mom and Grandmother both used this recipe for years.
I am so amazed at how easy these doughnuts are to make. I never would have thought that you could take Grands Biscuits and turn them into doughnuts. It is probably a good thing I did not know this because this is a dangerous recipe for my eating healthy plan. We also made doughnut holes with the biscuit mix. They cooked up really quickly and were fun to make. I will definitely be making this recipe again when we have overnight guests. It is so crazy easy to make and now I love knowing that my Mom and Grandmother both made the same recipe.
Ingredients
Refrigerator Biscuits
Oil for frying
Directions

1. My mom used a shot glass to take out the center for the doughnut hole. I thought this made the doughnuts a little too small around.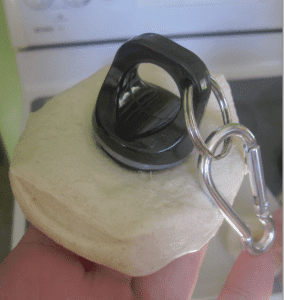 I used the lid from my water bottle that I washed and it worked perfect.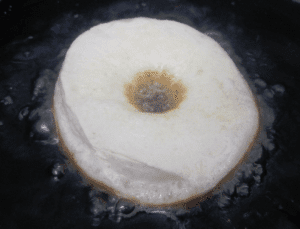 2. place the doughnuts into hot oil until they turn golden brown.  I had to watch how hot the oil was after my first couple of doughnuts. They started to turn brown really quickly and still be soft on the inside.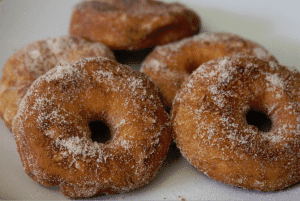 3. I sprinkled cinnamon and sugar on the doughnuts and served them hot. They also tasted great with powdered sugar on them.
Easy Brunch Recipes
Be sure to follow me on Instagram and Tag me at @TammileeTipsLife – I love seeing what you make!