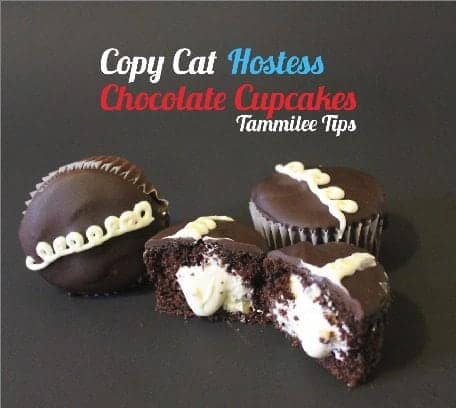 A few days ago we shared with everyone the Home Made Twinkies we made. Today I am excited to share the Copy Cat Hostess Chocolate Cupcakes we made. These were a lot of fun to make and taste amazing! I love the chocolate shell on the top of the cupcakes. It has kept the cupcakes so soft and moist even a couple of days later.
Copy Cat Hostess Chocolate Cupcakes
Cupcake
I used a box of chocolate cake mix to make the cupcakes. They are rich and chocolaty and were super easy to make. Just follow the box instructions for cupcakes.
Once my cupcakes had cooled from the oven I filled them with the yummy filling. I used the injector pen from the Norpro 3964 Cream Canoe Pan but you could also scoop out a chunk of chocolate and use a spoon to fill the cupcake with filling. Once you have filled the cupcakes you can spoon on the chocolate topping. I placed the cupcakes once they were coated with chocolate in the fridge overnight. The chocolate hardens into a great shell and looks fantastic. I used an Icing Tip
 and Icing Bag
 to pipe the swirls onto the top. I used the filling icing for the swirls.
Filling ingredients:
1/2 cup butter, room temperature
1 (8 ounces) package cream cheese, room temperature
5 cups confectioners' sugar, sifted
1 (8 ounces) container frozen whipped topping, thawed
1 teaspoon vanilla extract
To make the filling, combine the room-temperature butter, cream cheese, and confectioners' sugar. Beat until smooth. Stir in the whipped topping and vanilla extract.
Chocolate Topping
6 tablespoons unsalted butter, softened
1 1/2 cups semi-sweet chocolate chips
2 tablespoons light corn syrup
1/2 teaspoon vanilla
To make the frosting: In a medium, microwave-safe bowl, heat at 30-second intervals, stirring between each, until completely melted and glossy. Stir in the vanilla. Cover and chill for 20-30 minutes until thickened slightly. If you leave it in the fridge to long it will harden up. You can remelt the chocolate by putting it back in the microwave for 30 second intervals.
I hope you enjoy our recipe. We will be sharing a Copy Cat Ding Dong recipe in the next few days. You can check out all of the recipes we have shared on the blog here -> Tammilee Tips Recipes.
If you would like to pin this to Pinterest here is the pin -> CopyCat Hostess Chocolate Cupcakes