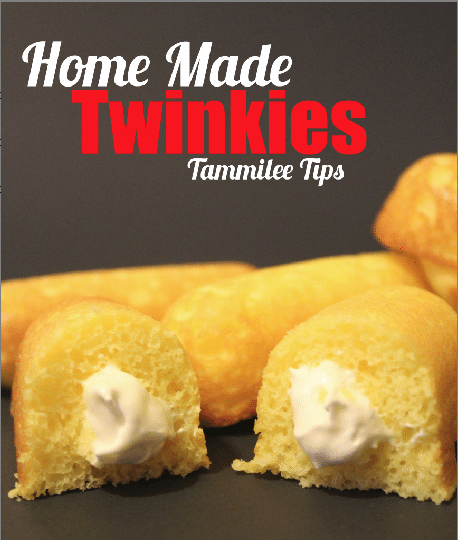 John and I went looking for Twinkies or any Hostess products today just to see if the stores around Spokane would have any. We visited 5 grocery stores and did not find a single Twinkie or cupcake. We did find some Hostess fruit cake at one store. I decided to see if I could make home made Twinkies. As I was getting the ingredients together I started looking through a tub of cake pans my Mom brought over a few weeks ago.  I was so excited to find the Norpro 3964 Cream Canoe Pan With Bonus 9 Piece Decorating Set
in the bucket. I called my Mom and told her how perfect it was. She said she has had the pan for years and never used it. I love that something she was not using is just what I was looking for! After checking eBay and seeing that boxes of Twinkies are selling for $30.00+ a box I am so happy to share this recipe.
Don't miss these copycat Hostess Chocolate Cupcakes!
Twinkie Cake ingredients:
4 eggs
1/2 cup butter, melted and cooled to lukewarm
1 cup water
1 (5.1 ounces) package instant vanilla pudding mix
1 (18.25 ounce) package yellow cake mix
Filling ingredients:
1/2 cup butter, room temperature
1 (8 ounces) package cream cheese, room temperature
5 cups confectioners' sugar, sifted
1 (8 ounces) container frozen whipped topping, thawed
1 teaspoon vanilla extract
Directions
Preheat an oven to 350 degrees F (175 degrees C)
Beat the eggs until combined; stir in the melted butter. Add the water, pudding mix, and yellow cake mix, stirring well to combine. The batter will be very thick. Divide the batter between the prepared pans, spreading it evenly.
Bake until the cakes spring back when pressed lightly with a finger or a tester comes out clean, 15 to 20 minutes. Cool completely on wire racks.
To make the filling, combine the room-temperature butter, cream cheese, and confectioners' sugar. Beat until smooth. Stir in the whipped topping and vanilla extract.
I used the injector kit that comes with the Norpro 3964 Cream Canoe Pan to fill each of the cakes.
I have to say I think these Home Made Twinkies taste better than the original ones. They are light and fluffy and taste fresh.  If you are looking for other Hostess recipes check out The Twinkies Cookbook: An Inventive and Unexpected Recipe Collection from Hostess
 and The Wonder Bread Cookbook: An Inventive and Unexpected Recipe Collection from Wonder on Amazon. They both look like they are filled with really fun recipes to make at home.
If you would like to repin this on Pinterest  just click here -> Home Made Twinkies