Can I confess something right now...I LOVE Olive Garden! Seriously, I love going out to Olive Garden whenever we get the chance. I love it so much that I started making Olive Garden Recipes at home for the days I just didn't feel like putting on real clothes and leaving the house.
We all have those days that sweats and a ponytail win over getting dressed and driving someplace. To help make those days still filled with my favorite Olive Garden Recipes I decided to make them at home!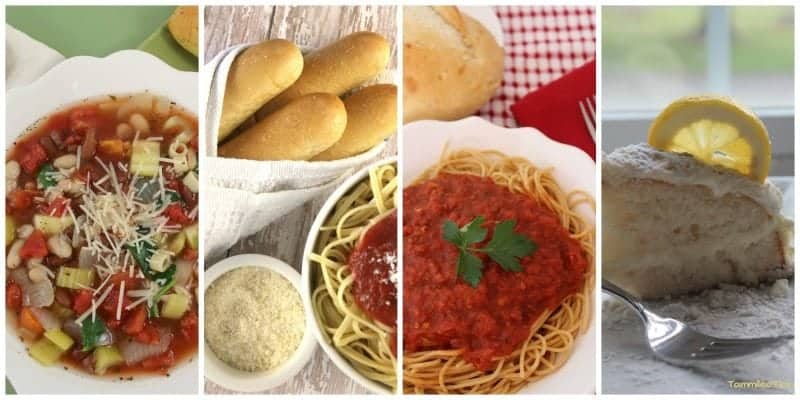 Olive Garden Recipes
The first thing we have to talk about is this Olive Garden Breadstick Recipe...HELLO YUM! I made this recipe for the first time way back in 2013 and it has been a favorite ever since. Pair with a bowl of Olive Garden Soup and life is good!
Olive Garden Soup Recipe!
I feel like these should get their own standing ovation of happiness. I don't know what it is about olive garden soup recipe but they are so good! I have made these on the stove top and in the crock pot. I love using the crock pot because I can smell the soup cooking all day and it is ready when John gets home from work. The most asked for soup in our house is this Crock Pot Olive Garden Zuppa Toscana Recipe. Spicy Italian Sausage, Kale and more make this soup the perfect comfort food.
The next most popular recipe in our house is this Copy Cat Olive Garden Chicken Gnocchi Soup Recipe. I love how easy this Olive Garden Soup Recipe is. You can make it with a rotisserie chicken if you don't want to make up your own chicken ahead of time. This is a great soup for cold winter days or really any day you want to curl up with a hot bowl of soup.
For a vegetarian option check out this Olive Garden Minestrone Soup Recipe. You can make this with chicken stock if you like that flavor but it tastes great with vegetable stock. This is a perfect summer soup when all of the veggies are fresh from the garden.
The final of the four Olive Garden Soup Recipe is this Olive Garden Pasta Fagioli Recipe. This is a rich and hearty soup with sausage, pasta, veggies, and beans. Super filling and crazy easy to make.
Now that you are done with the soup course do you have room for more...of course you do! LOL! This Olive Garden Marinara Sauce Recipe is perfect over spaghetti or really any pasta that you choose. Make sure and put some in a bowl to dip your breadsticks in.
We can't end the meal without enjoying a slice of Olive Garden Lemon Cream Cake! Oh yes, please! We like to drizzle it with a bit of raspberry to add an extra bit of tangy goodness to each bite. This cake is so good it is almost dangerous. It is one of those cakes you can't stop at one bite and before you know it your plate is empty and you are not sure what happened.
Olive Garden Marinara Sauce Recipe
Olive Garden Chicken Gnocchi Soup
Olive Garden Zuppa Toscana Recipe
Olive Garden Breadstick Recipe
Olive Garden Pasta Fagioli Recipe