I have to admit that I have never cooked with crab before. It has been on my list for a while to learn how to cook but I have not dived in to trying it along with Lobsters. I decided to have a blogging friend make up this Crab Rolls and Slider Recipe because I knew you all would love it.
It seems like the quintessential summer dish. When I think of New England summer these Crab Rolls and Slider Recipes just fit that image for me.
Do you agree?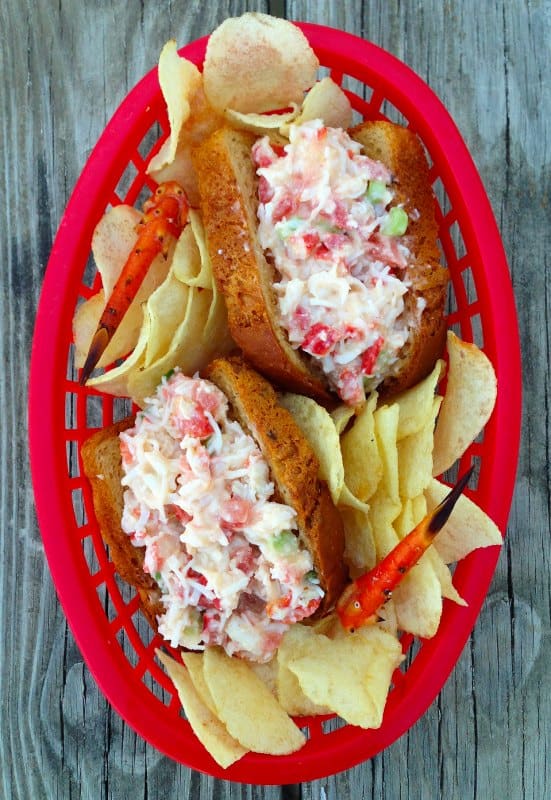 Crab Rolls and Sliders Recipe
Prep: 15 minutes
Cook: 12 minutes
Total: 27 minutes
Servings: 4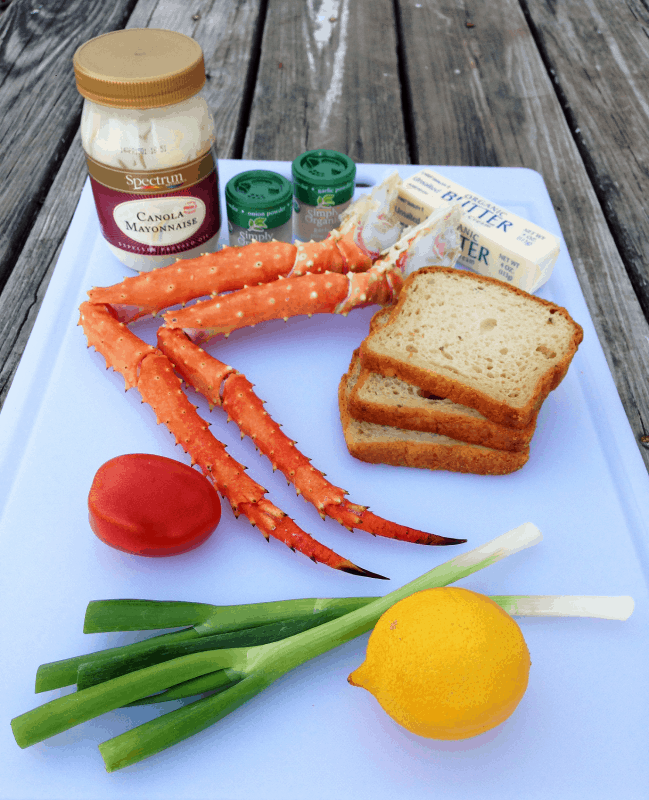 Ingredients
4 King Crab Legs
4 Slices Glutino Multi-Grain (gluten-free)
¼ Cup Spectrum Canola Mayonnaise
¼ Cup Diced Organic Green Onion
¼ Cup Diced Organic Tomatoes
1 tbsp. Fresh Squeezed Organic Lemon Juice
2 tbsp. Melted Organic Butter
½ tsp. Simply Organic Onion Powder
½ tsp. Simply Organic Garlic Powder
Salt & Pepper
Great Recipes
Do you love recipes? Check out our copy cat recipes, dessert recipes, and our Crock Pot Recipes.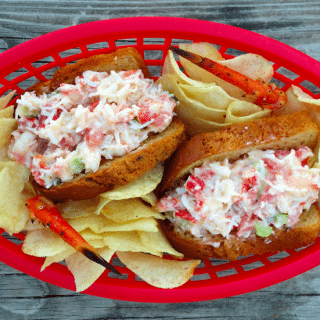 Ingredients
4

King Crab Legs

4

Slices

Glutino Multi-Grain

gluten-free

¼

Cup

Mayonnaise

¼

Cup

Diced Organic Green Onion

¼

Cup

Diced Tomatoes

1

Tablespoon

Fresh Squeeze Organic Lemon Juice

2

Tablespoon

Melted Organic Butter

½

tsp.

Simply Organic Onion Powder

½

tsp.

Garlic Powder

Salt and pepper to taste
Instructions
Fill a large pan with 1 to 2 inches of water. Bring to boil. Add crab legs. Boil for approximately 5 minutes. Remove crab legs from water. Set aside and let cool.

Dice green onion and tomato into small pieces. Slice lemon in half. Set aside.

Add butter to small microwavable bowl. Microwave for 1 to 2 minutes or until butter is melted. Set aside.

Preheat oven at 250 degrees F.

Use hands to break the crablegs apart at joints. If you can pull crabmeat from shell without breaking further, go ahead. Otherwise, take knife and make one continuous cut down each shell. Pry shell open with fingers and remove crabmeat.

Cut crabmeat into various sizes. Place crabmeat in medium mixing bowl. Drizzle 1 tbsp. melted butter over crabmeat. Stir. Add diced green onion, diced tomatoes, mayonnaise, freshly squeezed lemon juice, onion powder, garlic powder, salt, and pepper. Stir. Place in refrigerator.

Lay 4 slices multi-grain bread on aluminum foil sheet. Drizzle 1 tbsp. melted butter on top of slices. Place in oven for 3 to 4 minutes or until just crispy (rotating sides halfway through). Remove bread from oven.

Flex bread into shape of hotdog buns. Scoop crabmeat mixture onto bread. Plate your crab rolls onto serving dishes and enjoy this seaside staple! Best served with potato chips and an ice-cold beer or orange soda.