Blue cocktails are as eye-catching as they are tasty. Here are our blue cocktail favorites that can be made from home without needing to leave home and open a bar tab.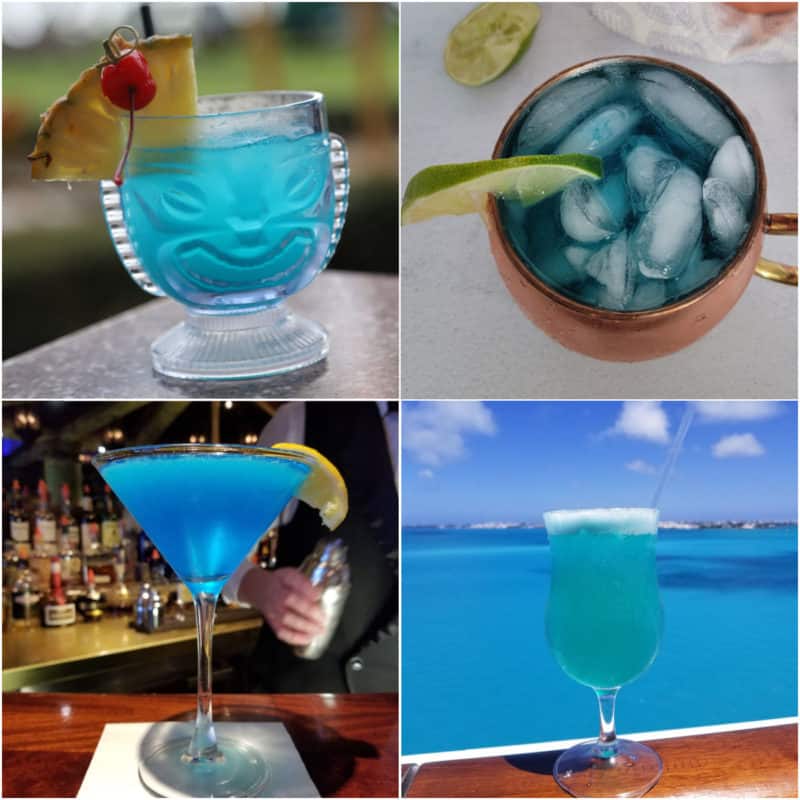 Blue Cocktails
Whether you're celebrating the Fourth of July, Shark Week, or any other blue-themed bash, blue is a versatile color that spans the calendar year. Electric blues are a fixture in summer drinks, while more muted blues gain popularity as the weather gets frosty.
Regardless of your desired shade, we're sure you'll find the perfect one in our roundup of blue cocktails.
Orange-flavored blue curaçao forms the base of the featured cocktails and shots, so be sure to pick up a bottle at the store before getting started. While there are other colored liqueurs on the market, only blue curaçao is traditionally manufactured blue.
Are you ready to shake, strain, and enjoy some epic blue cocktails?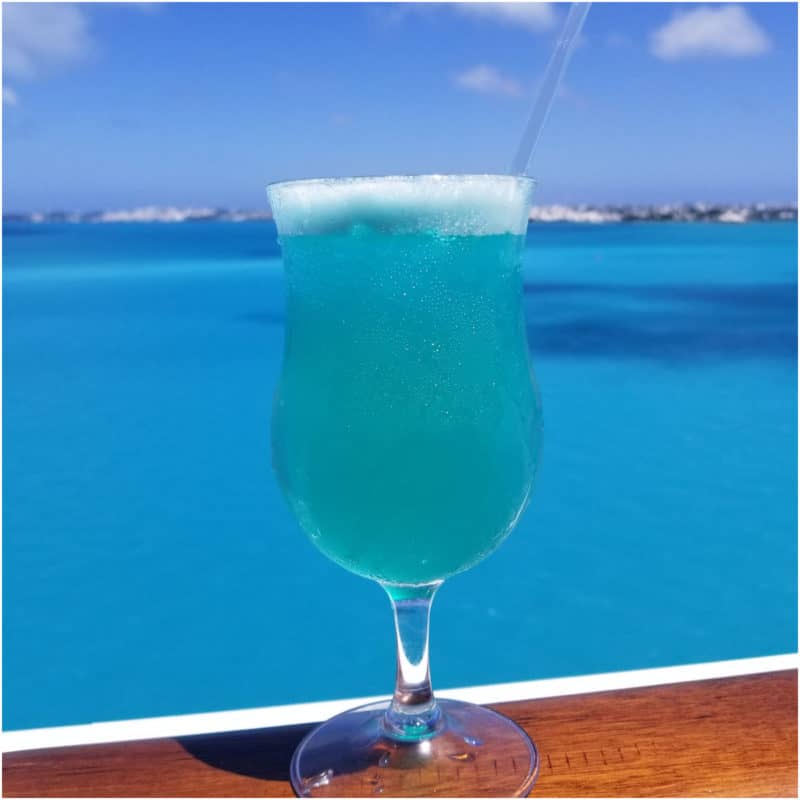 Ingredients: Margaritaville Tequila, Blue Curaçao, Frozen Lemonade Mix, Simple Syrup, Lime for Garnish
This Blue Margarita is a summer party in a glass. It is also one of our featured Carnival Pool Cocktails.
Our take on this swimming pool-colored cocktail uses Margaritaville Tequila, a tequila brand that uses premium blue agave grown in the famed Arandas, Jalisco region of Mexico.
Feel free to use silver or gold tequila for this recipe. The silver variety is a staple in margaritas for its pure tequila taste, while the more complex profile of gold tequila can be enjoyed alone.
This margarita may be served in a margarita glass or a hurricane glass.
Ingredients: Vodka, Tequila, Blue Curaçao
The Blue Shark Cocktail is great for celebrating the spirit of Aloha, wherever you may be. We created this mixed drink to bring the warm paradise of the Hawaiian shores to your 5 o'clock Fridays - or any day you need to feel like you're lounging on a tropical boat.
Since the only ingredients are two spirits and a dash of blue curaçao, we recommend serving this electric blue delight in a lowball glass. Recognizable for its short stature and thick base, this is the tumbler traditionally used for the classic old-fashioned.
Check out all of our vodka cocktails.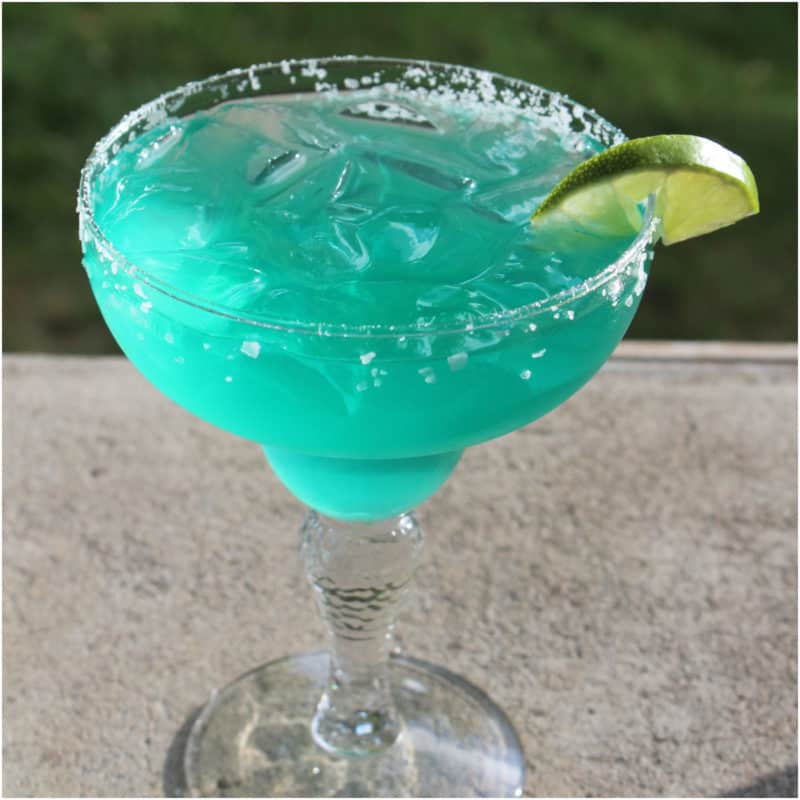 Ingredients: Silver Tequila, Triple Sec, Blue Curaçao; Sweet and Sour Mix
Let this blue agave margarita add a pop of color and booze to your day. This recipe uses silver tequila, which is distilled twice to maintain its clear color and pure taste.
While silver tequila is harsher than the gold variety, it plays well with the acidic and citrusy flavors in blue curaçao, triple sec, and sweet and sour mix. If you were wondering, this is the logic behind sucking on a lime wedge after taking a tequila shot.
You'll need a cocktail shaker and margarita glass to make this four-ingredient cocktail come to life.
Three out of its four ingredients are alcoholic, so we also recommend eating a hearty meal with this sweet sipper.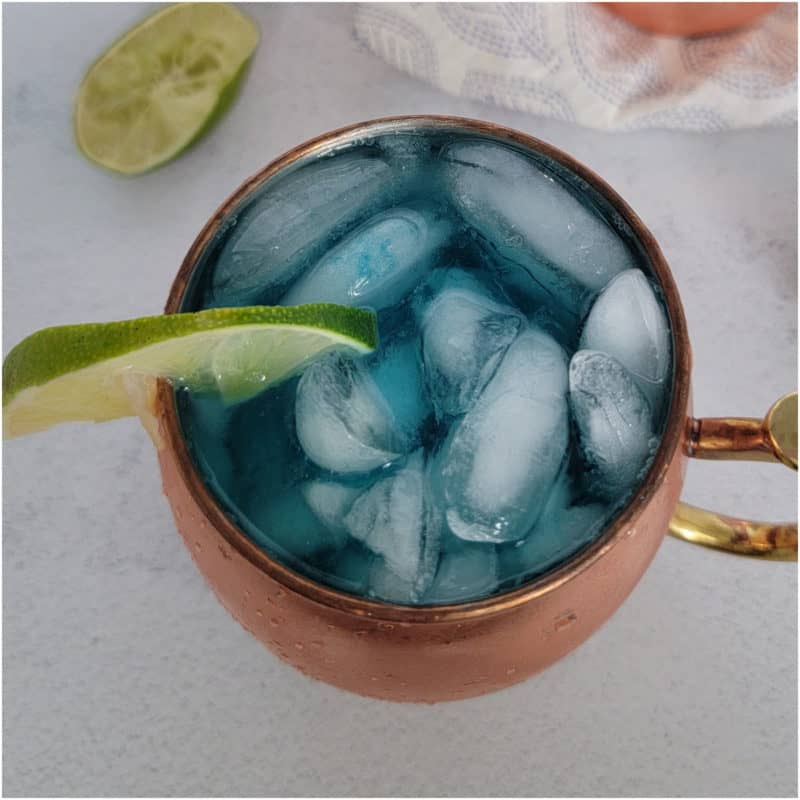 Ingredients: Blue Curaçao, Vodka, Fresh Lime Juice, Ginger Beer
Our blue curaçao-infused mule will leave you feeling anything but blue. The ocean-colored Caribbean liqueur is made using dried Laraha citrus peels from the island of Curaçao, which infuse the mule with a unique bitter orange essence.
Feel free to add some simple syrup for a tinge more of sweetness.
We recommend serving mules in copper mule mugs. Aside from adding classic flair to your home barware set, they have a functional purpose in keeping your mule cocktail cool and refreshing for longer.
Since this means that the ice in your mug will melt more slowly, you'll also have a less diluted drink for longer.
Check out all of our epic Mule Cocktails.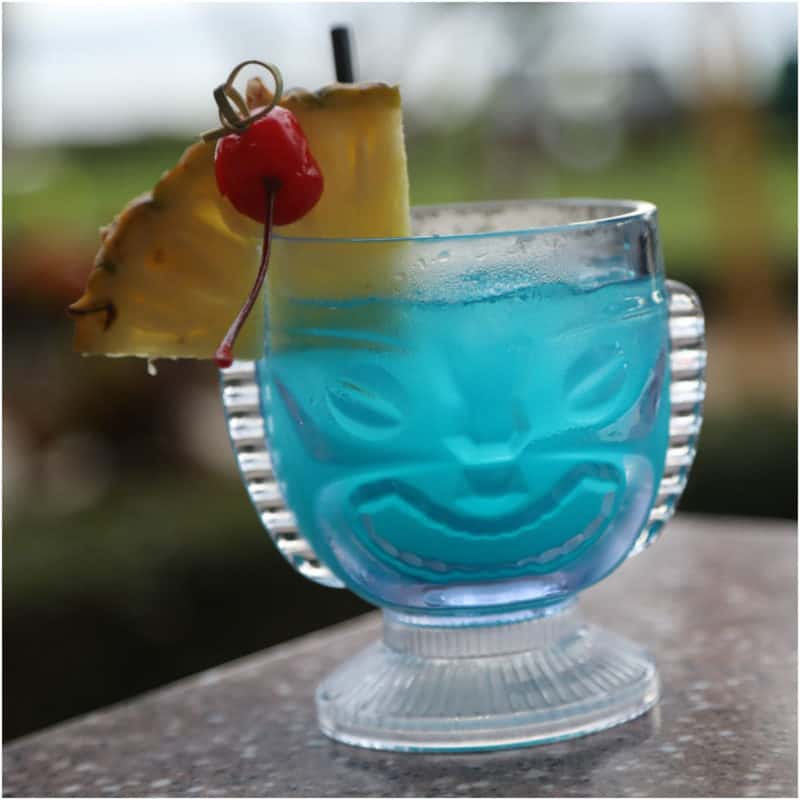 Ingredients: Malibu Coconut Rum, Blue Curaçao, Pineapple Juice
The tropical Blue Hawaii cocktail will leave you dreaming of the Big Island's blissful, sand-filled shores.
For a tangier taste, swap the pineapple juice for a sweet-and-sour mix.
Stick to Malibu or any light-colored rum, as dark rum will muddy the color of the blue curaçao.
Serve this cocktail in your favorite tropical tiki glass, and don't be afraid to add some style by throwing a pineapple wedge on the rim.
The choice to serve it on the rocks or frozen is yours. Enjoy it frozen by adding coconut cream or coconut milk and blending with ice until smooth.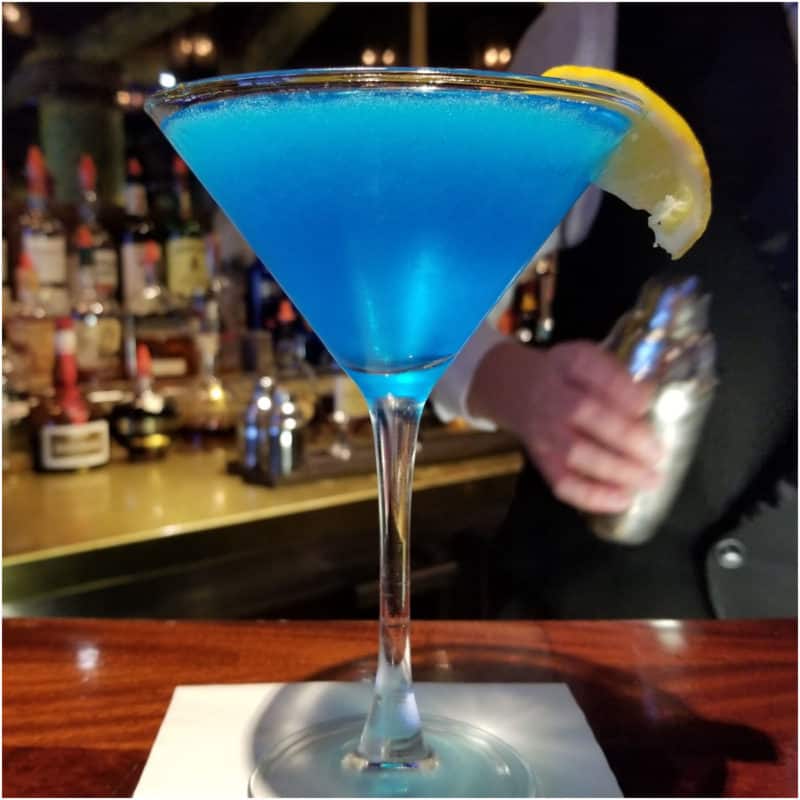 Ingredients: Absolut Citron Vodka, Blue Curaçao, Lemonade, Sprite (Lemon-lime soda)
Sail the smooth, blue curaçao-colored seas of the Sea Blue Martini. We discovered this gem aboard a Carnival Splendor cruise to Mexico.
The clean lemon flavor of this martini is made possible by Absolut Citron, a premium lemon vodka that has been a best-selling flavored vodka since 1986. Absolut Citron is also behind the many blush-pink Cosmopolitans that Carrie Bradshaw drank with her girlfriends on Sex and the City.
Serve this hypnotic turquoise stunner in a martini glass.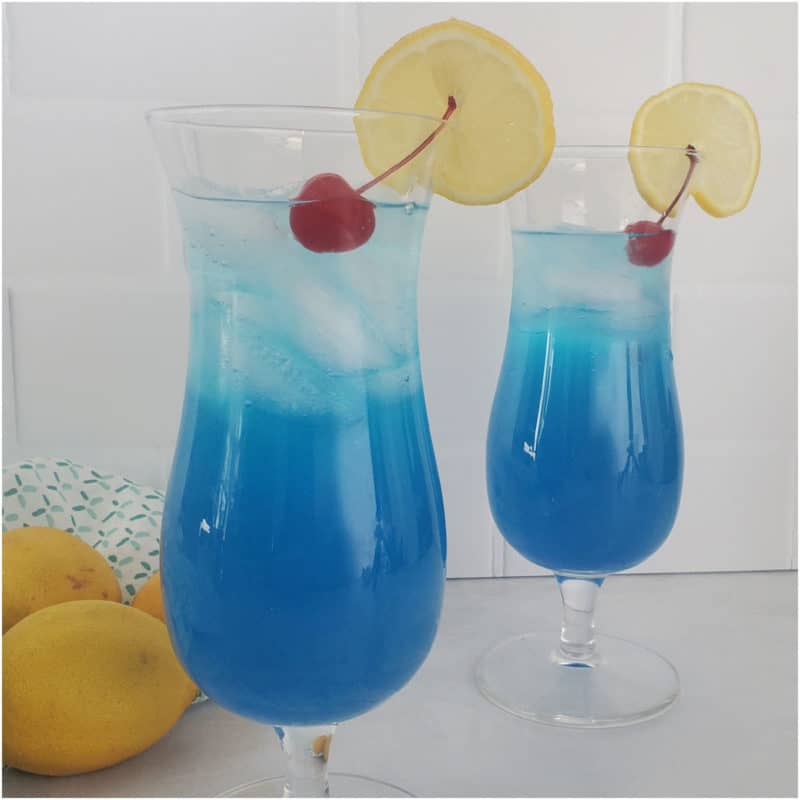 Ingredients: Blue Curaçao, Lemonade, Vodka, Ice Cubes
The Blue Lagoon Cocktail gets its brilliant blue from blue curaçao. Curaçao is an island that we visited while on a Caribbean cruise.
Serve the Blue Lagoon over ice or frozen. For a slushy version, mix all ingredients in a blender until smooth. Add ice to give your beverage more texture, and add lemonade to thin it out.
Due to its liquid volume, we recommend pouring this summer cocktail into a hurricane glass, which holds about 20 fluid ounces.
Garnish it with a maraschino cherry and a lemon slice for a simple yet polished look.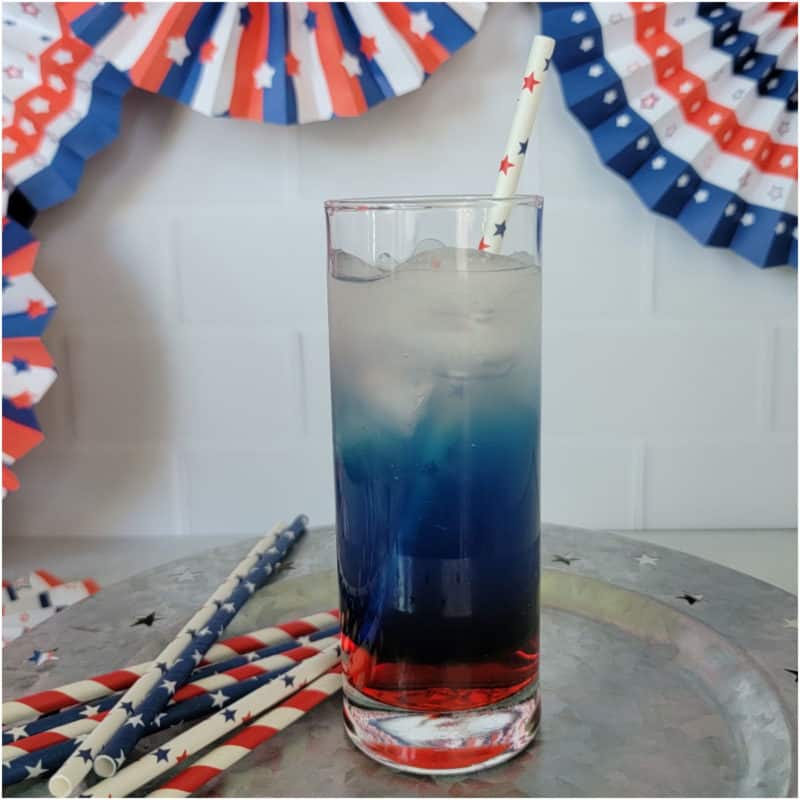 Ingredients: Grenadine, Lemonade, Vodka, Blue Curaçao
The Red, White, and Blue Drink is the party-sized version of our Patriotic Shot. From Memorial Day to the Fourth of July and Labor Day, this simple layered cocktail is great for any celebration that involves flying the flag.
You'll need a collins glass, a cocktail shaker, and a bartending spoon to mix this patriotic cocktail. You can use a dinnerware spoon if you don't have a bartending spoon.
Either way, pour slowly over the back of your chosen spoon to create the layered effect.
For a lighter and sweeter drink, replace the vodka with peach schnapps. Keep in mind, however, that this will change how it tastes.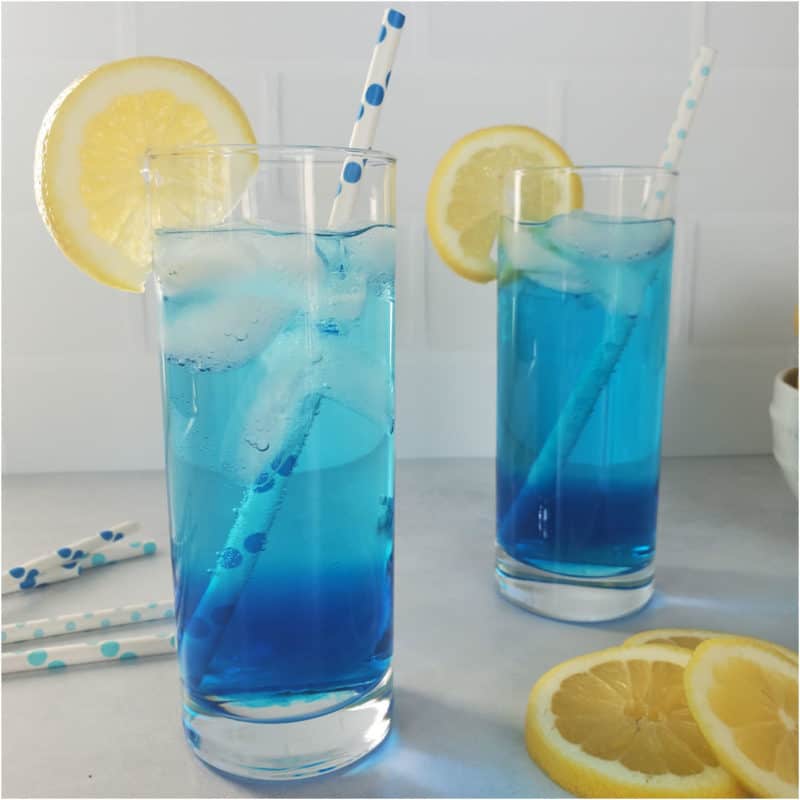 Ingredients: Peach Schnapps, Blue Curaçao, Vodka, Sprite, lemon wheel or lemon twist for garnish.
The Sex in the Driveway cocktail is our blue curaçao-fueled twist on the popular Sex on the Beach cocktail. While we aren't sure of its origins, we encourage you to use your imagination for ideas about how it got its name.
This recipe swaps cranberry juice for blue curaçao to create a stunning cerulean drink infused with citrusy sweetness and the slight bitterness of dried orange peels.
Feel free to customize it to your palate. Rum can be used in place of vodka as a base spirit, and citrus-flavored sparkling water like Lacroix works as a healthier alternative to Sprite.
Due to the volume of the ice and the cocktail, we recommend serving it in a highball glass or a Collins tumbler. The Collins glass is a slightly taller highball glass.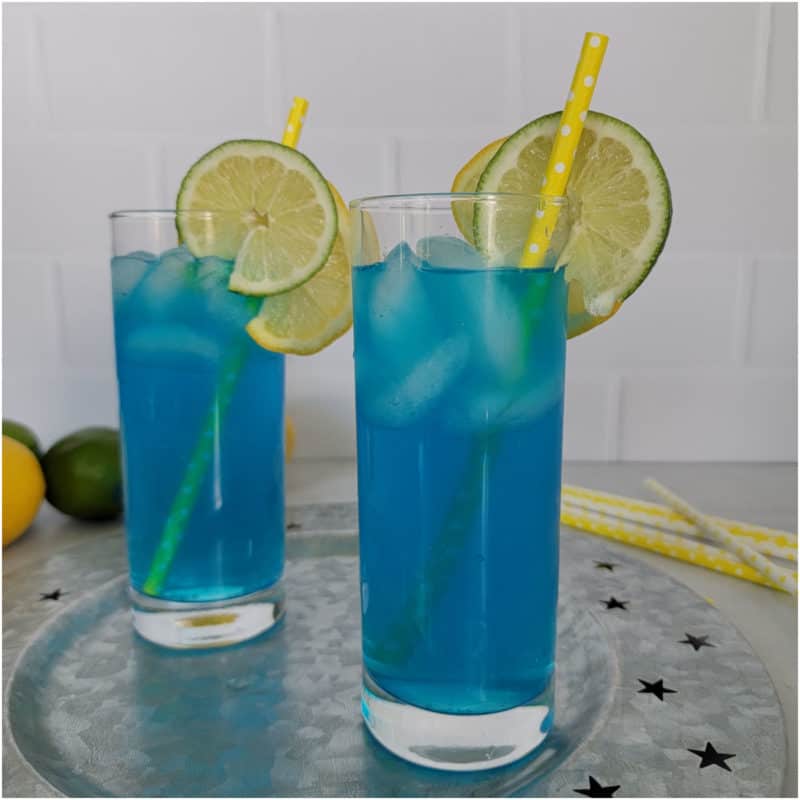 Ingredients: Vodka, Blue Curacao, Lemonade, Sprite, Lemon and Lime Slice Garnish
This fluorescent summer cooler is everything you want in a lemonade, only it is blue and has the orangey twist of blue curaçao. Like lemonade, our Electric take can easily be prepared pitcher-style to serve a crowd. Just multiply each ingredient by six to eight to fill a pitcher.
While lemonade and Sprite give this warm-weather refresher an intense citrus flavor, you can use lemon-flavored vodka, such as Absolut Citron, for even more lemon punch.
Whether you make one for yourself or a batch fit for a group, serve this Electric Lemonade over ice in a Collins glass.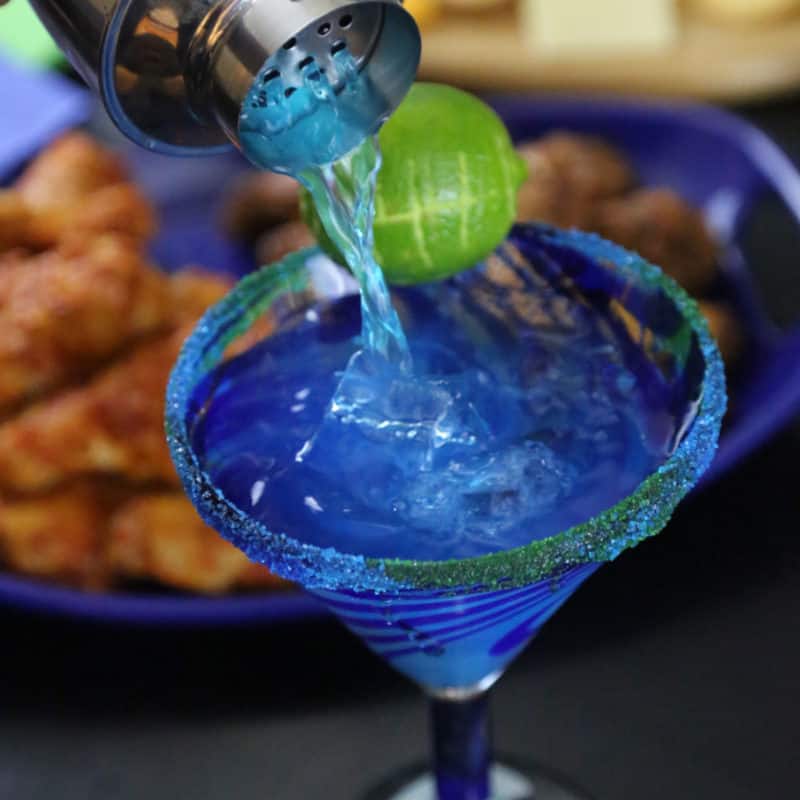 Ingredients: Smirnoff Ice Original, Tequila, Blue Curaçao, Ice
The simple and colorful Hawk-A-Rita is a must-have for any Seattle football tailgating event. We collaborated with our neighbor Patti during a homegating get-together. True to its name, homegating is our way of tailgating from home.
Our take on the classic margarita uses Smirnoff Ice, a zesty lemon-lime cooler manufactured by the vodka giant. While Smirnoff has released different flavors of this popular beverage, ours requires the original version.
The Hawk-A-Rita is a margarita glass filled with blue curaçao, tequila, and a bottle of Smirnoff Ice. With that being said, this boozy azure spin on a margarita may creep up on you as you watch the latest Seattle Seahawks game.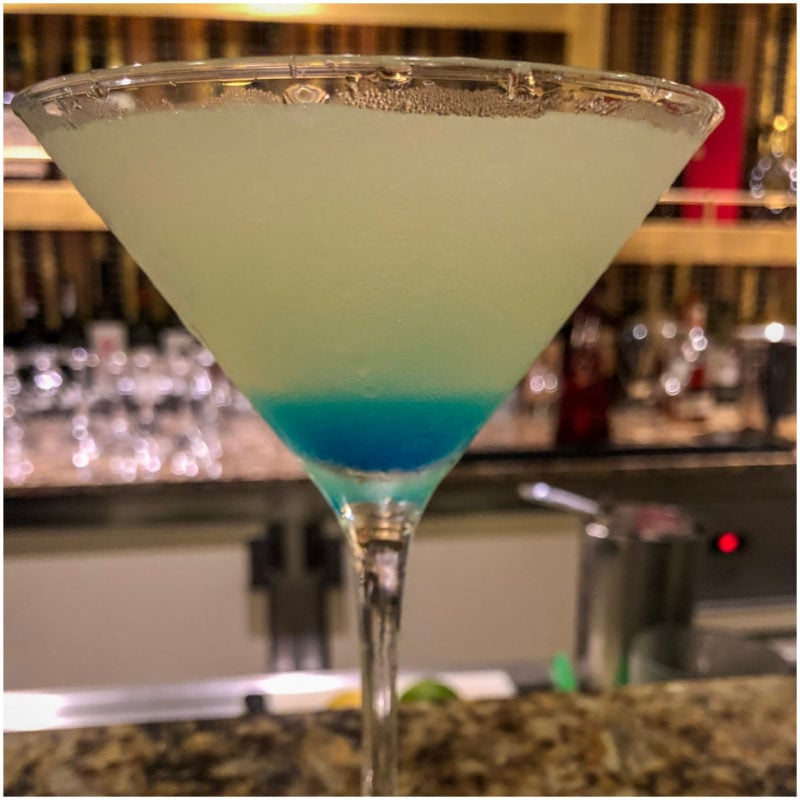 Ingredients: Bacardi Limón Rum, Patrón Citrónge Orange Liqueur, Fresh Lime Juice, White Cranberry Juice, Blue Curacao
The Seven Seas Martini is a staple at the Fahrenheit 555 Steakhouse on Carnival Cruise Ships. While the final product isn't entirely blue, a quarter-ounce of blue curaçao poured down the side of the glass gives it a beautiful blue base.
This citrus martini is made zesty with Bacardi Limón Rum and Patrón Citrónge. Bacardi Limón Rum is flavored with lemon, lime, and grapefruit, while Patrón Citrónge is an orange-flavored tequila.
It's also important to note that white cranberry juice is used to preserve this cocktail's light lemon color.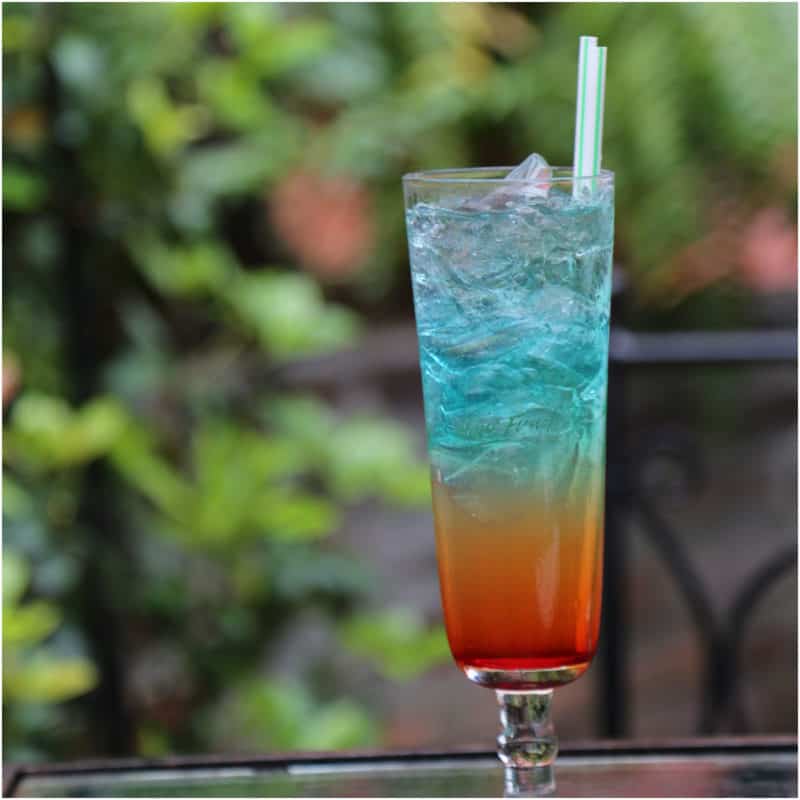 Ingredients: Grenadine, Collins Mix, Vodka, Blue Curaçao, Crushed Ice
This boozy cocktail served in a tall Collins tumbler can be your rainbow any day you need a pick-me-up. We enjoyed it while soaking up some New Orleans sunshine at Pat O'Brien's, the home of the hurricane cocktail. Did we also mention that a flaming fountain sits at the center of this massive, 4000-square-foot outdoor venue?
Pour slowly to create the Rainbow Cocktail's signature gradient effect. For more defined layers, pour each layer over the back of a bartending spoon.
Blue Shots
These vibrant shots are a ray of sweet, blue sunshine when paired with other colorful party-ready mixers.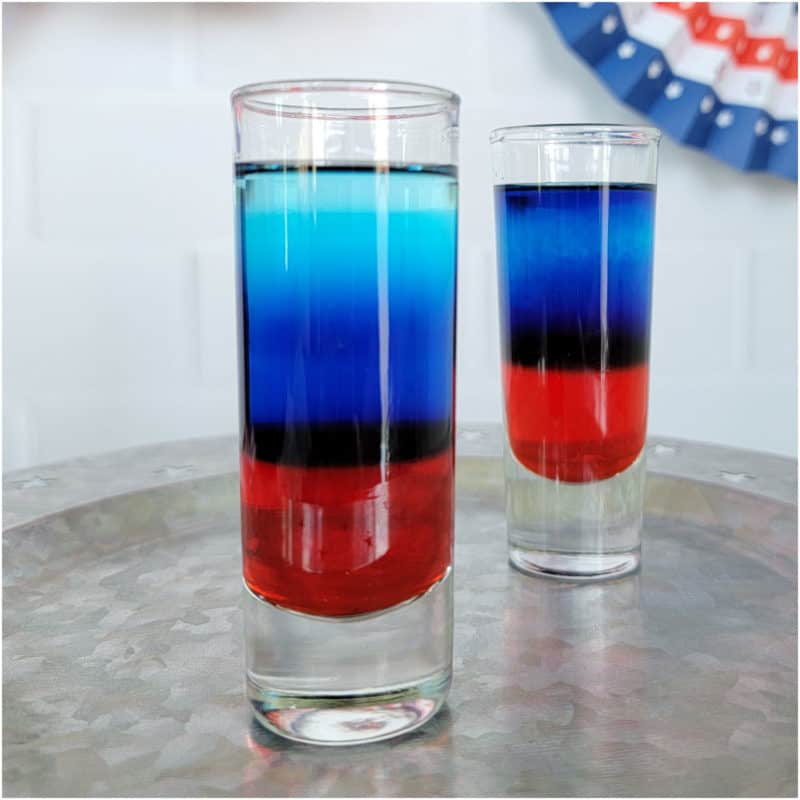 Ingredients: Grenadine, Blue Curaçao, Vodka
Grenadine, vodka, and blue Curaçao combine to make this Fourth of July-inspired shot. It is also colloquially known as the Captain America Shot.
You'll need a shot glass per serving, so you'll need multiples for serving a group. You'll also need a bartending spoon to layer the grenadine, blue curaçao, and vodka. Fear not if you have yet to master layered drinks, as you can use a drink syringe to create the same effect.
For a sweeter shooter experience, swap the vodka for peach schnapps. Peach schnapps is a colorless liqueur that, while lacking the alcohol content of vodka, will add a welcome burst of juicy peach to your shots.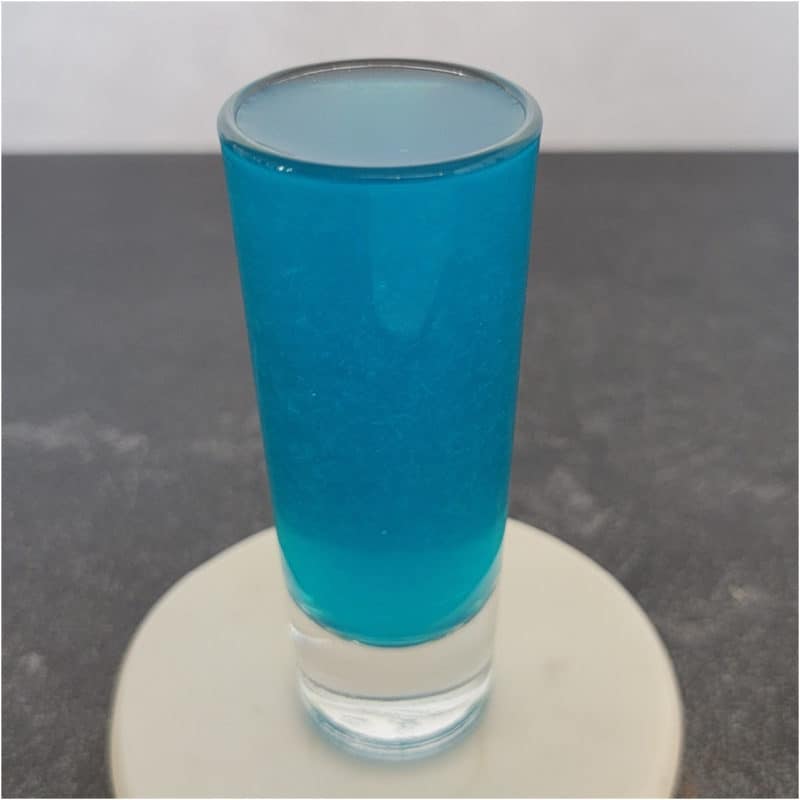 Ingredients: Blue Curacao, Malibu Coconut Rum, Peach Schnapps, and Lemon Juice or Sour Mix
Easy Blue Balls Shot recipe is a fun party cocktail! This bright blue cocktail shot has a hint of coconut, peach, and orange flavor.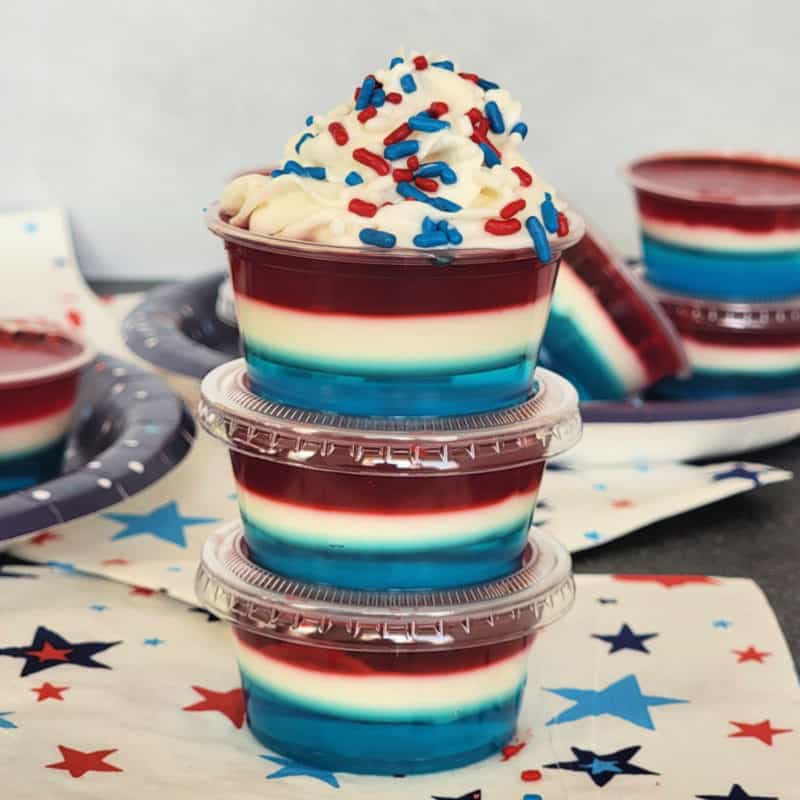 Ingredients: Cherry Jell-O, Berry Blue Jell-O, Unflavored Gelatin, Vodka, Sweetened Condensed Milk
This Jell-O version of our Patriotic Shot transports easily, making it a no-brainer for celebrating America's birthday.
You'll need Jell-O shot cups, an angled measuring cup, and a baking tray to prepare these layered Jell-O shots.
For easy prep, we recommend placing the empty shot cups across an entire baking tray before prepping so that the tray can be placed in the fridge to set. Doing so also acts as a net for spillage from pouring the shots.
Although our recipe uses cherry Jell-O, other red flavors, such as strawberry, raspberry, cranberry, and black cherry, also work wonderfully. We recommend choosing your favorite, as this is the flavor that will come through in your shots.
Tequila and coconut rum can be used in place of vodka if you prefer a different base spirit. Vanilla vodka and whipped cream vodka are also great for elevating and sweetening these shots.
Some fun garnishes that jazz up these patriotic Jell-O shots include whipped cream, maraschino cherries, and red, white, and blue sprinkles or candies. You can use as few or as many as you like.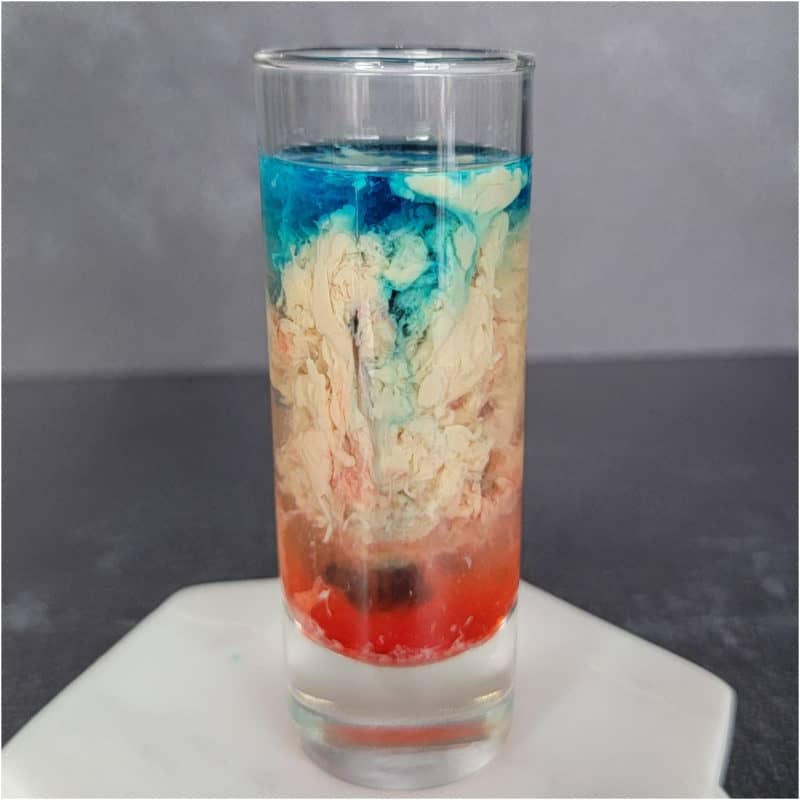 Ingredients: Peach Schnapps, Bailey's Irish Cream, Grenadine, Blue Curacao
Blue Curaçao and grenadine syrup turn our Brain Hemorrhage Shot into a colorful and visually-pleasing experience. Since the fun colors swirling throughout your shot glass do not resemble anything of this planet, we affectionally named this our Alien Brain Hemorrhage Shot.
You'll need a shot glass per individual served. If you're making these for a Halloween party Shot, check that you have enough for all guests who want one.
While this shot isn't layered in a traditional sense, you'll still need your bartending spoon to create the loosely layered red, white, and blue visual.
Although it requires some finesse, the Alien Brain Hemorrhage shot is as entertaining to create as it is to watch.
Peach schnapps forms the clear-colored base layer. The addition of Bailey's Irish Cream curdles and forms the membrane once it makes contact with the peach schnapps.
Blue curaçao and grenadine syrup are then drizzled in to finish. Since grenadine syrup is denser than the alcoholic mixers in this shot, it will cause the Irish cream to scatter even more throughout your shot glass.
We've crafted two other Brain Hemorrhage shots - our original Brain Hemorrhage Shot and our Zombie Brain Shot. Check these out if you enjoy this Alien Brain Hemorrhage Shot.
Upcoming cocktails include a blue chi-chi cocktail, Corpse Reviver No. Blue, Blue Gin and Tonic, and a Blue Long Island Iced Tea.
Great Cocktail Tools
We hope you enjoy these epic Blue Cocktails! Here are some of our favorite cocktail tools for our home bar.
2 ounce shot glasses - We love these 2 oz shot glasses especially for layered shots.
Bar Spoon - Bar spoons help to create layers in the cocktail shot. They fit perfectly into the cocktail shot glass.
Cocktail Shaker – This cocktail shaker comes with a fantastic set of tools
Stemless Martini Glasses - These stemless martini glasses are fantastic.
Martini Glass - We like the look of the classic martini glass
Jell-O Shot Cups - We suggest using two-ounce Jell-O shot cups.
OXO angled jiggers - these are our go-to measuring tools for cocktails. They work perfectly for pouring in layers for cocktails.
Margarita Glasses - We like the look of classic margarita glasses but you can use any glass for this great cocktail.
Copper Mule Mugs  - Copper Mule Mugs are the classic way to serve Moscow Mules. The copper mugs keep them nice and cold and look amazing.
Recipe Tips
Printable recipe card instructions are available in each individual post.
Lemon Lime Soda can be replaced with fresh lemon juice and soda water if you prefer to not use soda pop.
We have seen blue food coloring used to color white rum and other clear liquors but tend to use blue curacao instead.
Nutrition information, including calories, protein, calcium, carbohydrates, fiber, vitamin c, potassium, cholesterol, sodium, trans fat, monounsaturated fat, polyunsaturated fat, and more, will vary depending on the products used.
Additional Cocktail Collections
National Tequila Day Cocktails - Check out all of our favorite tequila cocktails.
Frangelico Drinks - Epic Guide to Frangelico Drinks! Everything you need to know to mix amazing Frangelico Cocktails that taste amazing!
Guinness Recipes - This collection of Guinness Recipes has everything from snacks to cocktails and everything in between. You can prepare an entire meal with Guinness Recipes.
Grand Marnier Cocktails - We have answered your most important questions about this premium French liqueur and shared our favorite Grand Marnier Cocktails.
Fireball Whisky Cocktails - Epic Guide to Fireball Cinnamon Whisky! This cinnamon-flavored whiskey has become one of the most popular mixers to use.
Epic Guide to Midori Cocktails and Liqueur including great drinks to make, how to store Midori, and more.