I have to admit that interviewing Steven Spielberg is not something I ever could have imagined being able to do. When the news came that we would be talking with him I had to take a moment to just soak it all in. My brain started to race wondering what he would be like, what questions should I ask, and so many other things.
Our interview with Steven Spielberg and Ruby Barnhill was the first interview of the day. We dove in head first to kick off the day. AND it was amazing!!!!
Walking in you could easily see how well Steven Spielberg and Ruby Barnhill get along. He had his hand on her shoulder as they walked in. There was almost a fatherly/grandfatherly feeling about their interactions. Both smiling and just having fun.
Our interview was so much fun! So much laughter, happiness and joy in talking about the movie. Ruby Barnhill is one to watch!!! She is so sweet and genuine!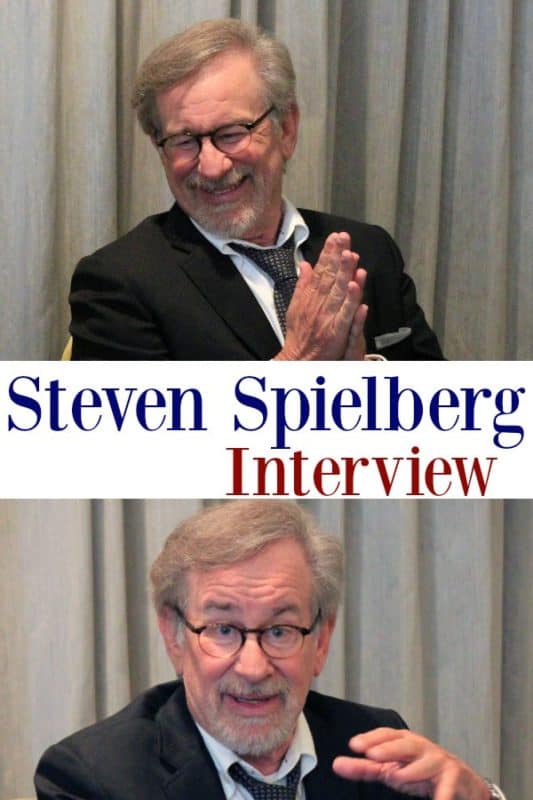 Mr. Spielberg told us that he had been on the hunt for the perfect Sophie for over eight months. He was almost to the point of having to pick someone that didn't touch his heart or make him super excited when he saw Ruby's audience. He knew that they had found the perfect Sophie. He said that his life changed for the better when he saw Ruby's audition.  This was all during the filming of Bridge of Spies and he had to pause for a moment to just enjoy the excitement of finding the perfect Sophie.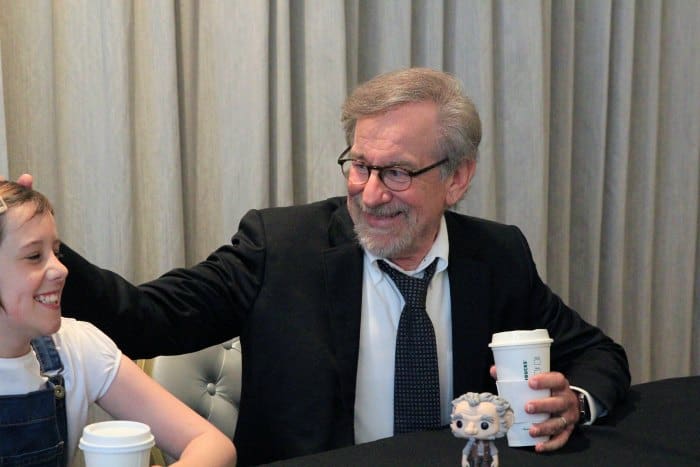 Ruby said when she found out she was beyond excited. Her dad also plays a roll in the movie which I think is so cool. Ruby said that she went to the theater and thought it was so cool hearing people talk about the movie and not know who she was.
We asked Ruby what it was like to work with Steven Spielberg. She had the sweetest answer telling us how much she learned from him and how he helped her not only with acting but also with life. She talked about learning to make mistakes and that was ok and needed in the process of making a film.
Mr. Spielberg told us that he doesn't call them mistakes he calls them happy accidents.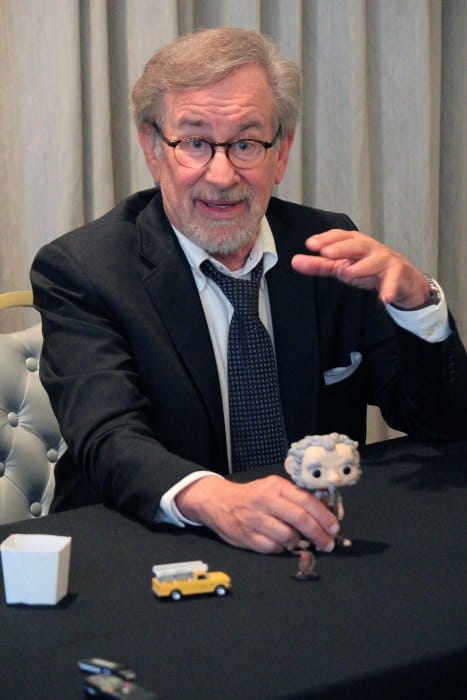 When asked how he felt about his movies impacting multiple generations we could tell just how happy and genuine Mr. Spielberg is. His response was amazing!
I have a very large extended family.  And I didn't even understand when I was first starting out making movies about the power that film has.  I wasn't really appreciative or even aware of the outreach of cinema until I was actually older.  I thought Jaws was just a freak of nature, that that would never happen again.  And then when ET suddenly happened and lightning suddenly struck twice, I realized that cinema, outlives the filmmakers. And that was everything and becomes a part of the extended family of people from all walks of life who speak different languages and believe in different things, 'cause sometimes movies come along that make you see the same thing with the same feeling.  And it doesn't matter what, what languages we share or who we are and what our backgrounds are, sometimes a feeling can be communicated all over the world without any signage.

That power that film has is something that intimidates me and I respect it a lot, but it also scares me, because it's pretty awesome when that happens.
The BFG is Steven Spielberg's first movie with Disney. He talked a lot about how much of an impact Disney has had on his childhood and his movie making career.
My favorite part of the entire interview was the moment Mr. Spielberg talked about how we all need to give more hugs! I wanted to hug him at this moment!
"I just want people to understand how important it is to both give and receive hugs," Spielberg said. "It doesn't matter how different the person looks or how tall they are or how short they are or what color they are or what language they speak or what their different beliefs are, we all need to hug each other. And we have to hug each other more when we're so different from each other."
This message is so important and I wish I could shout it from the rooftop of a building and spread it around the world. While doing that might get me in a bit of trouble I can share it with all of you!
From Mr. Spielberg to the rest of the world.... HUG EACH OTHER!
So my challenge to each of you is to take time today to hug the people you love and share your joy with them!! Spread Joy!
OFFICIAL BOILERPLATE: The talents of three of the world's greatest storytellers – Roald Dahl, Walt Disney and Steven Spielberg – finally unite to bring Dahl's beloved classic "The BFG" to life. Directed by Spielberg, Disney's "The BFG" tells the imaginative story of a young girl and the Giant who introduces her to the wonders and perils of Giant Country. The BFG (Mark Rylance), while a giant himself, is a Big Friendly Giant and nothing like the other inhabitants of Giant Country. Standing 24-feet tall with enormous ears and a keen sense of smell, he is endearingly dim-witted and keeps to himself for the most part.
Giants like Bloodbottler (Bill Hader) and Fleshlumpeater (Jemaine Clement) on the other hand, are twice as big and at least twice as scary and have been known to eat humans, while the BFG prefers Snozzcumber and Frobscottle. Upon her arrival in Giant Country, Sophie, a precocious 10-year-old girl from London, is initially frightened of the mysterious giant who has brought her to his cave, but soon comes to realize that the BFG is actually quite gentle and charming, and, having never met a giant before, has many questions.
The BFG brings Sophie to Dream Country where he collects dreams and sends them to children, teaching her all about the magic and mystery of dreams. Having both been on their own in the world up until now, their affection for one another quickly grows, but Sophie's presence in Giant Country has attracted the unwanted attention of the other giants, who have become increasingly more bothersome. Sophie and the BFG soon depart for London to see the Queen (Penelope Wilton) and warn her of the precarious giant situation, but they must first convince the Queen and her maid, Mary (Rebecca Hall), that giants do indeed exist. Together, they come up with a plan to get rid of the giants once and for all.
Directed by three-time Academy Award® winner Steven Spielberg ("Bridge of Spies," "Schindler's List," "Saving Private Ryan") from a screenplay by Melissa Mathison ("E.T.: The Extra-Terrestrial," "The Black Stallion") based on the best-selling novel by Roald Dahl, "The BFG" stars three-time Tony Award® and two-time Olivier Award winner Mark Rylance ("Bridge of Spies," "Wolf Hall"), newcomer Ruby Barnhill, Penelope Wilton ("The Best Exotic Marigold Hotel," "Downton Abbey"), Jemaine Clement ("Rio 2," "The Flight of the Conchords"), Rebecca Hall ("The Gift," "Iron Man 3"), Rafe Spall ("The Big Short," "Prometheus") and Bill Hader ("Inside Out," "Trainwreck").
The film is produced by Spielberg, Frank Marshall ("Jurassic World," "The Bourne Ultimatum") and Sam Mercer ("Snow White and the Huntsman," "The Sixth Sense") with Kathleen Kennedy ("Star Wars: The Force Awakens," "Lincoln"), John Madden ("The Best Exotic Marigold Hotel," "Shakespeare in Love"), Kristie Macosko Krieger ("Bridge of Spies," "Lincoln"), Michael Siegel ("Charlie and the Chocolate Factory," "Rise of the Guardians"), Frank Smith and Naia Cucukov serving as executive producers.
"The BFG" opens in U.S. theaters on July 1, 2016, the year that marks the 100th anniversary of Dahl's birth.
Additional Disney Articles
Disney Animator Mark Henn Interview
Ralph Breaks the Internet Premiere
Check out all of our Disney Articles