During my trip to LA last month I had the amazing opportunity to talk with Disney Legend Floyd Norman.  Floyd is truly a Disney Legend! He has worked on 101 Dalmatians, Mickey Mouse Clubhouse, Sleeping Beauty, The Jungle Book, The Hunchback of Notre Dame, Mulan, Dinosaur, and The Tigger Movie!
Floyd even moved north to Pixar Studios to work as part of the story crew for Toy Story 2 and Monsters, Inc.. Floyd shared with us the history of working at Disney and what it was like to have Walt Disney as a boss.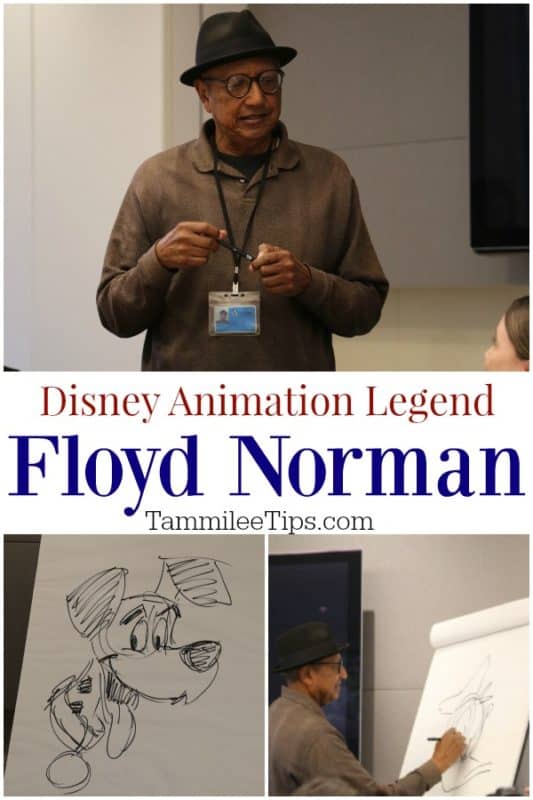 Disney Legend Floyd Norman
One of my favorite parts of our interview was when Floyd gave us a drawing lesson! It was amazing to see him sketch out the characters and have them come to life on paper. I took a quick video of him sketching Mickey Mouse so everyone could see it!
How cool is that to see! Can you imagine what his random doodles are like when he is just sketching for fun.
I could sit and watch him draw for hours.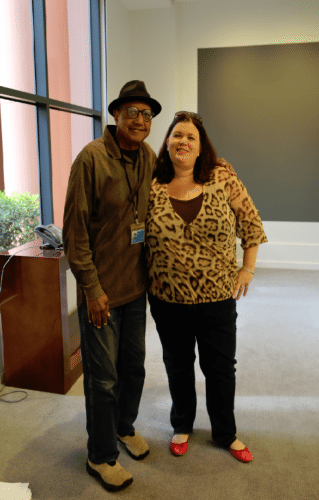 One of the things I loved about visiting with Floyd Norman was how positive, uplifting, and excited he was during our interview. You could feel his passion for Disney and sharing the art of Disney as he talked to each of us.
It was amazing to hear that Floyd actually retired from Disney for a while but came back because he was hanging around the animation studios so much he figured he might as well go back to work.
Floyd is also the author of Animated Life: A Lifetime of tips, tricks, techniques, and stories from an animation Legend (Animation Masters)
.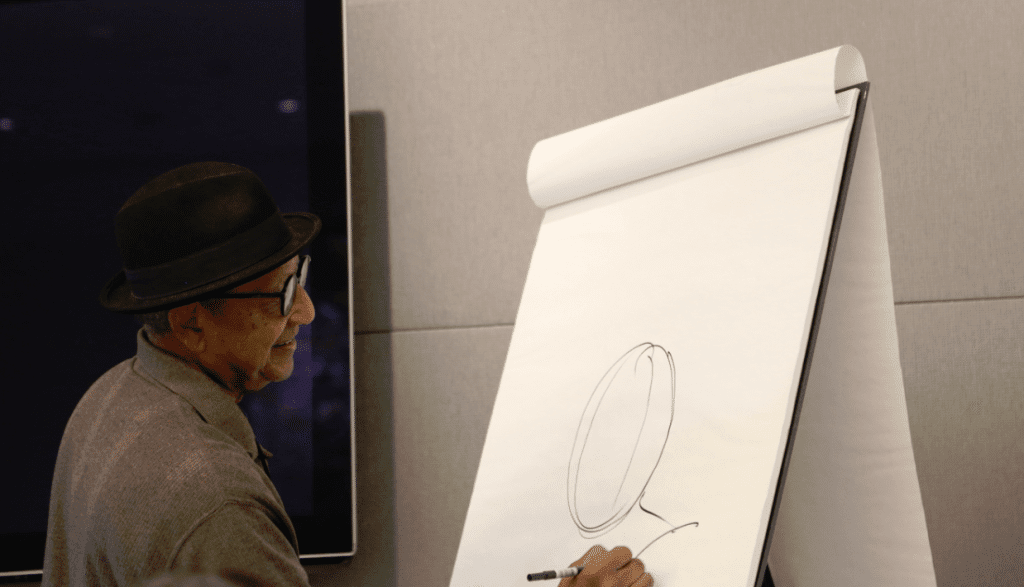 Can you guess from this picture which character Floyd Norman is drawing?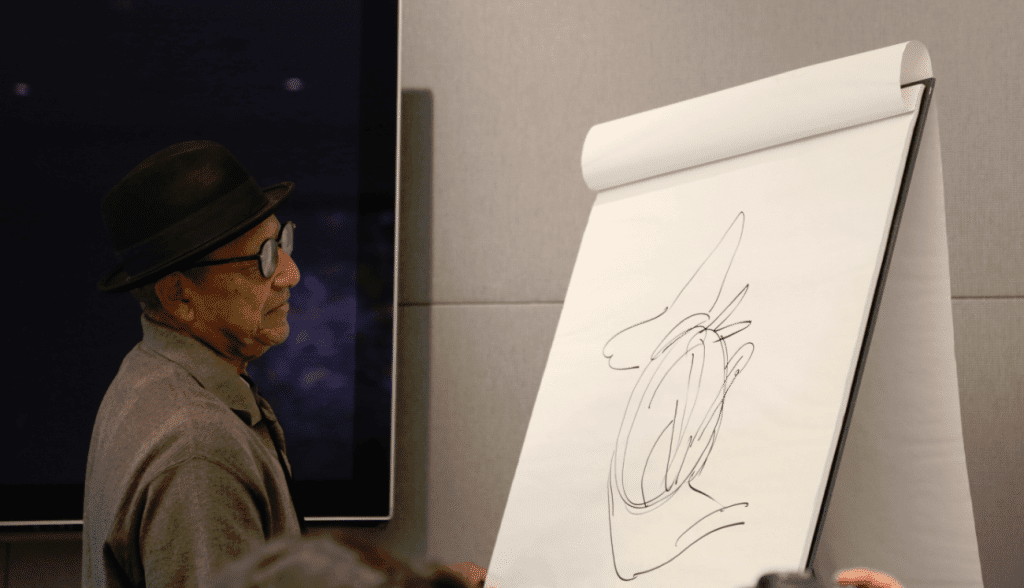 If you guess Daffy Duck you are correct!
Talking with Floyd Norman reminded me that dreams do come true and hard work really does pay off. Growing up Floyd Norman dreamed of working for the Walt Disney Company. After high school he applied for a job with Disney. He was told to go to college. Floyd went to school and re-applied for Disney. In February 1956 Floyd was sitting at home watching the Mickey Mouse Club on a Friday afternoon when he got the call asking if he could be at Disney on Monday morning.
Floyd said it was a magical opportunity to work with Disney. He said that Walt Disney had a way of choosing a job for you. That he would surprise you with the job he chose.
While working in animation Walt Disney says Floyd's drawings and told him he would be working on a story. His first job in the story department was on the movie Jungle Book.
Floyd said that Walt Disney knew us better than we knew ourselves!
During our interview, we talked about the Disney movie 101 Dalmatians. Floyd said that 101 Dalmatians came together at the right time. Technology made a huge impact in the making of the movie. It was a 2-year production to create 101 Dalmatians.
Floyd described Walt Disney as progressive, a visionary, a leader, and a father figure. He said that when you join Disney you are part of the Disney Family.  Disney is a family with multiple generations of families working at Disney. Family is what makes the company great.
Floyd reminded us to bring joy to audiences, to put the fun in your drawings, and to have fun!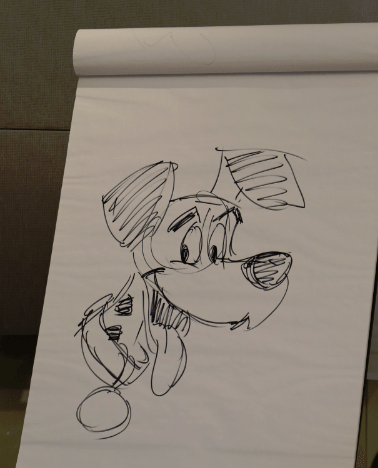 We met with Floyd to celebrate Disney releasing 101 Dalmatians on Blu-ray and Digital HD this week! Make sure and pick up your copy of 101 Dalmatians: Diamond Edition to see the great footage of Floyd talking about creating 101 Dalmatians along with other great features!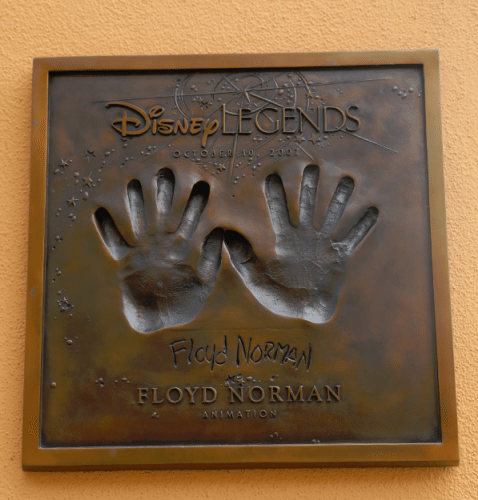 Additional Disney Articles
Angelina Jolie interview for Maleficent
Check out all of our Disney articles.