Wallace, Idaho is a quirky North Idaho town that considers itself the Center of the Universe. This cute historic town has been the world's largest silver producer for over 100 years.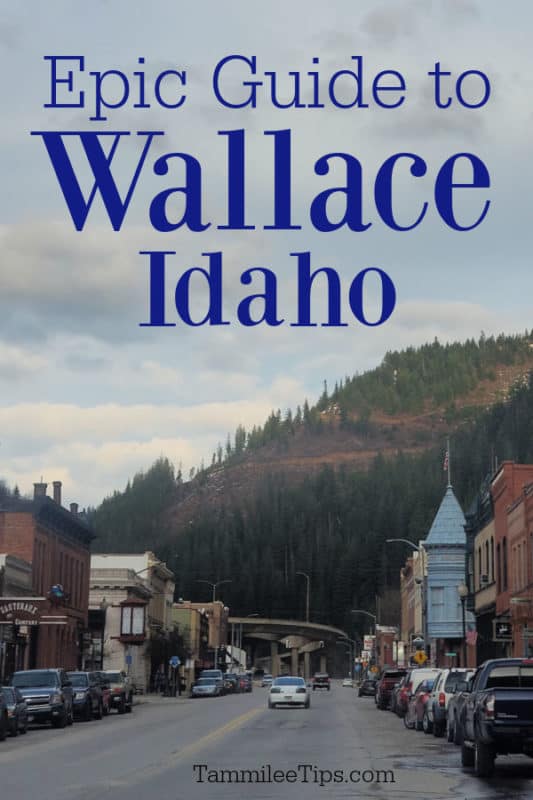 Epic Guide to Wallace, Idaho
The town of Wallace, Idaho is one of only four cities in the United States that is entirely listed on the National Register of Historic Places.
This historic town has been featured in multiple movies including Dante's Peak with Pierce Brosnan and Linda Hamilton along with Heaven's Gate with Kris Kristofferson, Christopher Walken, Jeff Bridges, and Micky Rourke.
Wallace Idaho Weather
Wallace is located in the Silver Mountains of Idaho and definitely gets snow in the winter and rain at other times of the year.
On average Wallace receives 82 inches of snow every year. They also receive 38 inches of rain on average every year.
Thankfully on average Wallace receives 167 days of sunshine each year. Being in the mountains the summer highs are only about 81 degrees making it a great town to explore during the heat of summer.
Summer definitely offers the best weather if you are looking for warm temperatures.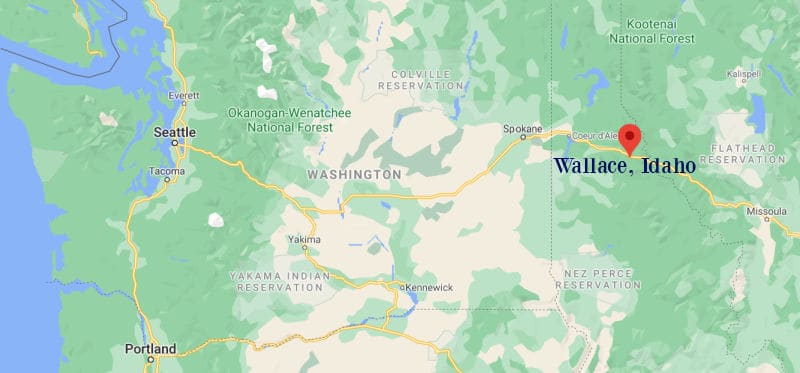 Where is Wallace, Idaho
Wallace is located on the Idaho Panhandle in Northern Idaho along Interstate 90 close to the Idaho/Montana border.

Top Things to do in Wallace, Idaho
Wallace, Id is the perfect place to explore the Silver Valley and Bitterroot Mountains. The entire town is worth exploring and checking out the historic buildings.
From the 1902 Northern Pacific Railroad Depot Museum to the 1891 Kelly Building which is thought to be the oldest wood-frame structure in the business district.
Make sure to plan time to wander around town and check out the historic buildings. The Wallace Visitor Guide has a great walking tour map and info on the historic buildings.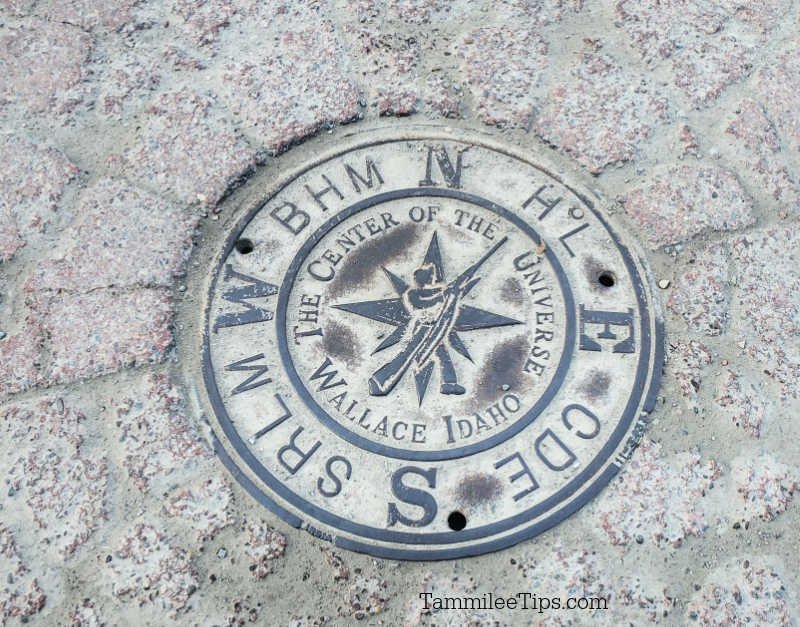 Center of the Universe
Wallace considers itself the Center of the Universe and has a manhole cover at the center of Bank and Sixth Street in downtown Wallace.
One thing to know is the Center of the Universe manhole cover is in the middle of the intersection. There are signs at each corner pointing towards the cover.
You will want to be very careful with traffic when you go to get a pic of the Center of the Universe.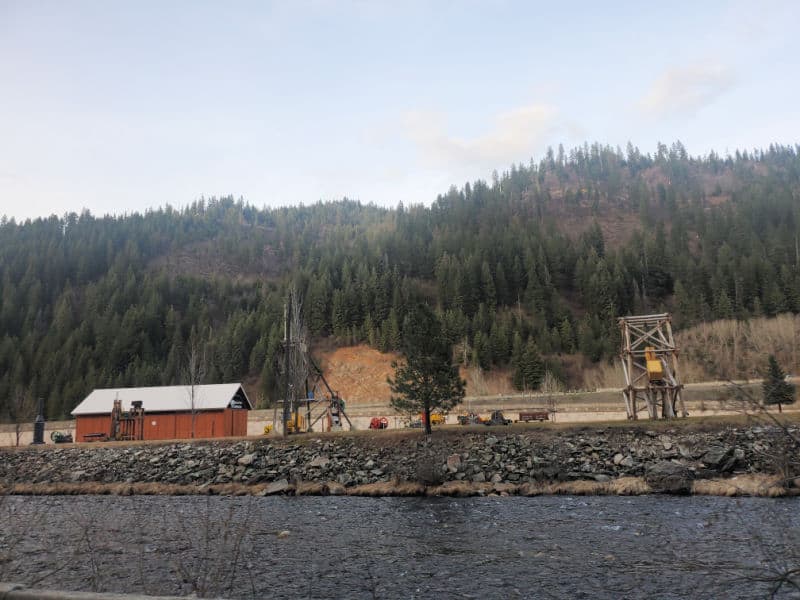 Mining Heritage Exhibition
The Mining Heritage Exhibition is a free hands-on exhibit that gives you an opportunity to learn about mining equipment and the mining history of Wallace.
The Wallace Idaho Chamber of Commerce has an office in the parking lot next to the Mining Heritage Exhibition if you want information on the area.
There are restrooms easily accessible from the parking lot. There is also a firemen memorial next to the parking lot.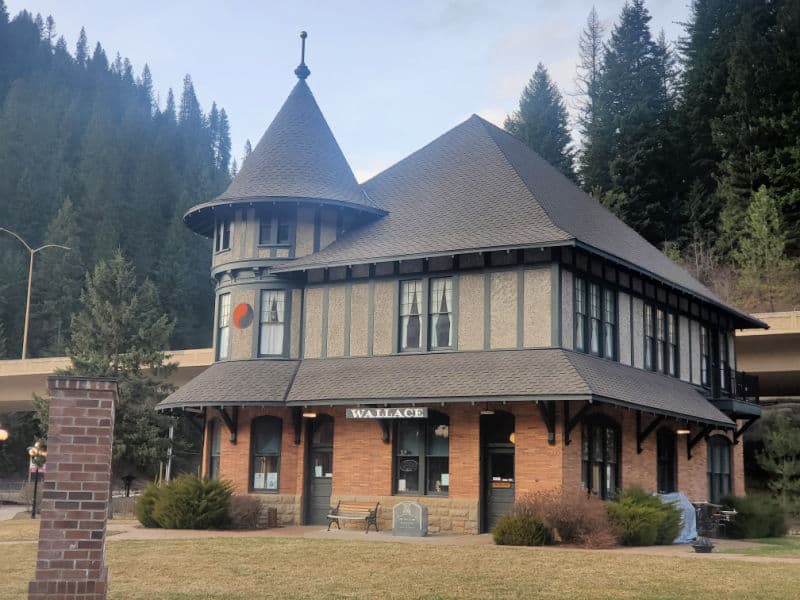 Northern Pacific Railroad Depot Museum
The Northern Pacific Railroad Depot Museum is a 1901 built chateau-style railroad depot and grounds.
The railroad depot has been beautifully restored and tells the history of Wallace in a gorgeous setting.
Wallace Mining Museum
The Wallace Mining Museum has been on Travel Channels Mysteries of at the Museum show multiple times.
The museum has an amazing mock mine to show you what it is like to work in the silver mining district.
Sierra Silver Mine Tour
The Sierra Silver Mine Tour starts with a trolley ride through Wallace before continuing to the Sierra Silver Mine located a mile outside of town.
Retired miners work as guides and lead you into a former working silver mine.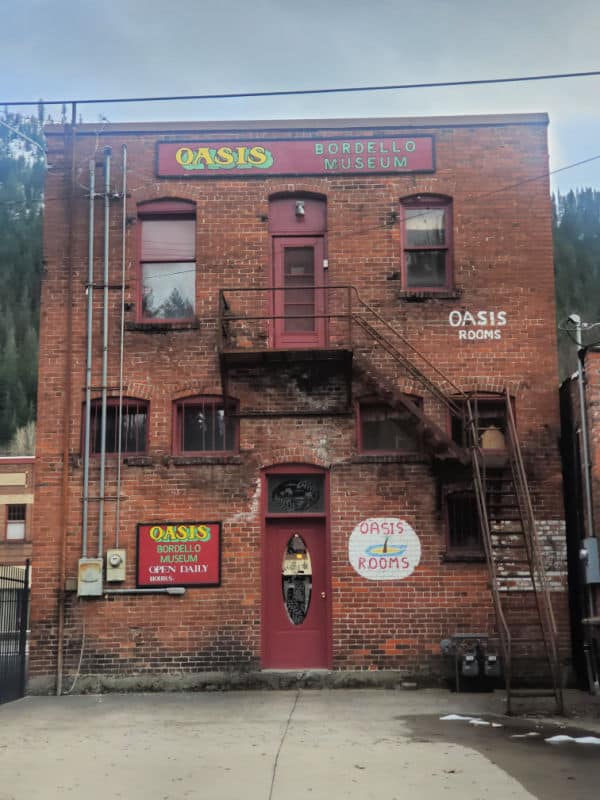 Oasis Bordello Museum
Yes, you read that right! There is a bordello museum in the heart of historic Wallace. The bordello closed in 1988...when the residents left in a hurry.
They left personal items, furnishings, and even groceries on the counter. There are three stories of bordello history and local Wallace history.
The tours are presented for all ages.
Route of the Hiawatha
The Route of the Hiawatha starts at Lookout Pass on the Montana/Idaho state border. The trail winds its way through 15 miles of epic scenery including 10 tunnels and 7 railroad trestles.
The best part is the trail is downhill with a gentle 1.6 percent average grade that drops 1,000 feet over the 15 miles.
There are interpretive and historical panels along the trail perfect for learning more about North Idaho.
You can set up a shuttle to take you and your bike to the start of the trail.
Trail of the Coeur d Alene's
The Trail of the Coeur d Alene travels over 70 miles of well-maintained asphalt trail. You can start the trail in Wallace at
Sixth Street under the I-90 freeway.
The Trail of Coeur d Alene has 17 scenic waysides with picnic tables to relax and enjoy a great break.
Wallace Silver Streak Zipline
There are 10 ziplines at Wallace Silver Streak Zipline ranging in size from 1 to 6 football fields. They also have mountain bike trails and gorgeous grounds.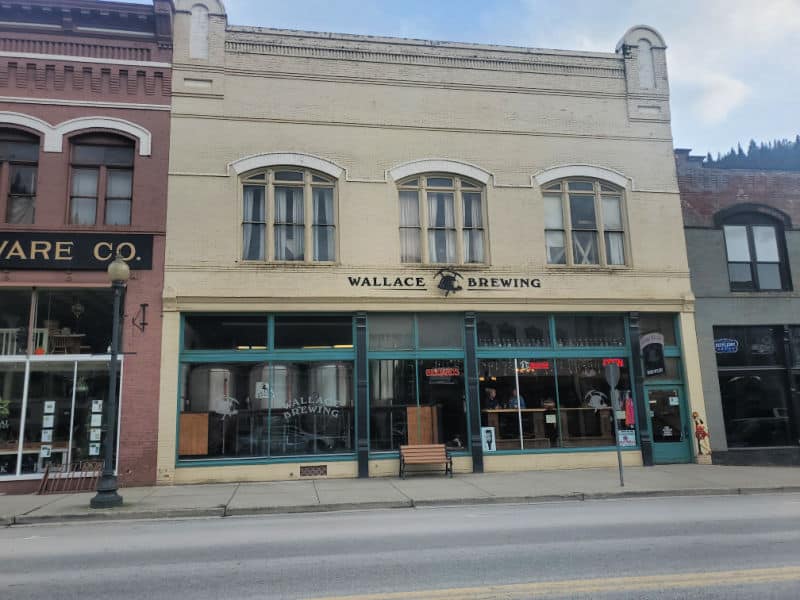 Wallace Brewing
Wallace Brewing names their beers with mining and bordello-inspired names including Dirty Blonde, Redlight Irish Red Ale, and Jackleg Stout.
Miners Memorial Statue
The miners memorial statue is located 7 miles outside of Wallace. This memorial commemorates the 91 men who lost their lives in the 1972 Sunshine Mine disaster.
The Miners Memorial Statue is located off of exit 54 on I-90 at Big Creek.
Wallace Restaurants
When it comes to restaurants Wallace is 100% local! There are no chain restaurants in town.
There is a wide variety of restaurants in Wallace including SLAB Meat Company which is a food truck in a bus, Muchachos Tacos, Blackboard Cafe, Red Light Garage, and the Fainting Goat Wine Bar.
Wallace Idaho Hotels
The Wallace Inn is the largest hotel in Wallace, Idaho with 63 rooms. They are a AAA 3 Diamond property with an indoor pool and saunas. There are 63 air-conditioned rooms featuring refrigerators. Complimentary wireless Internet access keeps you connected, and cable programming is available for your entertainment. Private bathrooms with shower/tub combinations feature complimentary toiletries and hair dryers. Conveniences include desks and coffee/tea makers, as well as phones with free local calls.
The Stardust Motel has an amazing sign that looks like it came from Route 66. The hotel looks like it has a retro feel.
Lux Rooms at The Silver Corner
This may be the most unique hotel in Wallace! You can rent a former bordello room.  The Lux Rooms offers unique amenities ranging from Ginger's room with two full-sized beds to Cha Cha's and Frenchie's rooms with full beds and shared baths. The 7 bedrooms and 8 beds can comfortably accommodate up to 16 guests.
Due to the historically themed nature of the hotel, there is adult content including artwork and reading materials throughout the premises.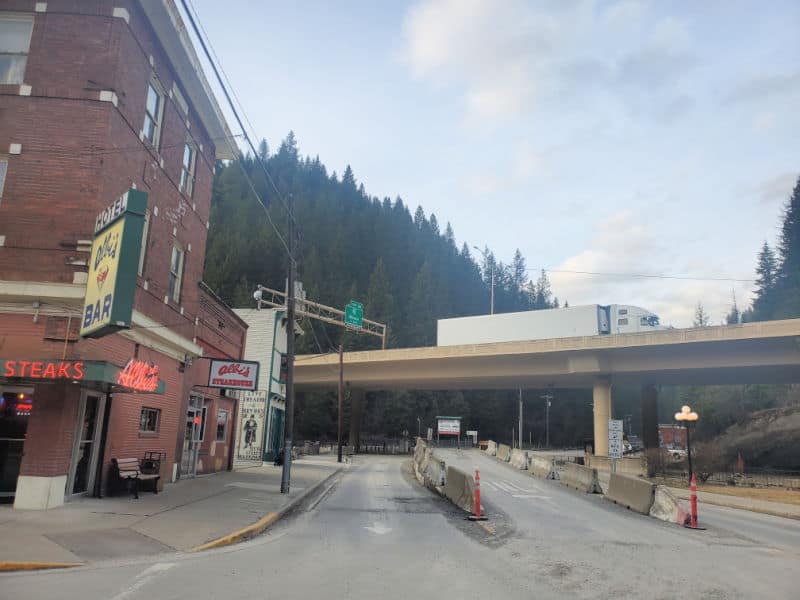 How to get to Wallace, Idaho
By Air - The closest major airport is Spokane International Airport (GEG)
There is also a smaller airport Pullman–Moscow Regional Airport approximately 75.2 miles from Wallace
Missoula International Airport is approximately 94.6 miles from Wallace
By Car - Wallace is located right off of I-90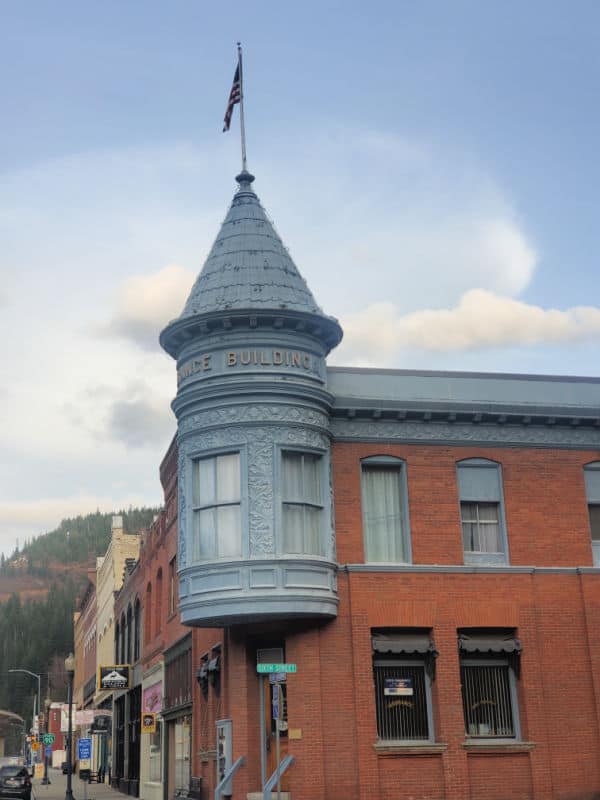 Distance to Wallace
Seattle - 369 miles
Spokane - 79 miles
Sand Point, Idaho - 91 miles
Coeur d'Alene, Idaho - 47 miles
Yellowstone National Park - 417 miles
Glacier National Park - 210 miles
Missoula, Montana - 114 miles
Butte, Montana - 234 miles
Bozeman, Montana - 319 miles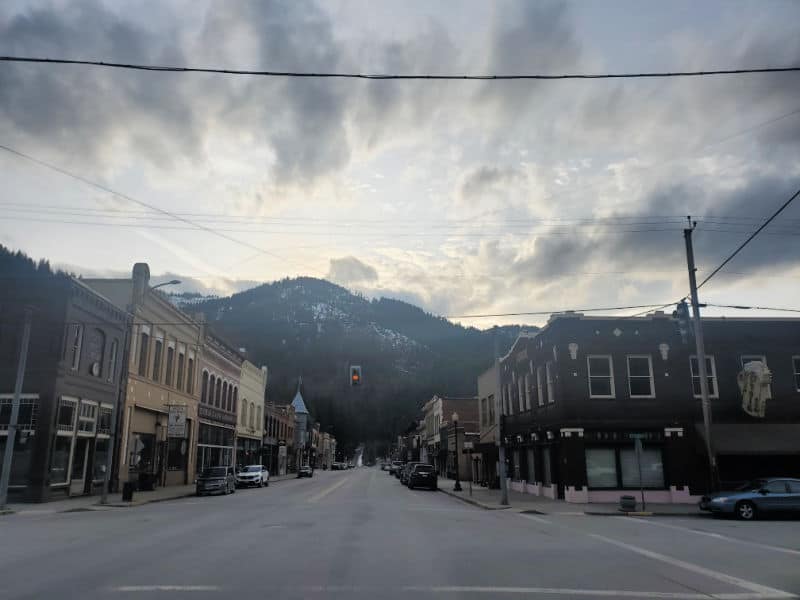 Additional Pacific Northwest Articles
50,000 Silver Dollar Bar - located in Haugen, Montana is a great place to stop on your trip.
Tips for visiting Glacier National Park
Things to do in Leavenworth, Wa
Things to do in Stanley, Idaho
Check out all of our Washington State, Idaho, and Montana articles
Visit the Wallace Chamber of Commerce for more local information.