Epic Things to do in Coeur d'Alene, Idaho the heart of north Idaho! These are the top attractions, hotels, restaurants, and things you do not want to visit while enjoying time in CDA!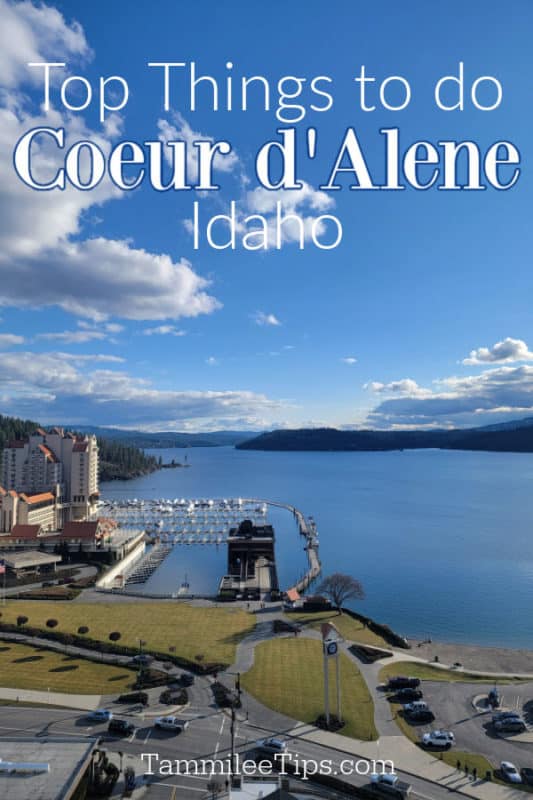 Things to do in Coeur d' Alene, Idaho
Coeur d'Alene, which means Heart of Awl in French, is the ideal destination for your next Pacific Northwest Getaway as it offers epic lake adventures, amazing restaurants, and fantastic things to do. Be it a nature adventure, sightseeing, exploring historical sites, or relaxing, the city offers it all.
Coeur d'Alene's culture and community also draw a large population. The lakefront downtown zone, where various local stores, restaurants, and open spaces capture the eye, is the epicenter of the city.
Make the most of your trip to Coeur d'Alene by checking out our list of the best things to do in Coeur d'Alene.
We live about an hour outside of CDA and love spending time on the lake and exploring the area. There is something for everyone in North Idaho.
There are over 125 retail stores, epic restaurants, and, and so much more to do in Coeur d'Alene, Idaho.
Enjoy a Fantastic Nature Retreat at Lake Coeur d'Alene
Lake Coeur d'Alene is one of Idaho's most beautiful lakes and one of the state's biggest natural lakes. The 25-mile lake's shores are lined with campgrounds, hiking paths, and beaches, and popular water activities include kayaking, jet skiing, fishing, kite surfing, and launching a watercraft at one of twelve public boat launches.
The most developed location for tourists is the northern side of Lake Coeur d'Alene, which provides a lovely background for the city.
Tubbs Hill and Coeur d'Alene City Park, both near the water, provide magnificent views across the lake and toward the opposing mountain ranges. Other places to visit near the water are McEuen Park and The Coeur d'Alene Resort.
Spend the Evening at McEuen Park
McEuen Park is the city's main public area and a great spot to spend the day with the whole family.
The park is home to the city's largest playground, as well as basketball courts, beautiful pavilions, and a leash-free dog park. Tossing Frisbees, picnicking, and lying down are all possible pastimes in the vast green space.
The bike trails and pedestrian routes that go through the park's extensive green area are lined with public art. A stunning grand plaza area with planted waterfalls and flower beds are among the other eye-catching additions.
During the day, a neighboring Veterans Memorial provides a tranquil setting for introspection.
The trailhead for Tubbs Hill is located near the lake in the park's southwest section. One of the greatest places in town to see the sunset is on this renowned trail system.
In addition, the nearby Rotary Harbor House offers summertime refreshments and seats with a view of the lake.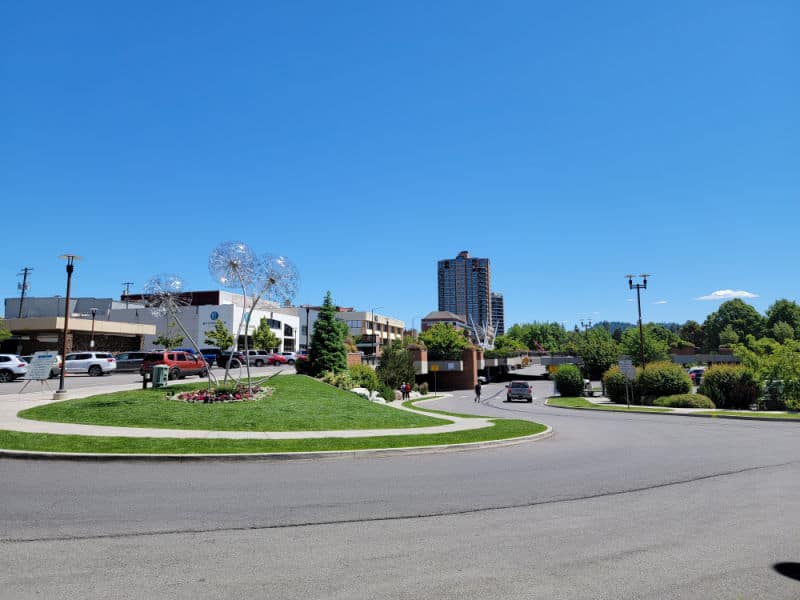 Wander through Coeur d'Alene's downtown area
Downtown Coeur d'Alene was founded in 1888 and is a busy center with more than 100 shops and restaurants to visit.
The streets of downtown Coeur d'Alene are usually bustling with activity, including shopping, restaurants, and live entertainment.
Over 100 retail establishments, including specialty boutiques, fine art galleries, and antique stores for unusual treasures, are located in the downtown district, which is flanked by a beautiful waterfront environment.
Breakfast options such as The Garnet Café are accessible all day, while fine dining options such as Beverly's are available in the evening.
Since 1907, Hudson's Hamburgers, another Coeur d'Alene classic, has served Huddy Burgers. This iconic no-frills burger establishment should be included in any tour.
Bike on the Centennial Trail
The Centennial Trail, also known as the Coeur d'Alene Centennial Trail, is approximately 23 miles long. It's paved, beautiful, and well-kept. If riding is one of your favorite stress relievers, the Centennial Trail is the place for you.
The Centennial Trail spans from the Idaho/Washington border to Higgins Point on Lake Coeur d'Alene's eastern shoreline. Bicycling is a major mode of transportation on the path, but walkers, joggers, and strollers are all typical sights.
Heyburn State Park, McEuen Park, and Mineral Ridge Picturesque Area are among the scenic destinations along the Centennial Trail, which was once a railroad route.
The route links with the Spokane River Centennial Trail in Washington, which leads to some of Spokane's most popular sites, including Riverfront Park.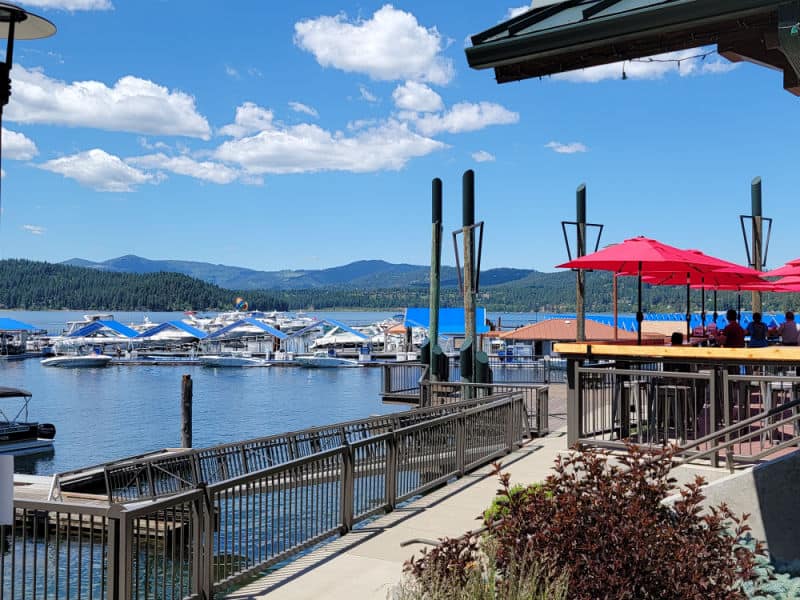 Enjoy the Pleasant Weather at Coeur d'Alene City Park
Coeur d'Alene City Park has 16 acres of beach and manicured green area, as well as a fun playground, and is located on the riverside west of downtown. A tree-lined cement promenade connects the beach and open area and is ideal for afternoon strolls.
The beach area provides a gorgeous backdrop with passing boats on the lake and seaplanes landing on the water.
Enjoy the floating boardwalks through the marina to see amazing boats and views of the lake. There are fantastic picnic areas for enjoying a relaxing afternoon in CDA.
Inside the municipal park, the newly reconstructed Fort Sherman Playground, which is historically themed, is a big draw for both young children and their parents.
Coeur d'Alene City Park is a hub for local attractions and activities and holds a variety of events.
Two of the park's attractions are movies in the park and live music in the bandshell. Visitors can continue their journey to North Idaho College's campus by following the North Idaho Centennial Trail through the park.
Buy Fresh Produce from Farmers' Market in Kootenai County
Every Wednesday and Saturdays, the Kootenai County Farmer's Market which was created in 1986, takes place. It features live music as well as at least 100 merchants offering a variety of farm-fresh items.
The Kootenai County Farmers' Market offers a diverse selection of high-quality fruits and vegetables. Summer fruits like cherries and strawberries cover the benches, while winter fruits like luscious apples, oranges, and bananas are ready to be added to your cart.
There is also a selection of fresh and high-quality dairy products, such as milk and cheese, as well as bread and other grain-based items to pick from.
Plants to beautify your house, fresh-cut flowers, and unique arts and crafts created by the best local artisans are also available.
Parasailing over the Lake Coeur d'Alene
Parasailing over Lake Coeur d'Alene in Idaho is an exciting and unforgettable experience. As you float about 600 feet above the water, the beauty of the region unfolds beneath you, providing a tranquil and unique experience.
Parasailing allows you to get up close and personal with the air, wind, and water, and CDA Parasail is the finest place to try it out.
Their personnel is qualified and well-trained, and their equipment is kept up to date and inspected on a daily basis. CDA Parasail enjoys meeting people from all over the world as an international parasailing hub. Give it a try! You'll love this place.
Pay a visit to the Museum of North Idaho
The Museum of North Idaho, which is located in Coeur d'Alene City Park and the downtown district, has multimedia displays highlighting the region's history.
The museum displays every aspect of Coeur d'Alene, from railroads to recreation, as well as logging history and Coeur d'Alene Tribal treasures.
Two of the most interesting permanent exhibits are photos and information about the 1941 Playland Pier and the introduction of hydroplane races on Lake Coeur D'Alene in 1958.
Other features of Coeur d'Alene are on display, including the Scandinavian explorers who arrived in the area and the municipal history of neighboring McEuen Park.
A few yards to the west, the museum also manages the historic Fort Sherman Chapel.
Coeur d'Alene Cellars Winery
CDA Cellars is a small winery that focuses on the fine art of wine. They produce 3,000 cases of wine a year.
The winery tasting room offers live music, paint nights, wine club events, and an amazing tasting experience.
Some of the wine varieties they produce include Cabernet Sauvignon, Merlot, Mourvèdre, Petit Verdot, and Syrah.
They are located near Downtown Coeur d'Alene just west of I-90.
Enjoy Mineral Ridge National Recreation Trail
Mineral Ridge is a historic and scenic area located east of town. It also contains a 3.3-mile National Recreation Trail that leads to Beauty Bay on Lake Coeur d'Alene.
Beginning at the trailheads, paved parking lot, and picnic shelters, the trail progressively ascends and switchbacks up Mineral Ridge. This walk is easy to moderate in difficulty, with a total elevation gain of roughly 700 feet.
The interpretative markers on the path corresponding to a guidebook published by the Bureau of Land Management. A brochure about the vegetation, fauna, and history of this early developed recreation area is usually available at the trailhead.
At the trailhead, there are also covered picnic shelters and vault toilets. Mineral Ridge's view of Lake Coeur d'Alene is well worth the drive.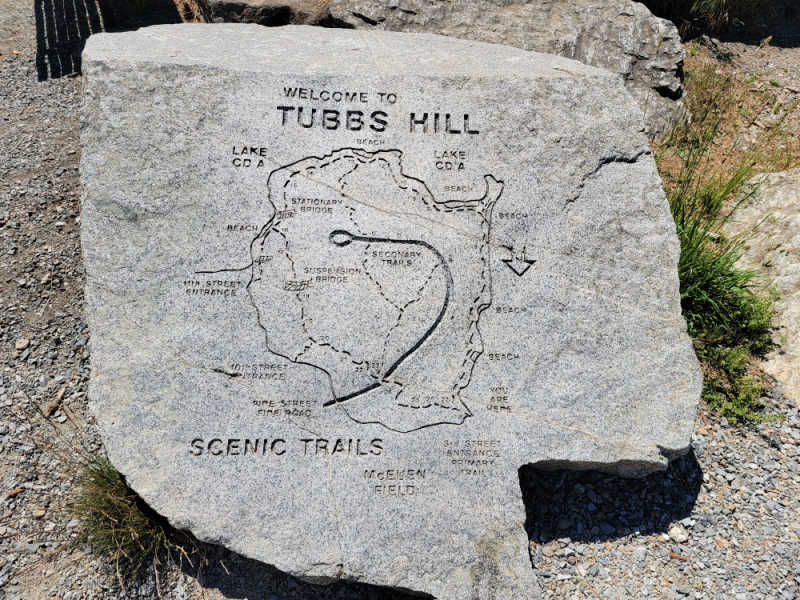 Hike at Tubbs Hill
Tubbs Hill is within walking distance from downtown. It is a steep peninsula that juts out from the north shore of Lake Coeur d'Alene and has water on three sides.
Tubbs Hill is a 165-acre park with miles of open-to-the-public pathways. These will lead you up through the coniferous forest to breathtaking lookouts and down to hidden gems along the coast, such as Tubbs Beach on the peninsula's southwest tip.
If you want to tackle the trails on two wheels, there are several bike rental companies nearby, including Coeur d'Alene Bike Co. and Coeur d'Alene Adventures, both of which supply electric bicycles.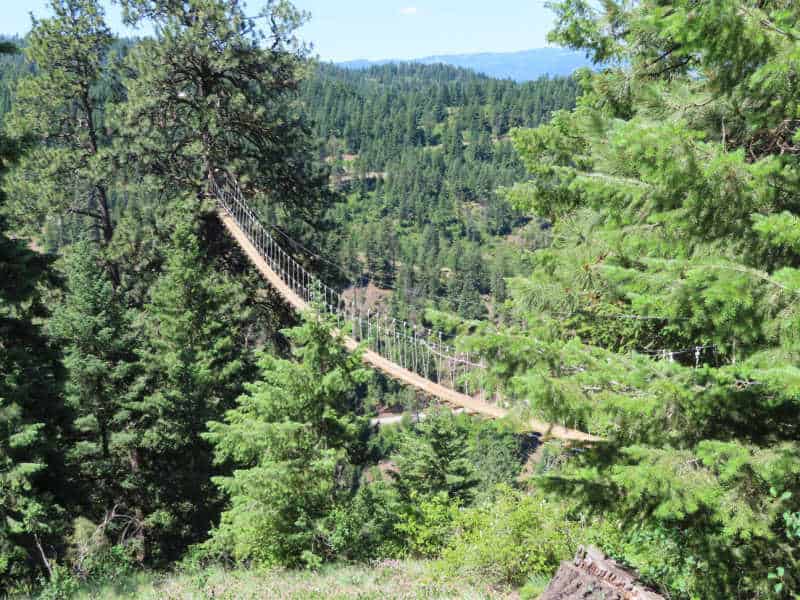 Outdoor Adventures at Timberline Adventures
This company, which has a storefront along the Coeur d'Alene beachfront, can help you take to the skies over the forested mountainsides 12 miles east of town.
Zipline through the canopy on seven beautiful zip lines, two exhilarating sky bridges, and two auto-belays, all with bird's eye views of Lake Coeur d'Alene.
You can choose between a 3.5-hour tour with all seven ziplines or a 90-minute tour with only four zip lines if you only have 90 minutes. A Treehouse lunch, 30 feet above the forest floor, is an excellent way to end your adventure.
Seven-Star Alpaca Ranch
Visitors can take guided or self-guided tours of a working alpaca farm on the scenic slopes east of Coeur d'Alene.
Seven Stars Alpaca Ranch is noted for its ridge-top location surrounded by coniferous forest, but it also offers a relaxing and educational agritourism experience
Huacaya and Suri alpacas, which are bred for their high-quality fleece and come in a range of colors, are kept on the ranch.
Llamas, goats, horses, chickens, rabbits, dogs, cats, and lovely little horses and mini-donkeys all live on the farm.
You can visit the paddocks with the goats, mini donkeys, rabbits, and chickens on a self-guided tour and see the rest of the animals via the gates.
Enjoy the day at Cherry Hill Park
Another beautiful open space is Cherry Hill Park, which is located on the other side of Interstate-90 northeast of downtown.
The park's features, which draw a huge population, include a leash-free dog park and a BMX track. A disc golf course with 18 holes is also available, which is a local favorite. Tennis and pickleball courts are also available.
The playground sections at Cherry Hill Park are very popular. The playground is built like a large firefighter's helmet and is designated as a 9/11 Memorial Playground.
The park's Fallen Warriors Plaza has interpretive material and memorials honoring fallen heroes from Idaho and beyond.
In the winter, Cherry Hill Park is a popular destination. Sledding and kid-friendly winter sports are popular on the huge hill close to the parking lot. After any snowfall in Coeur d'Alene, expect crowds of multi-colored sleds flying down the hill.
Brooks Seaplane Service Tours
Brooks Sea Plane has three different flying options. The Lake Coeur d'Alene Loop Trip is a 40-mile, 20-minute trip that covers the 25 miles of Lake Coeur d'Alene.
The aerial view of Coeur d'Alene, including the city, coastline, and river, as well as St. Joe and Spokane rivers, the Bitterroot Mountains, Washington Palouse, and Fernan Lake, will be a highlight of your vacation.
The Pend Oreille/Hayden Flight covers 80 miles in 40 minutes, starting north of Lake Coeur d'Alene and flying over Hayden Lake, Pend Oreille, and Farragut State Park. Charter service is provided for flights across Idaho, Montana, and Washington.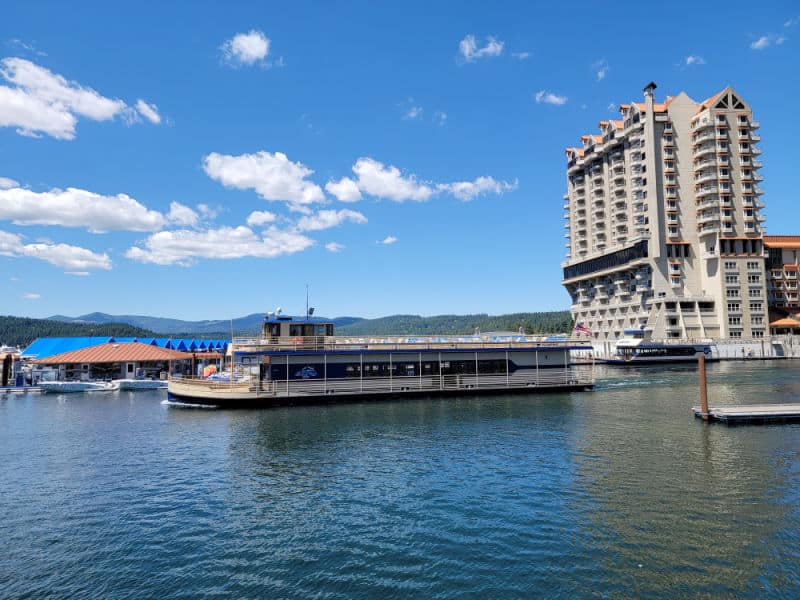 Lake Coeur d'Alene Cruise
The family cruise service on Lake Coeur d'Alene takes you along the lake's picturesque shores.
You'll also get the opportunity to see the gorgeous celebrity homes, play on the world's only great island golf course, and enjoy sunset dinners and Sunday brunches while learning about the history of the island.
There are superb winter delicacies, as well as New Year's Day celebrations, cruises to the North Pole, and amazing light shows, available over the Thanksgiving and Christmas holidays. During the winter they offer amazing Bald Eagle viewing cruises.
ROW Adventure Center
National Geographic has named the ROW Adventure Facility on Lake Coeur d'Alene, a pioneer adventure center, one of the greatest.
White water rafting tours on the Lochsa, Clark Fork, Spokane, Moyie, and St. Joe rivers are available.
Along with 1 day fishing trips including St. Joe River Fly Fishing and Coeur d'Alene River Fly Fishing.
Sightsee Coeur d'Alene National Forest
The Coeur d'Alene National Woodland is part of the larger Idaho Panhandle National Forests, which span 2.5 million acres of territory in Idaho, Washington, and Montana.
The woodland area offers a wide range of recreational activities throughout the year. Miles of multi-use roads, rustic campgrounds, freshwater lakes, and opportunities to fish, hunt, and explore nature are just a few of the popular recreational possibilities.
Hayden Lake is a 20-mile trip from Coeur d'Alene and one of the most popular forest recreation locations.
In secluded areas of the forest, such as the Little Guard Lookout rental cabin, unique overnight experiences may be experienced, while popular developed spots to stay include the Honeysuckle Inn.
Trail of the Coeur d'Alene's
Heyburn State Park, McEuen Park, and Mineral Ridge Picturesque Area are among the scenic destinations along the Centennial Trail, which was once a railroad route.

Walk the Mudgy Moose Trail
Walk this two-mile trail from Tubbs Hill through downtown CDA to learn about the story of Millie the Mouse who plays hide and seek with Mudgy the Moose.
Great Restaurants in Coeur d'Alene
There are a ton of great restaurants in CDA! From fine dining to casual restaurants you can find it all in Coeur d'Alene.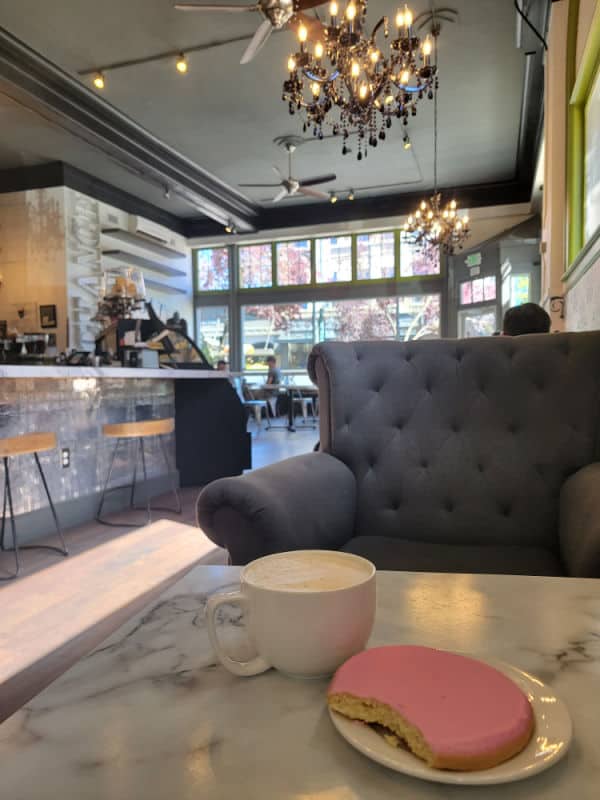 Vault Coffee
Vault Coffee is the perfect place to relax while exploring CDA, Idaho. They have comfortable chairs, amazing coffee and tea drinks, and their pastries are delish!
Address - 324 Sherman Ave, Coeur d'Alene, ID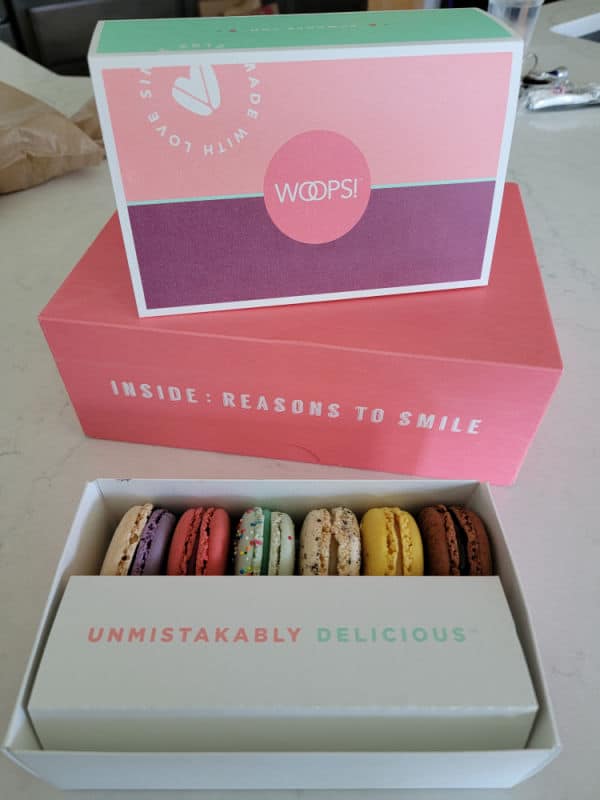 Woops Bakery and Coffee Shop
Woops I ate way to many Macarons...LOL! That is what I said after my last visit to Woops Bakery and Coffee Shop. Oh my goodness their pastries and macarons are divine! Plus they have the most amazing fun atmosphere and vibe. This is a bakery I wish was closer to our house so I could visit all the time.
Address - 119 N 4th St. Coeur D Alene - ID 83814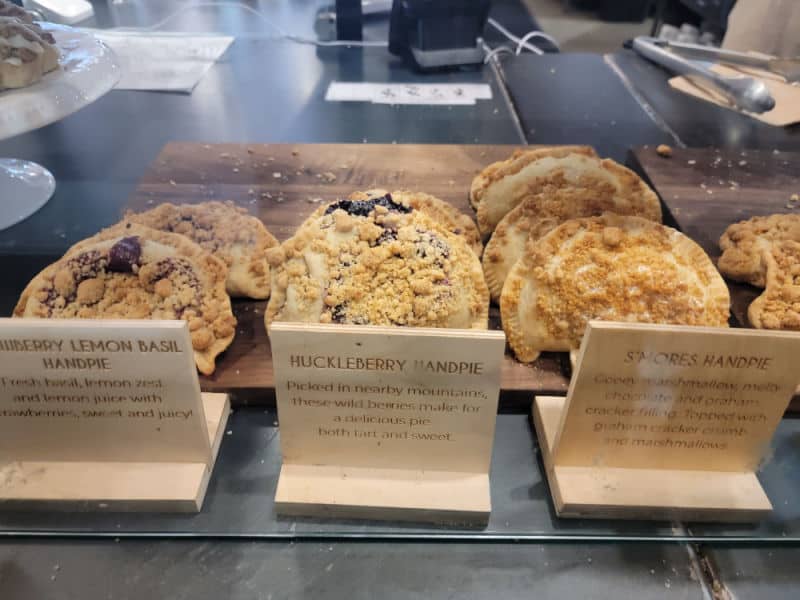 Evans Brothers and Bean and Pie
You can't go wrong with epic coffee and amazing pies! The combination of Evans Brothers Coffee Roasters with Bean and Pie bakery inside is dangerously delicious. I need you to try a huckleberry hand pie! They are the perfect PNW Dessert.
Address - 504 E Sherman Ave in Coeur d'Alene
Meltz Extreme Grilled Cheese
If you like oozy cheese grilled with delicious bread you are going to love Meltz Extreme Grilled Cheeze. They have a wide variety of sandwiches and everyone we have tried has been amazing.
You can create your own extreme grilled cheese or choose one of the menu. The oinker with BBQ pulled pork mac and cheese, bacon, and buttermilk fried onions is one of my husband's favorite sandwiches.
Address - 1735 W Kathleen Ave, Coeur d'Alene
Cedars Floating Restaurant
Cedars Floating Restaurant offers unbelievable views of Lake Coeur d'Alene. along with fresh fish and locally sourced beef.
The restaurant floats on 600,000 pounds of concrete encased Styrofoam. The entire restaurant weighs 1.2 million pounds.
Address - 1514 S Marina Dr, Coeur d'Alene
Beverly's
If you are looking for fine dining with an amazing view Beverly's is the restaurant you are looking for.
They are ranked as one of the top restaurants in the country. Located on the 7th floor of the Coeur d'Alene Resort this restaurant offers 5 star cuisine with epic views.
The restaurant has a 2 million dollars in wine inventory that you can learn more about on a complimentary wine tour for guests of the hotel and guest with a dinner reservation.
Address - 115 2. 2nd Street, Coeur d'Alene
Places to stay in Coeur d'Alene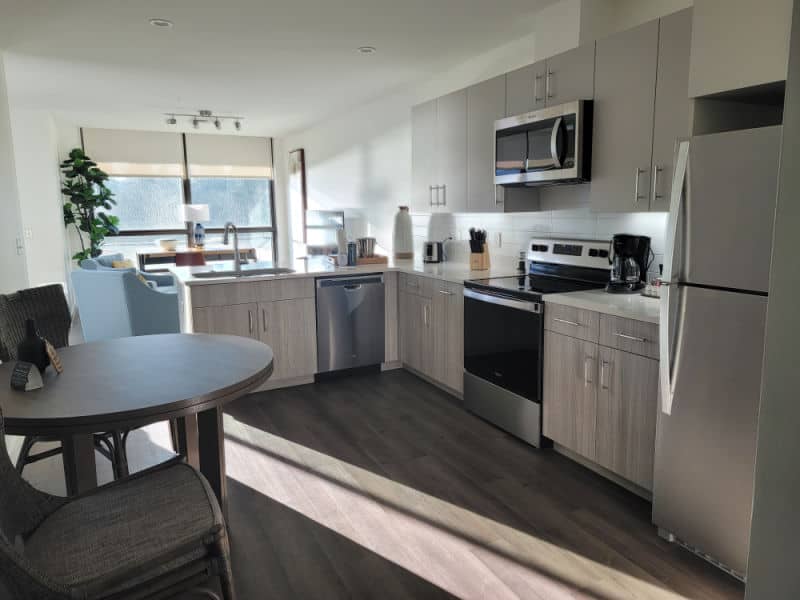 One Lakeside
One Lakeside offers unbelievable views of Lake Coeur d'Alene, super comfortable rooms, and easy access to downtown. We enjoyed a fantastic stay at One Lakeside and didn't want to leave the resort.
Each luxurious suite offers a kitchen, private bathroom, sitting area, and comfortable bedroom. Suites range from a single room to three bedroom lakeview suites.
There is a private underground parking garage so you don't have to worry about finding parking downtown CDA. There is an amazing rooftop terrace offering sweeping views of downtown and the lake.
This is a luxury resort perfect for weekend getaways and family vacations.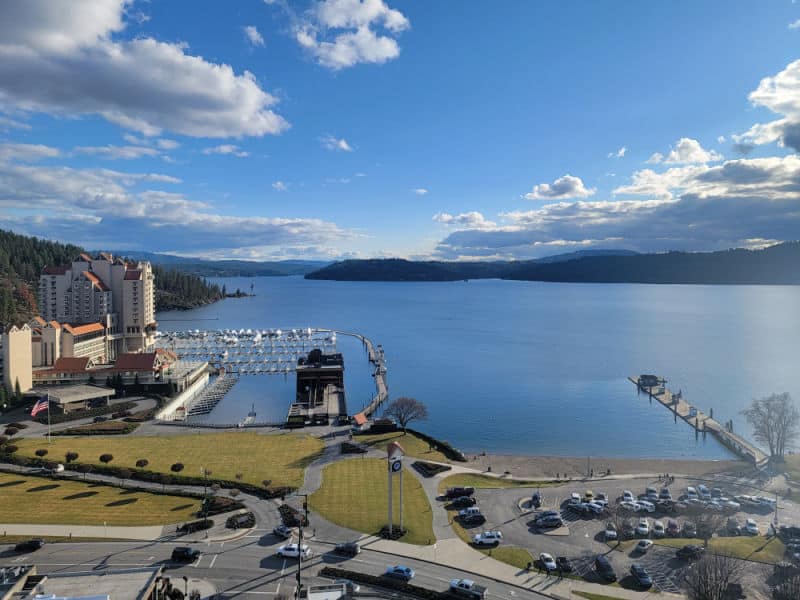 The Coeur d'Alene Resort
The Coeur d'Alene Resort, located between Coeur d'Alene City Park and McEuen Park, is a notable place to stay with a view of Lake Coeur d'Alene.
It includes almost 300 rooms, ranging from lake-view tower rooms to opulent suites. Furthermore, due to the resort's central downtown location, guests never need to drive their car after arrival.
More than only its rooms and suites, the Coeur d'Alene Resort is well-known. The facility offers a variety of visitor experiences that make up a memorable vacation.
The resort's most famous feature is a professional 18-hole golf course located on the lakeshore only a few streets east. The famous 14th hole floating green is the most remarkable feature of this popular course.
Other amenities at the resort include spa services and a choice of dining options. Packages and deals for various types of vacations are usually offered.
It's also a popular venue for large business gatherings and special occasions like weddings. The resort also features standard hotel amenities such as an outdoor pool, a fitness center, and free breakfast in the morning.
Triple Play Resort
If you are looking for a great family friendly place to stay make sure to check out Triple Play Resort Hotel located next to the Raptor Reef Indoor Waterpark and Family Fun Park.
Located in Hayden, Idaho which is 15 minutes from Silverwood and 20 minutes to Coeur d'Alene this resort offers family suites with a microwave, small refrigerator, and coffee maker in each room.
Check out all of the great hotels available in Coeur d'Alene.
SpringHill Suites by Marriott Coeur d'Alene - Consider a stay at SpringHill Suites by Marriott Coeur d'Alene and take advantage of a free breakfast buffet, a terrace, and dry cleaning/laundry services. For some rest and relaxation, visit the hot tub. Free in-room WiFi is available to all guests, along with a gym and a business center.
La Quinta Inn & Suites by Wyndham Coeur d`Alene  - At La Quinta Inn & Suites by Wyndham Coeur d`Alene, you can look forward to a free breakfast buffet, a grocery/convenience store, and laundry facilities. For some rest and relaxation, visit the hot tub. Free in-room WiFi is available to all guests, along with a 24-hour gym and a business center.
Hampton Inn & Suites - You can look forward to a free breakfast buffet, dry cleaning/laundry services, and a fireplace in the lobby at Hampton Inn & Suites Coeur d' Alene. For some rest and relaxation, visit the hot tub. In addition to a 24-hour gym and a 24-hour business center, guests can connect to free in-room Wi-Fi.
Click on the map below to see additional lodging and vacation rentals in the Coeur d'Alene area.

Things to do near Coeur d'Alene
There are a ton of things to do near Coeur d'Alene including great hiking trails, ski resorts, and top rated attractions.
Ride the Route of the Hiawatha
The Route of the Hiawatha is 15 miles long and travels through 10 train tunnels and over 7 sky  high trestles on a restored rail-to-trails.
The route starts with a trip through the 1.661 mile long St. Paul Pass Tunnel which is also known as the Taft Tunnel.
From there you will follow the crest of the Bitterroot Mountains near Lookout Pass Ski Area as you travel downhill to the end of the trail.
Shuttle buses are available to transport riders and bikers to the top of the trail. You can grab trail passes, shuttle tickets and even rent a mountain bike at Lookout Pass Ski Area.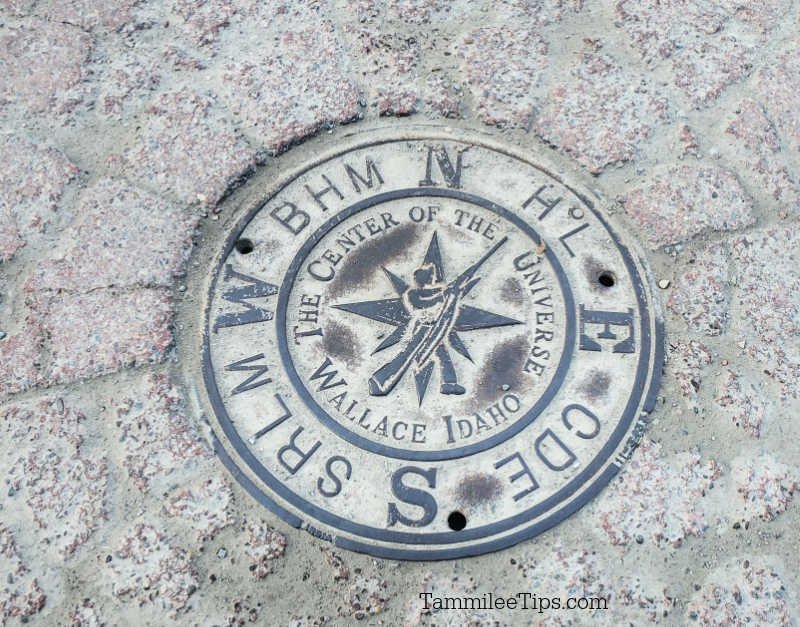 Wallace is located about 45 miles east of Coeur d'Alene, Idaho. This small city offers the opportunity to tour a historic bordello, learn about Northern Idaho Mining, and visit the center of the universe.
This small north Idaho town offers great restaurants, and is the perfect day trip from CDA. You can spend a few hours exploring the local shops, enjoying great restaurants, and savoring the best of the Pacific Northwest.
Silver Mountain Resort, located 40 minutes east of Coeur d'Alene, is a family-friendly vacation that offers skiing, mountain biking, and year-round nature getaways.
Much of the winter pleasure at Silver Mountain is defined by over 70 identified ski routes. Winter festivals, day camps, and North America's longest gondola are among the other cold-weather attractions.
During the warmer months of the year, lift-access mountain biking and hiking paths give miles of enjoyable activities.
The nearby Galena Ridge Golf Course is recommended for tee times, while the resort's indoor Silver Rapids Waterpark is popular with young swimmers all year.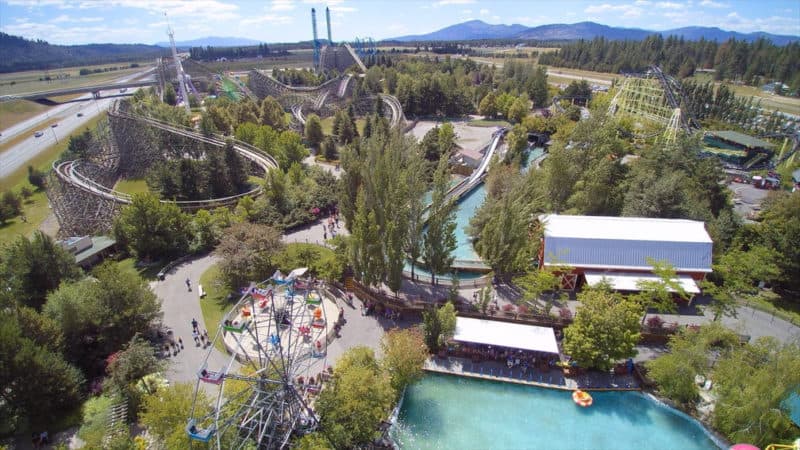 Be Adventurous at the Silverwood Theme Park
The largest amusement park and water park in the American Northwest, Coeur d'Alene, is a comfortable drive up US 95.
More than 70 attractions, including classic amusement rides, water rides, roller coasters, and lots of fun for younger children, make up Silverwood Theme Park, which spans more than 400 acres.
There are a variety of roller coasters to choose from, including the wooden Tremors and Timber Terror, the dizzying Stunt Pilot, and Corkscrew, the world's first inverting roller coaster, which debuted at Knott's Berry Farm and was the world's first inverting roller coaster.
Smaller children can choose from dozens of rides, including a quaint narrow-gauge railway that travels through the park.
With two wave pools, a lazy river, a baby play complex, and slides for all ages, access to Boulder Beach Water Park is included with admission.
Farragut State Park
Farragut State Park is a wide natural park tucked within the mountains of north Idaho, forty minutes north of Coeur d'Alene on the southern tip of Lake Pend Oreille, Idaho's largest lake.
The park has an astonishing 4,000 acres and is rich in history, as it was originally home to the Farragut Naval Training Center during WWII.
The park's miles of paths are used by hikers, cyclists, and horseback riders. At sites like Beavery Bay Beach, lake aficionados will discover plenty of boat launches and swimming opportunities.
The park also has over 200 campsites with showers and restrooms, making it one of the best places to camp in Idaho.
With four professional 18-hole disc golf courses located across the park's forest and meadows, Farragut is a well-known disc golf destination.
The grounds also include an 18-hole beginner's putt and approach course. All of Farragut's disc golf courses are accessible from a single parking area within the park.
Heyburn State Park
Heyburn State Park, the Pacific Northwest's oldest state park, is located less than 45 minutes south of Coeur d'Alene.
Chatcolet, Benewah, and Hidden Lakes are all accessible from the huge state park, which spans over 5,500 acres. The St. Joe River also runs through the area.
Hiking, bird-watching, and bicycling on the 73-mile paved Trail of the Coeur d'Alene's are just a few of the popular activities in Heyburn State Park.
With so much water around, aquatic leisure is extremely popular. At Rocky Point Marina, the park offers swimming areas as well as kayak, canoe, and paddleboard rentals.
Heyburn is a popular camping spot as well. Over 130 campsites in the park accommodate both basic tent camping and full-hookup RVs.
Cottage rentals and group campsites are also available. Hawley's Landing, located near Heyburn, is a popular campground with easy access to a lakeside walk and a beautiful bird blind.
Additional Pacific Northwest Resources
Things to do in Lake Chelan, WA
Things to do in Ellensburg, WA
Check out all of our Washington State Travel Guides