Everglades National Park Travel Tips! We absolutely love visiting Everglades National Park! There is so much to see and do during a visit to the park. These are our best travel tips for visiting Everglades National Park.
Our #1 tip......PACK BUGSPRAY!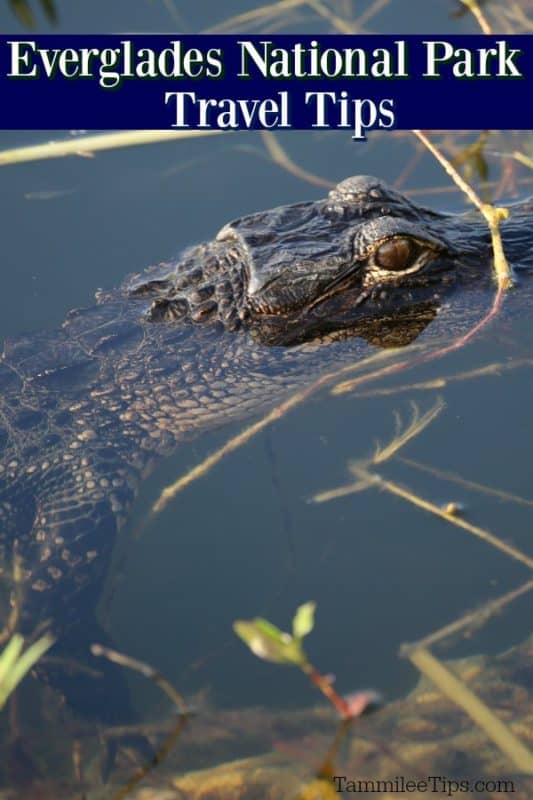 Everglades National Park Travel Tips
Getting to the park – The main entrance to the Everglades is located 10 miles southwest of Florida City and Homestead on Route 9336. On your way to the park stop by Robert Is Here fruit stand for a key lime milkshake! They are amazing.
Cost – $30 for a seven-day visitor pass per vehicle. $15 per person for pedestrians, motorcycles, and bicycles. Annual passes can be purchased for $55.
Visitor Centers
Ernest F. Coe Visitor Center is located at the park's main entrance. This visitor center has great educational displays, a nice store, and ample parking.
Royal Palm Nature Center is located at the Anhinga Trail. The store is air-conditioned. You can also pick up books and trail guides from this location.
The Flamingo Visitor Center is 38 miles from the main entrance. This center has a small natural history exhibit, park information and you can pick up backcountry permits here.
Shark Valley Visitor Center is located on the Tamiami Trail. This location offers access to the Shark Valley sightseeing trams, bottled water, bookshop and bike rentals.
Lodging – There are no lodges inside Everglades National Park. You can find hotels in Homestead, Florida City, and the Miami area.
Things to do
Visit the Anhinga Trail for amazing wildlife viewing. There is ample parking at the trail along with bathrooms and a small store. The trail is easy to walk and paved for the majority of the trail. The rest of the trail is a boardwalk over the water. This is a great place to view alligators, anhingas, and other wildlife.
Guided Ranger hikes are offered daily.
You can rent a bike at the Shark Valley Visitor Center and cycle the loop looking at Everglades wildlife.  The loop is 15 miles long and does not have a lot of shade. Make sure and bring water, sunglasses, and bug spray with you.
There is also a two-hour tram tour that leaves from the Shark Valley Visitor Center. This is a great way to see the entire loop without having to be on a bike. Make sure and bring water with you.
Everglades Boat Tours are an amazing way to get out on the water and see wildlife
There are a lot of hiking trails and areas around the park. You can also see a ton of birds from your car as your drive through the park. Keep an eye out for egrets and other birds along the waterways.
There is amazing bird watching in the Everglades.
Don't miss all of the epic things to do in Everglades
Don't forget to bring with you
Bug spray/bug bite cream – trust me the bugs are prevalent and pack a mean bite!
Sunscreen
Bottles of water
hats
camera and back up batteries
snacks – you can pick up small items at the gift shops but not a large number of snacks. There are grocery stores in Florida City and Homestead if you want to pack a picnic lunch.
If you are looking for a place to stay check out the Shelborne South Beach Hotel in Miami.
Additional National Park Guides
Big Trees in California Road Trip
Top things to do in Death Valley
Grand Teton and Jackson Hole Travel Tips