When you think of California do you think of big trees, national parks, and epic scenery? We decided to head out on a California Big Trees Road trip to explore some of the biggest trees in the world along with epic California scenery.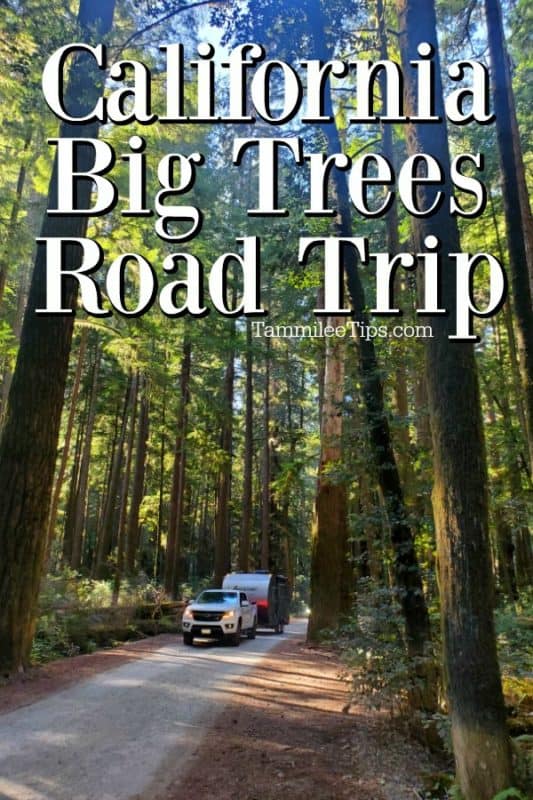 Big Trees in California Road Trip
We partnered with Visit California, Visit Yosemite Madera, Visit Visalia, and Visit Calaveras County to create an epic itinerary that would guide us through some of the biggest trees we could get find.
Our trip started in Spokane, Washington, and traveled through Oregon until we kicked off the big trees in Redwood National and State Parks.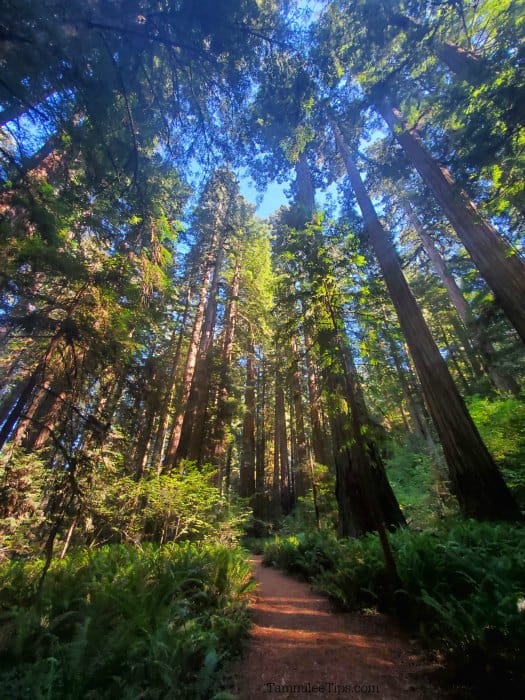 Redwoods National Park
One thing to know about Redwoods National Park is it is a conglomerate of state and national park lands. It can be a bit confusing to plan a trip because you see a lot of different park names within the same area.
We kicked off our trip exploring Jedediah Smith Redwoods State Park. This was the perfect place to start our exploration of the big trees of California. Coastal Redwoods are the tallest trees in the country but not the largest per volume.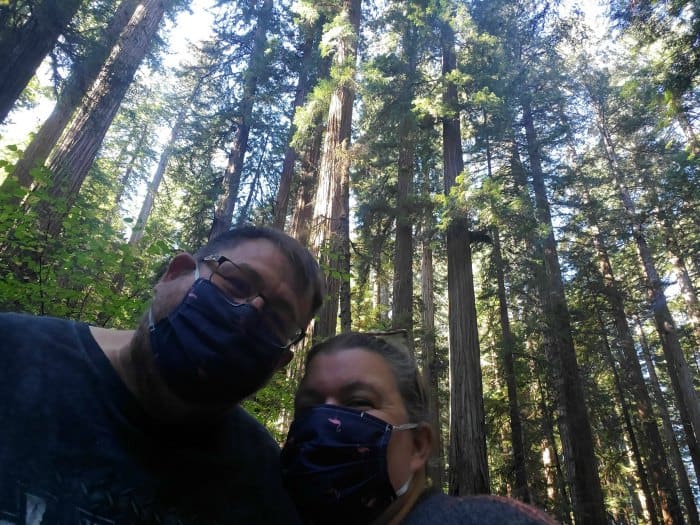 One of our first stops was the Stout Grove trail which is off of Howland Hill Road that is within Jedediah Smith Redwoods State Park. This easy half-mile hike takes you down into an old-growth Redwood grove.
As you walk down into the old-growth grove it feels like you have entered a new world. It is so peaceful, quiet, and calming. We found a lovely bench along the trail and spent time just savoring the feeling of quiet and calm.
Being able to take a deep breath of fresh forest air was unbelievable.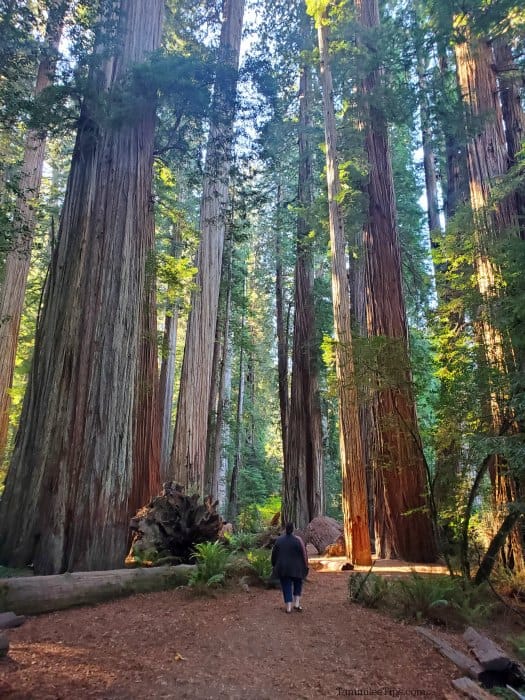 It was hard to leave the Stout Grove but we knew there were so many more big trees to see.
As you explore the Redwoods you can't miss driving along the Drury B Newton Scenic roadway. This ten-mile drive takes you deep into the redwoods. I highly suggest pulling over and looking up if you have a sunroof in your car.
The view looking up and realizing just how tall the Redwoods are is amazing.
Our next adventure was looking for elk in Prairie Creek Redwoods State Park. They like to hang out near the Elk Prairie campground in the fields. We ended up seeing three large males with epic racks along the road to Golds Bluff Beach.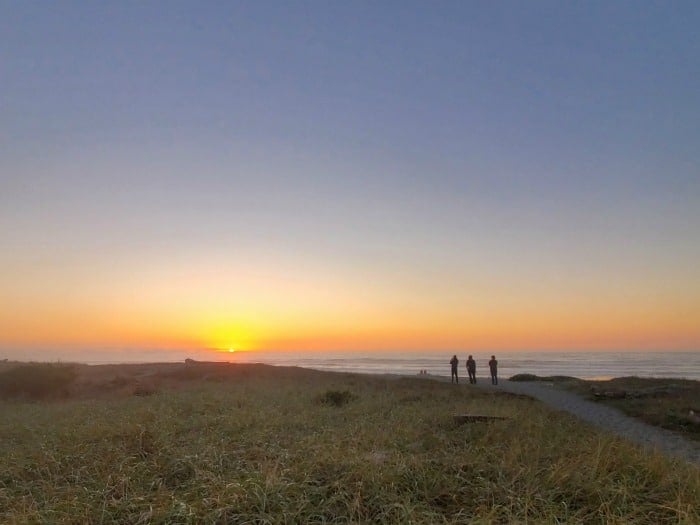 To finish our first day of exploring the Redwoods we watched sunset along Highway 101 and the Pacific Ocean. This fueled my husband John's dream of driving Highway 1 down the entire coast of California.
We spent our first night in Eureka, California.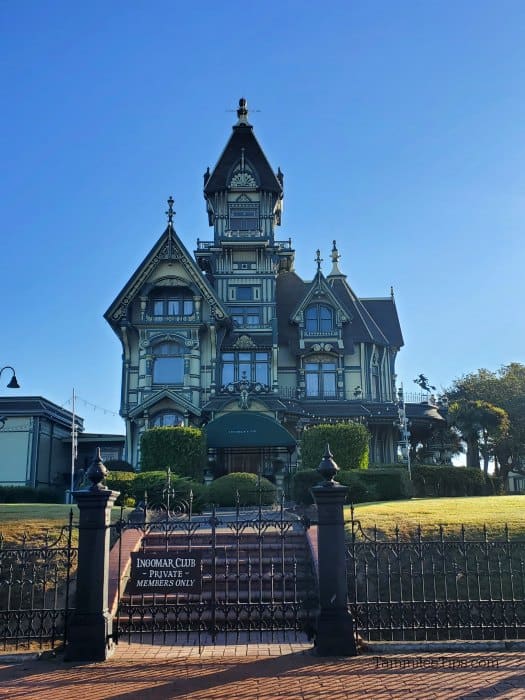 Eureka, California
I didn't know much about Eureka, California when we made our hotel reservation other than it was perfectly placed for our Big Trees in California Roadtrip.
We picked up a few brochures in the hotel lobby on our way up to the room and quickly realized we had not given ourselves enough time in Eureka. We are already talking about needing to plan a return visit.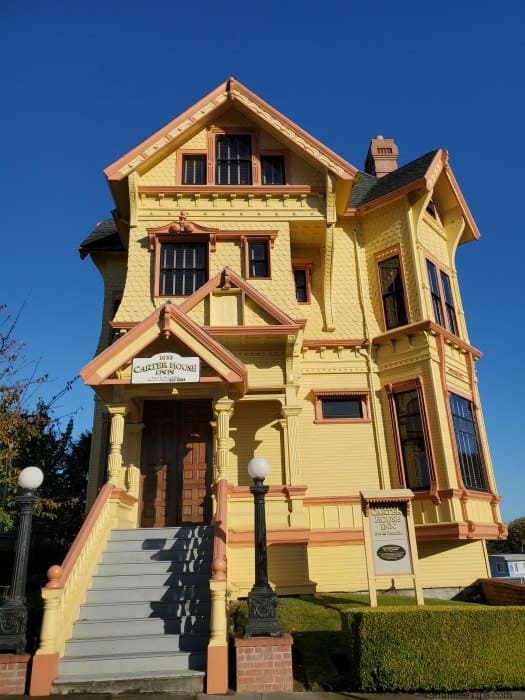 We ended up spending a bit of time just driving through Eureka checking out the historic Victorian Mansions. WOW is all I can say about these historic mansions. Plus we found really fun murals and art around town in our short time exploring.
A return trip to Eureka to explore more of the art and history is definitely going to be needed.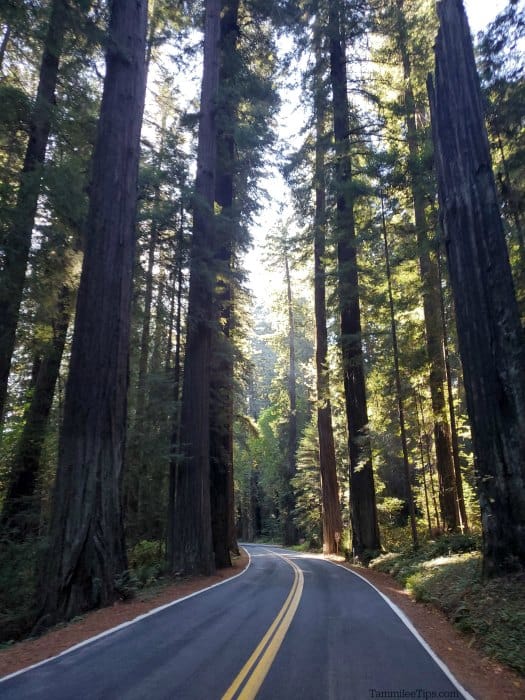 Our next big trees stop was the Avenue of the Giants which is found just off of Highway 101.
It is amazing that a few hundred yards off of Highway 101 you can be surrounded by giant Redwood trees. I was amazed that within seconds of pulling off the highway we were deep in the redwoods.
The Avenue of the Giants is a 32-mile auto tour that travels through Humboldt Redwoods State Park and many small towns. Along the way, you can experience drive-thru redwood trees.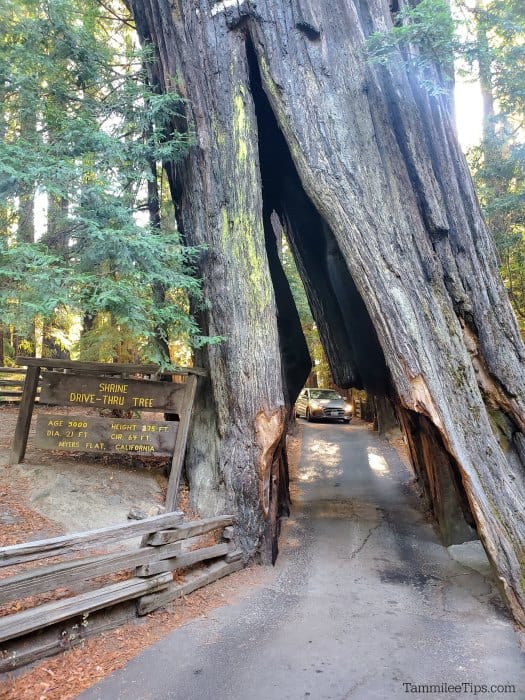 We stopped at both the Shrine Tree and the Chandelier Tree and I am going to admit we did not drive through either of them. We drive an SUV and it just didn't feel safe to drive it through either tree.
A few years ago we took a Ford Explorer through the Klamath Drive Thru Redwood tree and I couldn't post the video because I might have been swearing way too much to share it publicly. LOL.
We made the decision this time to pull up to the trees and then back away gracefully. It was fun to see other people drive through the Redwoods.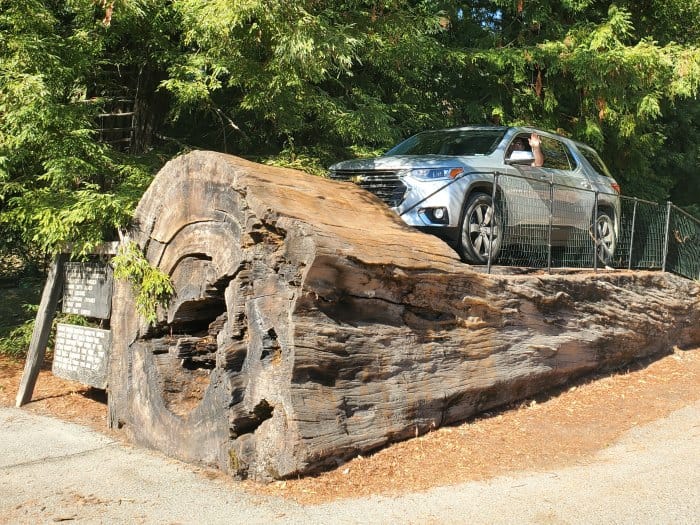 I really enjoyed the treehouses at the Shrine Tree along with the tree you can drive on top of. It was crazy to see how big the tree was compared to our SUV.
One really cool thing about exploring the Avenue of the Giants and Highway 101 in Northern California is how many small towns you drive through. I love seeing the vintage gift shops and cafes that still serve amazing food.
I will say that traveling Highway 101 has a bit more twists and turns than heading down I-5. If you get car sick you will want to be prepared for some twisty roads leading south of the Avenue of Giants.
We finished our night in Petaluma, California before heading south to Muir Woods and onto Yosemite Madera County.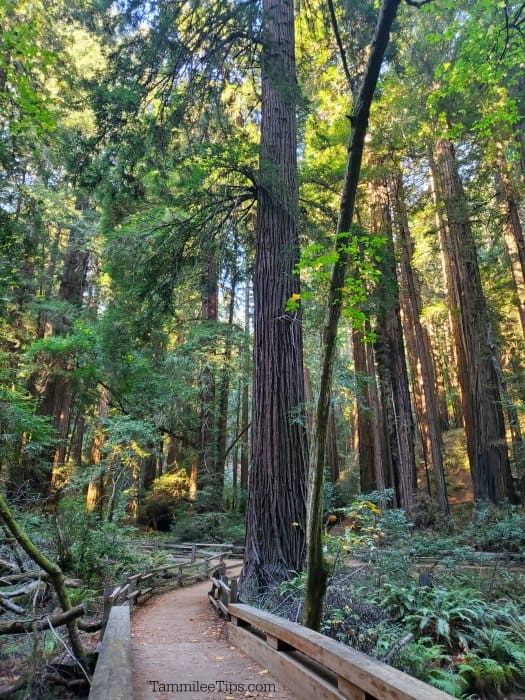 How can you experience the Big Trees of Northern California without a stop at Muir Woods National Monument! It is one of our favorite National Parks near San Francisco.
We had thought about also stopping at Point Reyes National Seashore and a few of the smaller parks we haven't had a chance to visit yet including Eugene O'Neil National Historic Site and Port Chicago National Memorial but unfortunately, they were closed.
This did give us more time to explore Muir Woods NM and soak in the big trees just outside of San Francisco.
If you are planning a trip to Muir Woods NM I highly suggest making a reservation for early in the morning. We had an 8 am parking reservation and were the 4th car in the parking lot!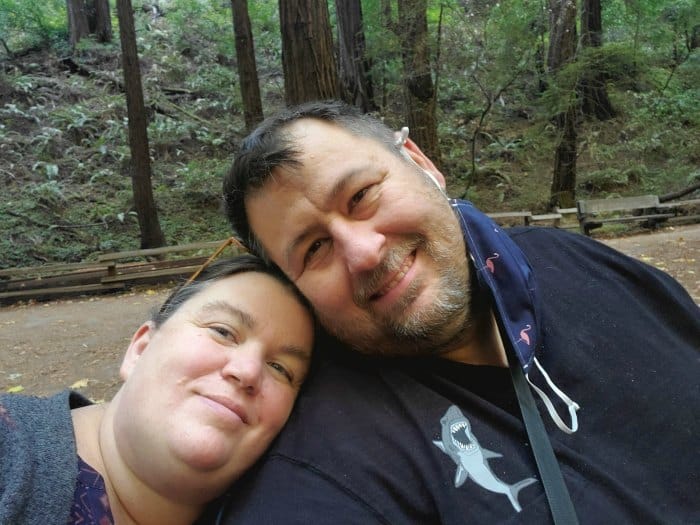 Being in the park early in the day was truly unbelievable. We sat on a park bench just taking in the views and breathing fresh forest air for 20+ minutes and never saw another person. It felt like we had all of Muir Woods to ourselves.
I am so thankful to all of the people who stepped in and saved the Redwoods in Muir Woods. When you gaze up in wonder at 200 to 400-year-old Redwoods it is hard to imagine them not being there.
We spent a few hours just soaking in the redwoods and clean air while exploring the Muir Woods hiking trails. The main trail through the park is an easy flat trail that is great for all ages.
There are a small café and gift store near the main entrance of the park. If you are planning to visit Muir Woods make sure you book a parking reservation as soon as you can! You will need a parking reservation to visit the park.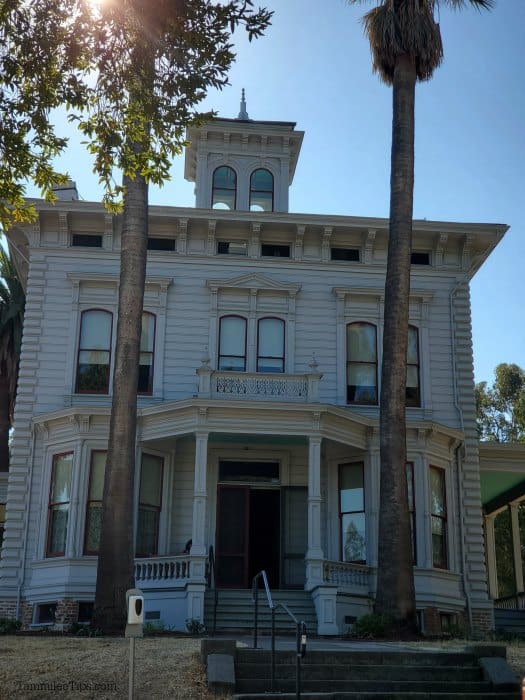 After exploring Muir Woods we headed to John Muir NHS to learn more about John Muir and tour the house that he lived and wrote in.
This year is an epic year to plan a visit to John Muir NHS!!! They have changed things to make sure everyone is able to visit safely.
Right now visitors get 20 minutes to explore the John Muir House on their own!! Everyone in a party/family goes in together and has the house to themselves.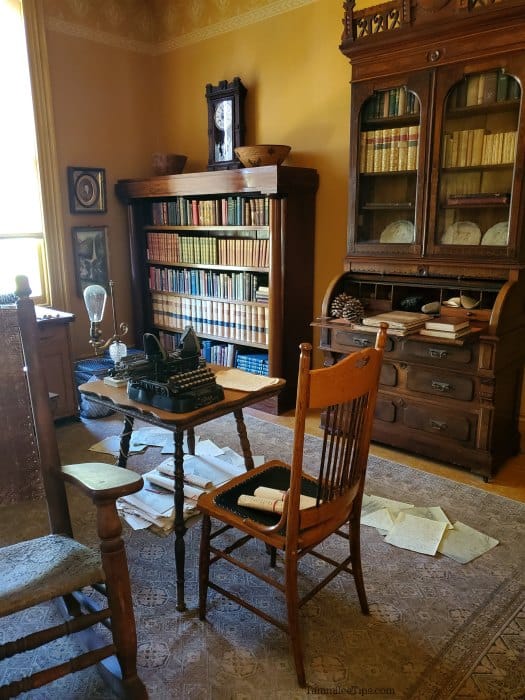 My husband Park Ranger John and I were able to explore all three levels of the house and it was amazing. Standing in John Muir's writing room made me wish I could sit with a journal for hours and soak in the energy of the room.
It was amazing thinking about all of the books and stories that were written in the house.
From the John Muir House NHS, we had to grab lunch at In and Out because you have to visit at least once while in California and headed to Oakhurst, California to check into the Sierra Sky Ranch.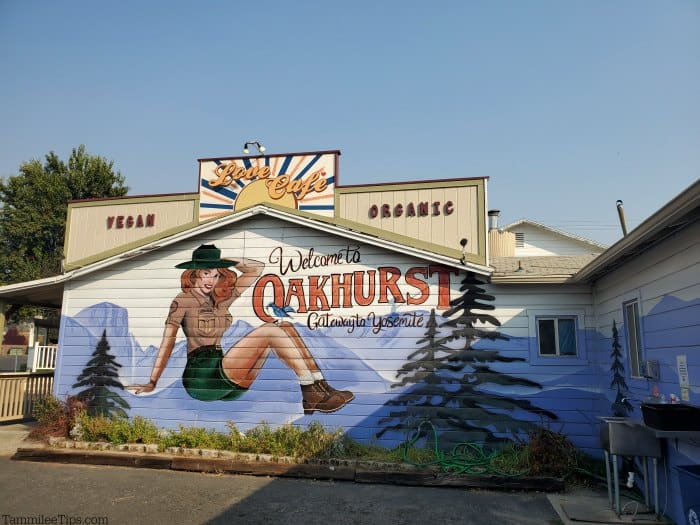 Oakhurst/Bass Lake
One huge highlight of our Big Trees Roadtrip was getting back to Oakhurst, California! We truly think of Oakhurst as a 2nd home for us since we LOVE IT so much!
This year we have not been able to visit as often as we would like so it was amazing to get back into Oakhurst and visit some of our favorite places.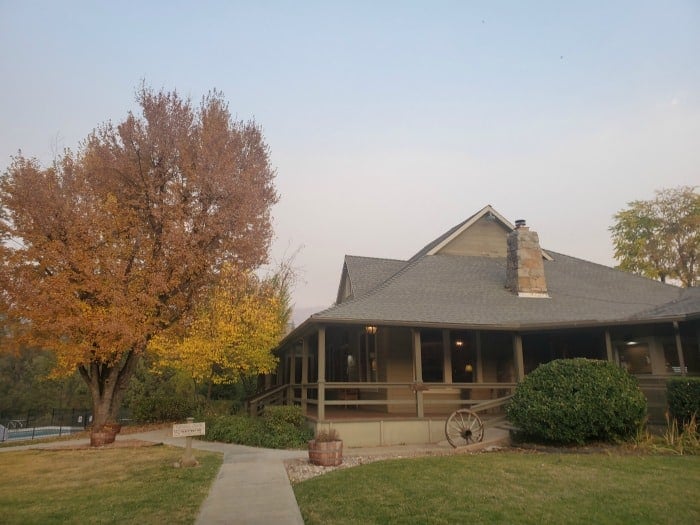 Our first stop after checking in to the Sierra Sky Ranch was Ducey's Bar and Grill on Bass Lake. The restaurant is part of the Pines Resort that we stayed in during one of our first visits to the area almost two years ago.
Ducey's has an upstairs bar and grill and then downstairs is more fine dining. We decided to have the bar and grill since we hadn't been there in a while and wanted to check out their current menu.
Hello yum!!! The spinach artichoke dip is a must order! I am pretty sure there was nothing left on the platter when we were done with it.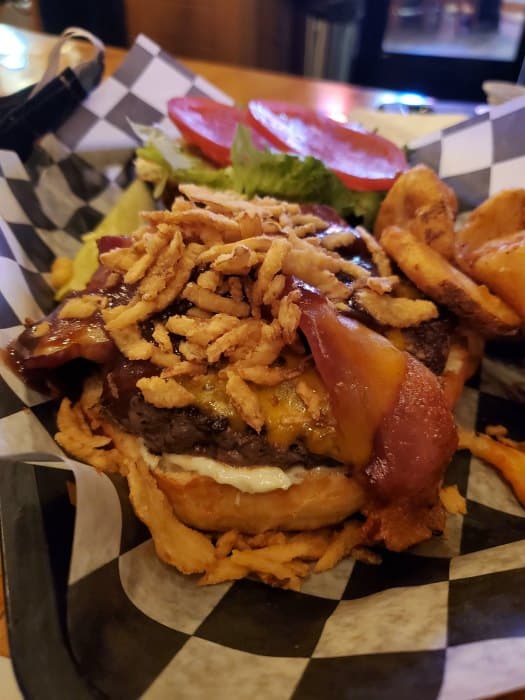 John had the Rodeo Burger and said it was amazing. I ordered the house-made veggie burger and it was truly delicious.
We felt really comfortable sitting outside on the deck overlooking Bass Lake for dinner. The tables were spread apart and we didn't feel crowded at all. This was our first time dining in a restaurant since February. I was a bit nervous going in but the staff did a great job making sure everyone was far enough away from each other.
After dinner, it was time to get some sleep since it is getting dark way too early this time of year.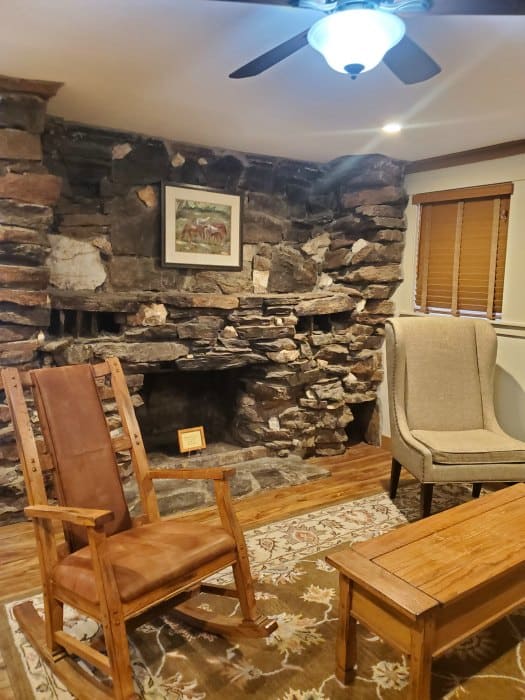 We stayed in a two queen family suite at the Sierra Sky Ranch. The room had an amazing sitting room with a couch and chairs, a bedroom with two queen beds, and a huge bathroom with both a shower and a tub.
The hotel is right outside of Oakhurst and offers easy access to Highway 41 heading to the southern entrance of Yosemite National Park next to the Mariposa Grove of Giant Sequoias.
You know we needed to get our big tree fix in while near Yosemite so a trip to the Mariposa Grove was a must!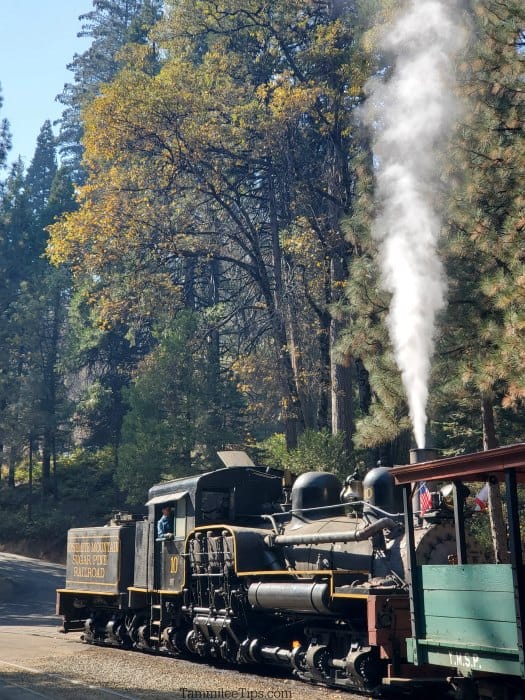 One of our favorite excursions near Yosemite to enjoy is riding the Yosemite Sugar Pine Railroad. They have train cars that are giant logs you can sit on and enjoy the train ride.
We did an hour-long train ride with lunch and it was fantastic. This is our second time riding the Sugar Pine Railroad and we would highly suggest it for anyone visiting Yosemite who loves trains and being outside.
I could not believe how nice the weather was while we were riding the train. The sun was out and it was a gorgeous 70+ degrees in November. It was hard to believe that we had snow in Spokane just last week and we were soaking in the sun in a t-shirt while riding the train.
After riding the Sugar Pine Railroad we headed back into Oakhurst to visit some of our favorite stores. The city of Oakhurst is filled with cute stores, art galleries, and fun things to do.
I love the Artifacts World Import Gallery Store in Oakhurst. Every visit I stop in and pick up a new fun crystal or something for the house. This trip I picked up two geode rocks that you break open to see what is inside.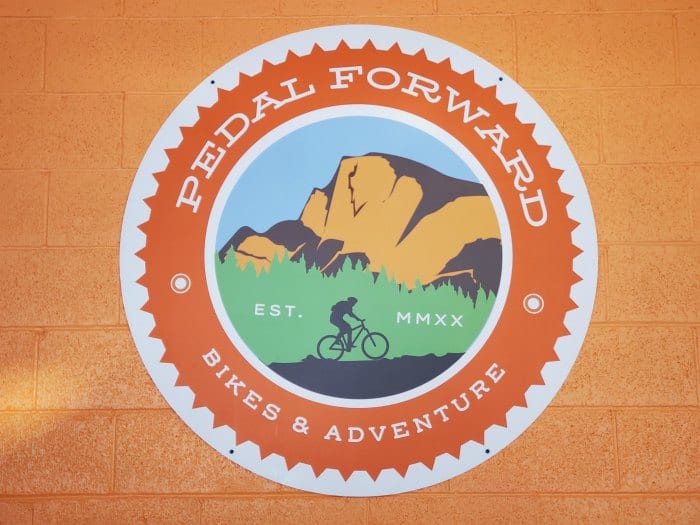 We checked out the new Pedal Forward Bike Shop and we were so impressed. This new shop was started by a couple of local guys who love biking and have a passion for sharing it with locals and visitors.
One great thing you can do in the store is to check out their huge map of great local bike trails. They also have a full-service bike repair shop and are happy to help you plan an epic biking trip in the area.
They are located next to one of our favorite Oakhurst things to do ….Yosemite Axe Throwing! While we didn't plan time on this trip to throw axes we would happily go back any time!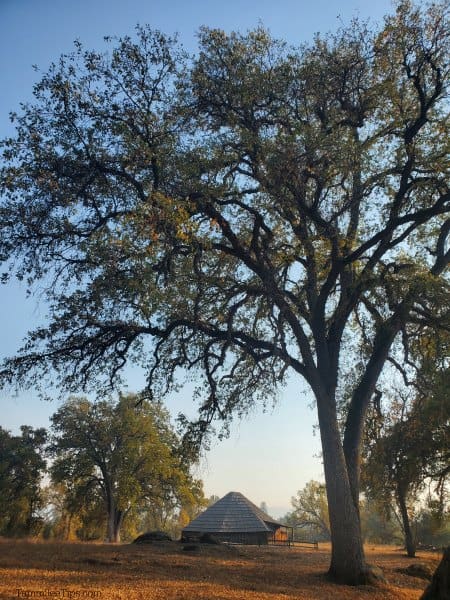 We checked out the Wassama Round House State Historic Park that is located just outside of Oakhurst in Ahwahnee, California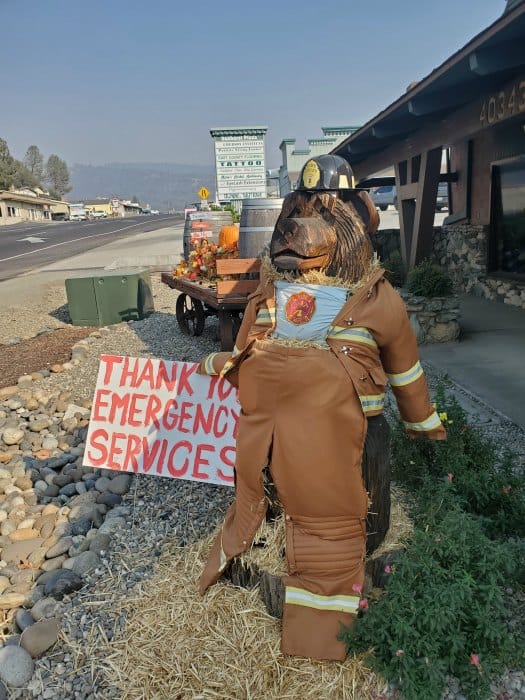 After shopping in town and visiting the Yosemite Madera Visitor Bureau which we love it was time for dinner! We grabbed take-out from South Gate Brewing Company and it was delicious!
If you are a craft beer fan you will love South Gate Brewing Company! It is one of our favorite Oakhurst Restaurants to visit. They are now offering beer to go in cans, growlers, or a 64oz Capri sun-like pouch!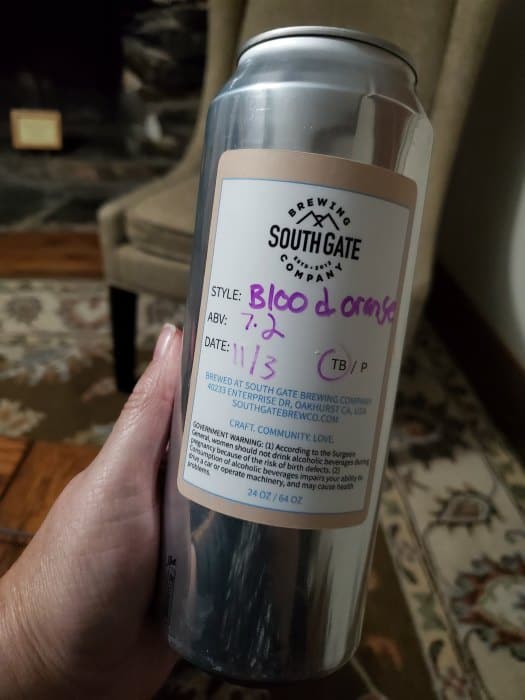 John had the Blood Orange IPA and said that it was amazing and he wished we would have ordered a second one. The pretzels are a must-order! Honestly, anything you order at South Gate Brewing is going to be epic!
They have a great outdoor tent area for dining if you want to eat at the restaurant or you can easily call in a to-go order as we did.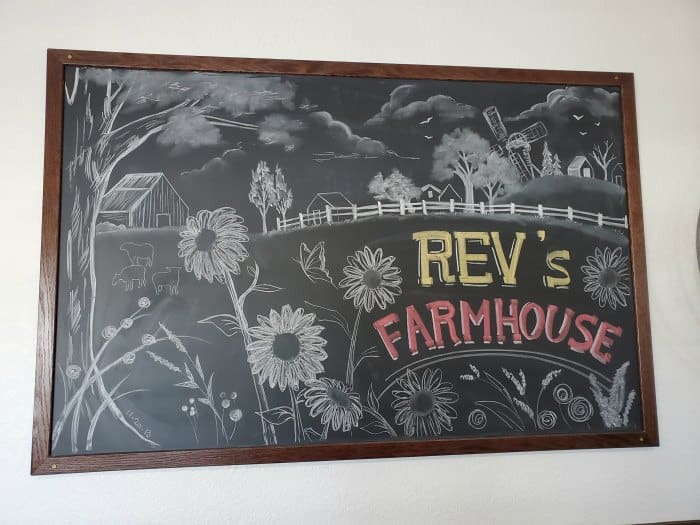 After another great night at the Sierra Sky Ranch, we headed to Rev's Farmhouse for breakfast.
This great restaurant located behind the Yosemite Madera Visitor Bureau offers amazing breakfast options! Their Crème Brule French Toast should come with a warning label it is so good! It is decadent, rich, and so dang delicious you are sad when you take the last bite.
John had the Chicken Fried Steak for breakfast and said it was the best Chicken Fried Steak he has ever had. We have loved every breakfast we have enjoyed while dining at Rev's.
While Oakhurst did not make this list of Mountain Towns in California we still love it!
Yosemite National Park
After breakfast, it was time to explore Yosemite National Park. This park is packed with not only epic trees in the Mariposa Grove of Giant Sequoias but some of the most epic National Park Bucket List views you can see while visiting a park.
We were so lucky to visit the park during peak Fall leaves and it was hard to leave.
The fall leaves were amazing along the Merced River and throughout Yosemite Valley. One great thing about visiting Yosemite in the fall is there are a lot fewer people in the park. This is also a great reason to visit during the week and not on the weekend.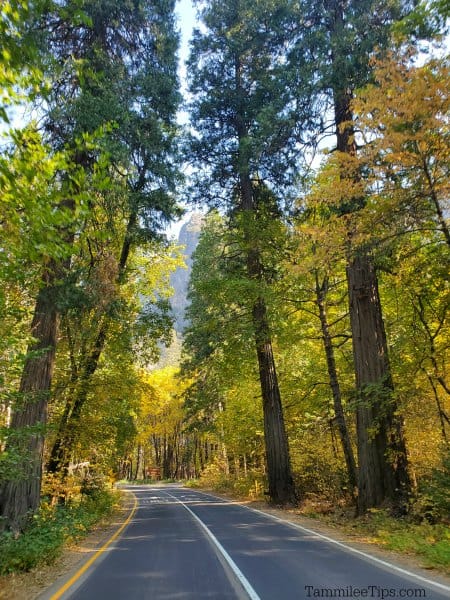 Being able to explore the park with a smaller crowd feels like you have the entire park to yourself. If you are planning a visit to Yosemite, and you should, make sure to try and visit outside of summer if you can.
You will have a better opportunity to explore the park without large crowds and tour buses. It is hard to pick a favorite time to visit Yosemite when it is always amazing but Fall is definitely up there for me.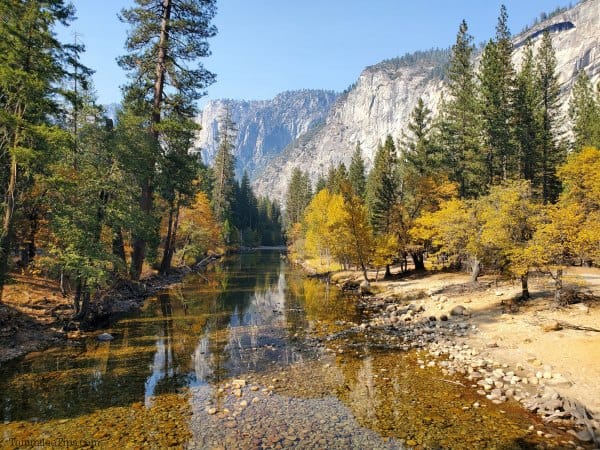 It was honestly hard to drag ourselves out of Yosemite. We spent hours photographing the fall colors, exploring the Yosemite Valley, and soaking in all of the fresh air.
The one thing that convinced us to leave the park was knowing that we had dinner reservations at Erna's Elderberry House.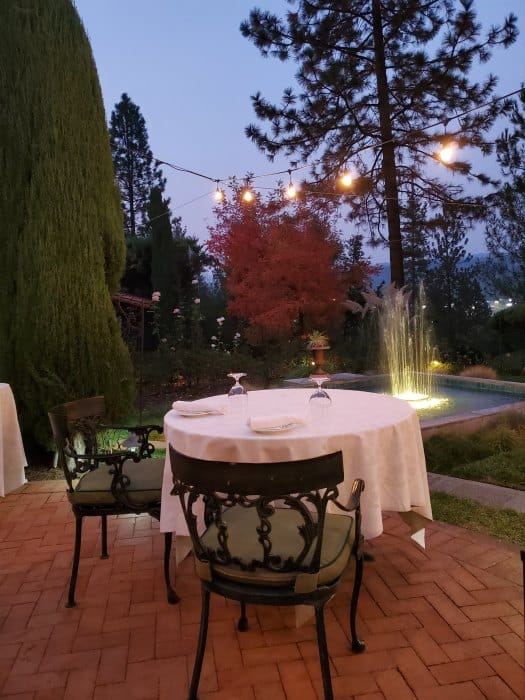 Erna's Elderberry House is the fine dining standard that I hold all restaurants in the world to. This is a must-visit for anyone who loves 5-star food that is made to perfection!
Elderberry House has amazing outdoor seating right now that feels like you have stepped into your own private wonderland. There are private tents set up with heaters for privacy or a few tables out near the fountain with twinkle lights overhead.
The bread at Elderberry House could be a meal on its own. Fresh baked daily it is truly amazing. When it comes to fine dining Oakhurst Restaurants this is our top choice!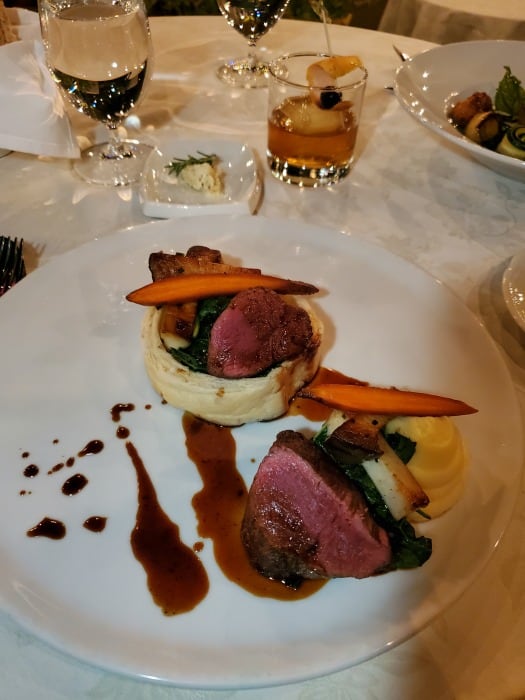 John's Brandt Farm's filet mignon was cooked to perfection and paired with Pommes puree, winter greens, baby carrots, and mushrooms in a puff pastry.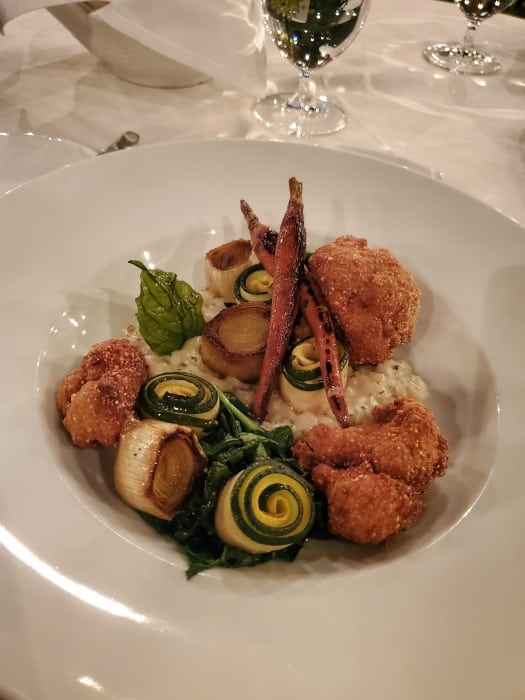 I had the chef's choice vegetarian meal which was the best parmesan herb risotto I have ever had. I am going to beg Chef Rob for the recipe the 1st chance I get. It was that good!
The parmesan herb risotto was paired with quinoa-encrusted fried cauliflower, zucchini squash ribbons, fried leeks, and a wintergreen medley.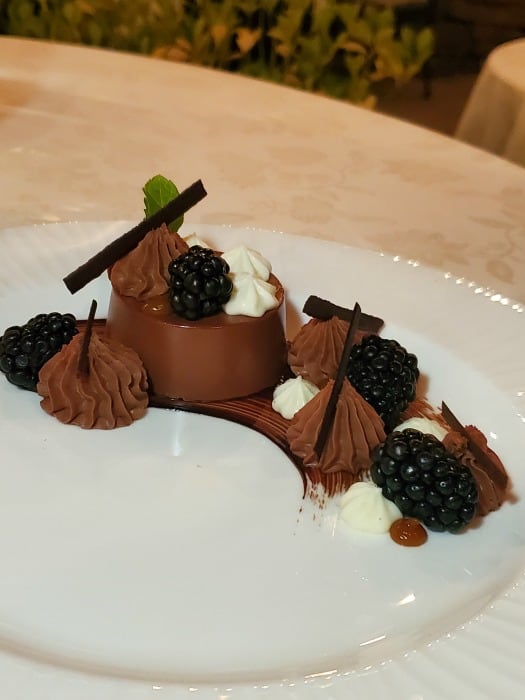 Dessert was just as amazing as our entrees. John had the winter spiced chocolate ganache with chocolate mousse, sea salt caramel, and blackberries which were decadent and amazing. I had the Madagascar Vanilla Crème Brule with seasonal fruit, spiced Chantilly, bee pollen, and estate mint.
Dinner at Elderberry House reminded us how much we enjoyed our stay at Chateau du Surreau which is the 5-star chateau next to the restaurant.
We were reminded of why we love Oakhurst, California so much during our stay.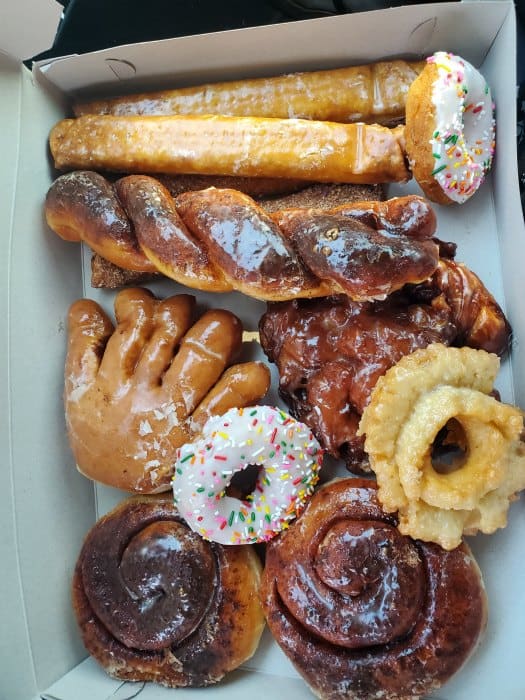 To kick off our final morning in Oakhurst we had to stop at Judy's Donuts! The perfect way to start any morning. They have the most amazing cherry burrito donuts that everyone should try!
Before we could leave we needed to check out the new lunch menu at Idle Hour Winery and Kitchen. We had heard so many great things about their new lunch and brunch menu on the patio.
They also have great rooms at the Queen's Inn next to the winery.
The new lunch menu at Queens Inn is amazing! You can pair lunch or brunch with a wine tasting and trust me when I say you are going to LOVE IT!
We had the charcuterie plate which has a spiced honey drizzle. The honey was so good I can see why people are asking them to bottle it and sell it at the restaurant.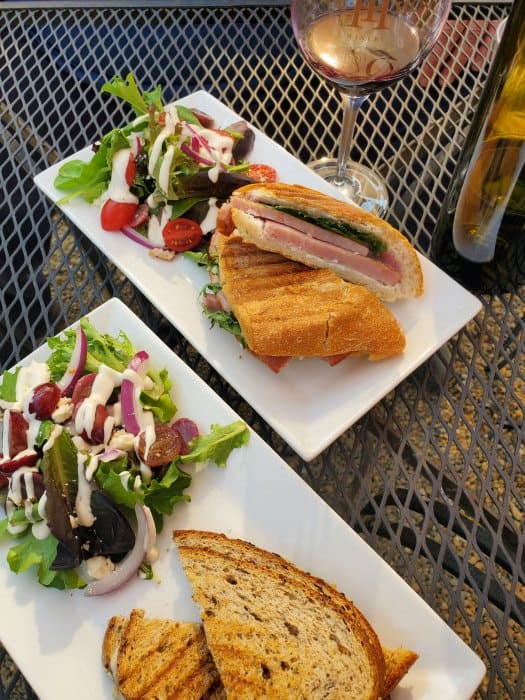 John had the Pig & Goat which is goat cheese mousse and Black Forest ham with malbec aioli on a ciabatta roll and he kept saying "this is so good" after every single bite of the sandwich.
I had a grilled cheese sandwich on seeded bread that was delicious. It was the perfect combination of Havarti cheese, fresh rosemary with spiced honey.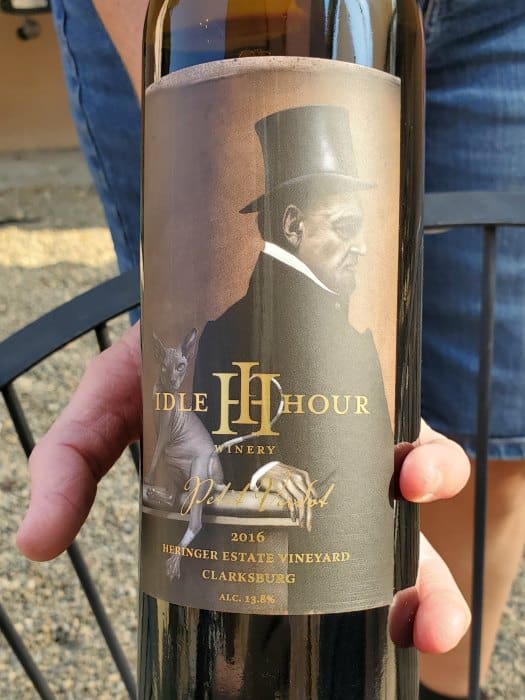 Idle Hour Winery makes some truly amazing award-winning wines. We ended up bringing a bottle of their Petit Verdot home with us and I honestly wish I would have bought a 2nd or 3rd bottle.
They are a must-visit stop along the Madera Wine Trail.
Our time in Oakhurst passed by way too quickly. It was hard to leave and head towards our next big tree destination. On the way out of town, we stopped in the cute town of Coarsegold and grabbed coffee and chai from Zanders Coffee.
They are a tradition every time we are in the area. OK, tradition may be a stretch it could just be that we really enjoy their blended coffee drinks and chai. LOL.
Our next stop is Visalia, California the gateway to Sequoia and Kings Canyon National Park! It is only about 90 minutes from Oakhurst to Visalia which makes it the perfect base for exploring more of the Majestic Mountain Loop.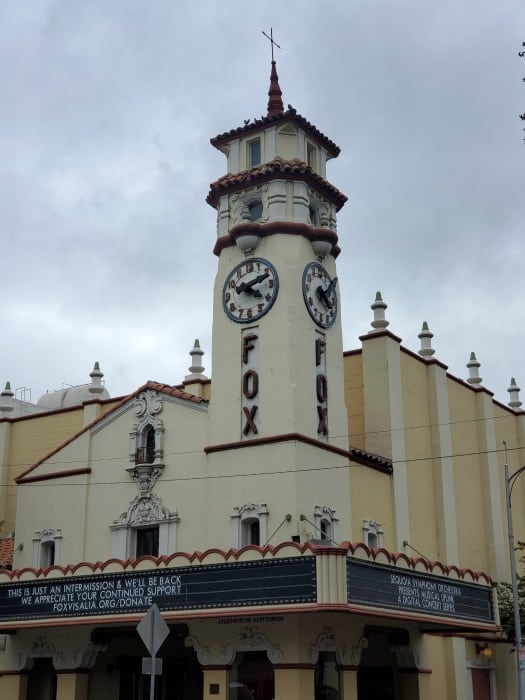 Visalia is located in Central California and offers easy access to both Kings Canyon and Sequoia National Park. We have stayed near Visalia a couple of times on previous trips but had never really dived into the city.
We made the goal on this Big Trees California Road Trip to spend more time in Visalia and learn more about how the city's history is entwined with the National Parks.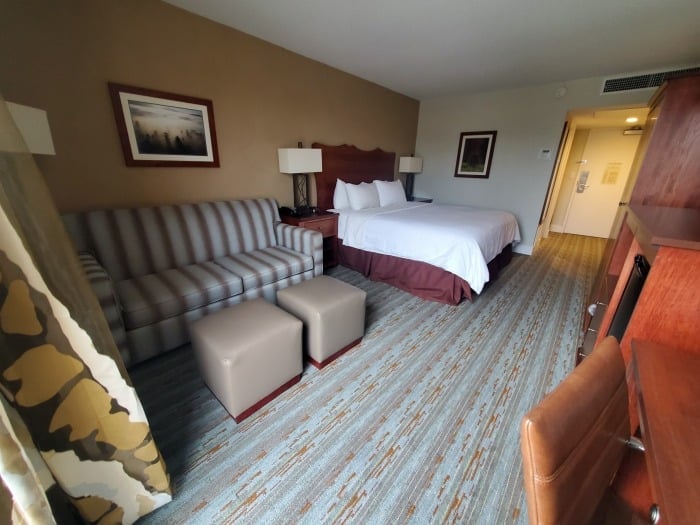 On our first night in town, we checked into the Visalia Wyndham which is located right next to a great family park area. The Visalia Wyndham has 5 floors of rooms offering a ton of options for families.
We stayed on the executive 5th floor in a king room. One thing that really impressed me with the room was how big it was. There were a great couch and footstools for relaxing after a day in the park. I used the desk to catch up on work and emails during our stay.
Next to the Visalia Wyndham is Plaza Park. The park has multiple tennis courts, a picnic area, a golf course, and a large dog park. It is right across the street from the Wyndham Visalia so you can easily walk over and explore.
The hotel is next to Highway 198 which heads into Downtown Visalia and then on to the southern entrance to Sequoia National Park.
Downtown Visalia is packed with amazing restaurants and shops. The city is easily walkable in the heart of downtown.
One thing we have been really impressed with is the Visalia Restaurant scene. When we were planning our big trees road trip I had a hard time picking only a few restaurants to visit. There is truly something for everyone.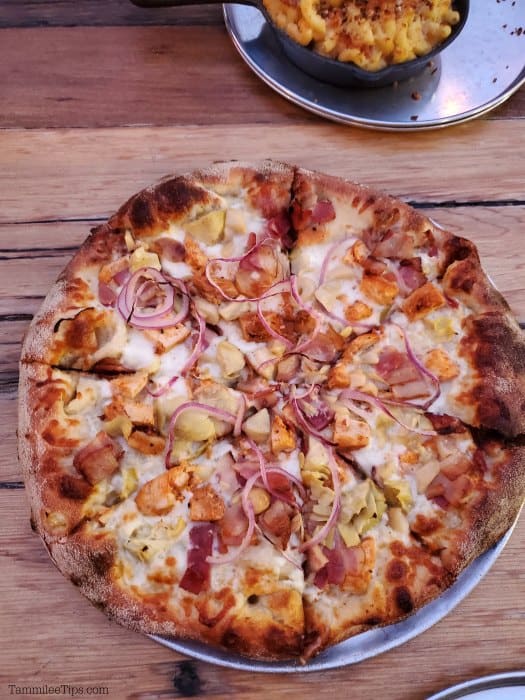 Our first night in town we visited the Planing Mill which makes artisan pizzas and more. The restaurant has a great outdoor seating area along with a large indoor space.
The Planing Mill is known for their fun pizzas and I have to tell you they were so delicious! One of our best National Park road trip tips is to order a bit of extra food at dinner so you have leftovers for lunch in the park.
We love ordering extra pizza because it always tastes amazing the next day and is easy to eat in the car while exploring a national park.
John had the Funky Chicken Pizza which includes Chicken, Bacon, Roasted Garlic, Artichokes, and Red Onions with Garlic Alfredo. With Shredded Mozzarella.
I had my normal pineapple and black olive pizza and it was absolutely delicious.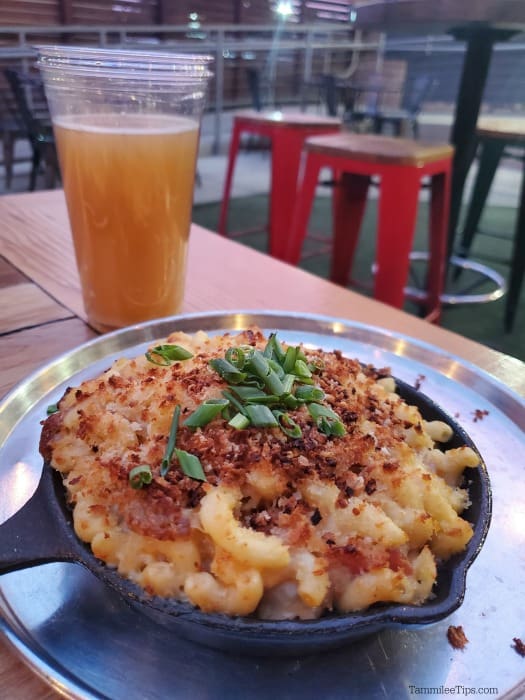 We also tried the Pulled Pork Mac and Cheese and I am going to have to try and make this when we get home. John said the flavor combination was amazing with the pulled pork and bacon plus all the cheese!
After watching an amazing sunset while relaxing on the patio of the Planing Mill we headed back to the Wyndham Visalia to get a great night's sleep before heading into the parks.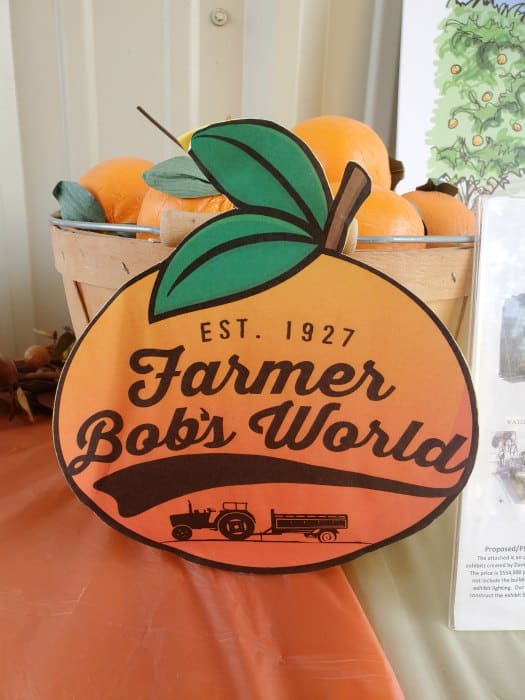 Farmer Bob's World
Did you know Tulare County produces over 250 crops and is the world's largest dairy producer! This area has happy California Cows. LOL!
We had the opportunity to visit McKellar Farms which is home to Farmer Bob's World. This citrus farm produces 5 different varieties of citrus fruit.
Having never been on an orange farm we jumped at the chance to learn more about what it takes to grow oranges and ship them around the world.
Farmer Bob's World is the perfect add un adventure while visiting Sequoia and Kings Canyon NP! Everyone in the family will learn something about oranges.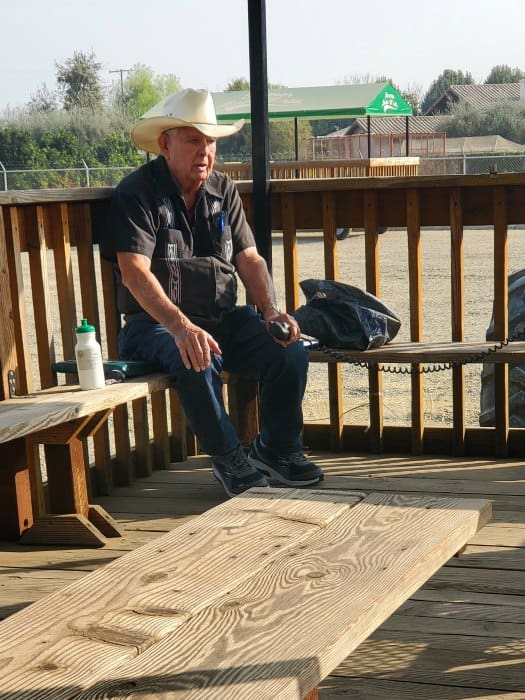 We took an amazing farm tour on a covered wagon pulled by a John Deere tractor. Farmer Bob joined us on our tour and can I admit that I really want to adopt him as a 2nd grandfather.
Farmer Bob is a 3rd generation citrus farmer. He continues to share his family's passion for citrus fruit with new generations of visitors.
His family bought the land in 1927 and then the Great Depression hit. They learned to adapt and change with the times. Almost 100 years later the McKellar Farms is still growing five varieties of citrus:
Navel Oranges
Valencia Oranges
Shasta Mountain Mandarins
W. Murcott Mandarins
Kara Kara Oranges
You may recognize these as cuties or halo mandarins when you see them on the trees.
During the tour, you have the opportunity to learn about how many oranges come off of each tree. We learned that there are about 100 to 200 trees per acre. The trees on average are 5 years old when they start to produce oranges that can be harvested but it is normally another 5 years before they are in full production.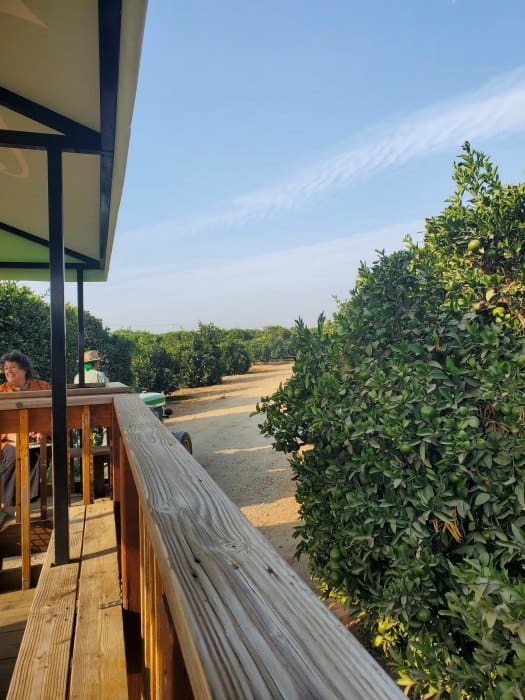 I didn't know that orange trees are self-pollinating and do not require bees to pollinate them.
Growing up I heard about Florida Oranges on the television all the time. What I didn't know is Florida oranges are primarily used for orange juice while California Oranges are eaten fresh.
We learned that each orange is cut by hand. The orange pickers wear gloves and use a small clipping tool to cut the oranges carefully from each tree. I tried to cut an orange and I have to admit it is not an easy process.
The oranges never touch the ground from the time they are picked to the time they reach your grocery bag. They are carefully handled to make sure they do not get bruised.
There has never been a foodborne illness from a California citrus product! They are handled with care to make sure we each get the best orange possible when we buy them.
Did you know the stickers on an orange tracks it back to the grove where they were grown? I didn't know this and was so impressed.
It was hard to leave Farmer Bob and not take him with us as our new adopted grandfather.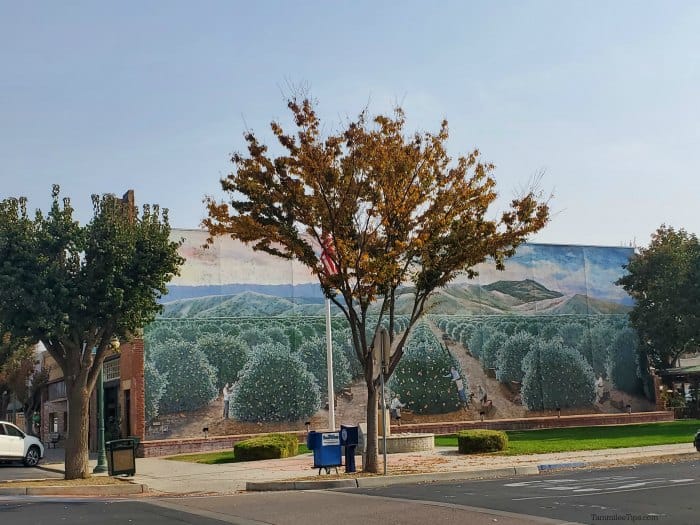 Exeter, California
While we were at Farmer Bob's World they mentioned that the town of Exeter was close by and we should go and check out the murals on our way to Sequoia National Park. I am always up for seeing cool murals so we headed over there.
WOW! The town of Exeter has epic huge murals on many of the buildings along the main street. They include a mural of an orange grove, a mural dedicated to the military, a train mural, and more.
It is a quick 10-minute drive off of Highway 198 to visit Exeter and so worth it. The town looks like it has a ton of cute stores and fun places to eat. We didn't spend near enough time exploring this Central Valley town so it is high on our list for our next visit.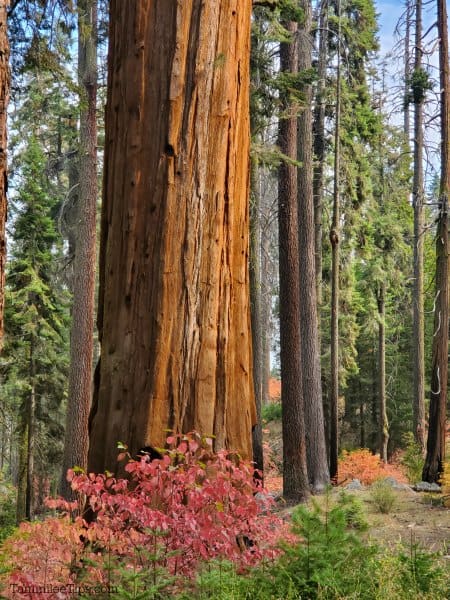 Sequoia National Park
You can't do a big trees road trip and not visit the world's largest trees! The sequoia trees are the largest trees in the world. They are not as tall as a Coast Redwood but they are bigger in sheer volume.
It is an easy drive to Sequoia NP from Visalia and the Central Valley of California. I need to warn you that once you are in the park it is a windy road up to the actual Sequoia trees.
If anyone traveling with you gets car sick you will want to be prepared. For some reason, the road up to the Sequoia trees always makes me a bit woozy. We normally stop a couple of times along the way and check out the views while taking a deep breath.
There are so many things to do in Sequoia National Park you do not want to miss! You could easily spend multiple days exploring the park depending on how many hiking trails you want to explore.
If you only have a day in Sequoia National Park don't worry you can still see a ton of the park! We only spent a day this trip between Sequoia and Kings Canyon and were able to visit all of the things we really wanted to photograph again.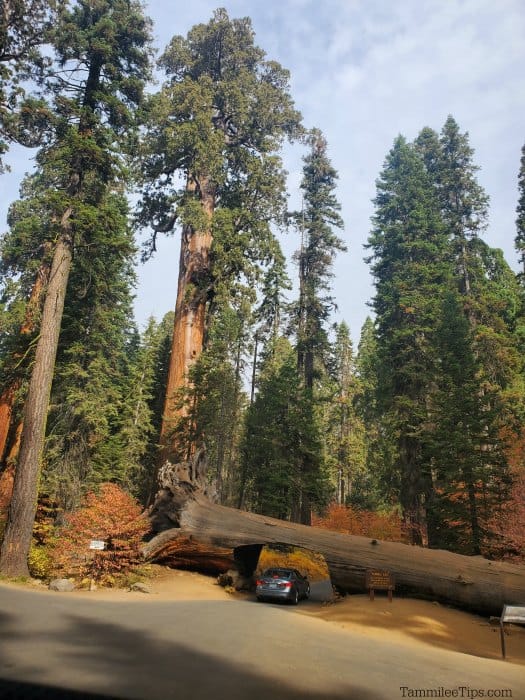 Our first stop was driving up to Moro Rock and then to the drive-through tunnel log. We figured we had already attempted and not completed two drive-through Redwood trees we needed to drive through a tree we knew we could fit through.
The Tunnel Log is actually a Sequoia tree that fell over and a tunnel was carved into it. Our SUV fits easily under the log.
Many people ask where the drive through Sequoia tree is and that is a bit of a complicated answer. There used to be a drive-through Sequoia Tree in the Mariposa Grove of Giant Sequoias in Yosemite NP but that tree fell in 1969.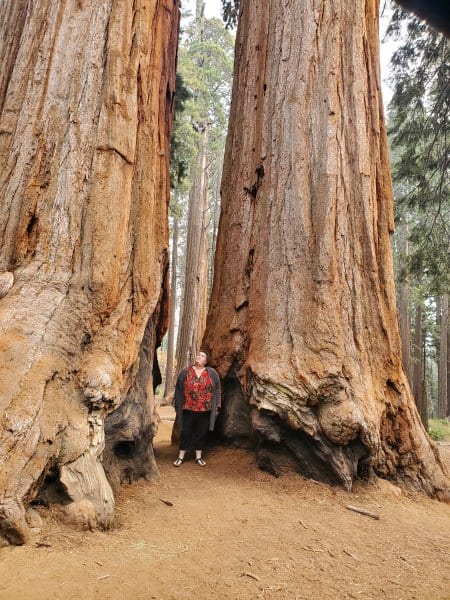 This is one of our favorite parts of Sequoia NP. Just up from the Tunnel Log along Crescent Meadows road is the Parker Group grove of Sequoias. I love how easy it is to get photos with these giant trees.
You can easily pull over in the pull-out and get great family photos or Instagram photos here.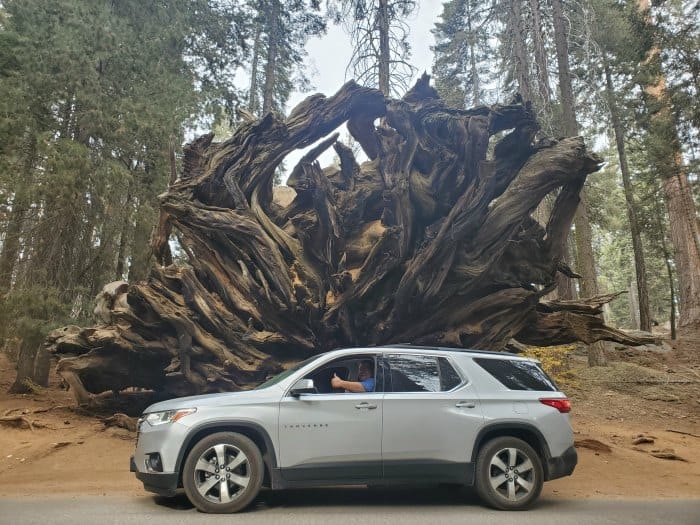 One of my favorite things is driving up through the Giant Forest. There is just this moment of awe every time when you come around a corner and see the Giant Sequoia Trees along the side of the road.
Even in a large SUV, you feel small compared to these massive trees. Visiting in the Fall you not only get to see the Giant Sequoias but also amazing fall colors.
Sequoia National Park is home to the General Sherman Tree. The General Sherman Tree stands 275 tall and is 36 feet in diameter!
General Sherman is the largest living thing in the world!!! It is the largest tree in not only the park but the world.
It is hard to even wrap your mind around just how big the General Sherman Tree is.
During a large portion of the year, you can easily drive the General's Highway between Sequoia and Kings Canyon National Park. The road does close when it starts to snow.
We lucked out and there was no snow during our visit though it felt like it was on its way soon.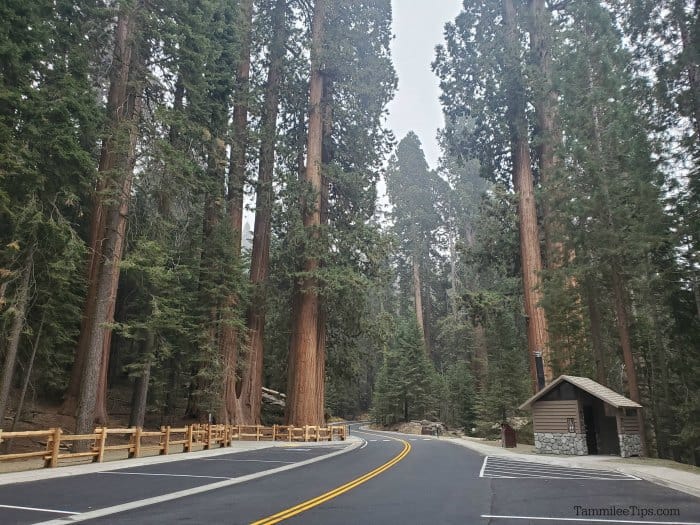 Make sure to stop at the Lost Grove pullout. There is a great new clean bathroom along with huge sequoia trees right next to the parking area. We normally stop here to stretch and check out the trees.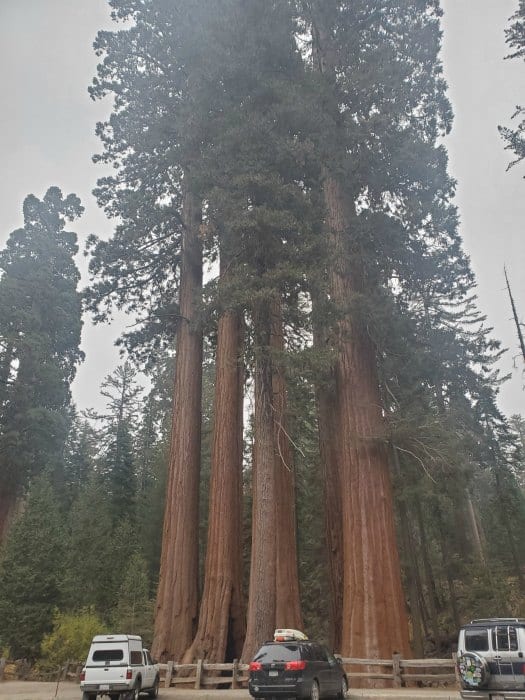 Kings Canyon National Park
Kings Canyon NP is located north of Sequoia National Park along the General's Highway. Between the two parks, you drive through the Sequoia National Forest.
It is a fairly easy drive between the two parks with only a few windy sections of the road.
Kings Canyon is home to the General Grant Tree. I know this is going to sound slightly weird but the parking lot for the General Grant Tree is one of my favorite places in any national park.
I know you are thinking I have lost it talking about a parking lot but hear me out. You can have a car picnic lunch and be surrounded by giant Sequoia trees. The parking lot offers epic views of the trees and it is just amazing.
I enjoy it so much I even took a video during this trip. LOL!
It is so cool that you can park your car and take a picture with a Giant Sequoia Tree to show just how tiny your car or you look.
This is always one of our must-see things to do in Kings Canyon National Park.
Since the weather was turning colder quickly and it started to rain we headed back to Visalia for dinner at one of our favorite restaurants…the Sequoia Brewing Company!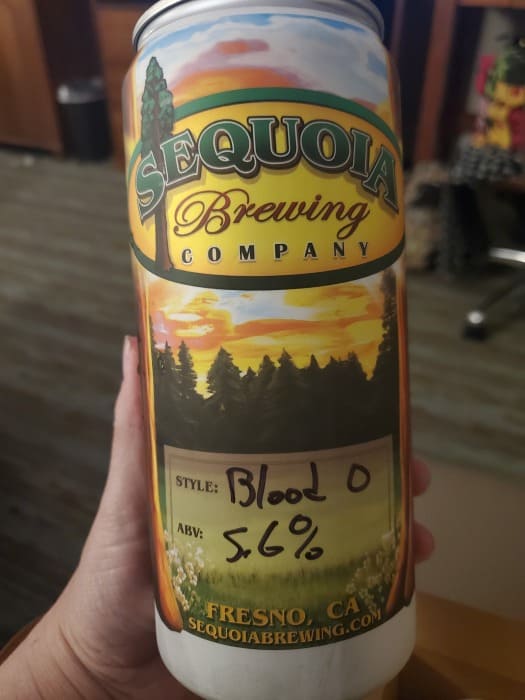 I am going to admit that we eat at the Sequoia Brewing Company every time we visit this area. I LOVE their pretzel bites. I am not sure what they do to them but they are one of my favorite things.
I should just admit now that I always order two orders of them so I have leftovers for the next day they are that good! They even taste great while working in the morning before heading to the parks.
If they last they make a great snack while exploring the parks but they rarely last that long for me. LOL!
John loves their Buckeye Flat Frisco Burger. He says it is one of his favorite burgers anywhere in the world. It has a parmesan-crusted sourdough bread for a bun along with a ½ pound charbroiled patty topped with grilled onions, and melted mozzarella cheese.
Hello YUM!
We decided to get take out from Sequoia Brewing Company and bring it back to the Wyndham Visalia. The brewery offers fresh beer to go! Straight from the tap to a beer can so you know it is delicious.
John tried the Blood Orange Pale Ale along with picking up one of his favorites the General Sherman IPA.
After a full day, it felt fantastic to relax in the room with a great dinner.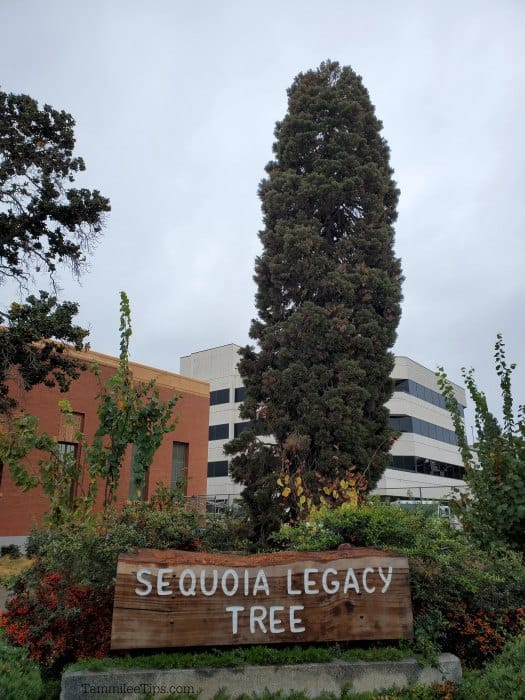 On our final morning in Visalia, we checked out Component Coffee Bar. We also made sure to check out the Sequoia Legacy Tree that is next to the historic post office downtown Visalia.
There were two Sequoia trees but unfortunately one of them did not make it. Today you can see a gorgeous Sequoia tree in Sequoia Legacy Park. This small corner park is packed with history and shows the connection between Visalia and Sequoia National Park.
One of the really cool things about Visalia is how influential the city was in the creation of Sequoia and Kings Canyon National Park. There is so much history in this city and an amazing amount of historical buildings to check out.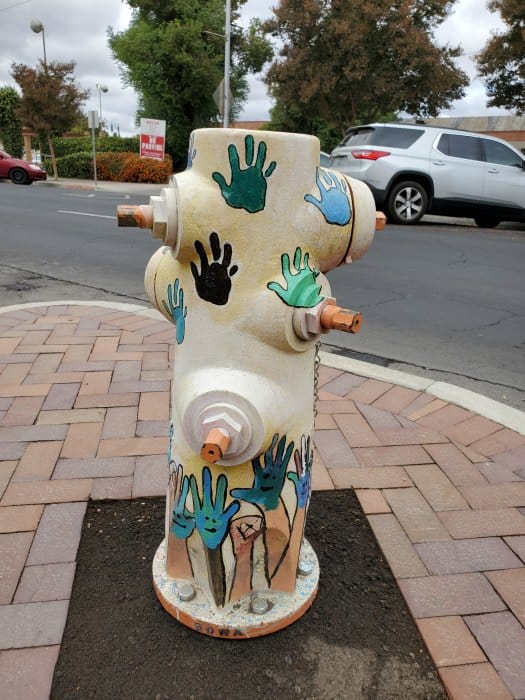 Don't miss all of the cool painted fire hydrants and murals in downtown Visalia. There is art hidden all over this fun city.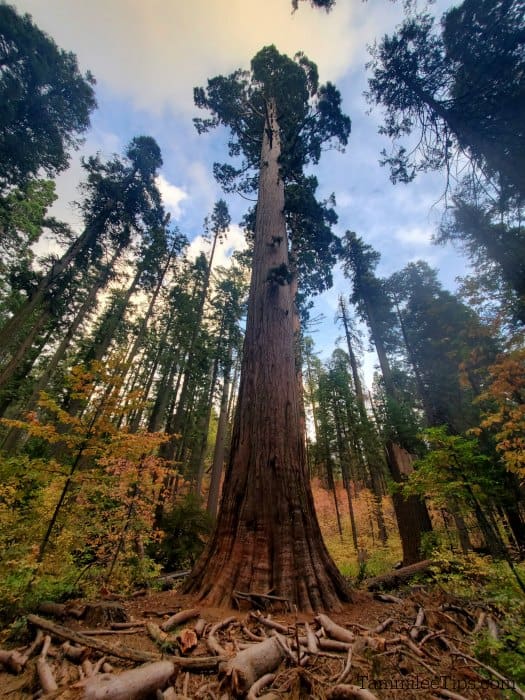 Calaveras Big Trees State Park is located near Arnold, California about 20 minutes from Murphy's. This amazing California State Park has two groves of giant Sequoia Trees.
We explored the North Grove Trail since the south grove of trees was closed due to an impending snowstorm. There is a pretty easy hike through the North Grove that guides you past amazing Sequoia trees and tells the history of the grove.
When you visit make sure to pick up a trail guide near the beginning of the trail so you can easily read the history of each of the designated trees.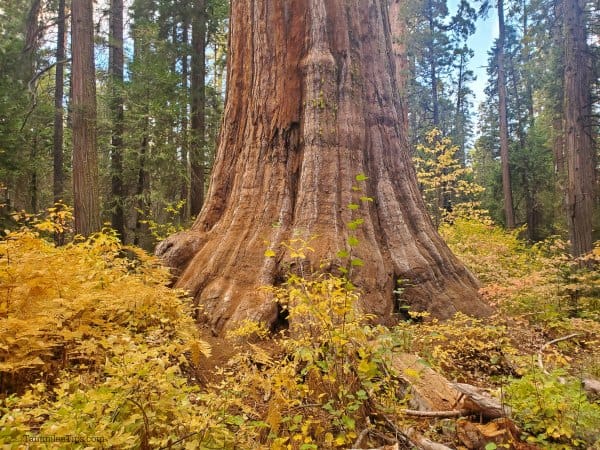 The trail is fairly flat but there are dips and bumps so you need to pay attention to where you are walking. There are so many Sequoia trees along with Dogwoods that the trail is definitely affected by the root system of the trees.
We visited Calaveras Big Trees State Park in the evening right before sunset. It was gorgeous to watch the trees change with the golden hour around sunset. You will want to plan enough time so you don't walk out in the dark as we did. Lol.
Even in the dark, the forest was absolutely gorgeous.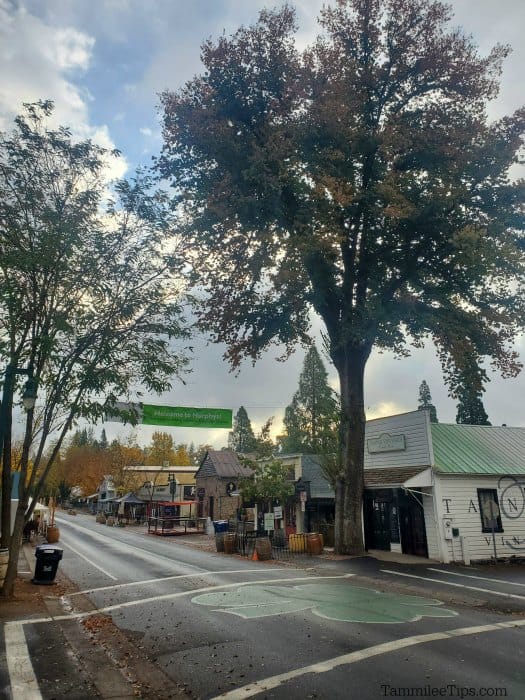 Murphys, California
We stayed in Murphys, California during our time exploring Calaveras County. We sadly only had two nights in the county so we didn't get to fit in everything we wanted but we packed in as much as we could.
We stayed at the Murphys Suites Hotel right off of the main road into Murphy's. The hotel is super easy to get to and is located less than a half-mile from the main street of town with all of the epic wineries.
We stayed in a king suite on the 1st floor. When you first come into the room there is a sitting area with a couch, table, and chairs, plus a long counter with a mini-fridge, microwave, and sink.
The bedroom has a king bed, flat-screen tv, desk, and a comfy cushy chair to relax in. I woke up early and curled up in the comfy chair to read a book and it was fantastic.
I was really impressed with the number of Murphy's Restaurants there are to choose from. We had dinner at Grounds and it was fantastic.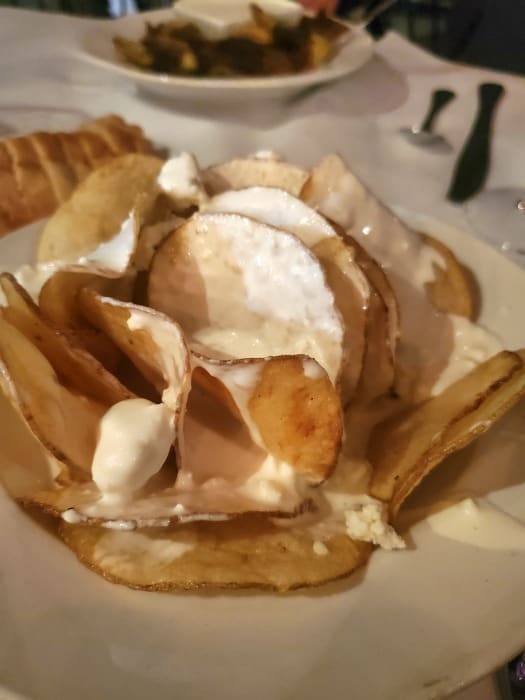 This small restaurant has a great menu with a variety of options including elk medallions, Fried Chicken sous vide with a whiskey pepper sauce, calamari Dore with Linguine Pasta, and Grilled Angus Ribeye.
I had the Forager Mushroom Risotto with crimini mushrooms, garlic, parsley, and shaved pecorino and it was lovely.
John had the Grounds ½ pound burger with cheddar cheese, garlic mayo, on a garlic oil topped bun paired with garlic parmesan fries.
My favorite part of our dinner was the Gorgonzola Potato Chips. I filled up so much on these I could barely eat my risotto. The potato chips are sliced daily in house and then prepared when you order them.
They are then drizzled/coated with a gorgonzola cream sauce that was delicious! So good that I used the table bread to soak in the last few drops of the gorgonzola sauce. They should sell it by the bucket because I would put it on everything.
After an amazing dinner at Grounds, we headed back to Murphy's Suite for a great night's sleep.
I don't know if it was our gorgeous walk-in Calaveras Big Trees State Park or just having been on the road for a while but I slept so great. I honestly woke up drooling which is a bit of TMI but the bed was so comfy at Murphy's Suite and the room so quiet I was out.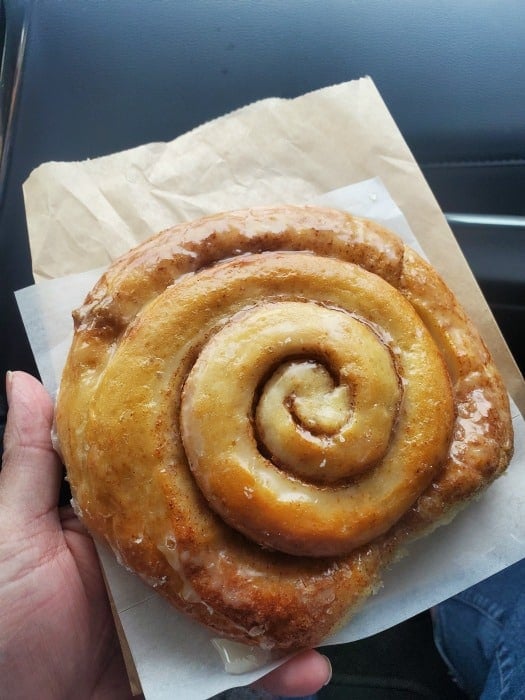 We started our day heading to Aria Coffee Shop and Bakery on the main street of Murphy's. Aria makes all of their pastries in-house and they were amazing. We might have tried both a cinnamon roll and a chocolate-filled croissant.
Both pastries were delicious along with the ginger molasses cookie we brought for later in the day. This was the perfect way to start our day!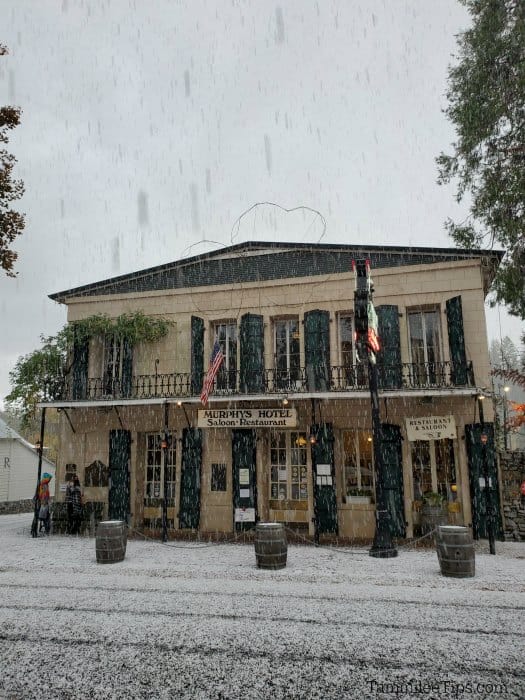 Wandering up and down the main street of Murphy's felt like we had stepped into a Hallmark movie!
One of the amazing things we were excited to check out was all of the Murphys CA Wineries! There are more than 20 wineries just along the main street and more in the surrounding area.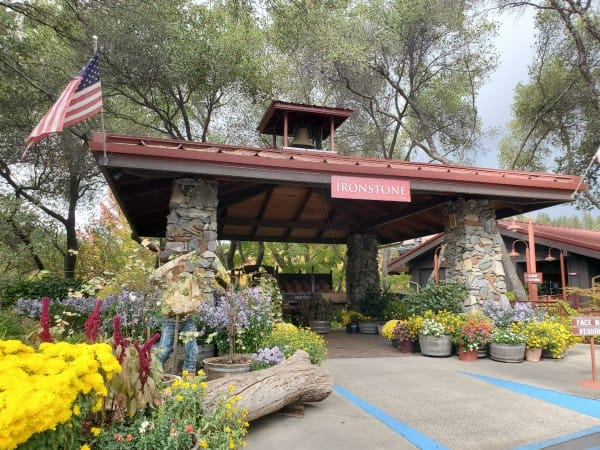 We started our winery tour at the beautiful Ironstone Winery! This winery has it all! The tasting room is truly beautiful and so worth visiting. The grounds are huge and include rolling hills of grapevines, grassy areas perfect for picnics, secluded nooks with picnic tables and small tables to tuck into with a bottle of wine and your favorite person, and so much more.
Ironstone Winery amphitheater has amazing concerts each summer with a ton of big names. We can't wait to return for a concert in the future.
And to make it even better the Ironstone Winery Wines were amazing! So good that we brought 9 or 10 bottles home with us. John is already talking about buying a case of the 109-year-old vine zinfandel and the 45-year-old vine zinfandel we tried. He bought a couple of bottles and already wishes he would have bought a case.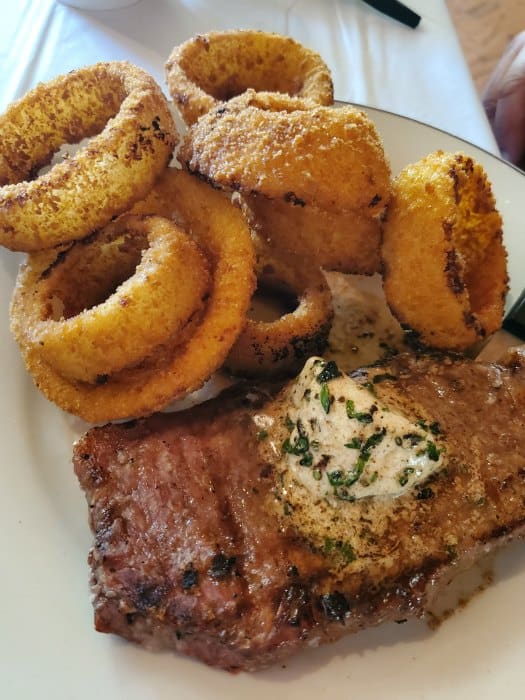 We had lunch at Ironstone Winery and I need you to order the baked brie. I am going to attempt to remake it at home it was that good. John said the steak he had was amazing.
Once we had filled up on lunch it was time to explore more of the Murphys Ca wineries along the main street.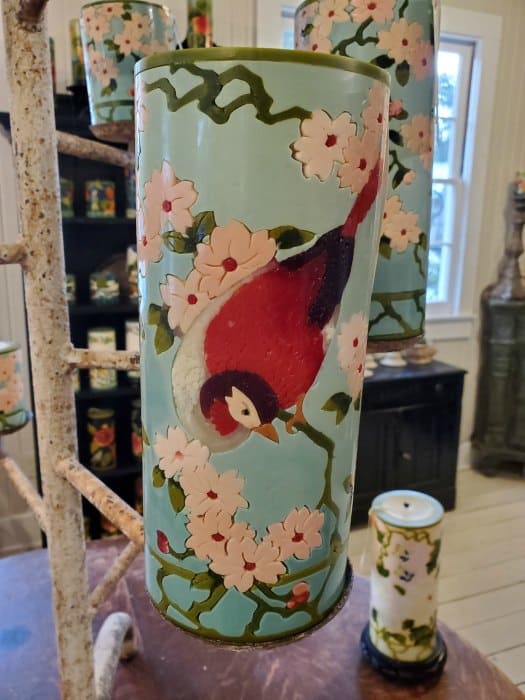 It is so easy to hop from wine tasting room to the next wine tasting room along Main Street. You can park your car or book a hotel along Main Street and just wander.
I could have easily spent an entire afternoon checking out all of the cute stores along Main Street in between wine tasting. From holiday décor to the amazing candles at Moon Alley Candle Shop.
I have never seen candles quite like the candles in Moon Alley. I think they may become my go-to gift for friends and family. You can order Moon Candles online which makes me really happy. I wasn't sure I wanted to test having one bounce in the car on our drive home.
We also stopped into Nelsons Columbia Candy Kitchen on Main Street and hello yum! The chocolate we tried was beyond delicious and the candy store smelled so good. Like walking into a chocolate factory.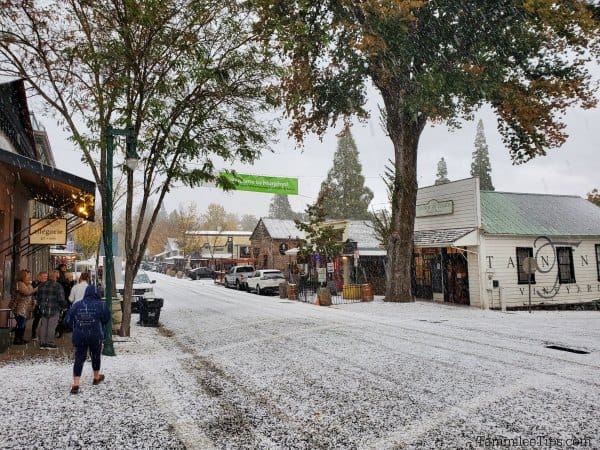 We were so impressed by all that Murphys had to offer! The feeling of the town is friendly and happy. People were smiling and laughing even during a freak hail snowstorm that coated the streets in snow hail in minutes.
Everyone was outside taking photos and videos and laughing together in the moment. This is a town that works together to make sure that every visitor has an amazing experience while they are there.
I will say my road trip outfits did not include snow gear. LOL!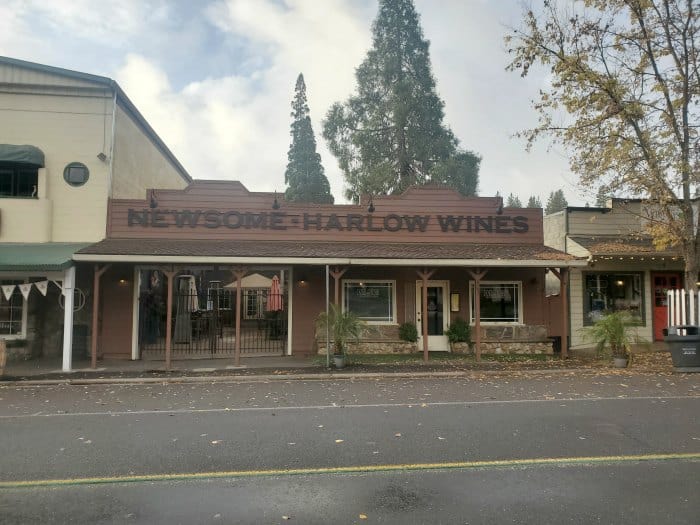 We spent the last part of the afternoon talking with Scott Klann who owns and runs Newsome Harlow Winery. We learned a lot about the Calaveras County wine scene and how they all work together to produce the best wines possible.
Talking with Scott was fantastic and outside of just wine I felt like we could have talked for hours about running a small business and what it takes to move forward during difficult times.
Newsome Harlow Winery offers a mix of white and red wines including a Big John Zinfandel that we were so excited to try. When your husband's nickname is Big John and there is a wine named that you know it was high on our list to try.
This is another wine we plan to bring home by the case in the future. It was absolutely deliciously rich in bold flavors but also an easy to enjoy zinfandel. The perfect balance of flavors.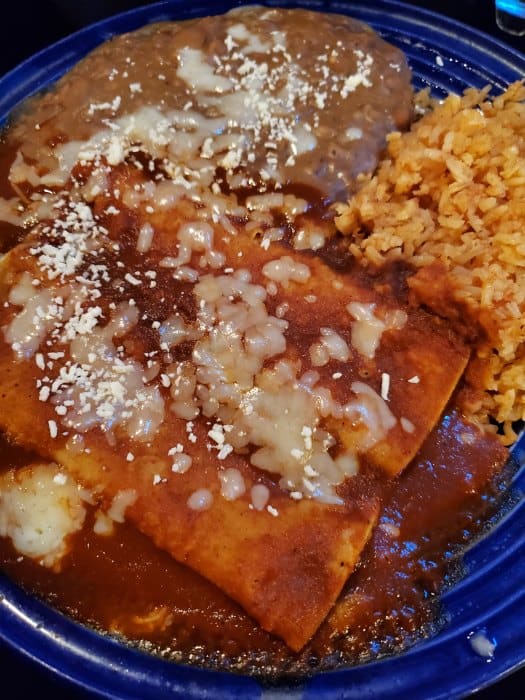 Our final dinner was at El Jardin Mexican Restaurant and it was so good. This small Murphys restaurant packed a punch with flavor. John enjoyed the poblano chicken mole and I know it was good because he stopped talking and just dived into the plate of food. LOL!
I had my normal cheese enchiladas and they were great. They had a hint of spice in the red sauce but tasted amazing.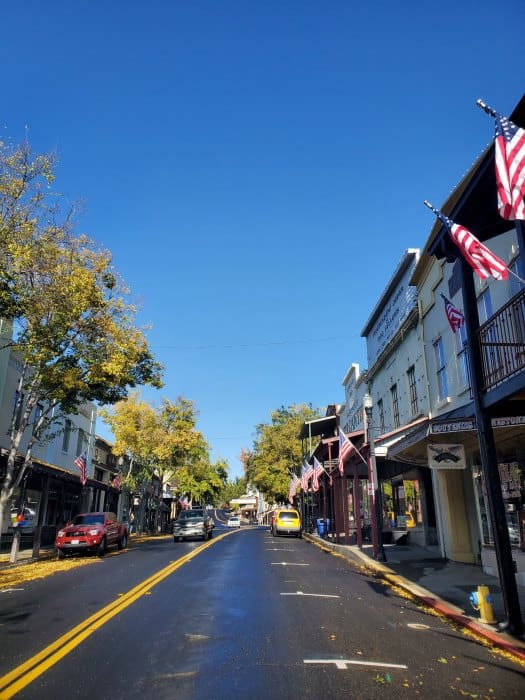 Angels Camp, California
Just down the road from Murphy's is Angel Camp, California. You may recognize Angel Camp from Mark Twain's book "The Celebrated Jumping Frog".
This is the home of the Calaveras County Jumping Frog Jubilee! Yes, you read that correctly! This is the home of a festival that celebrates how far champion frogs can jump in 3 jumps.
There are amazing frog statues all around town and I am really sad we missed getting a photo of the shiny disco ball looking frog in town. I think that is the perfect reason to have to return to Angels Camp again soon.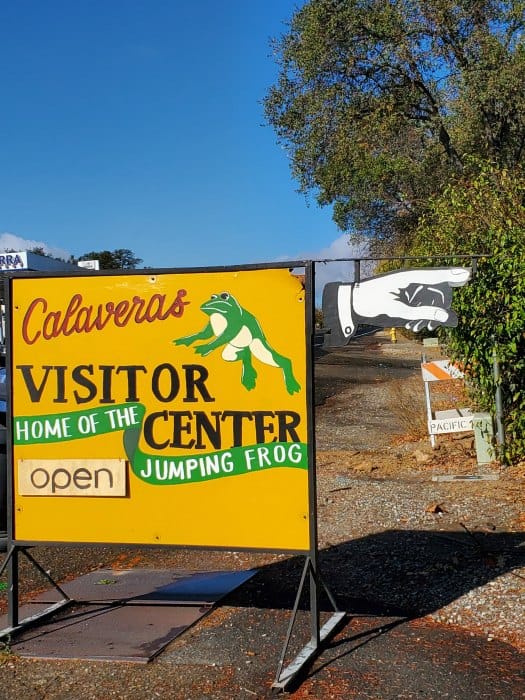 The town of Angels Camp is super cute and includes the Calaveras County Visitor Center and Angels Camp Historic Museum. This is a great place to stop for information on the area and also to explore the museum.
The museum is spread over three buildings and includes information on Mark Twain, the jumping frog contest, an amazing barn filled with historic carriages, and a mining and ranch museum.
If you are into crystals or rocks the mining museum has some of the most amazing crystals I have seen in a while.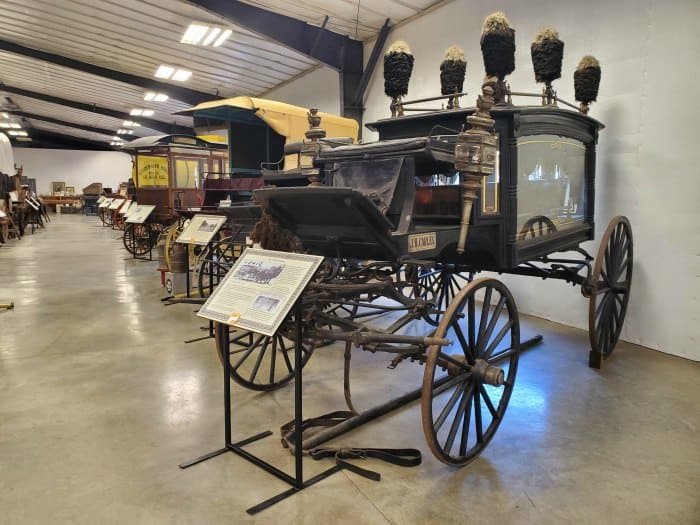 We were in awe of the carriage museum. I could have spent a few hours reading about each of the individual carriages and thinking about what life was like when that was your main means of transportation.
Don't miss the fun Calaveras Jumping Frog souvenirs in the visitor center. They have really fun hats and shirts with jumping frogs on them.
It was hard to think about leaving Calaveras County and heading home but the time had come. After 11 days on the road exploring California Big Trees, we had to wave goodbye to some new places and head back to the cats to be able to share our trip with everyone.
We are so thankful that we had the opportunity to savor our time in the big trees of California. From gazing in wonder at how tall the coast redwoods are to imagine how many people it would take to hug a giant sequoia tree we loved every minute of our trip.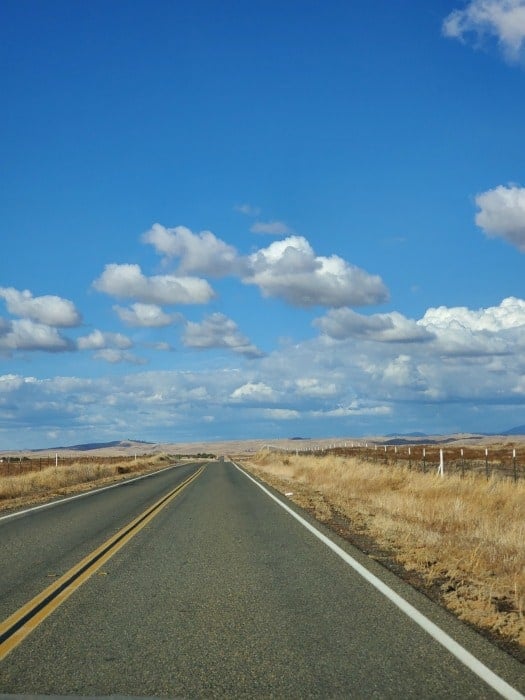 We love the idea of making a road trip gifts basket before our next road trip.  A fun surprise for everyone in the car.
Additional California Road Trip Articles
Check out these other great California road trip posts to help you plan your own California Road Trip!
Whiskeytown National Recreation Area
Things to do Lassen Volcanic National Park
One week Southern California Itinerary
Make sure to bring Family Vacation Games with you for fun on the road and in the hotel.