Krispy Kreme Doughnut Burger is a great beef hamburger recipe that everyone will be surprised by how good it tastes.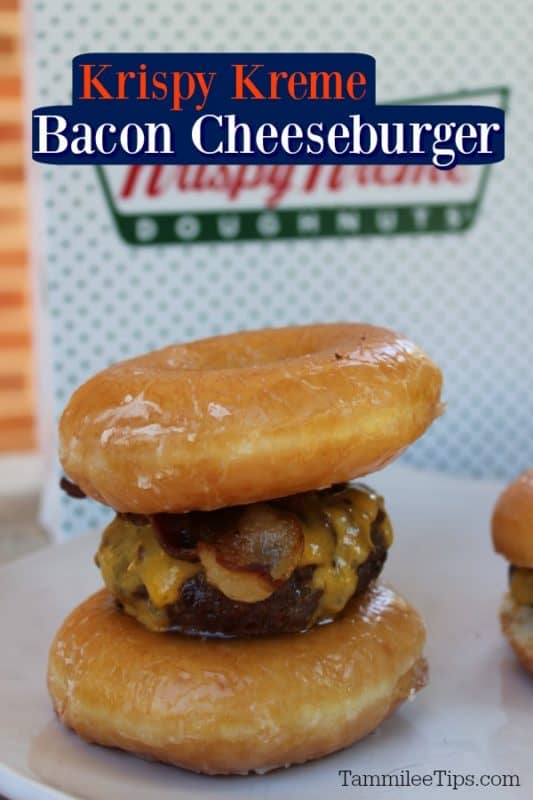 Krispy Kreme Bacon Cheeseburger
So this Krispy Kreme Bacon Cheeseburger is what happens when you ask your Husband for recipe ideas.  My amazing and sometimes random Husband told me we needed to make a Krispy Kreme Bacon Cheeseburger.
I thought he was losing his mind making Krispy Kremes into hamburger buns but he assured me it is not that unusual. He proceeded to tell me that he saw it on the Food Network and has heard that Krispy Kreme Cheeseburgers are becoming normal fair food.
As we were driving through Krispy Kreme donut shop I was still shaking my head thinking that John had lost his mind. Why would you take a perfectly good doughnut and make it a hamburger bun....
When we got home John went right to work making this Krispy Kreme Bacon Cheeseburger. He wasn't sure if he should cut the doughnut in half or use 2 full-size doughnuts so he tried it both ways.
After trying both of the doughnut cheeseburgers John said that the burger with 2 Krispy Kreme's is quite sweet and he was not going to need any other sweets for days.
He had a lot of fun making these burgers and finally talked me into one of his recipe ideas on the blog.
Ingredients
Sliced Krispy Kreme Original Glazed Doughnut
Hamburger
Slices of Bacon
Cheddar Cheese
Optional toppings - onions, lettuce, tomato, egg, salt and pepper, your favorite condiments
Great Barbecue Recipes
Do you love recipes? Check out our copy cat recipes, dessert recipes, and our Crock Pot Recipes.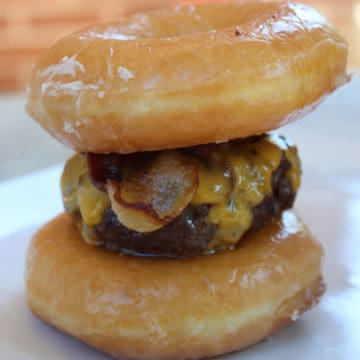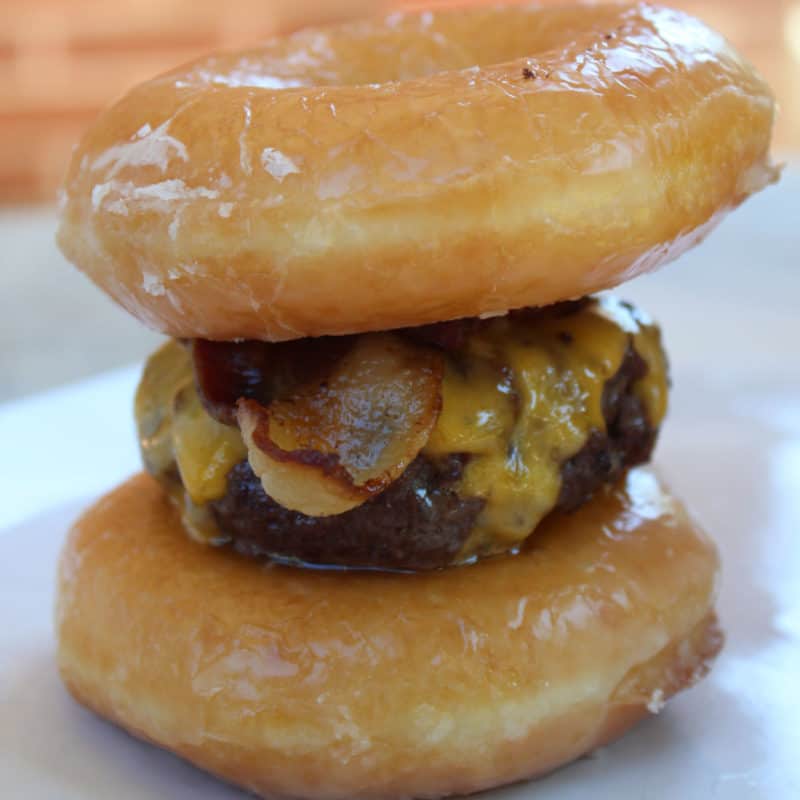 Krispy Kreme Bacon Cheeseburger
How to make a delicious Krispy Kreme Bacon Cheeseburger
Print
Rate
Ingredients
Krispy Kreme Doughnuts

Hamburger

Bacon

Cheese
Instructions
We grilled the burgers on the grill and let the cheese melt over the top of the burgers.

We stacked the Krispy Kreme Doughnuts with the burgers and then bacon

Enjoy the sweet overload that comes from this Krispy Kreme Bacon Burger.
Recipe originally shared on August 9, 2013