When you think of Napa and you think of Wine one of the first things I think of is Robert Mondavi Winery.
During our visit to Napa, we were really excited to visit Mondavi Winery in Napa California and take a tour of the winery.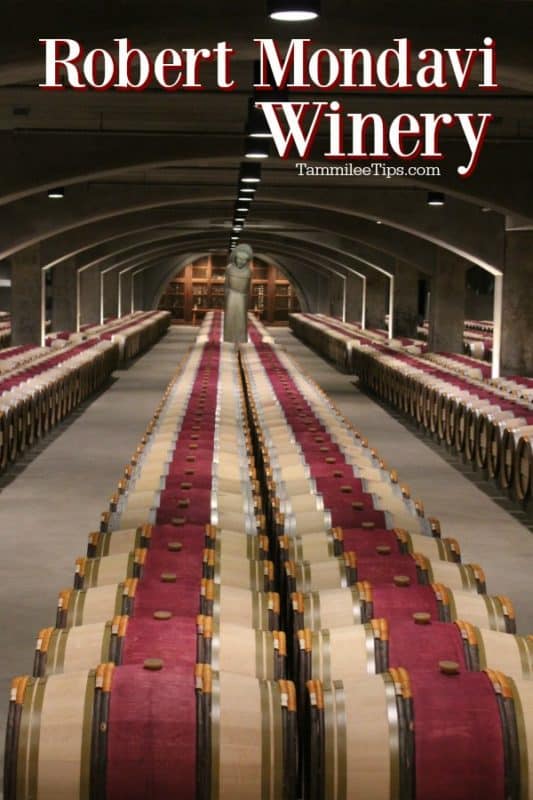 Robert Mondavi Winery - Napa, California
From the moment you pull up to the Mondavi Winery Napa, the grounds are amazing.
There are beautiful statues, grapes growing on the vines and so much more to see just in the parking lot.  This is truly an art lover's paradise.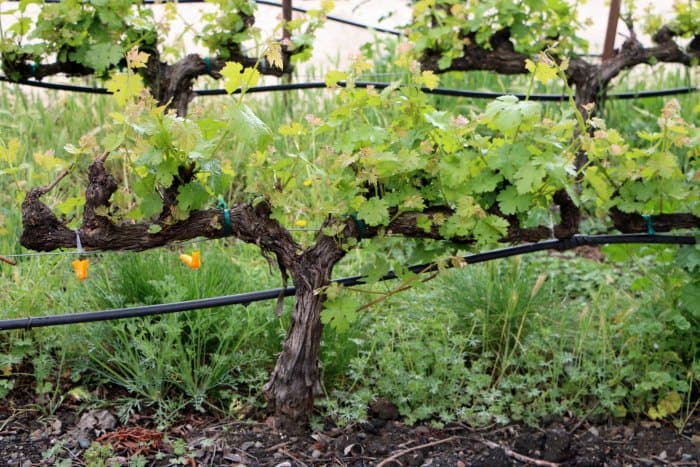 This picture of the vineyard was taken in the parking lot!
Seriously when you visit the Mondavi Winery Napa you are surrounded by amazing vineyards!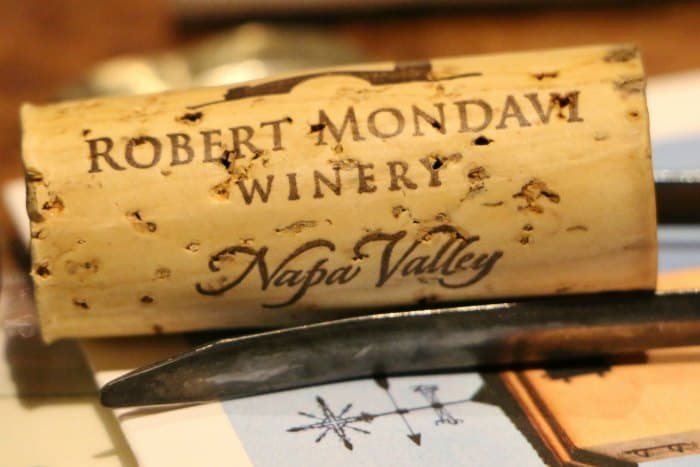 Signature Tour and Tasting
We took a Signature Tour and Tasting during our visit to the Mondavi Winery.  The tour lasted 75 minutes and included an amazing tasting and wine education session. The cost was $30 each.
One of the things I really enjoyed about this tour was the educational tasting. We have been on many wine tasting tours before but this is the first one that really dove into the process of tasting wine.
I came out of this tour with an even greater appreciation for wine and wine tasting. I learned how to make sure I was getting the best tasting possible of wines and what to do if a wine does not smell right at a restaurant.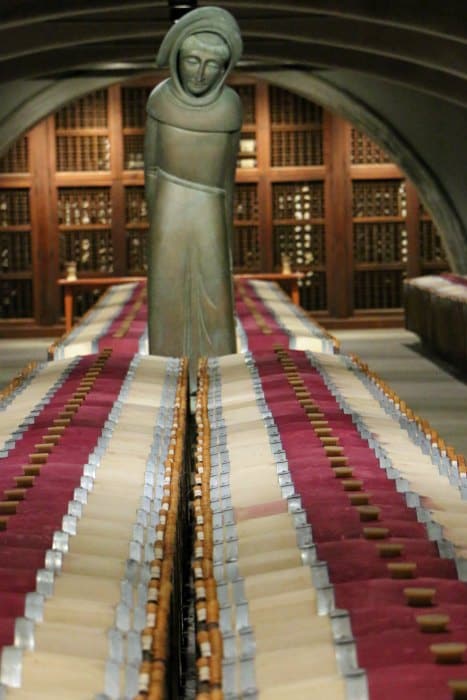 Our tour guide was incredibly knowledgeable and passionate about wines. He took his time making sure that all of our questions were answered during the tour.
We had ample time to take photos during the tour and really soak up the atmosphere of the Mondavi Winery.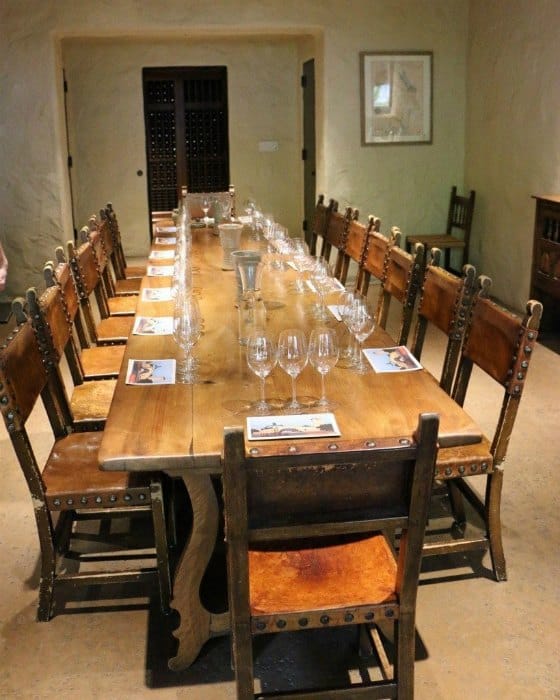 The Robert Mondavi Winery Napa offers multiple types of tours and tastings on site. You can choose from a basic walking tour to a tour that includes food pairing and a visit to the exclusive cellars.
There is a large gift shop on site that has everything you can imagine for wine along with cookbooks, fun kitchen tools, and more.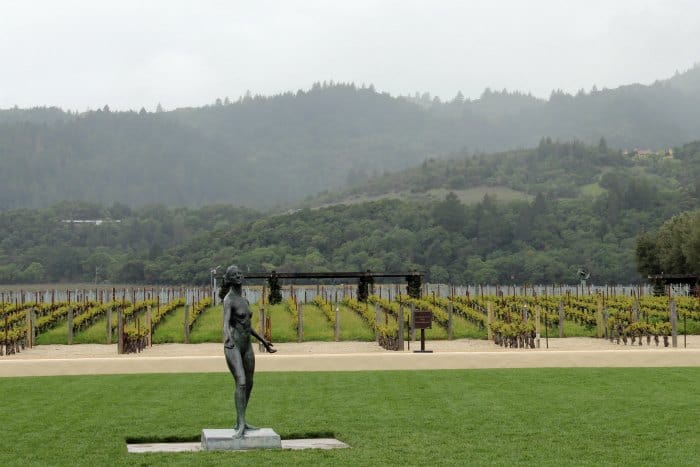 When you visit the Mondavi Winery Napa make sure and give yourself ample time to explore the area and take pictures. We were on a tight timeline during our visit. I would love to go back and spend more time at the Mondavi Winery.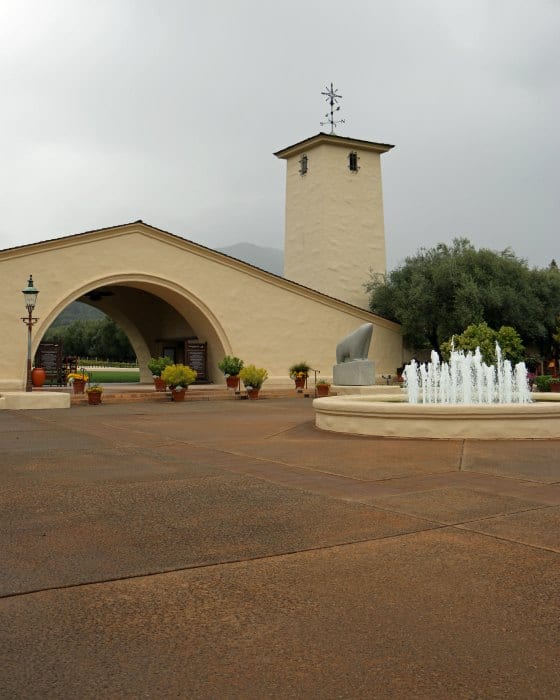 Robert Mondavi Winery is located at 7801 St. Helena Hwy, Oakville, Ca
The tasting room can be reached by phone at 707-968-2162
For more information check out the Mondavi winery website.
The winery is open to visitors daily from 10:00 a.m. to 5:00 p.m. and closed on Easter, Thanksgiving, Christmas Eve, Christmas Day, and New Year's Day. On New Year's Eve, our Visitor Center will close at 3:00 p.m.
Additional California Travel Articles
Castello di Amorosa Castle Winery
Check out all of our California Travel Guides