The Napa Valley Wine Train Tours is the perfect opportunity to see Napa Valley by train. The Napa Valley Wine Train was one of the highlights of our trip to Napa. I was not sure what to expect when we boarded the train but I quickly fell in love with the experience.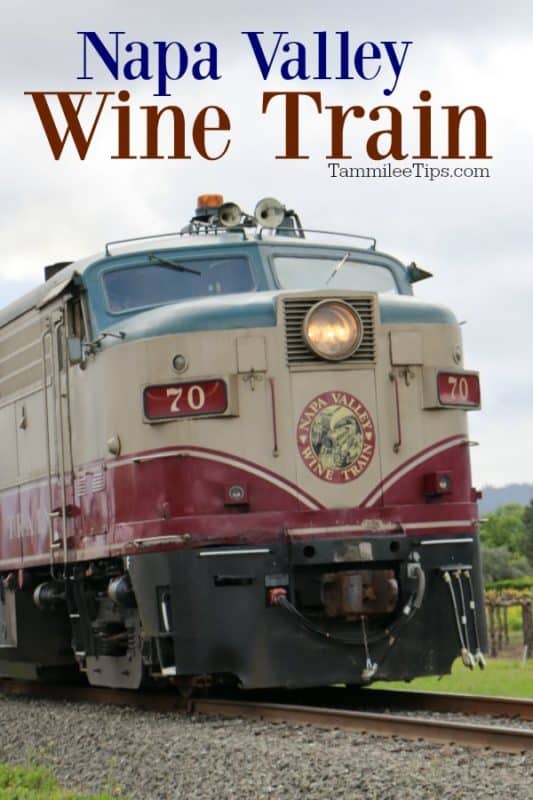 Napa Valley Wine Train
Your Napa Valley Wine Train tour starts with an orientation in the train depot. An employee gives you your ticket and you have the chance to listen to a discussion of the history of the train and the area.
We took the Gourmet Lunch Train and it was amazing! I mean seriously amazing!
We started our adventure with a guided tour of the train and learned so much about the history and dedication that goes into the train. The employees of the Napa Valley Wine Train are truly a family and have so much pride for the Napa Valley Wine Train!
Everyone from the ticket taker to the wait staff was unbelievably friendly and proud of the Napa Valley Wine Train experience.
The Napa Valley Wine Train is made up of refurbished 1915-1917 Pullman Cars. The Napa Valley Wine Train has 2 engines, 3 onboard kitchens, and a collection of rail cars. The train runs on 25 miles of track through the heart of Napa Valley.
Our gourmet lunch started with wine tasting and appetizers in this beautifully relaxing train car.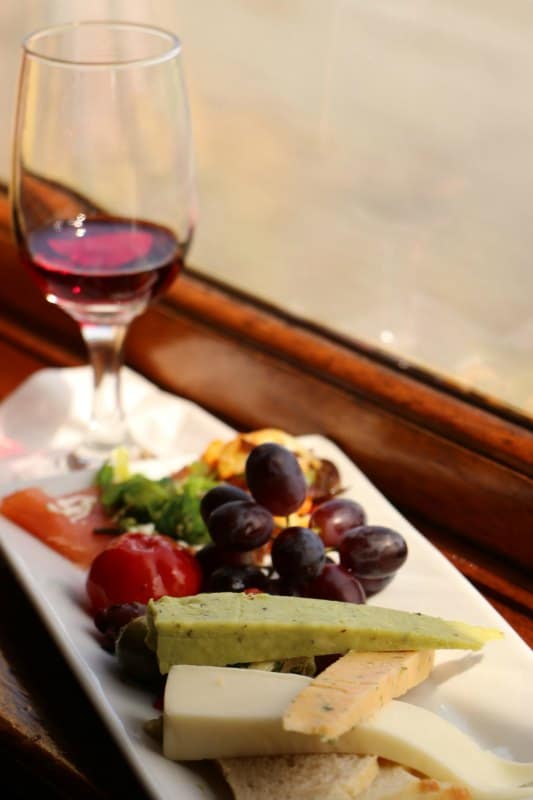 The appetizer platter for each passenger included gourmet cheeses, salmon, fruits, and vegetables. There really was something for everyone. I fell in love with the artisan cheeses and could have enjoyed just this platter of food but there was so much more to come.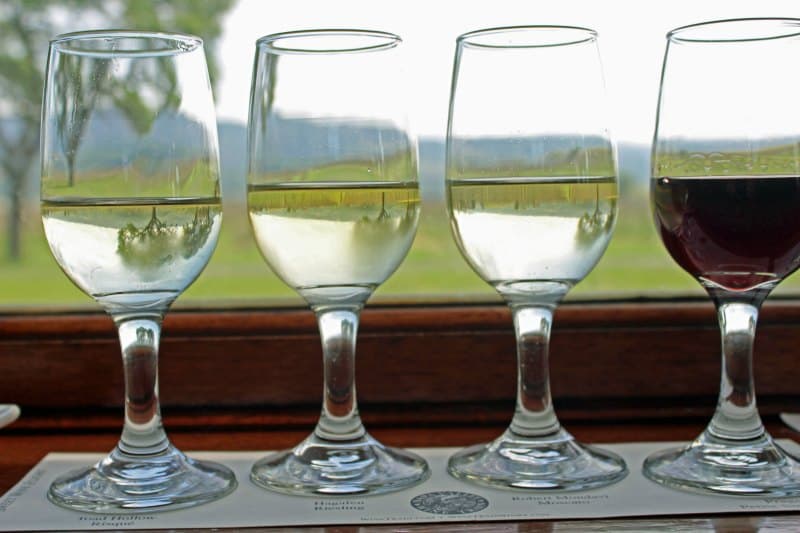 We decided to try the sweet wine flight with our lunch. The train offers multiple different types of wine flights for a great price. You can choose from the type of wines you are interested in sampling. This was a great way to try new wine while watching the amazing beauty of Napa Valley go by.
After enjoying our appetizers and wine flight we moved to the dining car for lunch. It was an easy transition between the two areas. You would never imagine the train is moving a large group of people between cars. It was a seamless transition.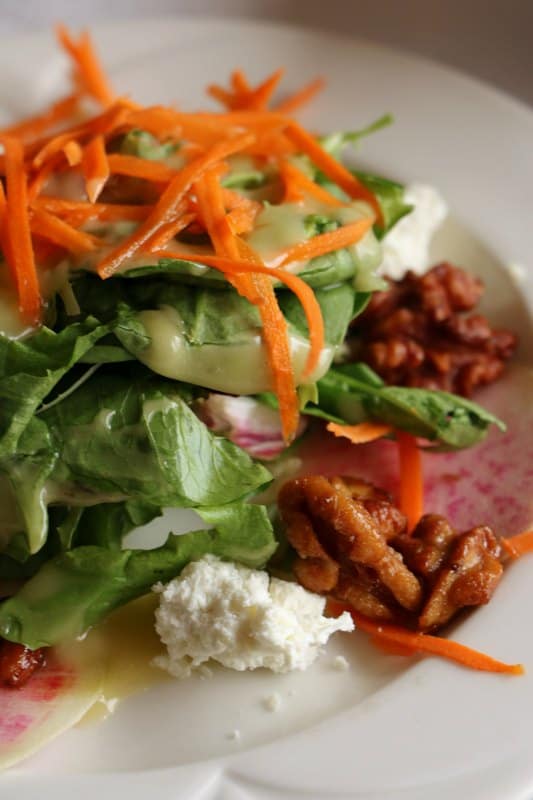 The gourmet lunch crafted by executive chef Kelly MacDonald was unbelievable! It is hard to believe that your lunch is prepared on a moving train.
We were beyond impressed with the quality of lunch that is included in the lunch tour. We started with an amazing baby lettuce salad with candied walnuts and smoked goat cheese in a honey cider vinaigrette. I had never tried watermelon radishes and now I am hooked.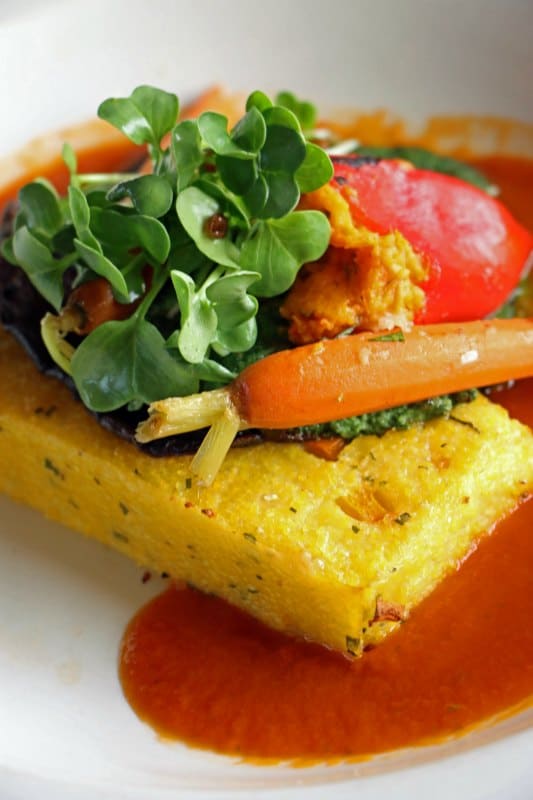 I had the vegetarian option of squash polenta with a spinach-ricotta portabella and yam stuffed gypsy pepper in a tomato basil coulis! One of the best vegetarian lunches I have had anywhere let alone on a train.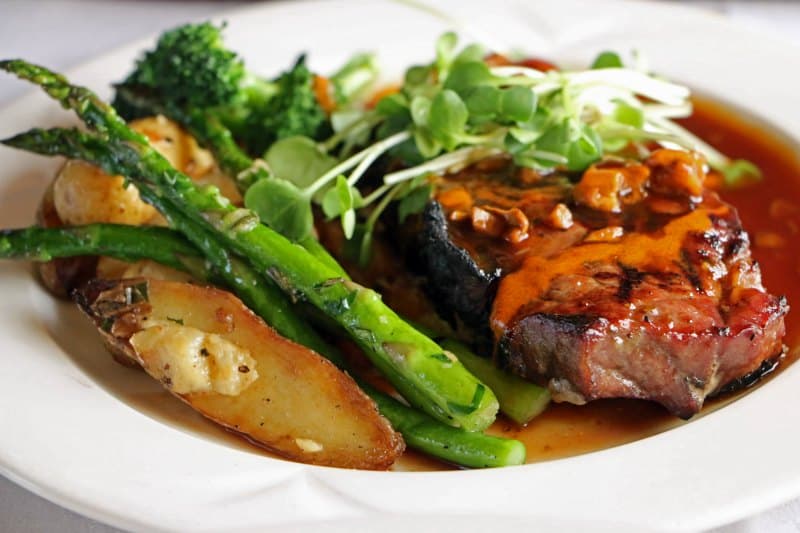 John had the steak with asparagus and sides. It was perfectly cooked! John said it was one of the best steaks he has had anywhere!
Other lunch options included Roasted Beef Tenderloin, Pan-seared bacon-wrapped pork medallion, porcini encrusted breast of chicken, and grilled salmon.
Now we need to discuss dessert..........remember this is made on a train!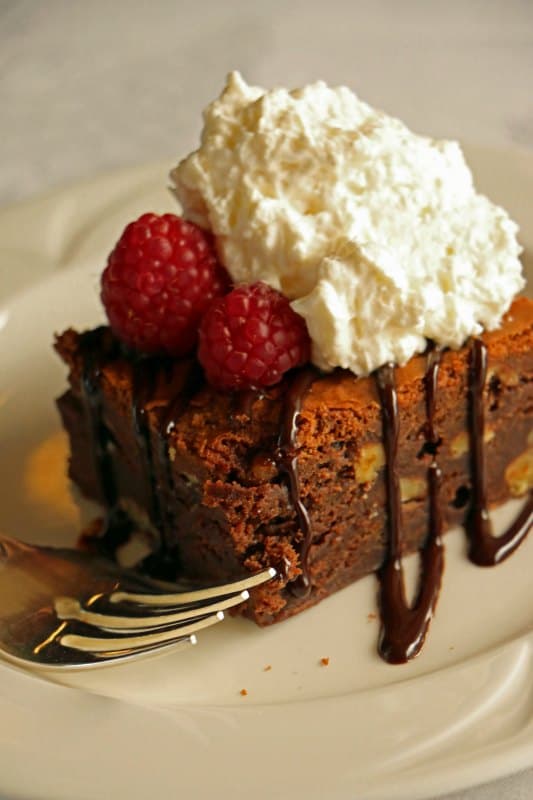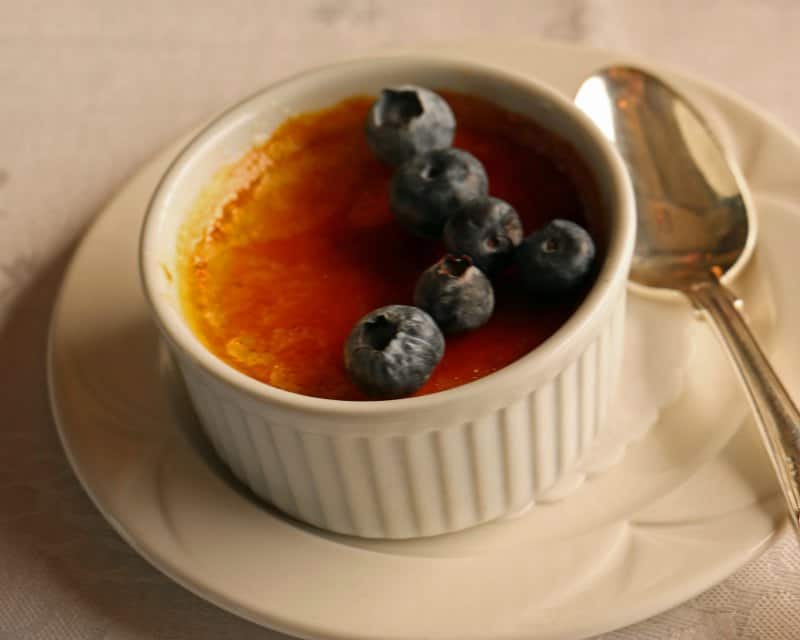 These desserts were beyond good. They melted in your mouth deliciousness that made my taste buds rejoice!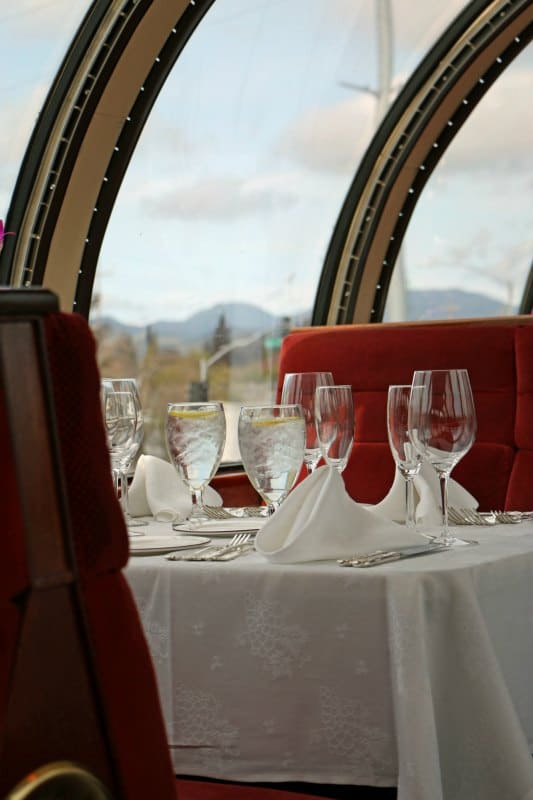 The Napa Valley Wine Train has a 1952 vista dome that was absolutely beautiful. You can reserve a table in the vista dome and enjoy a multiple course meal and glass of sparkling wine.  The vista dome can be rented to ensure a private dining experience.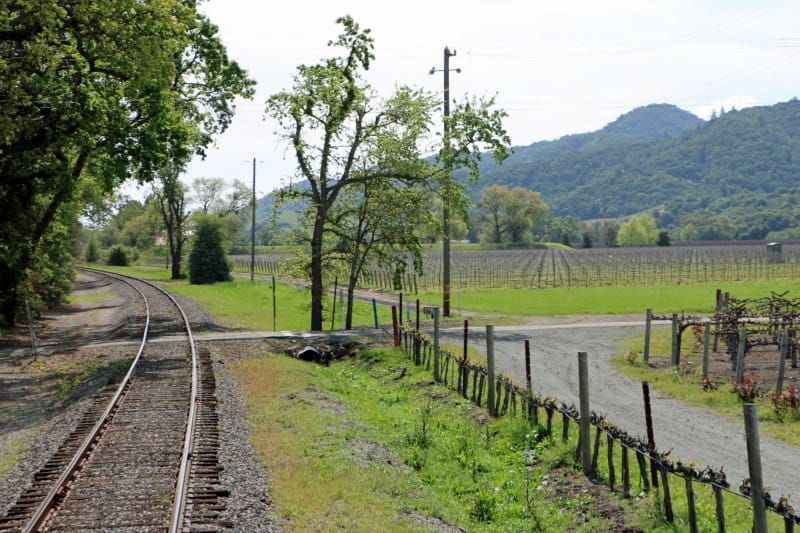 The Napa Valley Wine Train has multiple tour options you can choose from including stops and tours at Grgich Hills Winery, Domaine Chandon, and Castello di Amorosa.
Depending on the time of year the Napa Wine Train offers multiple choices for tours. You can enjoy your afternoon on the wine train or decide to take a wine train and winery tour.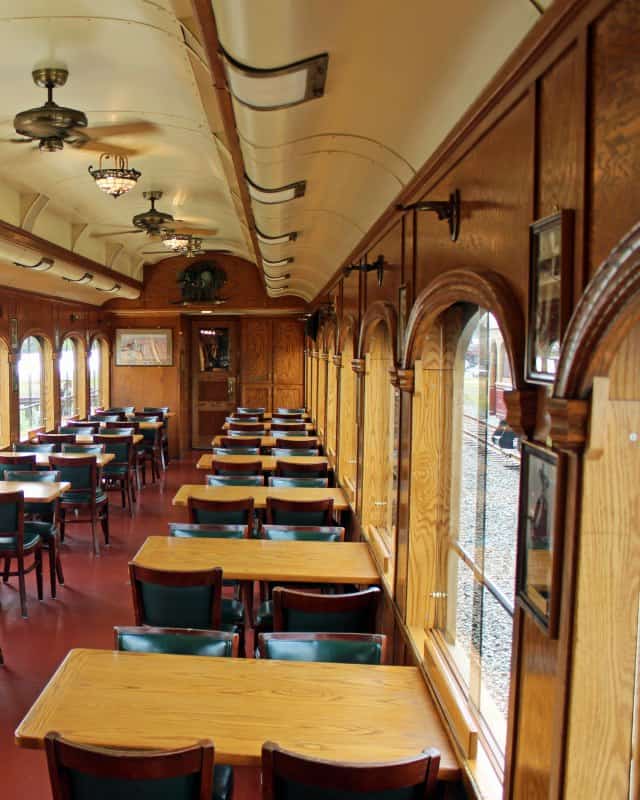 The Silverado Car is an open-air rail car when weather permits. Meals in the Silverado Car are prepared in the car's private kitchen. You can soak up the fresh air of Napa Valley while watching the beautiful scenery go by.
If you are a fan of the Big Bang Theory TV show you may have seen the episode a few months ago where Amy and Sheldon go on a romantic train ride. The vintage train car that is used on the show is a replica of the Napa Valley Wine Train. The sounds that you hear on the show were recorded on the Napa Valley Wine Train.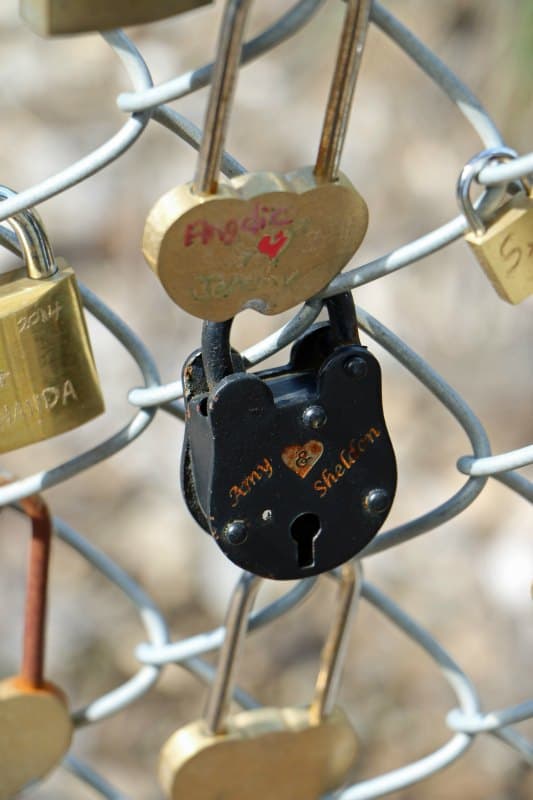 To help commemorate the show the Napa Valley Wine Train placed a Sheldon and Amy love lock on their fence that is covered in locks. The fence includes 100's of locks from train passengers dedicated to special events and their ride on the Napa Valley Wine Train.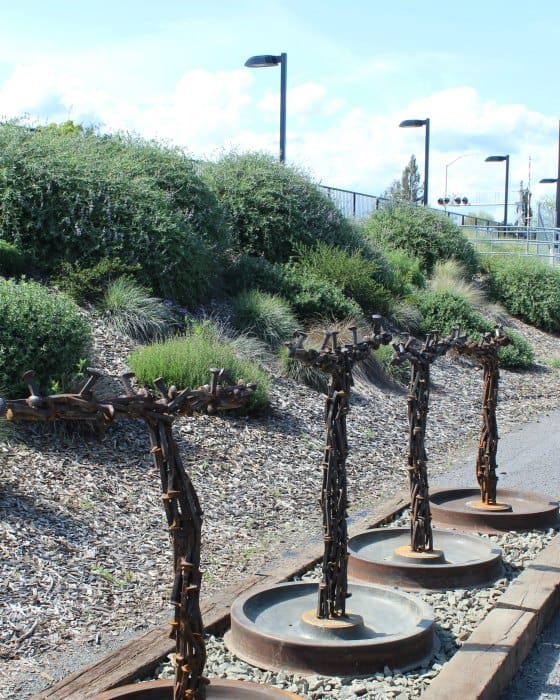 Outside of the train depot near the parking lot, there is a gorgeous new addition to the train depot. Kim Powers one of the Napa Valley Wine Train employees created this amazing art piece showcasing grape vines made with train parts from the Napa Valley Wine Train. This is a permanent display created to showcase the Napa Valley wine region.
Napa Valley Train by the numbers.
• How many feet of track?  Approximately 111,355.2 feet. Which is made up of approximately 6,750 pieces of rail, sitting on 60,750 ties, held together by 121,500 tie plates and 486,000 spikes. Not including sidings and spurs.
• How many wine glasses are on board?  1020
• How many people ride the train each year? 100,000 +/-
• How many brands of wine are served on the train? 37 bottles on wine list; +/- 30 additional at the Wine Tasting Bar, 16 on our Wine Flights
• How many plates of food are served each year? 450,000
• How many miles traveled each year?16,000
• How much fuel is used each year? 58,000 Gallons Diesel & 56,000 Therms Natural Gas
• How many riders on the Wine Train to date? Through October 2013 = 2,336,501
• How many love locks are on the bridge? Over 3,000
• How many cooks assist in the kitchen for daily service? Up to 15
• How many service staff members are on board the Wine Train? Up to 25
• How long has the Wine Train been operating? Since September 16, 1989
• How many rail cars are on the Wine Train? 10 cars, 2 engines
• How long does each trip last? 3 hours/180 minutes/10,800 seconds
• How many pounds of meat/seafood/polenta are served per year? Polenta-500 lbs /Beef Tenderloin-27,759.79 lbs/ Pork Tenderloin-5,554.35 lbs/ Salmon-11,442.59 lbs
• How many solved murder mystery trains take place each year? 13 (monthly with 2 in December)
A couple of tips for enjoying your Napa Valley Wine Train Tour:
~Wear a dark shirt on your trip. You are enjoying lunch/dinner on a moving train. A dark shirt will help cover if any food happens to slip off your fork and onto your shirt 🙂
~Ask your server about the area. Our server was a fountain of information about Napa and the local wineries
~Don't worry if you are not seeing one side of the train ride. You will sit on one side for your appetizers and the other side for your meal so you get to enjoy the entire trip.
~If you try a wine that you love on the train there is a wine shop located inside the train depot that has all of the wines offered onboard.
To make reservations and see all of the tours that are offered to make sure and visit the Wine Train website.
Additional Napa Resources
Check out all of our California Travel Guides