Delicious Caprese Eggs Benedict Recipe with homemade Hollandaise Sauce is the perfect breakfast/brunch. The perfect combination of poached eggs, tomatoes, mozzarella, and balsamic glaze.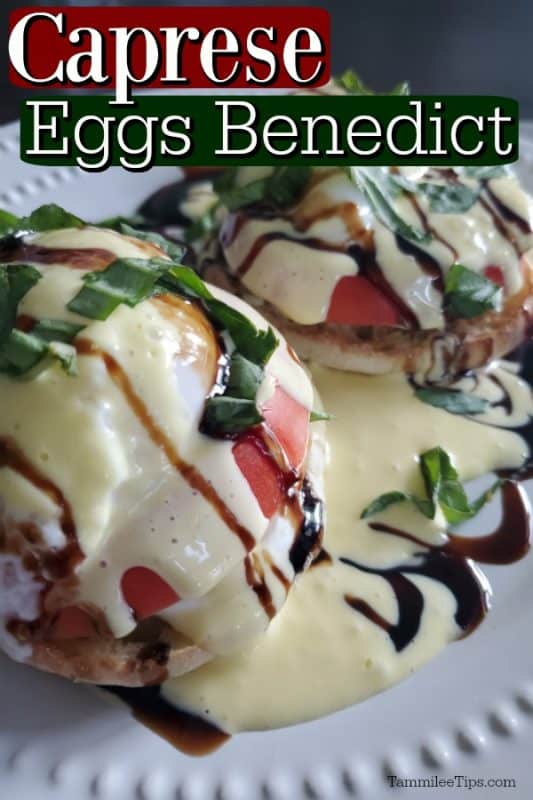 Caprese Eggs Benedict
I love eggs benedict. When we go out for brunch it is my go-to order any chance I get. I always thought making eggs benedict was going to be crazy hard and not worth diving into. I was so wrong.
Since we have been home for months and missing going out to eat I decided it was time to deep dive into the recipes that I have always put off. Plus one of my favorite restaurants in Reno, Two Chicks, did a great Facebook live showing how they make hollandaise sauce.
This inspired me to deep dive into making the perfect Caprese Eggs Benedict based on what I normally order at Two Chicks.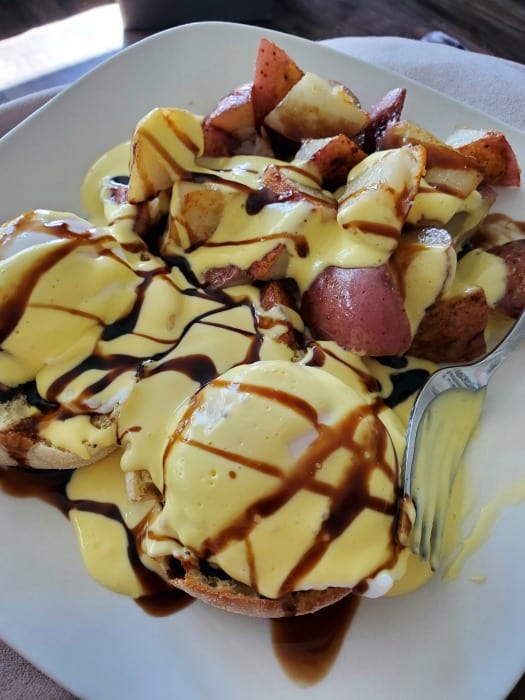 The one thing I haven't perfected is the perfect breakfast home fries that Two Chicks normally serve with the Caprese Eggs Benedict. I have been making them with easy breakfast potatoes that taste so good with hollandaise sauce and balsamic glaze over them.
I am going to admit that I have made this caprese benedict multiple times to get the recipe perfect. Which may have been my excuse to enjoy it for weekend breakfast often. LOL! Can you blame me. It is sooooo good.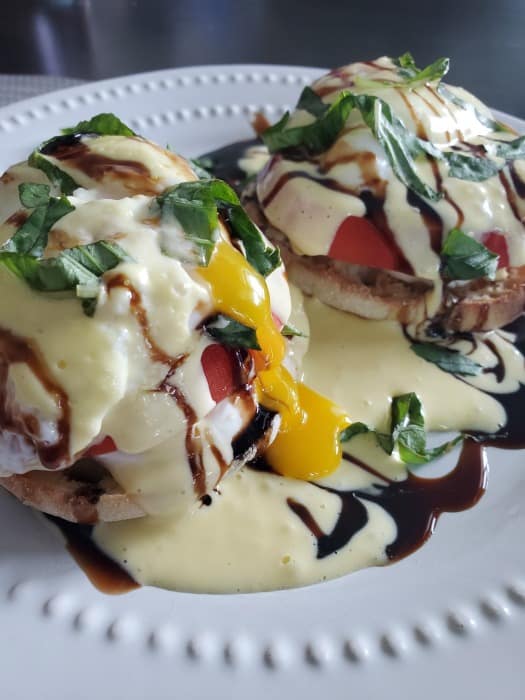 The toasted English muffins help melt the slice of mozzarella, the fresh flavor of the tomatoes and butter sauce...yes please.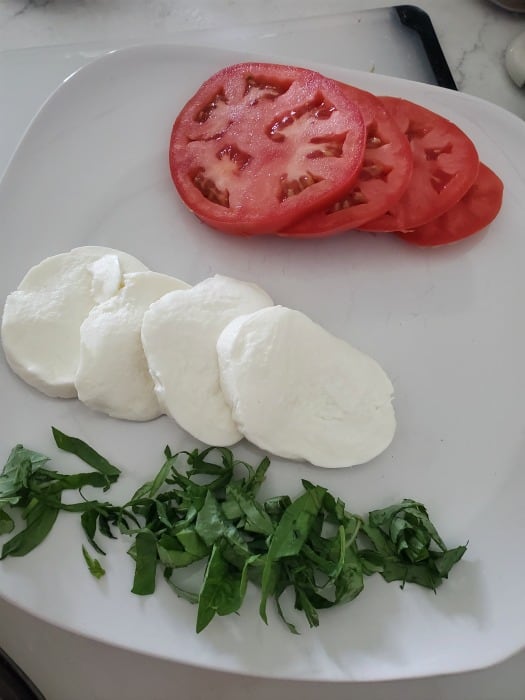 Ingredients
Eggs
Butter
Lemon Juice
Salt
Tomato
Basil
English Muffin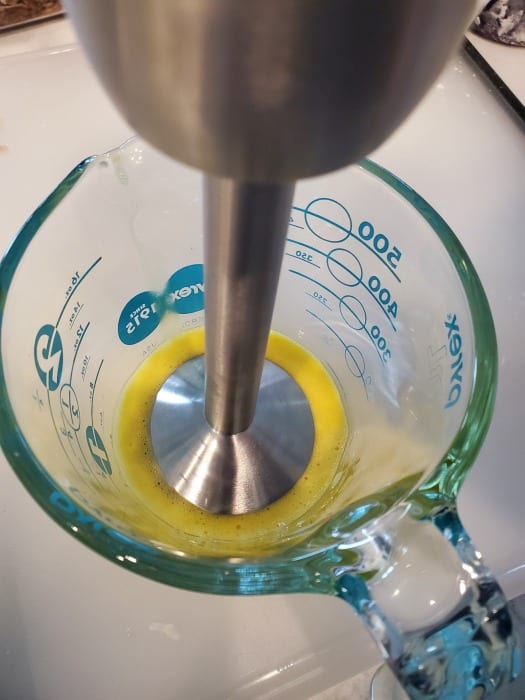 Kitchen Tools used
Hand Blender - I bought this hand blender and love using it to make the Hollandaise Sauce. I tried using my normal stand blender and the blades did not get low enough to get the eggs really whipped up. Using the hand blender in a measuring cup works perfectly.
Slotted Spoon - I ended up ordering this slotted spoon because the one I had kept dropping the poached eggs and not draining enough. I will say this spoon is large but it works great.
Egg Poacher - I haven't bought this yet but I might this week. LOL! I am so curious to see if it works to keep the eggs all together without tendrils of egg whites. Have you tried one?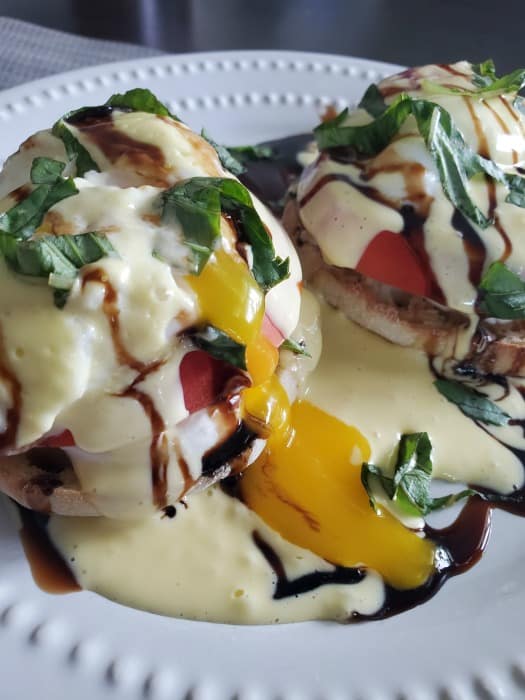 Recipe Tips
You want to use the freshest eggs possible for the poached eggs. This will make it easier to poach.
Be careful when you remove the egg from the hot water. A slotted spoon will help the eggs drained the water and be ready for stacking.
You can add salt and pepper to taste.
If you don't have English muffins you can easily use toasted sourdough bread which tastes amazing.
When poaching the eggs I find it helpful to start a timer for 4 minutes. I tend to get distracted in the kitchen and forget to pull them out at the 4-minute mark. The last thing you want is overcooked eggs.
One big thing I learned making this recipe multiple times is having all of your ingredients prepped and ready makes life so much easier. Make sure your tomato and mozzarella are sliced before you start on the eggs and hollandaise sauce.
You want the butter to be HOT when you pour it into the egg yolks. You can melt the butter on the stovetop or in the microwave. If you melt it in the microwave make sure to cover the dish so you don't have a butter explosion. Trust me on this one! I may have forgotten one morning and ended up deep cleaning the microwave. LOL
Slowly pour the hot butter into the egg yolks in a steady stream while blending with the immersion blender. This will get the perfect consistency for the hollandaise sauce. If your sauce comes out to thick you can add in a few drops of water at a time to get a lighter consistency.
I like to put the immersion blender attachment in hot water as soon as I am done. You can pour the hot water from the stovetop into the measuring cup and add the attachment to it. This helps the butter melt off for cleaning so you don't end up scrubbing it off.
Great Breakfast Recipes
Sausage Biscuit and Gravy Casserole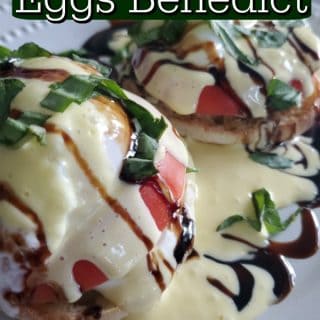 Caprese Eggs Benedict
How to make delicious Caprese Eggs Benedict at home.
Print
Rate
Ingredients
Eggs Benedict
4

Eggs

poached

2

English Muffins

1

Tomato

sliced

Basil

chopped

Mozzarella Cheese

sliced
Instructions
Hollandaise Sauce
Blend 3 egg yolks until they pale in color

Pour in hot melted butter slowly while continuing to blend together

Add in lemon juice and salt and blend to consistency.
Poached Egg
Poach 4 eggs in simmering water for 4 minutes
Caprese Eggs Benedict
Add a slice of mozzarella cheese to each muffin, top with a slice of tomato

Top with poached egg, and cover in hollandaise sauce

Pour Balsamic Glaze over the top and sprinkle with basil pieces
Nutrition
Nutrition Facts
Caprese Eggs Benedict
Amount Per Serving
Calories 434
Calories from Fat 333
% Daily Value*
Fat 37g57%
Cholesterol 386mg129%
Sodium 529mg23%
Potassium 186mg5%
Carbohydrates 15g5%
Protein 10g20%
Vitamin A 1576IU32%
Vitamin C 6mg7%
Calcium 68mg7%
Iron 1mg6%
* Percent Daily Values are based on a 2000 calorie diet.