Lake Chelan is 50.5 miles of fun! This glacier lake is warm enough to swim in, perfect for boating or you can just relax on the shore with a great book. While there are a ton of things to do in Lake Chelan, Washington one of my favorite things is doing nothing at all.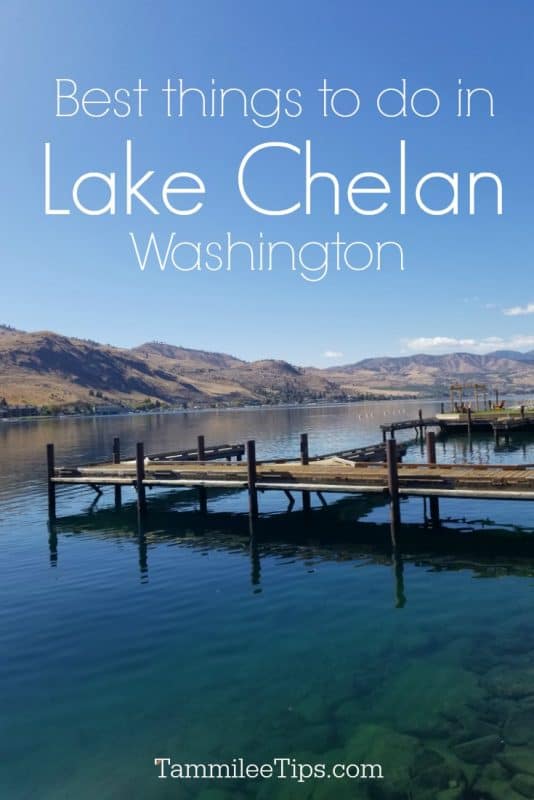 Things to do in Lake Chelan, Washington
There is just something so wonderful about relaxing at the lake with no plans and just seeing what happens for the day.
Don't worry I have a huge list of fun things to do at Lake Chelan to make planning your vacation as easy as it can be!
With over 300 days of sunshine, there really isn't a bad time to plan a visit to Lake Chelan!
There are so many incredibly fun things to do around Lake Chelan but don't forget how great it is to do nothing at all!
Give yourself time to relax in a lounge chair, read a good book, sip a new wine by the lakeshore and truly soak up the relaxing clean air!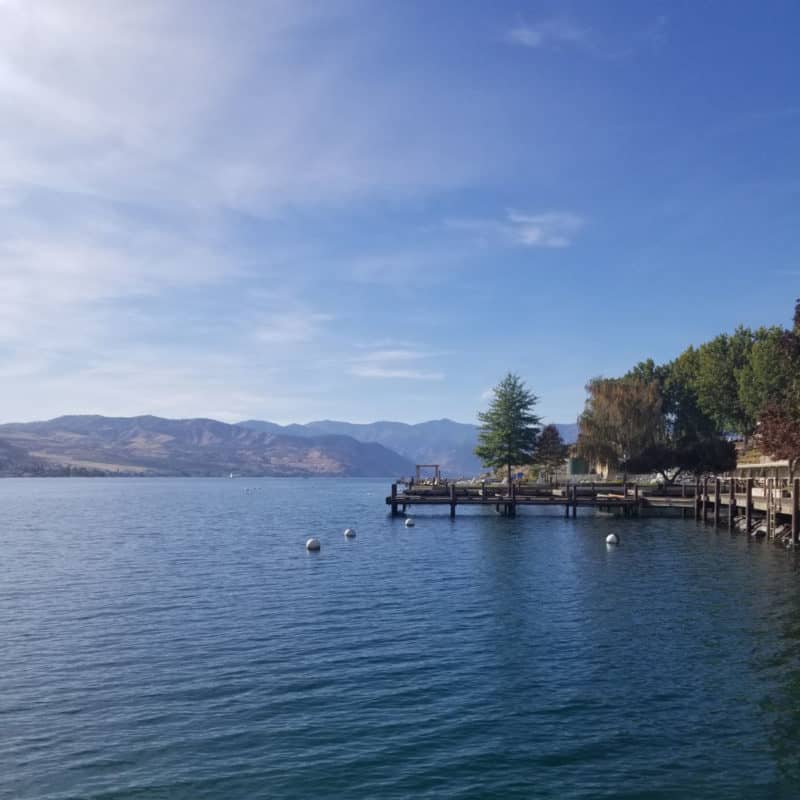 Get out on the Lake
There are a few different ways to get out on the lake! You can rent a boat, a paddleboard, a kayak, or go for a swim. Whichever way you choose you will be surrounded by gorgeous views and beautiful clear blue water.
Lake Chelan is the third deepest lake in the United States and the 26th deepest lake in the world.
If you plan to use a federal dock along Lake Chelan make sure you pick up a Lake Chelan Federal Dock Site Permit. The daily permit costs $5 or you can buy a season's pass for $40.
The permits can be purchased at the Chelan Ranger Station, Kelly's Ace Hardware, Lake Chelan State Park, Manson Parks Office, Reed's Marine and Twenty-Five Mile Creek State Park.
Places to rent a boat/paddleboard/jet ski in Lake Chelan
Shoreline Jet Ski & Boat Rentals
Address - 619 Manson Highway, Chelan
Phone - 509-682-1515
Lake Rider Sports
510 East Woodin Ave, Chelan
Phone - 509-885-4767
Blue Sky Outfitters
331 Burma Road, Methow
Phone - 206-938-4030
Go Parasailing to see the lake from the sky
Glide high above Lake Chelan for a birds-eye view of the scenery. You can fly up to 800 feet above the water with a friend or two next to you! This is an experience you won't soon forget.
Chelan Parasail and Watersports
Phone -  509-682-7245
Website - ChelanParasail.com
Pirate's Cove Parasail
Phone - 509-682-3600
Website - PiratesCoveParasail.com
Go deep and go scuba diving in Lake Chelan
The upper basin of Lake Chelan, called the Lucerne Basin, is among the top three deepest gorges in the United States.
A depth of 1,486 feet is reached in the area of the lake where it is only a mile wide. During the summer the gorge dips 386 feet below sea level. Scuba divers can dive to great depths in Lake Chelan and explore the beautiful blue waters.
Don Morse Memorial Park
If you are staying in Downtown Chelan you are walking distance to the Don Morse Memorial Park.
Enjoy over 2,000 feet of waterfront park with a playground, tennis court, volleyball, and more.
Address: 485 W Manson Highway, Chelan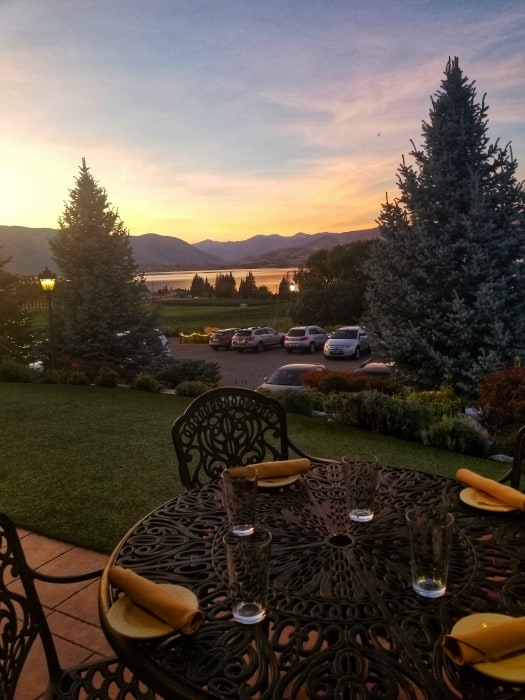 Dinner with a view at Sorrento's Ristorante
Sorrento's Ristorante at Tsillan Cellar's offers one of the best views over Lake Chelan along with delicious authentic Italian food that will make your taste buds beyond delirious with happiness. The restaurant is perched on the hillside between rows and rows of vineyards with a view of Lake Chelan that goes on for miles.
Make sure and make a reservation if you are visiting during a busy time of the season or want to make sure you get in at a specific time. We visited in late September and the restaurant was still fairly busy.
Address - 3875 Hwy 97-A, Chelan
Phone - 509-682-9463
Website - tsillancellars.com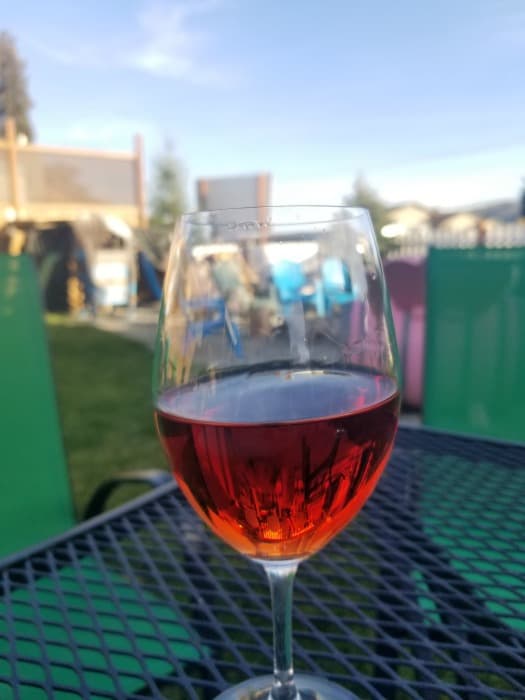 Lake Chelan Wine Tasting
There are more than sixteen wineries that can be found around the Lake Chelan wine valley. The glacially carved soils of Lake Chelan give the grapes a unique flavor profile and intensity. The size and depth of Lake Chelan mean that the seasons are longer so you can enjoy more of the late-summer sugars in the grapes.
Wine Tasting is the perfect way to soak in the atmosphere of a Lake Chelan local winery!
The Lake Chelan Valley is home to wine grapes, tasting rooms, and more. Book a winery tour to learn more about these Pacific Northwest wines and why the area is famous for wine.
Ale & Cider Trail
Don't worry if wine is not your thing! The Lake Chelan area is filled with great Ale & Cider stops. You can explore the Ale & Cider Trail to check out some of these local favorites!
It is not a surprise that the Chelan area is having a growing insurgence of ciders! The Chelan area is surrounded by apple orchards some of the best in the world.
The area is seeing specialty cider apples and heirloom apple varieties becoming more plentiful bringing great new varieties of ciders.
Created with the deep clear water from Lake Chelan you can taste the crisp delicious flavors in these Ales and Ciders.
A few places to explore in the area for Ciders include:
Washington Gold Cider
Address - 3519 Hwy 150, Chelan
Phone - 509-687-9463
Website - WashingtonGoldCider.com
Rootwood Cider
Address - 45 Wapato Way, Manson
Phone - 509-888-7215
Website - RootwoodCider.com
Steelhead Cider
Address - 114 E Woodin Ave, Chelan
Phone - 509-670-2354
Website - SteelheadCider.com
Hard Row to Hoe Vineyards
Address - 300 Ivan Morse Rd, Manson
Phone - 509-687-3000
Website - www.HardRow.com
Karma Vineyards
Address - 1681 S. Lakeshore Rd, Chelan
Phone - 509-682-5538
Website - www.GoodKarmaWines.com
Breweries in Lake Chelan
Enjoy a local craft beer at one of the breweries near Lake Chelan.
Lake Chelan Brewery
Address - 50 Wapato Way, Manson
Phone - 509-687-4444
Website - LakeChelanMicroBrewery.com
Stormy Mountain Brewing
Address - 133 Woodin Ave, Chelan
Phone - 509-888-5665
Website - StormyMountainBrewing.com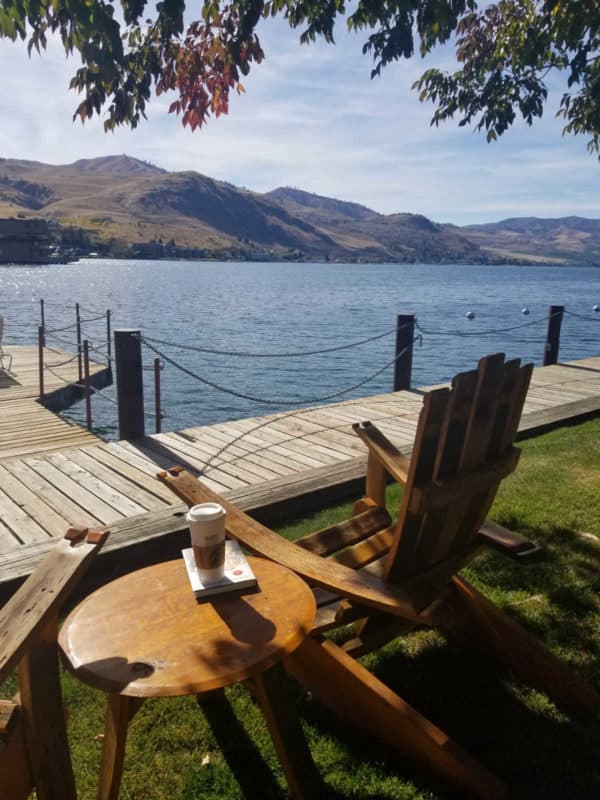 Stay at Campbell's Resort
Enjoy a stay at Campbell's Resort right on Lake Chelan. Walk out of your room right to the swimming area, boat dock, and epic views.
There are so many outdoor adventures near the hotel it is a great base for a stay in Chelan.
There are plenty of things to do within walking distance of the Campbell's Resort.
One of the biggest attractions for us is being able to take a deep breath and enjoy the gorgeous views from the resort.
We pick up local cherries from a farmers market, some local beer, and bring a good book to relax in one of the Adirondack chairs.
Visit Manson
Manson is located eight miles from Chelan, Washington along a beautiful stretch of Lake Chelan. The village of Manson is filled with cute shops, great wineries, and places to eat.
You can even take your boat out for the day and head to Manson and enjoy day slips at the marina. You can stroll through the village on the bay, enjoy local wine tastings and a great meal before heading back to your hotel.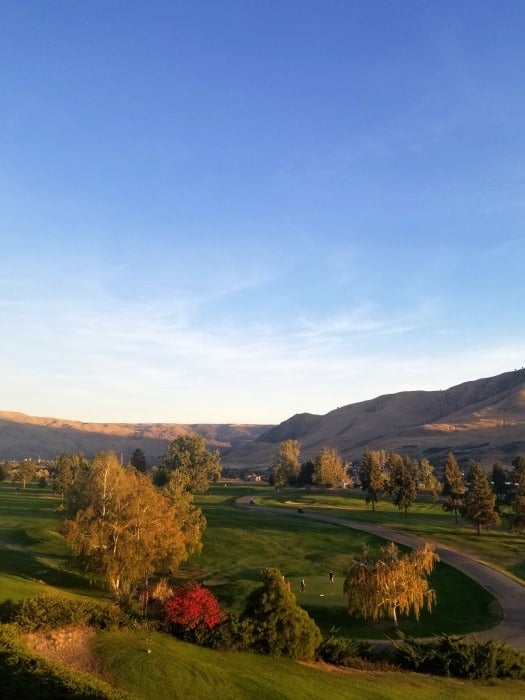 Golf Lake Chelan
Just minutes from the lake you can hit the golf course and play surrounded by mountains and a view of the lake.
Area golf courses include
Lake Chelan Municipal Golf Course
Address - 135 East Johnson Ave, Chelan
Phone - 509-682-8026
Bear Mountain Ranch
Address - 1050 Bear Mountain Ranch Road, Chelan
Phone - 509-682-8200
Get out on the trails
There is an excellent set of trails around the lake that are perfect for hiking or biking!
Shop til you drop!
The main street of Chelan is filled with cute boutique shops and small-town stores. Enjoy a sip of wine before heading into a local store for new house decorations, garden supplies or a cute new outfit.
Take the Lady of the Lake to Stehekin and North Cascades National Park
Stehekin and North Cascades National Park can be reached via a boat trip with the Lady of the Lake. Enjoy a relaxing cruise down Lake Chelan with amazing views as you head to this quaint small village. Watch for wildlife and birds.
There are no roads into Stehekin the only way to access the village is by charter boat, personal boat, or on the Lady of the Lake ferry. The Lady of the Lake ferry has been providing service for over a century to this great area.
Phone - 509-682-4584
Website - LadyoftheLake.com
Test your luck at Mill Bay Casino
Mill Bay Casino offers more than 600 slot machines to test your luck at. You can also enjoy playing table games like blackjack, craps, roulette, Pai Gow, Spanish 21, Lucky Ladies, Emperor's Challenge or 4 card poker afternoon each day.
The 1,600 seat Deep Water Amphitheater offers a small concert feel with 1,599 of your favorite friends. Check the event schedule to see upcoming concerts at Mill Bay Casino.
Take a guided fishing trip
With over 55 miles of Lake Chelan to explore you are bound to find a killer fishing spot.  Each year stocking programs release 100,000 Cutthroat and 500,000 Kokanee Salmon fingerlings into Lake Chelan. The largest species of fish found in Lake Chelan are the Chinook King Salmon and Mackinaw Lake Trout.
Local fishing guides include:
Allan's Fishing Guide Service
Phone - 509-687-3084
Darrel and Dad's Fishing Guide
Phone - 509-687-0709
Visit Sunshine Farm Market
On your way in or out of town stop by Sunshine Farm Market on 97A! Take a minute to feed the super cute goats, stock up on fresh local organic produce, grab a bottle of local wine and enjoy this super cute farmers market. They are open from May through October!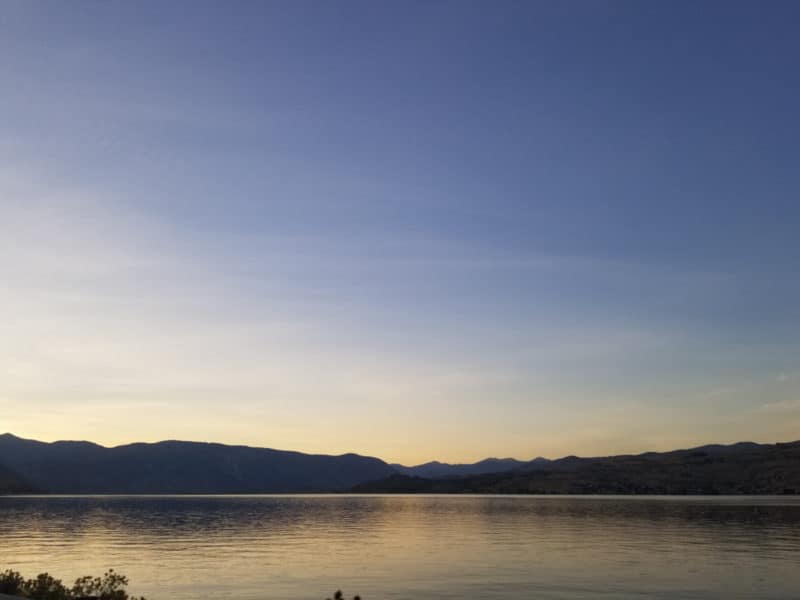 Fun things to do with kids in Lake Chelan
Are you heading to Lake Chelan with kids and want to find out what to do? Don't worry here are a few of the amazing things we found to do with kids in Lake Chelan!
Slidewaters Waterpark
Slidewaters Waterpark features heated pools and eleven water slides. The park also has a kiddies zone, sand volleyball court, concession stand, gift shop and more. You can float the 500-foot lazy river while soaking up the Chelan sunshine!
Slidewaters is open daily from Memorial Day weekend until Labor Day.
Address - 102 Waterslide Dr, Chelan
Phone - 509-682-5751
Putt Putt Golf
Don Morse Putting Course
Address - 619 West Manson Road, Chelan
Watson's Alpenhorn Mini Golf
Address
Phone - 509-687-9999
Website - TheAlpenhorn.com
Bowling in Lake Chelan
Thunder Alley Bowling has automatic bumpers for kids, an arcade, gigantic big screens, milkshakes, espresso, and wine and beer for Mom & Dad!
Address - 519 W Manson Rd, Chelan
Phone - 509-682-2251
Skateboard park in Chelan
Need to get some energy out check out the skateboard park built by the City of Chelan. Located at Don Morse Park the skateboard park welcomes skateboards, BMX bikes and in-line skaters. There are several ramps including half-pipes, quarter-pipes, rails and fun boxes.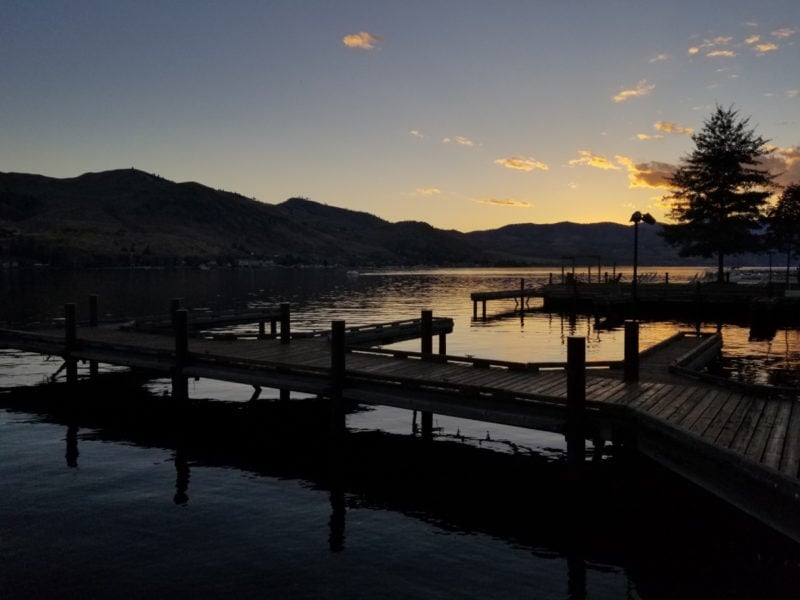 Things to do in Lake Chelan in the Winter
While Lake Chelan is known for all of their summer fun don't worry there is still at on to do during the winter! You can hit the slopes, go cross country skiing, sip on delicious wine or hot toddies and relax.
Skiing near Lake Chelan
Downhill Skiing
Echo Valley Ski Area
491 Cooper Gulch Road, Manson
Mission Ridge Ski and Board Resort
Located 52 miles south of Chelan near Wenatchee, WA
Address - 7500 Mission Ridge Road, Wenatchee
Phone - 509-663-6543
Nordic/Cross Country Skiing
Echo Ridge Nordic Ski Area
Echo Ridge Nordic Ski Area offers 25-miles of groomed terrain for every cross country ski level. The Echo Ridge Nordic Ski Area was professionally designed to offer trails that follow the contours of the terrain and provide exciting skiing for all levels of skiers. Some of the trails are even dog-friendly!
Address - 491 Cooper Gulch Road, Manson
You can rent equipment from Lakeland Ski that is located at Echo Valley Ski Area
Snowmobiling
There are six sno-parks in the Greater Lake Chelan area that offer regularly groomed trails from the week before Christmas until Mid-March. If you are visiting a local Sno-Park make sure you have the proper permits to avoid getting a ticket.
Sno-parks from Lake Chelan
Echo Valley - 10 mile
Antilon Lake - 13 miles
25-Mile Creek - 20 miles
Black Canyon - 27 miles
Gold Creek - 41 miles
Entiat - 43 Miles
For updates call 1-509-687-SNOW or visit LakeChelanNordic.org
Year-round there are so many amazing things to do in Lake Chelan, Washington! This is a destination you can visit multiple times and not see it all! We are always reminded of how much we love the feeling of relaxing by the lake each visit and plan a return trip while we are in Lake Chelan.
Lake Chelan is located 4.5 miles from Spokane and 4 hours from Seattle making it the perfect place to get away for a weekend or longer!
Additional Washington State Resources
Things to do in Prosser, Washington 
Leavenworth Washington Christmas
Things to do in Washington State
Check out all of our Washington State Travel Guides