Top things to do in Prosser, Washington including wineries, breweries, great restaurants, and more.
Prosser is considered the birthplace of Washington wine industry! This is pretty amazing when you think about Washington State having more licensed wineries than Starbucks stores.
A visit to Prosser gives you the chance to explore the wineries and beautiful scenery along the Yakima River and visit the historic downtown district.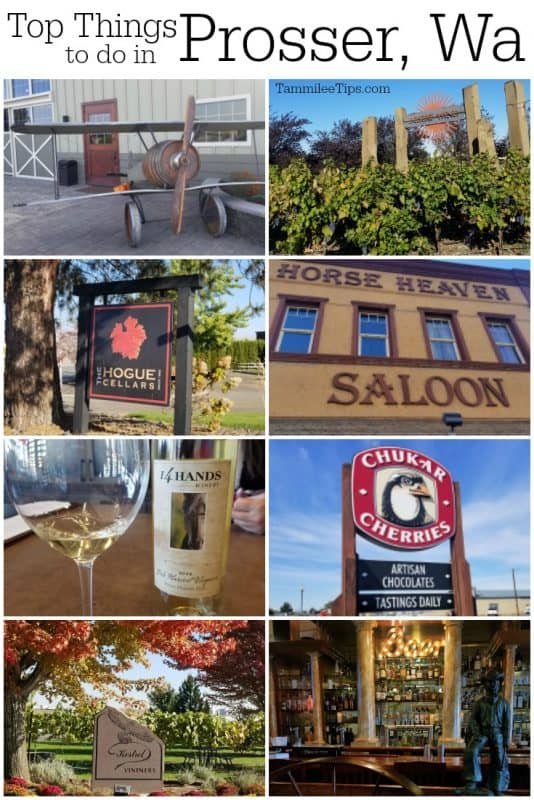 Top things to do in Prosser, Washington
We are really excited to share with you the top things to do in Prosser, Washington! We had so much fun during our stay that we are already planning a return visit soon!
There are so many amazing wineries that you will want to plan a few days to enjoy them all.
Prosser experiences 300 days of sunshine so you can enjoy these amazing things to do year round! Prosser is in between the Yakima Valley and the Tri-Cities.
The area is a great weekend for couples and girlfriend getaways.
Located only three hours from Seattle with easy roads to reach the city Prosser is the perfect way to get out of the city and relax in the countryside of Eastern Washington.
Outdoor activities include great hikes, outdoor recreation, orchards, live music, and so much more!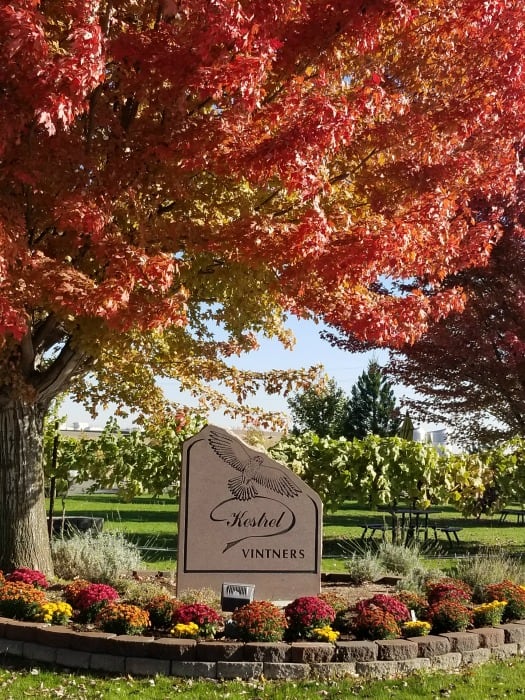 Prosser Wineries
With Prosser being considered the birthplace of wine in Washington State you can expect to visit amazing wineries. There are over 30 wineries in the Prosser area.
You don't want to miss visiting an amazing Prosser Winery during your visit. We will have an entire article out soon about the great Prosser Wineries you will want to check out!
Most of the wine comes from the state's oldest AVA which is nurtured by 300 days of long warm days, sunshine, and cool nights the perfect climate for epic wine grapes.
Some of the wineries and wine tasting rooms in Prosser include:
Kestrel Vintners - Kestrel Vintners is known for its innovative craft wines with a focus on showcasing the Pacific Northwest.
Address - 2890 Lee Rd, Prosser, WA
Columbia Crest Winery - Columbia Crest Winery is nestled next to the Columbia River and produces some of the world's most highly acclaimed wines.
They have been producing epic wines for over 30 years with a commitment to quality and innovation.
Address - 178810 State Rt 221, Paterson, WA
Coyote Canyon Winery - Coyote Canyon Winery is located in the heart of Horse Heaven Hills AVA. They have been nurturing grapes since 1994 to create amazing wines.
Address - 357 Port Ave, Prosser, WA
Alexandria Nicole Cellars - Alexandria Nicole Cellars focuses on small lots of hand-crafted wine from their Destiny Ridge Estate Vineyards. Their 220-acre estate vineyard is located high on the bluffs above the Columbia River.
Address - 2880 Lee Rd, Suite D, Prosser, WA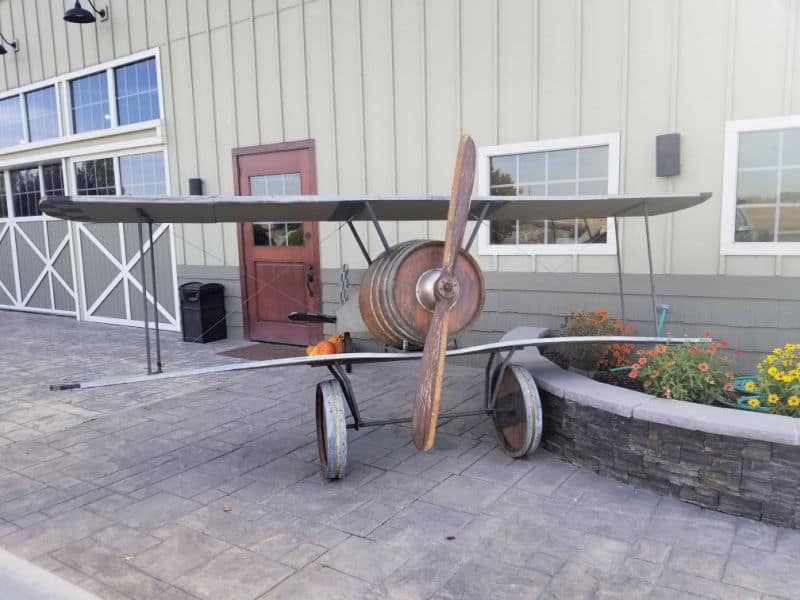 Airfield Estates Winery - We really enjoyed our visit to Airfield Estates Winery! They have a great tasting room offering a wide range of blended wines and single-varietal wines. You can learn about the vineyards history as a World War II Airbase.
Address - 560 Merlot Dr, Prosser, WA
14 Hands Winery - 14 hands Winery focuses on "The Reserve" Wines from the Horse Heaven Hills AVA. They offer tasting flights in the perfect location for enjoying epic wine.
Address - 660 Frontier Rd, Prosser, WA
Above the Cure Vineyard - This winery offers award-winning Semillon, Rose, and Merlot. Call for a tasting appointment.
Address - 67228 W Island View PRNW, Prosser
Barrel Springs Winery - This winery is in a park-like setting offering premium varietal vines and the opportunity to explore their estate vineyard.
Address - 46601 N Gap Rd, Prosser, WA
Chinook Yakima Valley Wines - Since 1983 Chinook Wines has produces highly acclaimed dry wines including Yakima Valley Chardonnay, Sauvignon Blanc, Semillon, Merlot, Cabernet Franc, and Cabernet Sauvignon Grapes.
Address - 220 Wittkopf Lp, Prosser, WA
Bunnell Family Cellars - Bunnell Family Cellars is a small family-owned winery that began in 2004 with a focus on Rhone varietals and blends.
Address - 548 Cabernet Ct, Prosser, A
Tirriddis Sparking Wine - Tirriddis is a new generation of sparkling wine growers.
Address - 2880 Lee Rd, Suite B, Prosser, WA
Prosser Breweries
If wine isn't really your thing don't worry! There are breweries and mead and cider breweries you can try during your visit.
Horse Heaven Hills Brewery at the Horse Heaven Saloon - handcrafted beers including Smoking Anvil, Peace Keeper X2 IPA, Honey Girl, Stallion Stout, Buck off, and Fresh Hopp.
Address - 1118 Meade Ave, Prosser, WA
Norsk Strykr Cidery & Meadery - They produce locally crafted Viking Heritage Ciders and Meads.
Perfect Circle Brewing - This brewery focuses on using local products to create small-batch high-quality beers.
Address - 713 Sixth St. Prosser, WA
Prosser Cider House - Small batch farm fresh cider!
Address - 590 Merlot Dr, Prosser, WA
W Tap Haus - Whitstran Brewing Company - This community micro-brewery produces high quality beer focusing on local ingredients from Yakima Valley. Located on-site is the W Tap Haus, a traditional Bavarian beer hall and beer garden in historic downtown Prosser.
Address - 710 6th St, Prosser, WA




Horse Heaven Saloon
While researching where to dine in Prosser I was drawn to the pictures of Horse Heaven Saloon. I mean seriously how can you go wrong with a restaurant that has old west six-shooters as the door handles.
The menu has a wide variety of food from being a Glutton for Gizzards appetizer to Beer-Baked Mac and Cheese.  Our visit to this restaurant was one of our favorite things to do in Prosser.
I would happily drive a couple of hours back to Prosser again just to enjoy a meal at the Horse Heaven Saloon!
Address - 1118 Meade Ave, Prosser, WA
Jeremy's 1896 Public House
This pub restaurant is nestled in the original home of Mr. E.W.R. Taylor, the first mayor and one of the first homes built in Prosser. I have mixed feelings including this restaurant in our post.
We honestly had a really bad dinner at the restaurant and could not finish our meals the food tasted so bad. In talking to the amazing staff at the hotel they told us that it is pretty common to have a hit or miss experience.
Some days the restaurant is amazing and other days you have horrible food as we did. We were recommended this restaurant from one of John's friends who said they had an amazing time.
I wanted to give you all a heads up on what we experienced so you are prepared if you decide to visit Jeremy's 1896 Public House.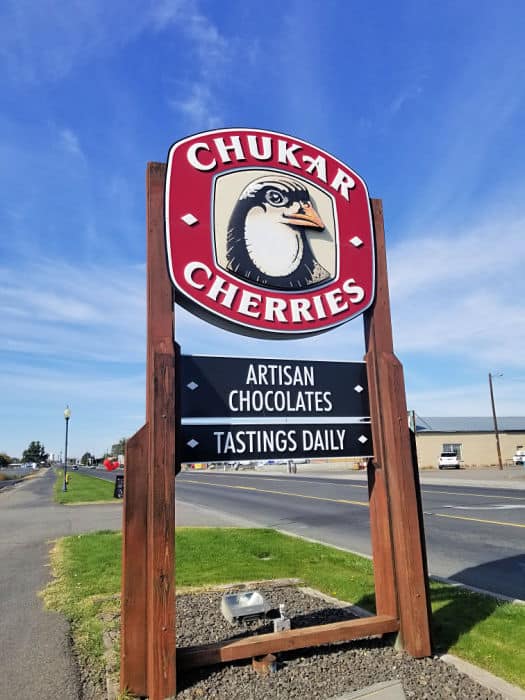 Chukar Cherries
Chukar Cherries is a Washington tradition and one you do not want to miss. Open for over thirty years their cherry treats are the stuff legends are made of.
We mail friends all over the world Chukar Cherries because once you have them you can't not crave them.
The Chukar Cherries headquarters is located in Prosser and you have the chance to visit and learn more about this amazing company. Oh and sample a few treats.
The company has products ranging from dried cherries, chocolate-covered cherries, and more!  The Chukar Cherries in Prosser has a great store with all of their products you can visit.
320 Wine Country Road
Prosser, WA 99350
509-786-2055
Look for the mini critters painted around town
The Historic Downtown Prosser Association has cute critters painted around historic Prosser. Keep an eye out high and low to see these great critters!
Prosser Farmers Market
I am super bummed we were not in Prosser on a Saturday for the Prosser Farmers Market. All of the pictures I have seen make it look amazing.
The farmers market is held every Saturday from May through October. You can pick up fresh produce from 8 am to noon.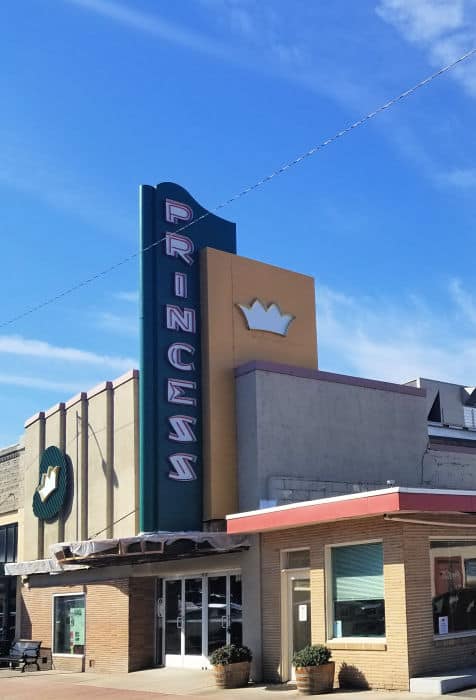 Take in a show at the Princess Theater
The Princess Theatre is a community art, culture, and events center and a treasured landmark in Downtown Prosser.
Check the theater's website to see the current events happening during your visit.
Walter Clore Wine & Culinary Center
This wine and agriculture education center hosts industry events and seminars in partnership with WSU Tri-Cities.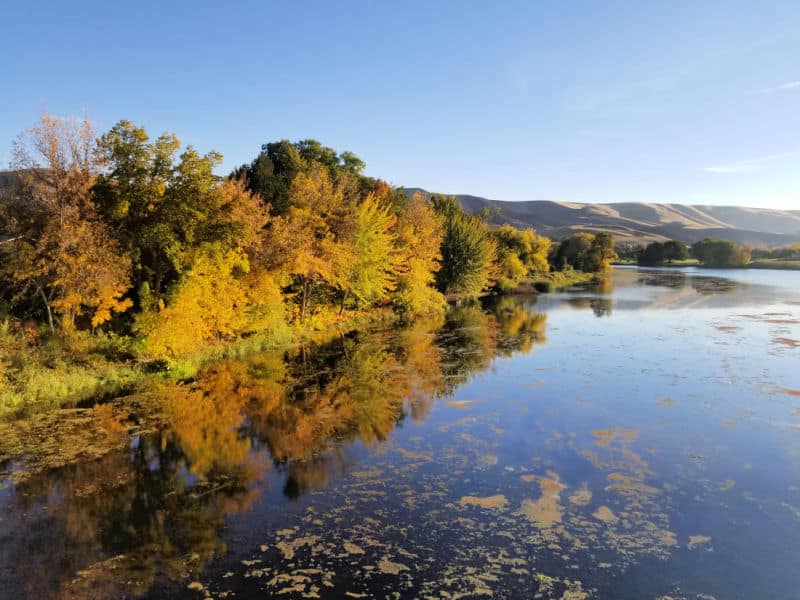 City Parks
There are seven city parks run by the City of Prosser. They can be reserved for special events or occasions.
Parks include City Park, E.J. Miller Park, Crawford Riverfront Park, Farrand Park, Market Street Park, Grant Street Park, and Prosser Rotary Pathway Park.
Park hours are as follows: March through October from 7am- 10pm. and November through February from 7 am-9 pm (no restrooms available during fall and winter). All city-owned parks are open year round.
City Park includes the Benton County Historical Museum.
Fun events in Prosser, Washington
Prosser is part of Benton County in Eastern Washington. There are a ton of great events each year.
April - Spring Barrel Tasting
May - The weekly farmers market kicks off for the year
June - Bottles, Brews & Barbecues
July - Old Fashioned Fourth of July Celebration
August - Prosser Beer & Whiskey Festival
September - The Great Prosser Balloon Rally, Harvest festival in historic Downtown Prosser.
November - Princess Theater Christmas Market
We were so impressed with our visit to Prosser, Washington that we are already planning a return visit soon. From the wineries to the great events there is truly a ton of fun things to do in Prosser!
Let us know if we missed your favorite thing to do so we can check it out during our next visit!
Great places to stay in Prosser




Holiday Inn Express & Suites in Prosser - We stayed at the Holiday Inn Express & Suites in Prosser. The hotel is right next to a Love's gas station making it really convenient to fuel up before heading out to explore the area.
Amenities include  a free breakfast buffet, a firepit, and laundry facilities. Stay connected with free in-room WiFi, with speed of 100+ Mbps (good for 1–2 people or up to 6 devices), and guests can find other amenities such as a 24-hour gym and a 24-hour business center.
Best Western Plus The Inn at Horse Heaven - Take advantage of free full breakfast, laundry facilities, and a gym at Best Western Plus The Inn at Horse Heaven. For some rest and relaxation, visit the hot tub. Free Wi-Fi in public areas, with speed of 50+ Mbps, and conference space are available to all guests.
Weather in Prosser, WA
Prosser, WA has hot arid summers and cold snowy winters. The temperature varies on average from 26 degrees to 93 degrees in the summer.
The hottest weather is from June 12 to September 12th with an average daily high above 82 degrees.
The coldest weather is from November 17th to February 16th with an average daily temperature below 48 degrees. December is the coldest month with an average low of 27 degrees and high of 38 degrees.
December is the snowiest month with an average snowfall of 3.5 inches.
Distance from nearby Cities
Richland, WA - 27.3 miles
Leavenworth, WA - 142 miles
Spokane, WA - 169 miles
Seattle, WA - 191 miles
Portland, OR - 187 miles
Coeur d'Alene, ID - 201 miles
Boise, ID - 306 miles
Additional Washington Travel Articles
Spokane Chinese Lantern Festival Photos
Best Things to do in Lake Chelan
Check out all of our Washington Travel Guides! We love sharing our home state.
This post was sponsored by the Holiday Inn Express in Prosser. All opinions expressed are our own