Growing up I always heard that Chicken Noodle Soup was the cure all for being sick, not feeling good or whatever ailment my Mom wanted to cure. If we had a cough, we had a bowl of Chicken Noodle Soup If we sneezed we had a bowl of Chicken Noodle Soup if we… well you can use your imagination for all the ailments we were served Chicken Noodle Soup.  I decided to make Crock Pot Chicken Noodle Soup this week to see if it would be the perfect cure-all since John has been sick. I must say this is the first real food he enjoyed in 2 weeks. That is a good thing since this Crock Pot Chicken Noodle Soup Recipe makes quite a bit of soup and John gets to eat it for a few days 🙂
This Crock Pot Chicken Noodle Soup recipe is SOOOOOOO Easy! Set it up and forget it until you have to throw the noodles in the last few hours. I love recipes that you "dump" I mean gently place all ingredients into the Crock Pot and walk away from…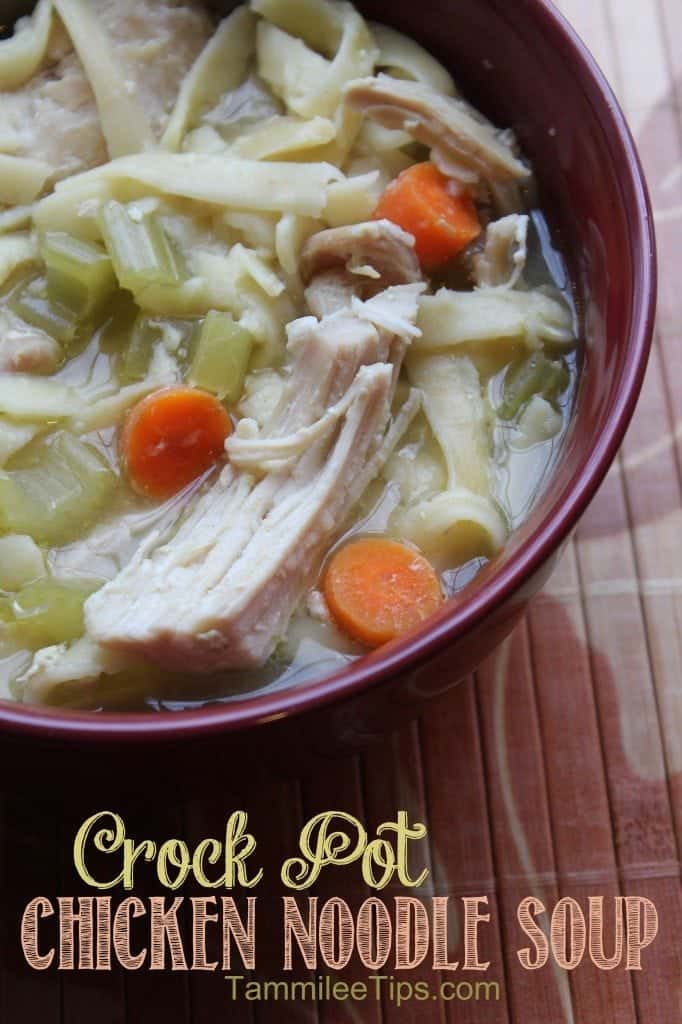 Crock Pot Chicken Noodle Soup
Ingredients
3 chicken breasts
10 cups water
10-12 chicken bouillon cubes
3-4 carrots, cut into small pieces
3 celery stalks, cut into small pieces
dry sturdy noodles, I used a box of Fettuccine noodles
Directions
1. Combine all ingredients except for the noodles in the crock pot
2. Cover and cook on high for 4-6 hours
3. Add noodles during the last 2 hours
Serve and enjoy!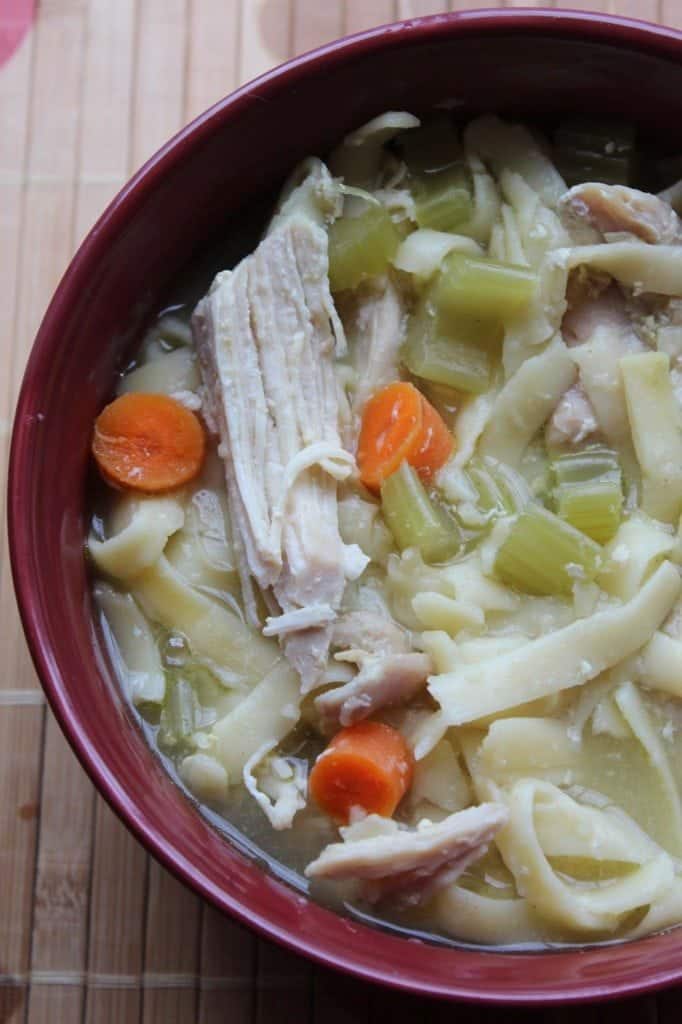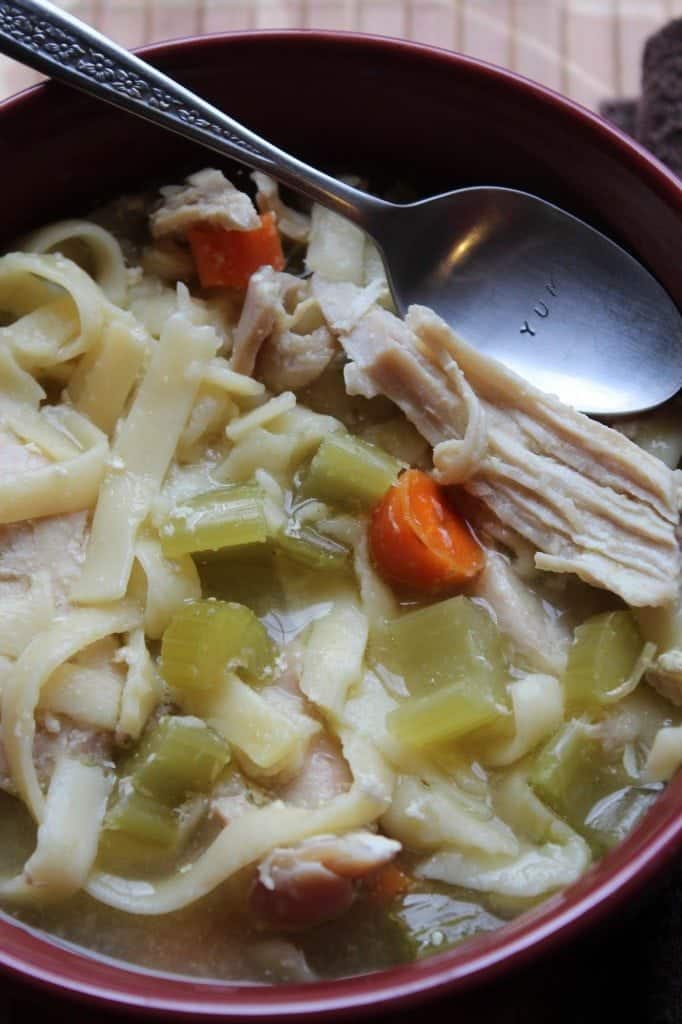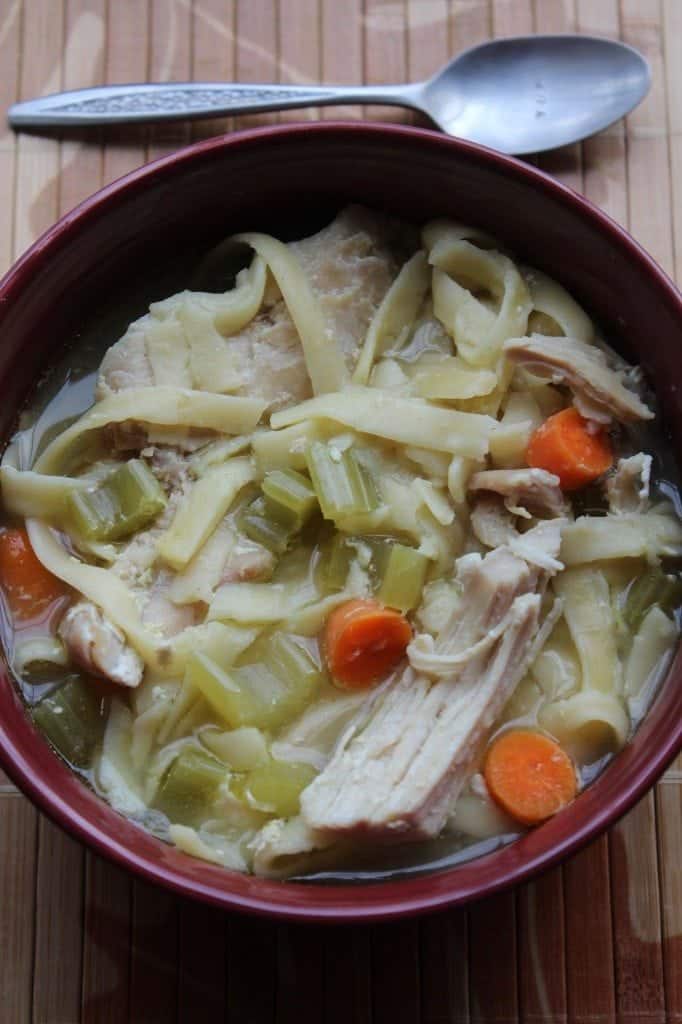 Do you love recipes? Check out our copy cat recipes, dessert recipes, and our Crock Pot Recipes.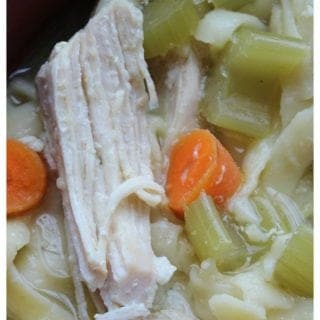 Ingredients
3

chicken breasts

10

cups

water

10-12

chicken bouillon cubes

3-4

carrots

cut into small pieces

3

celery stalks

cut into small pieces

dry sturdy noodles

I used a box of Fettuccine noodles
Instructions
Combine all ingredients except for the noodles in the crock pot

Cover and cook on high for 4-6 hours

Add noodles during the last 2 hours