We love Cracker Barrel! Sadly the closet Cracker Barrel to us is in Missoula Montana over 3.5 hours away. Everytime we visit a Cracker Barrel John orders the Pecan Pancakes. I thought it would be fun to make a Copy Cat Cracker Barrel Pecan Pancakes Recipe. I surprised John on his day off with the Copy Cat Cracker Barrel Pecan Pancakes. He was so excited. I even had a couple of bottles of Cracker Barrel syrup I brought home from our visit to Missoula a few weeks ago.
I haven't figured out how they make such perfect pancakes. Mine always seem to be a bit lopsided and not round. I am going to have to work on perfecting the perfect round pancake in the future. Thankfully these Copy Cat Cracker Barrel Pecan Pancakes taste amazing even though they are not perfectly round. 🙂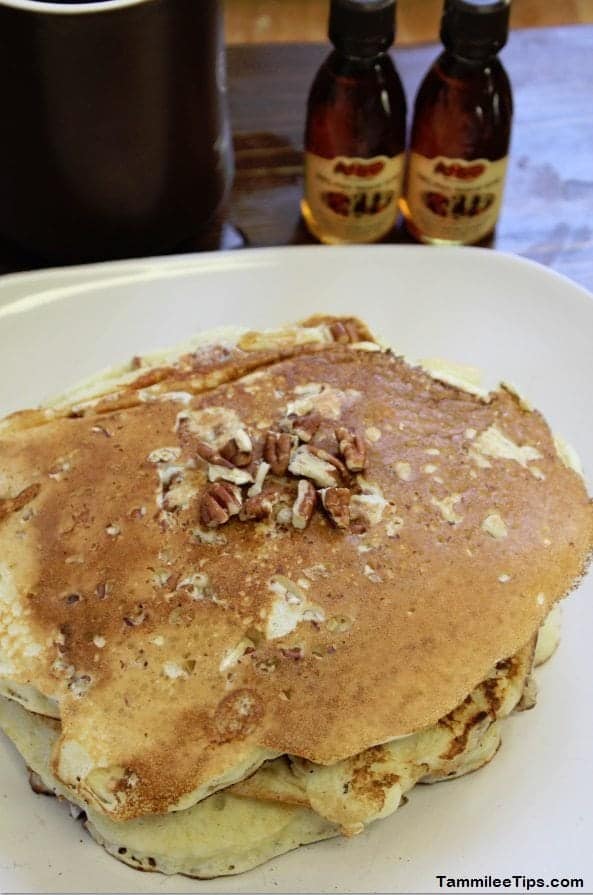 I am so happy with how these Copy Cat Cracker Barrel Pecan Pancakes turned out. They are the perfect treat for the days we really crave a bit of Cracker Barrel. Now if only they would build a Cracker Barrel someplace closer to Spokane. I would be so happy to visit as often as I could 🙂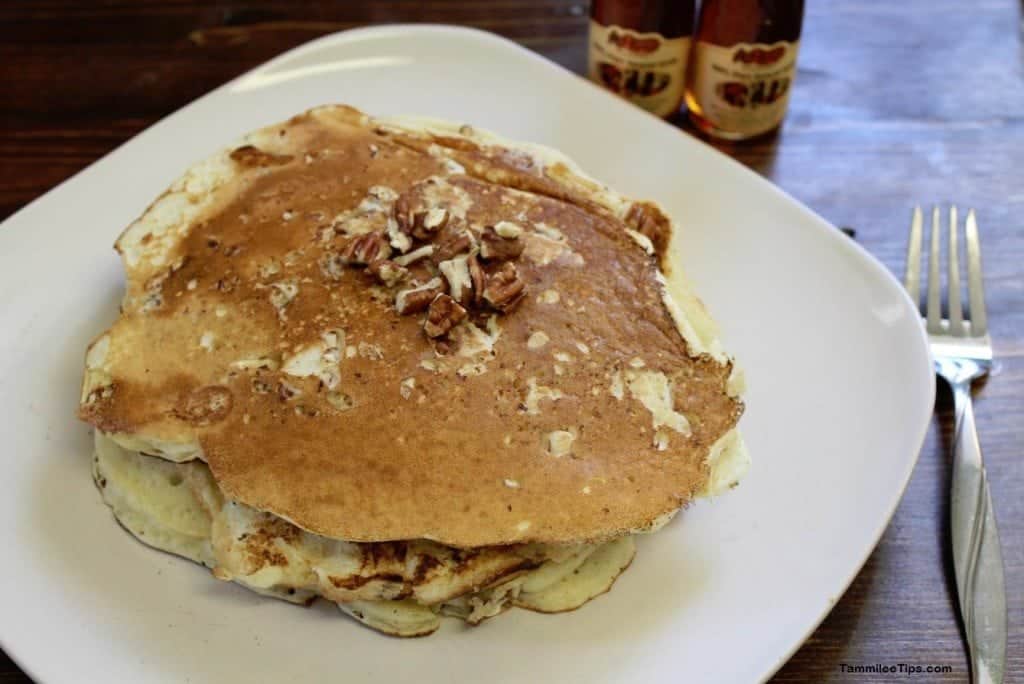 Copy Cat Cracker Barrel Pecan Pancakes
Ingredients
2 Cups Flour
1 tsp Baking Soda
1 tsp Salt
1 tbsp Sugar
2 cups Buttermilk
1 Egg
Chopped Pecans
Directions
1. Combine dry ingredients in a mixing bowl, Add in the buttermilk and combine, Add in the egg and mix until just combined
2. Pour baking mix onto a hot griddle, add chopped pecans to the batter prior to flipping the pancakes
3. Flip the pancakes when the bottoms are golden brown
4. Enjoy
Do you love recipes? Check out our copy cat recipes, dessert recipes, and our Crock Pot Recipes.

Copy Cat Cracker Barrel Pecan Pancakes
Ingredients
2 Cups Flour
1 tsp Baking Soda
1 tsp Salt
1 tbsp Sugar
2 cups Buttermilk
1 Egg
Chopped Pecans
Instructions
Combine dry ingredients in a mixing bowl, Add in the buttermilk and combine, Add in the egg and mix until just combined
Pour baking mix onto a hot griddle, add chopped pecans to the batter prior to flipping the pancakes
Flip the pancakes when the bottoms are golden brown
https://www.tammileetips.com/copy-cat-cracker-barrel-pecan-pancakes/