Delicious In n Out Sauce is perfect for hamburgers, animal-style fries, or as a dipping sauce. This famous restaurant sauce is quick and easy to make and tastes amazing.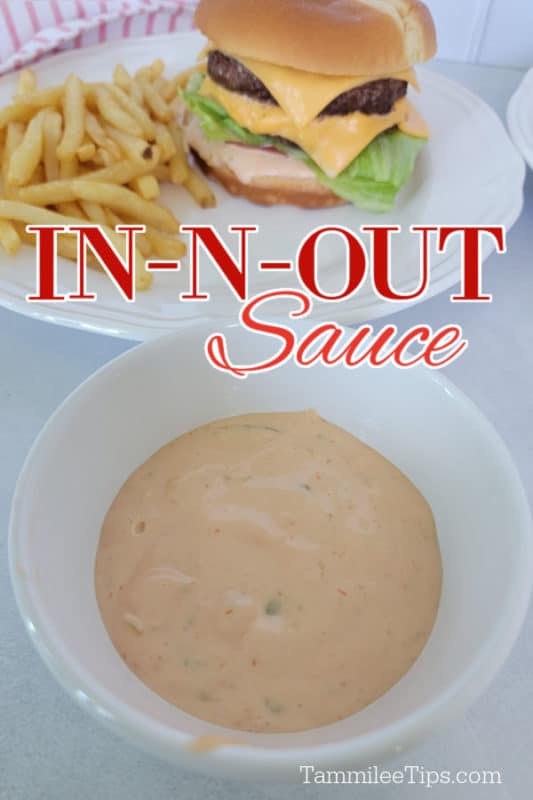 Easy In and Out Sauce Recipe
We sadly do not live in an area that has In n Out restaurants. The closest one to us is probably a 6-7 hour drive from our house.
A bit too far to drive for dinner not that we haven't thought about it a few times. LOL! Thankfully we travel fairly frequently and get the opportunity to do road trips like our California Big Trees road trip we did last year.
This year we took a road trip from Spokane all the way to El Paso and back visiting epic national parks for my husband's Park Ranger John website. It was such an amazing trip and took us to cities with In n Out Burgers which was a total bonus.
I knew that I wanted to make an In-n-Out Sauce recipe so we could enjoy this great sauce at home. This "secret" sauce is used on all of the In n Out burgers and tops Animal Style fries.
During our Southwest National Park Road trip I brought with us multiple plastic containers so I could bring home packets of In n Out sauce from the restaurants. I stashed them in our cooler and kept them cold the entire way home through a heatwave.
Once we were home I started working on making sure our recipe tasted just like the restaurant recipe. I love having the real In n Out Spread in the house so we can compare flavors as I add and change the recipe until we get it just right.
We went through quite a few Air Fryer French Fries making sure this recipe was just right. It is really cool knowing that IN-N-OUT Burgers has been using the same sauce since 1948.
Many times it is confused for regular thousand island dressing but with a few ingredients you can make an epic In n Out Sauce Recipe at home! While they look similar they have different flavors.
Thousand Island Dressing has a bit more kick from the tabasco and paprika in the dressing.
This burger sauce is epic and so easy to make! Not quite a secret sauce or special sauce it is one of the most famous west coast restaurant sauces we can find at a fast food restaurant.
Do you have a favorite IN N OUT menu item you love to order? Is it on the secret menu?
I saw on the news this week that In n Out is heading to the east coast. They are going to open an office in Franklin, Tennessee and start looking at opening stores on the east coast! Woohoo!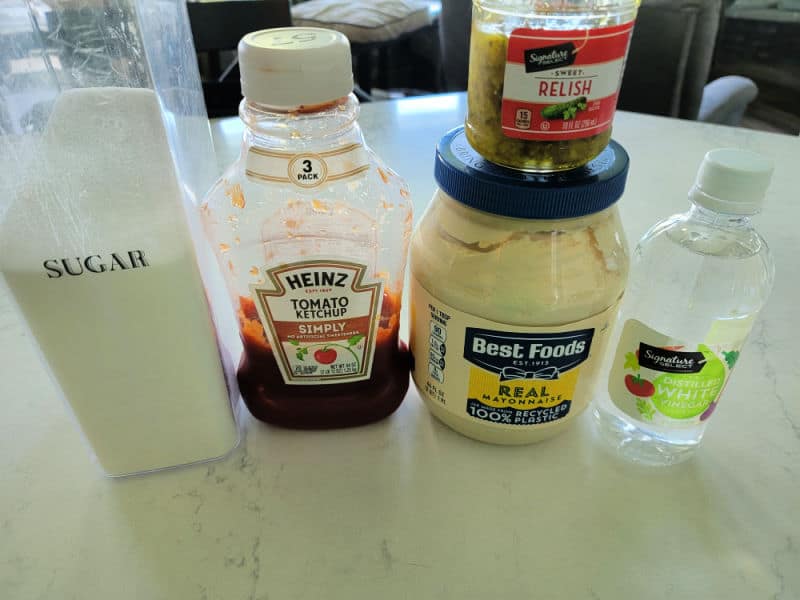 Ingredients
This is a quick overview of the simple ingredients that you'll need to make In n Out Sauce. Specific measurements and step-by-step instructions are included in the printable recipe card at the bottom of this post.
Thankfully the In n Out Sauce ingredients are pantry and refrigerator staples. Only 5 ingredients are needed for this epic sauce!
Mayonnaise - This is the base of this epic sauce recipe.
Ketchup - Adds the sweetness to the sauce
Sweet Pickle Relish - This is the secret that takes the recipe to an epic level.
Sugar - Can be adjusted if you want more or less sweetness
White Vinegar - adds the tang to balance out the sweet flavor.
Salt and pepper (to taste if desired)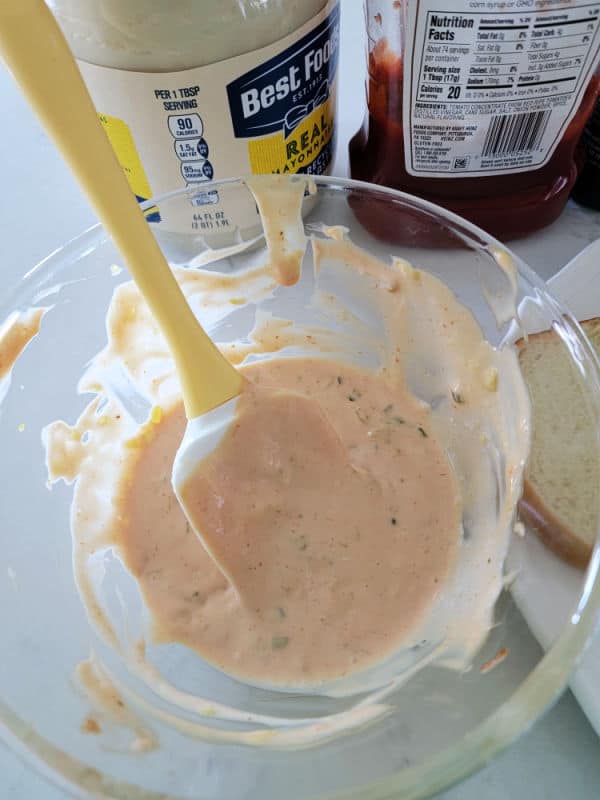 Equipment Needed
Mixing Bowl - We are big fans of this glass batter medium bowl that has a handle. It makes it easy to mix ingredients and keeps the mixing bowl steady on the counter.
Measuring Tools - tablespoon, teaspoon
Whisk
Covered bowl - for storing in the refrigerator.
How to make In n Out Sauce
It is quick and easy to make this in-n-out burger spread! Only a minute or two and you have an epic sauce.
I've included complete instructions in the printable recipe card at the bottom of the post. Here is a quick version:
Gather all of the ingredients
Combine the mayo, ketchup, sweet pickle relish, sugar, and white vinegar in a bowl
Whisk together until smooth
Cover and chill for at least 30 minutes before serving
Preparation and Storage
Make ahead - This In & Out Sauce can be made ahead of time and stored in the fridge for up to 2 weeks in a sealed container.
Storage - Store in the refrigerator for up to 2 weeks in an airtight container. Mark the date you prepared it so you know when to make a new batch.
Freezer - While this can be frozen for up to 3 months. I would not freeze this copycat sauce recipe. It is quick and easy to make ahead of time. The texture will change after being frozen.
Recipe Variations
Vegan - Use vegan mayonnaise
Sweetness - Lower the amount of sugar to reduce the sweetness in this sauce
A bit healthier - Use reduced fat mayo and reduced sugar ketchup to cut the calories.
Mustard - Some variations have a teaspoon of yellow mustard for a different flavor addition.
Recipe Tips
To get the best flavor plan for this sauce to rest in the fridge for at least an hour.
Printable recipe card instructions are below.
Nutrition information, including calories, protein, calcium, carbohydrates, fiber, vitamin c, potassium, cholesterol, sodium, trans fat, monounsaturated fat, polyunsaturated fat, and more, will vary depending on the products used. Amount in the recipe is card is an estimate.
What to serve with In n Out Sauce
We use this epic copycat in-n-out sauce recipe similar to how we use mayo or ketchup as a condiment. There are so many ways to use this incredible In n Out Burger Sauce outside of just burgers!
Dip in the sauce - Air Fryer French Fries, Air fryer Onion Rings, Air Fryer Tater Tots, Potato Wedges, chicken fingers, jalapeno poppers, veggie sticks
Spread it on - Chicken sandwich, Cheeseburger, skewers, meatloaf, hot dogs (boiled or air fryer), Baked Potatoes, Fish Sandwich , as salad dressing, on grilled cheese, instead of mayo on a BLT or BLAT (Bacon, Lettuce, Avocado, and Tomato)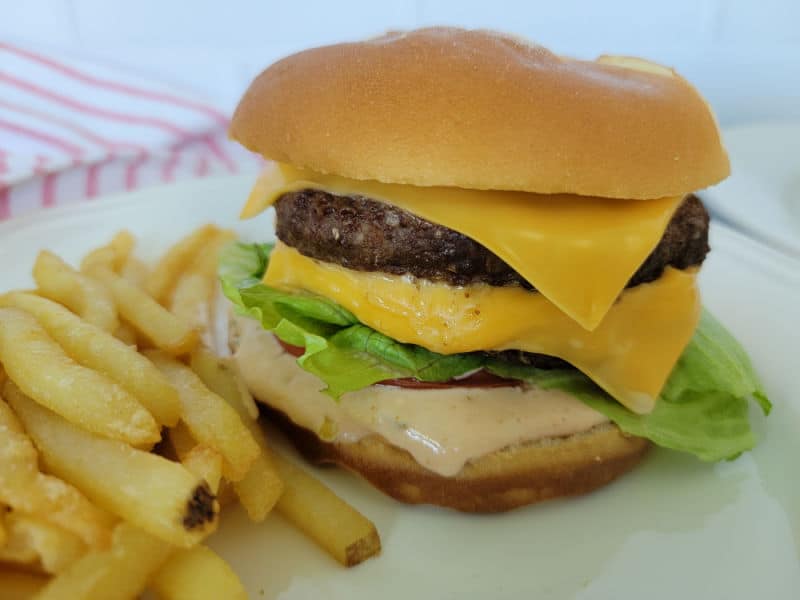 How to make an In n Out Double Double
To make a IN N OUT Double Double you will create the layers in this order
Bun
IN N OUT burger spread sauce
Tomato
Lettuce
Hamburger Beef Patty
Slice of American Cheese
Hamburger
Cheese Slice
Bun
Optional - Grilled Onions/Caramelized onions, dill pickles
We are working on making IN N OUT Animal Style Fries and hope to share them soon!
Great Copycat Recipes
Magnolia Bakery Banana Pudding
Do you love recipes? Check out our copycat recipe, dessert recipes, and our Crock Pot Recipes.
Follow Tammilee Tips on MSN, Facebook, Instagram, and Pinterest, for all of our recipe posts.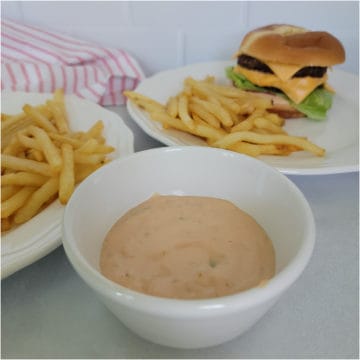 IN N OUT Sauce Recipe
Easy In N Out burger spread recipe perfect for making at home. This sauce is great on hamburgers, fries, or as a dipping sauce.
Print
Rate
Instructions
Combine all ingredients in a bowl and whisk together until mixed well.

Cover and refrigerate for a couple of hours for the flavors to meld together.
Nutrition
Nutrition Facts
IN N OUT Sauce Recipe
Amount Per Serving
Calories 139
Calories from Fat 126
% Daily Value*
Fat 14g22%
Cholesterol 8mg3%
Sodium 184mg8%
Potassium 18mg1%
Carbohydrates 3g1%
Protein 0.2g0%
Vitamin A 68IU1%
Vitamin C 0.2mg0%
Calcium 2mg0%
Iron 0.1mg1%
* Percent Daily Values are based on a 2000 calorie diet.