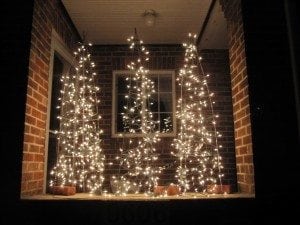 Thrifty Holiday Decoration – Light Up Trees
I really wanted to decorate our new house this year but did not want to go out and spend a ton of money on holiday decorations.
I have been looking at Pinterest and found this idea to make holiday trees at home. They look really cool and were so easy to make.
The trees are made with tomato cages and twinkle lights. I just wrapped the lights up and down the tomato cages and I was done.
I love how cute and fun they look on the front porch.
You can join us on Pinterest here. I love checking out this site for great frugal ideas.