Here are our best 10 tips for saving money while on your cruise vacation! We love taking cruise vacations. We have traveled the world on cruise ships and are excited to share the tips and tricks we have learned for saving money while on your cruise vacation!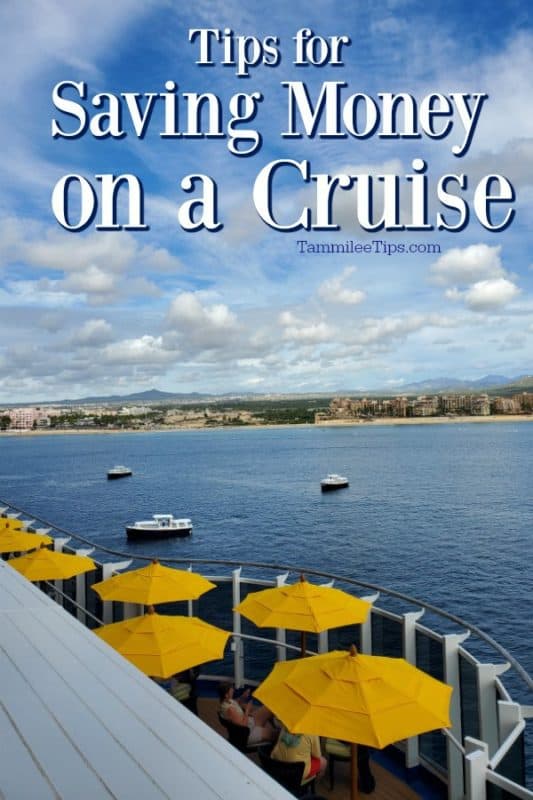 Tips for saving money while on your cruise vacation!
Cruising is an amazing way to vacation. It can also be an expensive way to vacation if you do not realize how much you are spending.
When you board the boat, you are given a cruise card for the duration of your cruise. This card works as your room key but also as your onboard credit card. You can use your cruise card in the boutiques, bars, and casinos. It is easy to lose track of just how much you are spending on board. We highly suggest checking your cruise statement sheet multiple times during your cruise. You can easily see the cruisers that do not check their statement until the last day of the cruise. They have a look of shock on their face and dread that they spent that much money.
Most of the cruise ships we have been on lately have these great onboard machines that you can swipe your cruise card through and you get an up to the minute copy of your cruise statement. This is a great way to track your spending and anyone else on your accounts spending during your cruise.
We talked to a couple on the cruise that told us their 16-year-old son had racked up a couple of hundred dollars in spending on his cruise card. He was buying milkshakes for himself and all of his friends on board during the cruise. They had quite a shock when they went and printed their cruise statement.
Another cruiser said their friend ended up spending over $1000 in a one week cruise in the bar. She was having so much fun drinking that she decided to buy rounds for the entire bar a couple of nights. She had quite a rude awakening when she checked her cruise statement.
It is easy to pick up a beer here, a souvenir there, a bottle of water, and not realize how much has been added to your card.
1. Our best tip for saving on the boat is to know daily exactly what you have spent each day.
2. If you are traveling with kids, set up a limit on their accounts when you set up your cruise cards
3. Pack soda/water with you when you board the ship
4. Bring a bottle of wine with you if you would like to enjoy one during your cruise.
There may be a corkage fee if you enjoy the wine in the dining room. You can also enjoy the wine in your room free of charge.
5. Plan Ahead
If you plan on taking an excursion or day trip, make sure and check prices ahead of time.
6. Know exactly what is included and not included in your cruise fare before you board the ship.
7. Check for discounts on spa treatments and upscale restaurants on port days
8. Put your phone in airplane mode so you do not incur roaming fees.
9. Take your own pictures. Partner with friends or other cruisers to get great pics and skip paying the fee for the professional photos
10. Before you buy a beverage package sit down and calculate just how much you plan on drinking. Take into consideration long port days and the shorter days on embarkation and disembarkation.
Cruises are one of our favorite family vacation ideas!
Bonus savings tips
-Pack Light - Save on baggage fees for the airlines and tips for baggage handlers
-Check receipts before you add a tip to make sure a gratuity has not been automatically added
-Try the special of the day drink to save a few dollars on each drink
Additional Cruise Travel articles
Don't forget to pack these for your cruise
Getting ready for your cruise tips
Helpful hints to not get lost on a cruise ship
Check out all of our Cruise Travel Guides