Taking a cruise vacation is amazing, but there are a few moments that can be a bit well scary. Today we are sharing tips for going onshore from your cruise ship.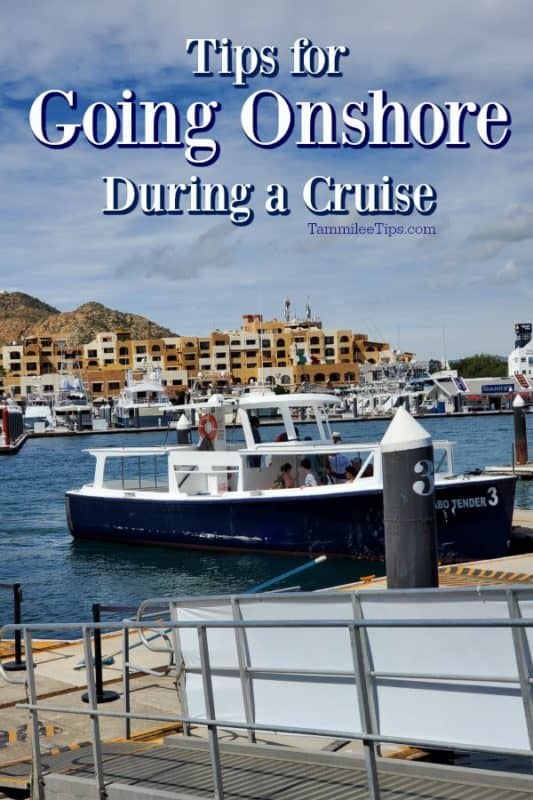 Tips for going onshore from your cruise ship
We have been to a large number of cruise ports, and only a few of them have made us pause for a second before moving forward. BUT with that being said we always try to be cautious and do everything we can not to attract undue attention to us.
The last thing you want is to get pickpocketed or hassled while on vacation. You want your vacation memories to be as happy as they can be. Taking a few steps when you get off the ship can make your cruise vacation an excellent memory that lasts a lifetime!
1. Leave the bling on the boat
Bling invites attention and unwanted attention. Jewelry and sparkles are great for formal night and on the boat.
When going on shore, you most likely do not want to bring unwanted attention to yourself. Wearing a lot of jewelry can attract pickpockets, thieves, and unwanted attention.
Depending on where you are traveling the locals may make a couple of US dollars a day. Seeing a piece of jewelry that is worth more than they make in a couple of years may be asking for trouble.
Keep your jewelry shopping purchases tucked away until you are safely onboard the ship and in your room.
2. Bring your daily event calendar from the boat.
This way you always know what time you have to be back on the boat. The daily event newsletter also commonly includes the ships local contact in case something happens while you are off the boat.
3. Wear plain clothes, leave the name brand, big labeled clothes on the boat
4. Enjoy yourself
The most important thing is to enjoy yourself while still being careful!
5. Be aware of your surroundings
6. If you feel uncomfortable in an area turn and around and go back to where you felt safe.
7. Research the ports ahead of time.
Check to see if there are any known scams or issues you need to be aware of before getting off the ship
8. Book a cruise excursion if you are not comfortable getting off the ship on your own. 
Booking a cruise excursion in ports where you feel like there may be issues is an excellent way to see the city and still be in a group of like-minded travelers.
9. Bring a photo ID with you along with your cruise card
Make sure you have some form of photo ID with you along with your cruise card.
Many cruise ports will verify your photo ID to your cruise card before they let you back into the secured area by the ship.
10. Carry small bills with you. 
Most port terminals have small stands of souvenirs and things to buy. You can also get taxis from the port terminals.
Having small bills will help you make sure you get the correct change back. This is also great for ports where you can barter for prices. If you pull out a $100 for a $1 item you are not going to have much luck in bartering.
Additional Cruise Travel Articles
20 things not to forget to pack on your cruise
Check out all of our Cruise Travel Guides