Travel tips for visiting the Monkey Forest Ubud! This is one of Bali's top things to do for a reason!
Monkey Forest Ubud
One of the things I really wanted to do during our trip to Bali was to visit the Sacred Monkey Forest Sanctuary. I was both nervous, slightly scared, ok super scared of this trip to the Monkey Forest.
I read all sorts of blog posts going into the trip on what to do and what not to do at the Monkey Forest. By the time I was done I was pretty sure a monkey was going to take a flying leap through the air grab onto my head and scare the crap out of me.
Thankfully this did not happen! Though I hate to say it I did see a monkey jump on another guest and it looked terrifying. I am pretty sure the reason this didn't happen was due to 2 things.
The first being a bit of common sense and the second being staying away from anyone who is carrying food or a water bottle including the locals working in the Monkey Forest.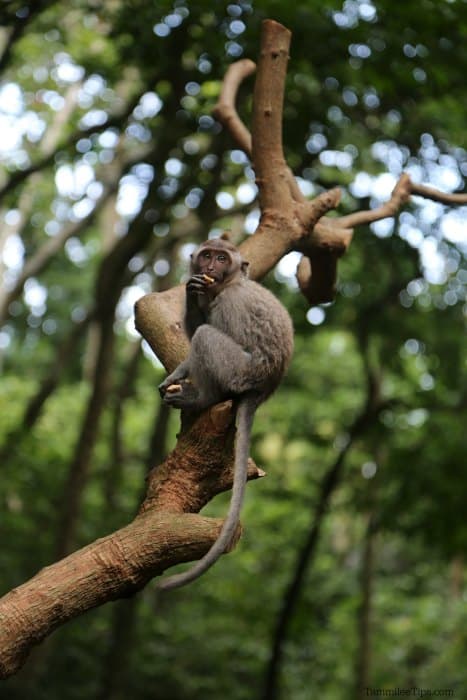 Visiting the Monkey Forest was one of the highlights of our trip to Bali. There is just something so cute, slightly scary but fun about Monkeys. You never know what they are going to do and that can be interesting. We did not have any problems with the monkeys during our visit. We made sure we did not have any food or water bottles on us when we entered the temple.
The monkeys can smell food even in your purse or bag and will try to get to it. We saw a couple of monkeys steal water bottles from tourists that were walking through. They have also been known to steal sunglasses or other items in hopes you will pay them back with bananas.
The biggest piece of advice I can give you is to clean out your purse/bag prior to entering the Monkey Forest. Clean out all water bottles, candy, gum, snacks, or anything that smells like food.
The monkeys are really good at finding food even if you don't plan on them seeing it in your purse. Save yourself from having to deal with a monkey reaching into your bag and just make sure you don't have it.
We only saw one monkey get aggressive with a tourist but it was due to the tourist taunting the monkey with a banana. He was holding it out to the monkey and then snatching it away as soon as the monkey reached for it. As you can imagine the monkey did not enjoy this and bared his teeth at the tourist. He did not do anything to the tourist but definitely made it known he was not happy to be messed with.
If you really want to feed the monkeys there are vendors on site that will sell you bananas to feed the monkeys.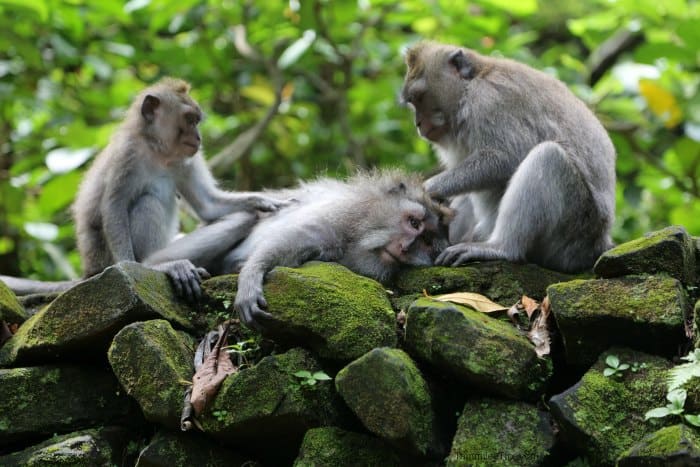 One cheeky monkey grabbed a water bottle out of a tourist bag and was able to undo the cap and enjoy the entire bottle.
We saw monkeys as soon as we entered the monkey forest. They were in the trees, on the sidewalk, on statues, and trying to steal bananas from the vendors. Trust me you should not have any problems seeing monkeys during your visit.
We decided to not buy bananas to feed the monkeys because I was a bit too nervous to think about doing it. I figured watching out for my bag and camera was enough without adding in bananas to the equation.
There were more than enough people around us feeding them bananas to get an idea of what it is like.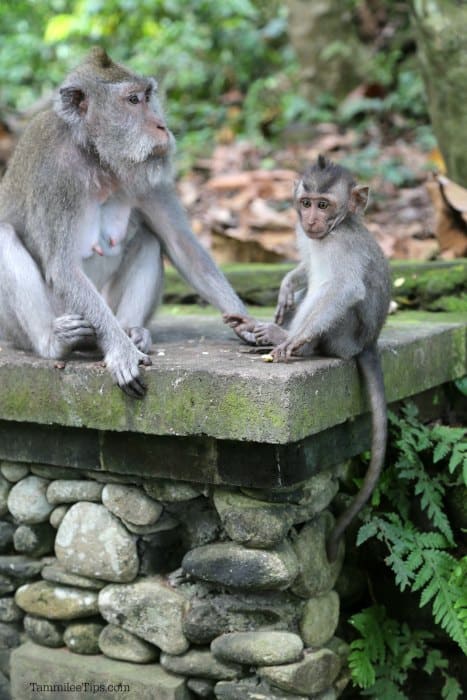 One of the best parts of our visit was all of the baby monkeys. I had just seen Disneynature's Monkey Kingdom and the entire time we were in the Monkey Forest I kept thinking about the movie.
The Monkey Forest really gives you the chance to see the interaction between the monkeys and how they work as a group.
It was easy to see which monkeys ruled the roost!
The majority of the monkeys just hung out together and wandered around the temple. You do want to make sure you know where you are stepping since they are everywhere.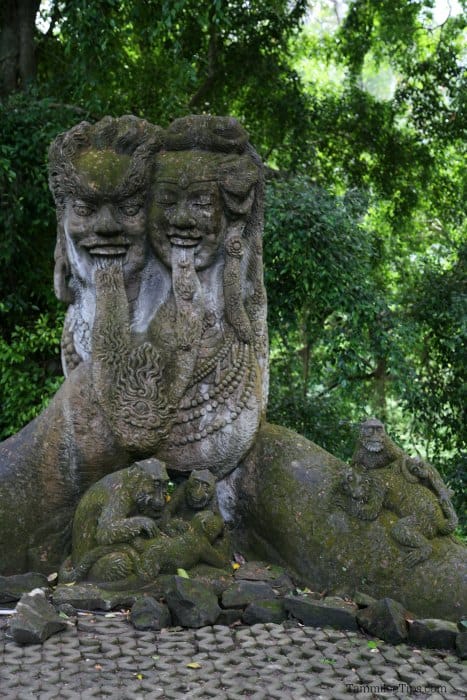 The Monkey Forest in Ubud Bali was a lot larger than I expected it to be. You could easily spend an hour or two wandering the grounds taking pictures of the monkeys and the statues that decorate the grounds.
Be prepared for uneven ground and a lot of steps.
There are multiple levels of the Ubud Monkey Forest including an area that is down 20-40 steps. This area includes a walk along a waterway and a ton of beautiful plants and vines.
We did not see as many monkeys down in this area but it was gorgeous on its own.  Don't miss the amazing Hindu Temples.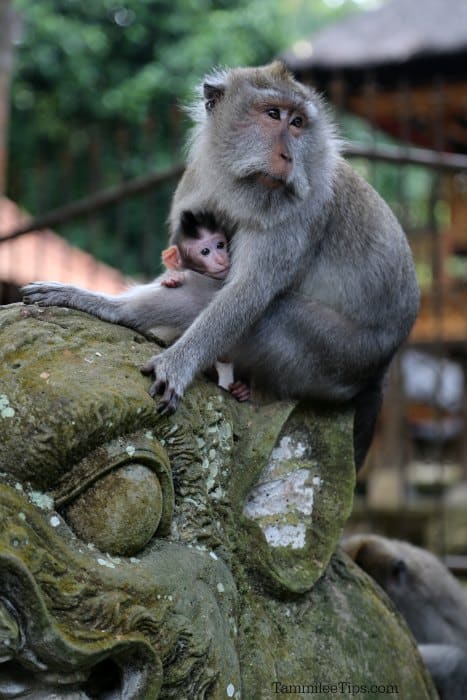 Monkey Forest Ubud information
There is a small entrance fee to enter the Monkey Forest. You can pay cash at the gate if you do not have a guide with you.
The monkeys within the Sacred Monkey Forest of Padangtegal are long-tailed macaques
The Monkey Forest of Padangtegal represents a sacred Balinese Hindu site
Remember to clean out your purse/bag of anything that may smell like food including water bottles. Also, make sure you do not have anything that is in your pockets.
You may want to place your sunglasses in your purse or anything else that may be "stolen" by the monkeys in a sealed bag. We were told that the monkeys sometimes steal items and then you pay them in bananas to get them back.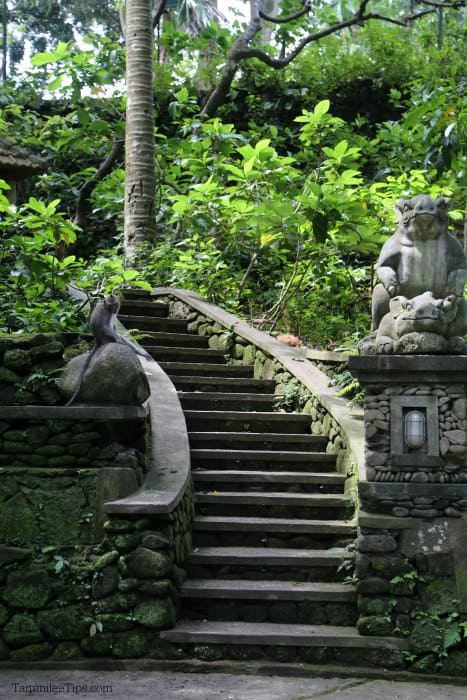 Additional Bali Travel Resources
Ultimate Guide to Bali Travel Book 
Check out all of our Bali Travel Articles