We absolutely loved our time in Bali. We fell in love with the island and are already planning a return trip. Today we are excited to share our Bali Travel Tips.
These are the things we wish we would have known before our trip.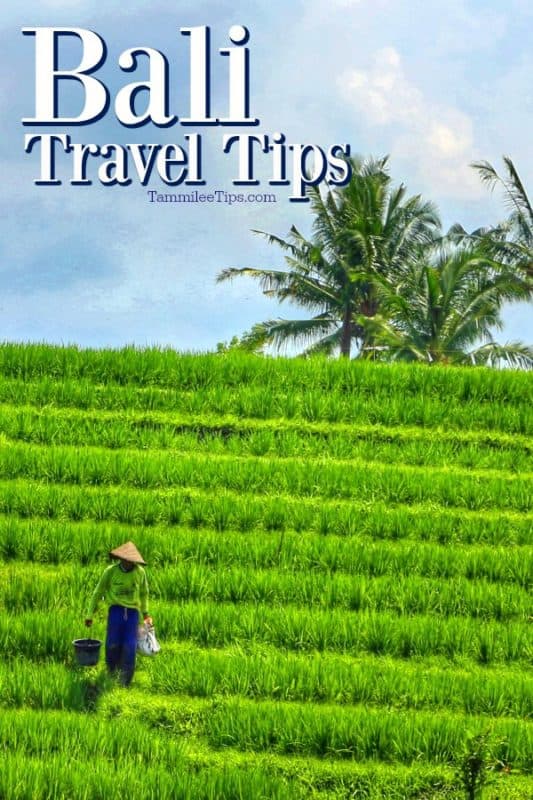 Bali Travel Tips
Currency – Indonesian Rupiah
Time Zone – 12 hours ahead of Eastern Standard Time
Travel Tips
~ Be prepared for uneven sidewalks, holes in the ground, giant broken chunks missing from the sidewalk and more. This is definitely a place to have good footwear and be aware of your surroundings.
~Bali weather can range from super hot and humid to torrential downpour and windy in a matter of moments. Be prepared with clothes that dry quickly and are lightweight.
~On the beach once you talk to one vendor many many many more are going to come to talk with you. Once you purchase something it opens the floodgates for all of the vendors to approach. Make sure and know your exchange rate so you can figure out the price. We use the XE.com currency app on our phone to easily figure out the cost.
~If you get a massage/pedi/mani on the beach be aware of the vendor calling over friends for help. In the end, they will all want to get paid the rate that you agree upon with the first person. You want to negotiate up front the cost and confirm how many people it covers. We had 1 person and ended up with 4 in a matter of moments. Each of them wanted to be paid the original price for the entire service. When we disagreed they started patting my Husbands pockets near his wallet and telling him you have money you need to pay us. It ended up being a long conversation and we finally ended up walking away to our hotel. They were not going to leave us until we paid each of them.
~I would suggest hiring a driver in Bali instead of trying to drive. The roads are not clearly marked, they drive on the opposite side of the road from the United States and there are literally 1000's of mopeds everywhere. We were able to hire a great driver Wayan Sueta for around $45 a day for a 9-hour tour.  (You can contact Wayan on Facebook to set up a tour)
~Make sure and drink only bottled water during your visit to make sure you do not get sick.
~Bitang is the local beer and is quite good. A bottle ranges from $1-$3 depending on the size.
~Check out this article on how to avoid crowds in Bali to get the most of your time on this gorgeous island!
~Be prepared to pay with cash in most places. Most places charge a 2.5% fee for using a credit card. We found that only restaurants and the hotel offered credit card payments along with tourist stores.
~Most of the temples cost between 20,000 to 40,000 Rupiah for entrance fees. Many of them have temple sarongs available that you will need to wear during your visit. You may be approached by a local guide who can walk you through the temple if your guide is unable to walk through. They cost between 50,000 to 100,000 Rupiah.
~There are literally temples around every corner. Every house compound has a temple, there is a village temple and many areas have additional temples.
~Hindu is the main religion on the island along with Muslim.
~Bartering is accepted and expected at the local markets and craft areas. Many vendors will give you a price and then tell you to barter with them. Our guide advised us to start at 40-50% less and work up from there depending on the price.  We found that many places were already so low we felt guilty bartering down 50%.
~You can find massage parlors on almost every corner in town and at your local hotel. We found massages ranging from 50,000 Rupiah an hour and up depending on the location. $50,000 Rupiah is currently $3.86.
~Bring extra smart cards for your camera. You will take 10X more pictures than you think you will. Same thing for your smartphone. Extra memory or clearing off your phone ahead of time so you don't have to erase pictures while you are there.
Additional Bali Resources
Check out this post on how to get to Raja Ampat! For a ton of great info on getting to this beautiful island.
Also, don't miss tips on what to do in Uluwatu for first-timers.
Visiting a Batik Factory in Bali
What to expect when visiting the Bat Cave
What to expect when visiting Elephant Cave
Ulun Danu Beratan Lake Palace Guide
Guide to visiting Tanah Lot
Guide to visiting Tirta Gangga Water Palace
You won't believe what you can see at the Starbucks in Ubud
What to expect at a Barong and Kris Dance Performance
Check out some of the fun things we found in a Bali Grocery Store
What it was like to take a Groupon Getaway to Bali