Aruba is one of our favorite islands in the Caribbean.
There is so much to see and do on the island. Plus you just can't go wrong diving into the water! The water is bathtub warm and so beautiful! I could easily spend days relaxing in Aruba and just soaking up the sun.
Today we are sharing our Aruba Travel Tips. Please let us know if you have any other tips we should add to this post by commenting below. We want to make sure everyone has an amazing time in Aruba!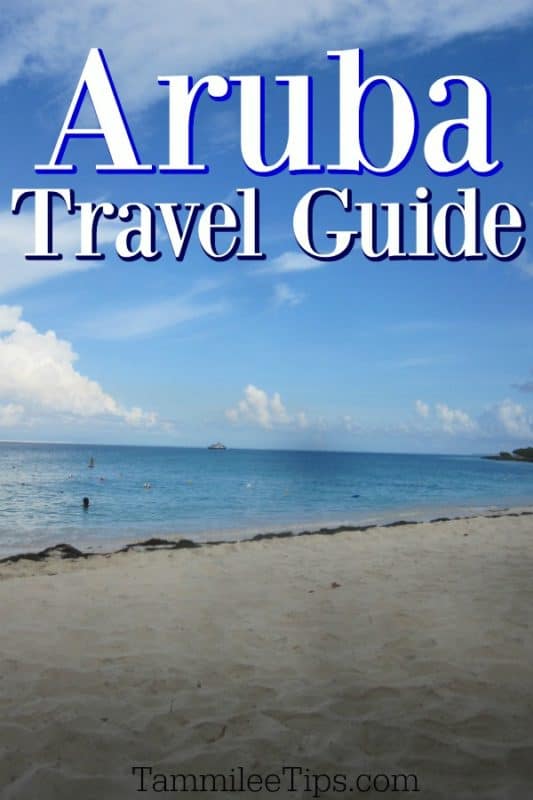 Aruba Travel Tips 
What to eat – Try out the keshi yena, an island specialty made with minced tenderloin and chicken stewed with golden raisins, prunes, and nuts all topped with Dutch Gouda cheese.
Try a Pastechis which are pastries served at any meal filled with dried fruit, spices, meat or seafood.
There is a Starbucks located at the Renaissance Mall if you need to get your coffee fix!
What to do
Visit the capital of Oranjestad and see the Dutch influence in the colorful architecture that abounds in the city.
If you are craving Starbucks there is a great Starbucks located at the Renaissance Mall. There is free wi-fi, great seating and delicious cold Starbucks drinks.
Visit De Palm Island for gorgeous snorkeling, sunbathing and more.
Visit Hudishibana, on the northwestern side of the island to see the California Sand Dunes and the California Lighthouse.
Visit the Aruba Aloe Farm to see all of the amazing products that are made with the ample aloe found on the island.
All beaches on Aruba are public. The most popular beaches are located on the Southern and protected Western coasts.
If you are only in town for a few hours on your Caribbean Cruise check out our post on What to do with 5 Hours in Aruba!
Stop by the Hard Rock Cafe Aruba for a frosty beverage or burger
What to buy
Aruba is known for its wheels of gouda cheese and Edam cheese, aloe products, and Delftware Porcelain.
Random facts
The Divi Divi Aruba's national tree always points to the Southwest. Also known as watapana
Language - The official language of the island of Aruba is Dutch. Nearly everyone on the island speaks English. The street language is called Papiamento, a combination of English, European and African languages.
A few words to know include –>
Welcome…. Bon Bini
How are you? ……Con ta bai?
My name is…. Mi nomber ta
Thank you very much …..masha danki
Good bye …..Ayo
Good morning….. Bon dia
Good afternoon …..Bon tardi
Good evening…..Bon nochi
Good night ….. Bon nochi
Currency - The official currency is the Arubin Florin but US dollars are widely accepted.
Additional Caribbean Resources
What to Pack for a Caribbean Cruise
Check out all of our Caribbean Travel Guides.