We absolutely love Grand Turk! It is one of our favorite islands to visit on a Caribbean Cruise. The water is perfect! It always seems to be sunny and gorgeous during our visits.
The island is flat! I mean seriously flat! There are no real hills or inclines on the island. You can easily cruise the island on an ATV or take a taxi tour during your visit. Keep an eye out for wild donkeys and horses that wander the island.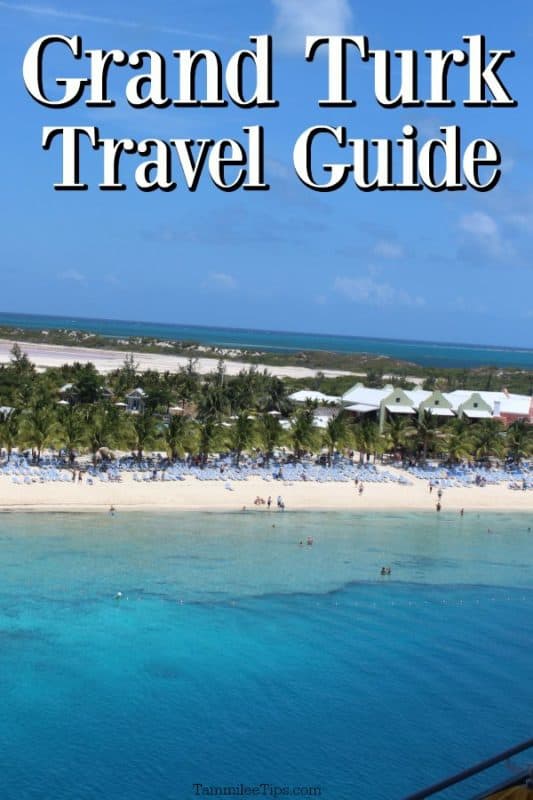 Grand Turk Travel Guide
If you are visiting Grand Turk via a cruise ship the cruise center is filled with things to see and do. One thing to know is if there is bad weather in the area your ship may not be able to pull into the port. We have been on two cruises where the ship was unable to dock in Grand Turk due to weather. Both times the ship went to a different port instead of Grand Turk.
There is a large drop off of the sea shelf which is what allows the ships to dock right next to the island.
What to buy
– Natural Sea Salts, seashell art and Margaritaville clothes and souvenirs
If you are visiting Grand Turk via a Caribbean Cruise there are a lot of stores in the cruise center. Everything from jewelry to souvenirs can be bought without leaving the cruise center. The main city near the cruise center is a taxi ride away. There are a few stores and places to visit but most of the shopping is right near the cruise center.
What to Eat/drink
- There are ample locations including Margaritaville to enjoy a nice frosty tropical beverage.
What to Do
Visit Gibbs Cay for a small slice of paradise and the chance to swim with sting rays
Take a ATV Ride around the island to see the wild horses and donkeys along with flamingos.
Visit Margaritaville for a frosty beverage
Soak up the sun on a lounge chair and enjoy the amazing weather of Grand Turk.
Random Facts
In 1962 astronaut John Glenn's Friendship 7 space capsule splashed down off of Grand Turk.
Additional Caribbean Resources
Amber Cove, Dominican Republic
Best things to do in St. Maarten
Mahogany Bay, Roatan
Check out all of our Caribbean Cruise Articles