Can I confess something...I am a bit of an over-packer. I always worry I won't have the right things with me on vacation. Thankfully after taking many cruises, we have compiled this list of what not to pack on your cruise vacation!
Save space in your bag and leave room for souvenirs by leaving these items at home.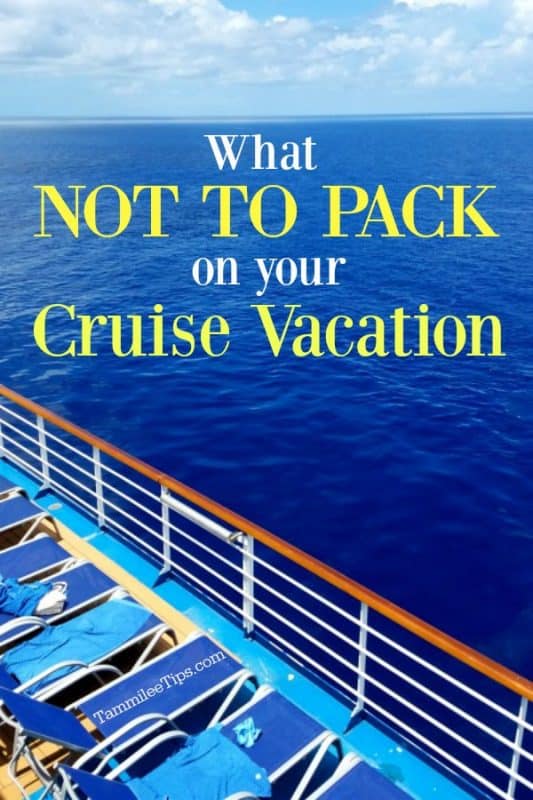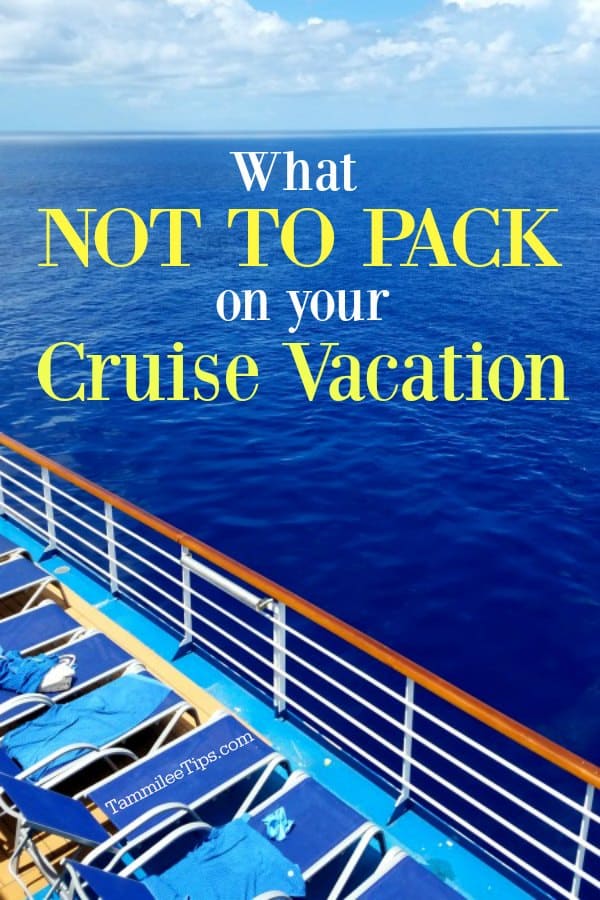 What NOT to pack on your cruise vacation
A lot of these items are not allowed on cruise ships because of safety concerns. Fire is the most dangerous event on a cruise ship and the cruise lines want to do everything they can to prevent a fire from happening,
Hair Dryer
Your room should have a hairdryer in it. I will say they may not be as powerful as the one you have at home but they work. Plus not packing one frees up a lot of space and weight in your suitcase.
If you don't want to use the hairdryer in your stateroom you may want to look at a travel hairdryer that is small and compact.
Shampoo and Soap
Most cruise lines provide shampoo and soap in the shower. If you need a special shampoo or soap, by all means, pack them. But if you can get away with a generic shampoo or soap for a week you can easily save a ton of weight in your suitcase.
If you do want to bring on your own products check out these TSA Approved leak-proof travel containers.
Multiple books
Most boats have extensive libraries you can use during your cruise vacation. Save the weight in your bags and enjoy the variety of books available on the cruise.
Or download the Kindle app to your phone or bring a waterproof Kindle Paperwhite with you loaded with new books.
Iron
Cruises do not allow you to pack your own iron. There should be an iron available in the laundry room that is approved by the ship.
Pocket Knife
Leave any knives or sharp implements at home. Each bag and person entering the ship goes through security and these will be confiscated.
Towels
The cruise ship will provide towels for you to take to the beach or the pool.
Coffee Maker/Hot Plate
Neither of these is allowed on the cruise ship due to fire hazards. Don't worry if you need a hot cup of coffee in the morning to be human it is only a phone call away. Just call up room service and one can be delivered to your door.
Also, don't plan to bring any electrical and household appliances containing any kind of heating element, such as irons, clothes steamers, immersion heaters, heating blankets, water heaters, coffee machines, hot plates, toasters, heating pads, humidifier, etc.
Candles/Incense
Due to fire hazards, candles and incense are not allowed on cruise ships.
Large Coolers
Small, personal-sized coolers no larger than 12" x 12" x 12" for the purpose of housing small quantities of non-alcoholic beverages and/or medications are permitted as carry-on luggage.
Personal Safety Devices
It goes without saying but just in case other items to leave at home include guns, pepper spray, stun guns, martial arts gears, handcuffs, fireworks or anything else that is well dangerous
Illegal narcotics/drugs
For Carnival Cruise Line this includes synthetic, designer drugs, Cannabidiol (CBD), and medical marijuana.
Weapons
Weapons and any item made, adapted, or intended for use as an offensive weapon: firearms (including replicas, imitations, and their components), spears or spear guns, crossbows, crossbow bolts, and longbow arrows; blunt weapons, including knuckle dusters, brass knuckles, clubs, coshes, batons, flails or Nunchaks; sharp-pointed weapons, including throwing stars; air, BB, pellet pistols or rifles, stun devices and tasers, any projectile-weapon, including paintball guns, etc.
If you have recently gone to the gun range or hunting make sure to check your bag for any bullets or items left over. We watched someone go through security with bullets in their bag which they said they didn't know were there.  I am honestly not sure if they were allowed on the cruise ship.
Explosives
This includes fireworks, flares, and any pyrotechnics
Compressed gas tanks
This includes dive tanks and propane tanks. If you plan to go scuba diving during your cruise you will need to use the tanks offered during the cruise excursion or from the company you sign up with.
Medical gas bottles/oxygen cylinders are allowed in connection with a certified medical condition, but cannot be packed in baggage. Oxygen cylinders must be delivered to Guest Services and stored in a designated safe area
Alcohol (hard liquor) and beer
Most cruises do not allow you to bring on any alcohol or beer.
Wine or Champagne
Carnival allows you to bring on one 750 ml bottle per adult (21 years of age or older)
Self-balancing hover boards and air wheels
Footwear with wheels
Such as Heely's type of shoes
Pet/Live Animal
Only qualified service dogs trained to perform a specific task for a guest with a disability are allowed
Additional Cruise Resources
10 tips for saving money on your cruise
Tips for going on shore during your cruise
Tips for preparing for your cruise
First-time cruise questions answered
Don't forget to pack these essentials on your cruise
10 tips for first-time cruisers
You can find all of our cruise travel posts here.