BARDOT Brasserie located inside the Aria and is a must-visit during any trip to Las Vegas. Whether you are looking for a romantic night out, great drinks before seeing a show, or just feel like indulging in one of the best meals of your life the BARDOT Brassiere can fill all of these needs.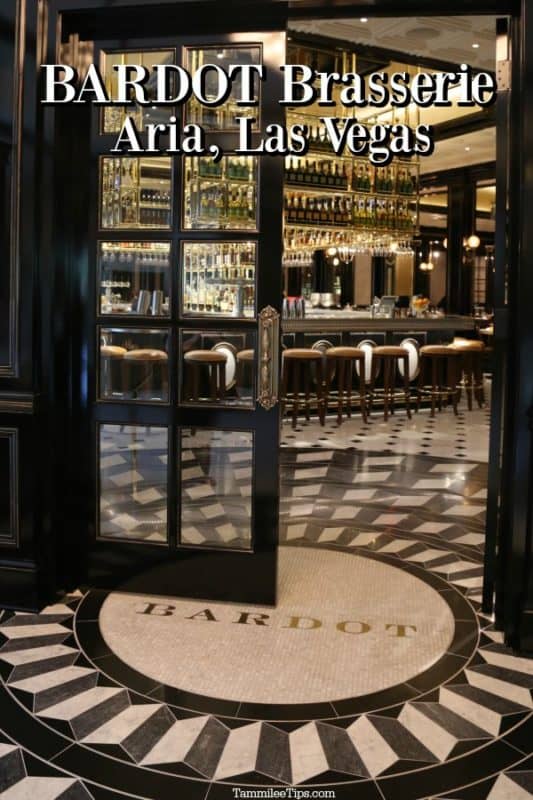 BARDOT Brasserie at the Aria
To create BARDOT's menu, Chef Mina and Executive Chef Joshua Smith merged their travels to Paris with exceptional culinary techniques to develop an array of imaginative dishes.
Trust me when I say you will not be disappointed with the amazing menu that Chef Mina and Executive Chef Smith created! Each course is divine!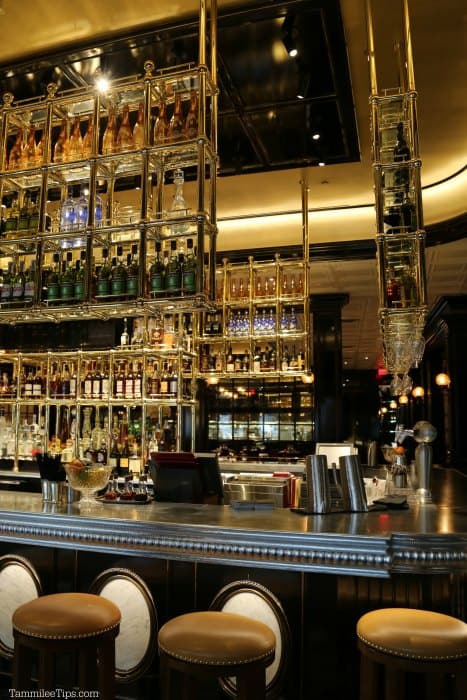 From the moment you walk in the front entrance of BARDOT Brassiere you know you are going to have a wonderful experience. The restaurant is simply gorgeous!
Chef Mina pays homage to classic French cuisine presenting an exquisite array of signature dishes that celebrate the iconic cafe culture of Paris.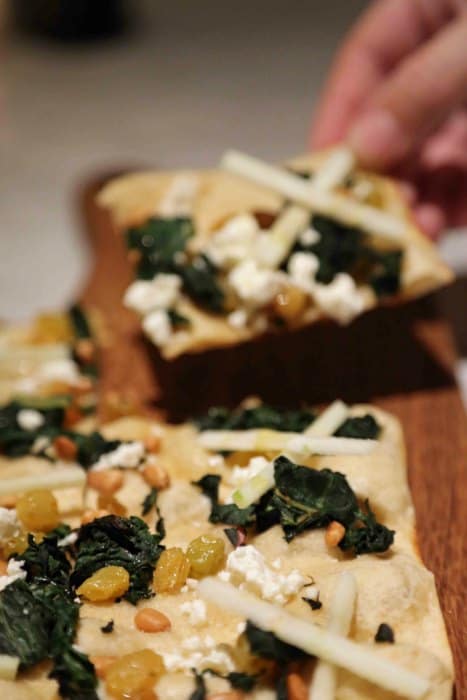 Tarte Provencal with swiss chard, goat cheese, pine nuts, market apples is a must-try!
The combination of goat cheese and market apples was delicious. The pine nuts add just a bit of crunch to each bite.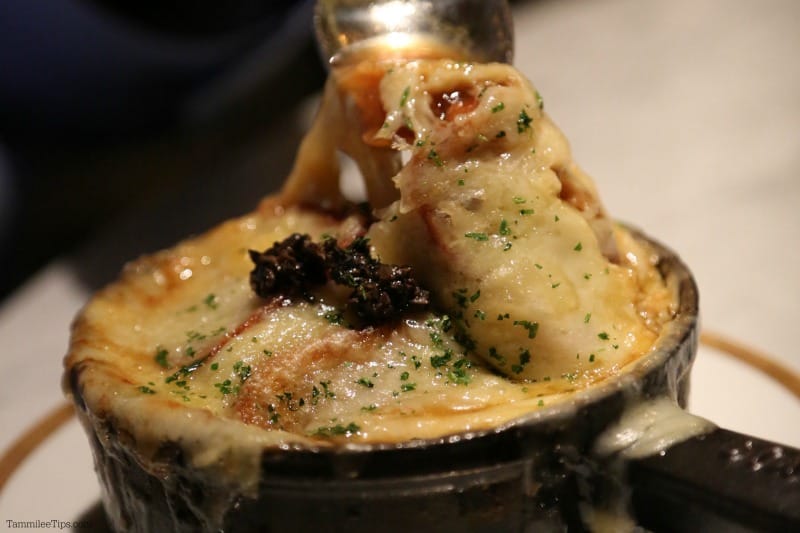 Traditional Onion Soup Gratin is a gourmet masterpiece that guests can customize with Perigord truffles, braised oxtail, and a soft-poached egg.
From the first bite of the Onion Soup Gratin, my dear Husband was telling me it was the most amazing onion soup he has ever had. He is a big fan of onion soups and has them any chance he can. The servers brought the next course to the table and tried to clear the onion soup from my Husband. He asked if he could keep it along with the next course it was so good he didn't want to miss a bite of it.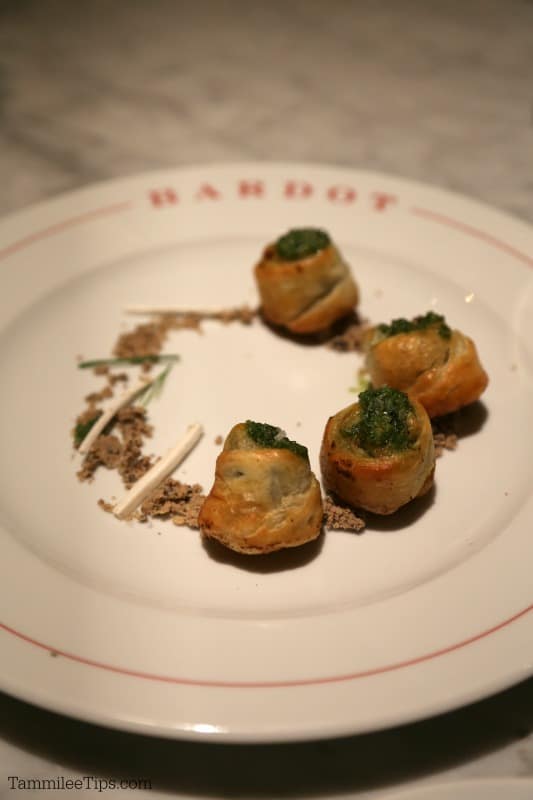 Escargot BARDOT with warm hazelnuts, chartreuse butter, served in a puff pastry was perfection!
After trying the Parisian Gnocchi with wild mushrooms, goat cheese, roasted garlic I am ruined for all other Gnocchi.
This Gnocchi was divine, delicious, amazing, and every other adjective you can think of.
I told the chef that he had ruined me for gnocchi when we were talking during dinner. I am not sure he believed me but let me tell you all it is true!
OH MY! I would consider another trip to Las Vegas just for dinner at BARDOT to enjoy the Parisian Gnocchi again!
Please make sure you arrive at BARDOT hungry and ready to enjoy one of the best meals of your life!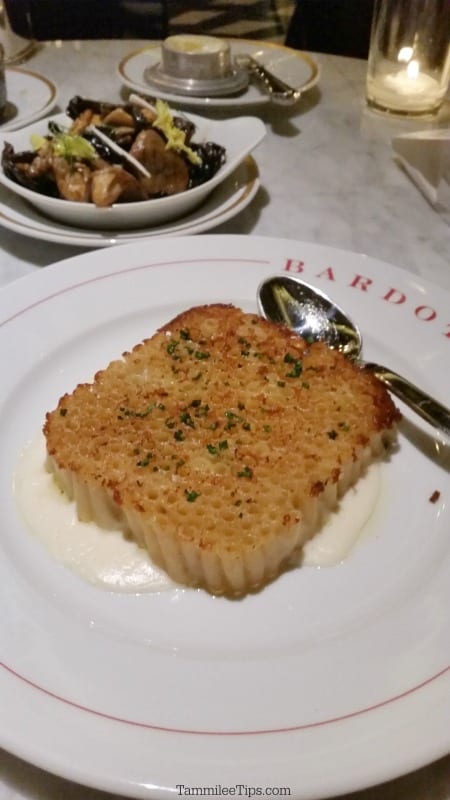 Side dishes include this mac and cheese that is a beautiful creation! Perfectly lined up macaroni is covered in delicious cheese and you may not want to share it with your dining partners.
Remember when I said you need to arrive hungry to BARDOT? Well, make sure you do not enjoy the first few courses so much that you miss out on dessert.
Dessert at BARDOT is a work of art...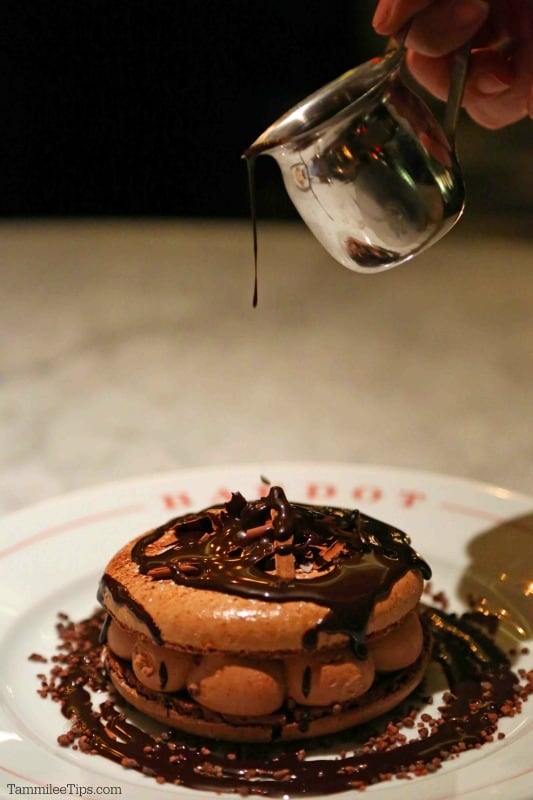 For dessert, Chefs Mina and Smith took the traditional French Macaron and cooked up a large-scale presentation of the ultra-decadent sweet, drizzled with chocolate sauce.
This chocolate macaron is sinful, delicious, decadent, divine, and a must-try! The sweet smell of chocolate as your server pours the molten chocolate over the top is glorious! I may have swooned a bit over this dessert.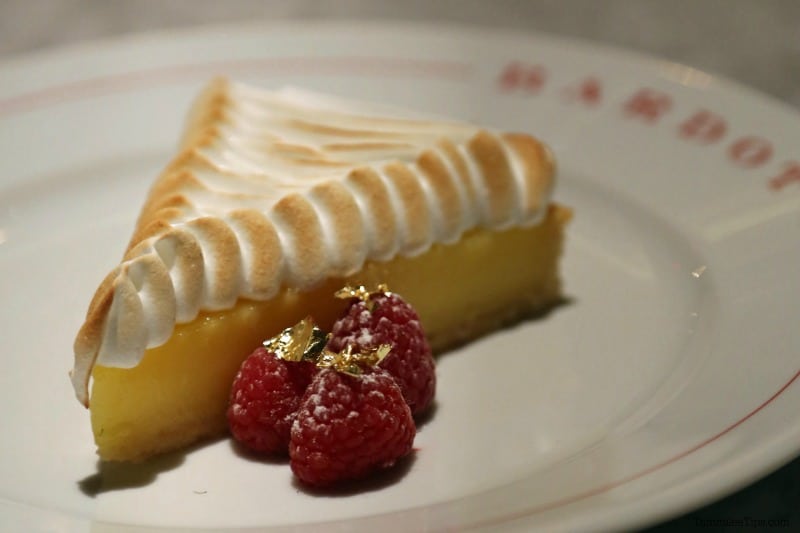 Lemon fans will swoon over BARDOT's Lemon Meringue Tart, prepared with market citrus and fresh berries!
Fans of the classic French desserts will marvel at the Mille Feuille, a caramelized puff pastry with vanilla patisserie.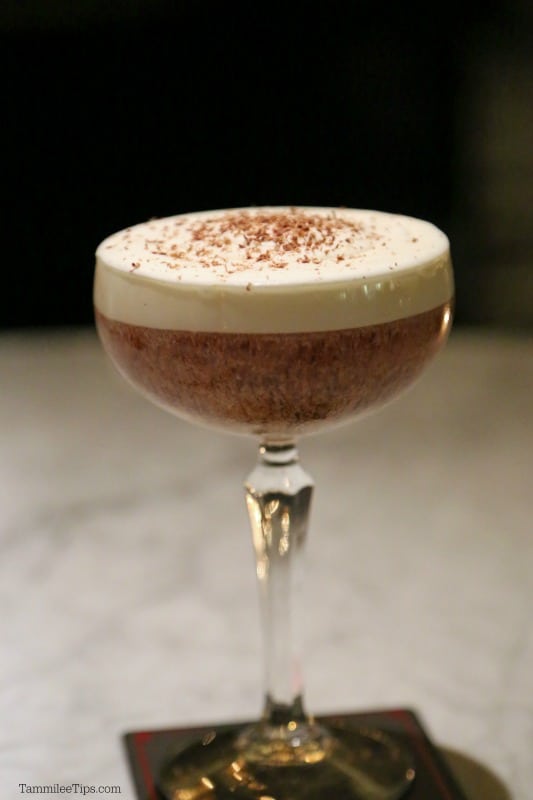 ARIA's Mixologist Craig Schoettler, Wine Director Kim Wood, and Mina Group's Director of Cocktails Carlo Splendorini salute French drinking tradition with an inventive beverage menu that cannot be experienced elsewhere.
Finest Wines – Wood curated one of the most extensive by-the-glass programs, as well as the largest selection of French wines in Las Vegas at BARDOT, highlighting the finest small production and rare vintages from across the globe. Additionally, BARDOT will be one of the only restaurants in the country offering wines by the houses of Couly-Dutheil, Patrick Piuze, and Domaine Cosse Maisonneuve, regarded as some of the finest in France.
Innovative Cocktails – The restaurant's cocktail program combines the best of French culture and Las Vegas-style. Signature sips include And God Created Women, a satisfying layering of French spirits and egg whites; and the Voltaire, a cider-based cocktail that dazzles the senses with baked apple bitters and housemade ginger syrup.
Eclectic Brews – Beer enthusiasts will be delighted by more than 80 international hard-to-find varieties such as Germany's Kulmbacher, Belgium's N'ice Chouffe, and France's Jade Organic. BARDOT also boasts its own exclusive craft beer, Hors D'age, brewed in Northern France in collaboration with Stillwater Artisanal Ales.
Historic Spirits – Schoettler scoured the beverage world to garner BARDOT Brasserie's impressive collection of historic spirits, including cognacs dating back to 1811 and Las Vegas' largest selection of Chartreuse, the legendary French liqueur distilled by Carthusian Monks.
Additional Info
BARDOT Brasserie is located on the second floor of ARIA.
The restaurant's hours of operation are:
Dinner daily from 5 p.m. to 10:30 p.m.
Nightly happy hour from 5 p.m. and 7 p.m. at the bar and in the lounge
Breakfast: Saturday and Sunday, 8 a.m. – 9:30 a.m.
Brunch: Saturday and Sunday, 9:30 a.m. – 1:30 p.m.
Dinner: Daily, 5 p.m. – 10:30 p.m.
For reservations or for more information call 877.230.2742 or visit www.ARIA.com.
Follow BARDOT on Twitter and Instagram at @Bardot_LV.
Additional Las Vegas Travel Guides
Free Things to do in Las Vegas
Check out all of our Las Vegas Travel Guides
We were provided with our meal at BARDOT Brasserie to help facilitate our post. All opinions expressed are our own.